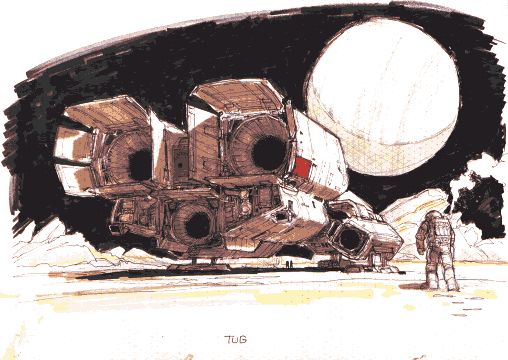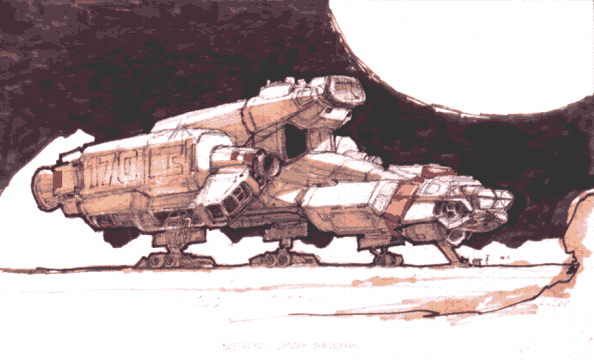 TUG.
Felt tip pen. The earthship Nostromo, nicknamed Tug because of its towing function, has left its giant refinery platform in orbit and has landed on the icy surface of the unnamed planet. Many of the characteristics of the final version of the earthship are evident in this design.
NOSTROMO LANDING SURVEYOR.
Felt tip pen. A version of the earthship Nostromo as a surveying craft designed to gather geological samples.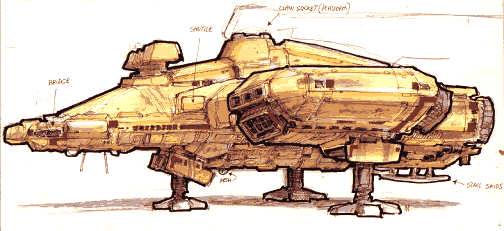 THE NOSTROMO.
Ink & felt tip pen. One of the final Nostromo designs, from which the model was built.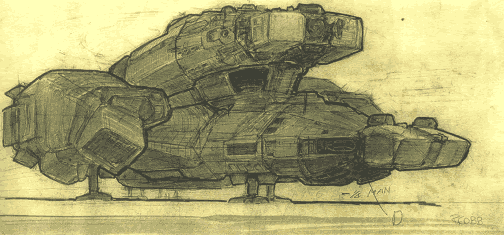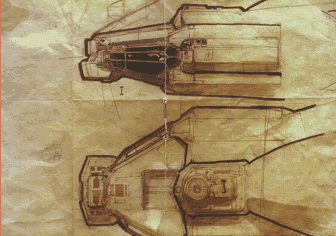 THE NOSTROMO.
One of the final designs, very close to the finished model.
COCKPIT STUDY.
BILL PEARSON (Modelshop Supervisor): The Nostromo changed dramatically through the course of the production. When we started on the film, the first model was about ten feet long and had protruding lobes on the front. Behind those would have been the bridge section, with the viewing area/window behind the lobes. We were over at Bray, while the main unit was based at Shepperton. So we asked a runner, who was travelling between the two studios, if he had seen the set of the bridge. We asked him how big the set was, using people stretched across the floor as a measurement guide. He responded with, "One; one and a half." This would come out as about ten foot, while the miniature would have been one hundred feet across. So we brought this to Brian Johnson's attention, and he solved it by designing a new section to plug in at the front of the ship. Brian got Ron Cobb to produce a new drawing and we worked from the new design.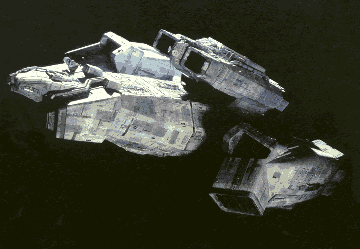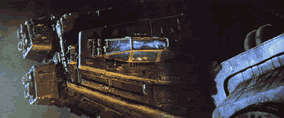 FINAL NOSTROMO MODEL.