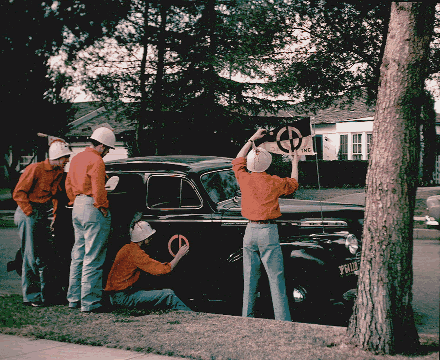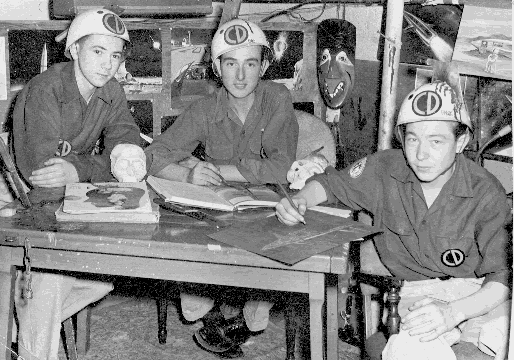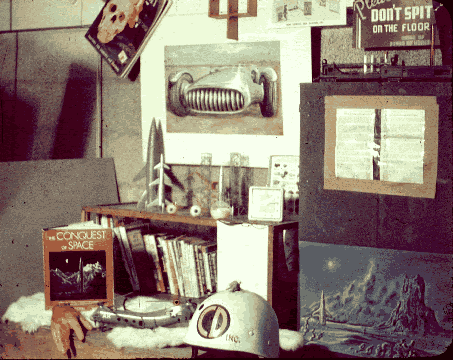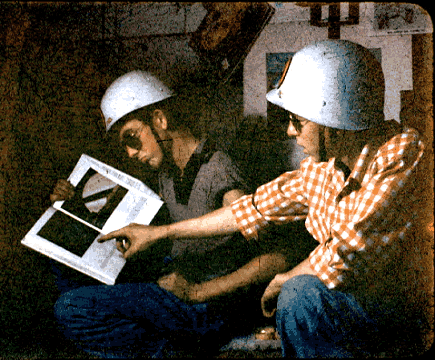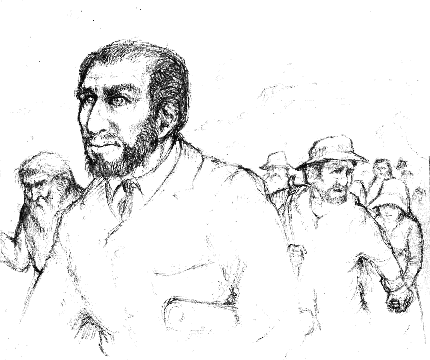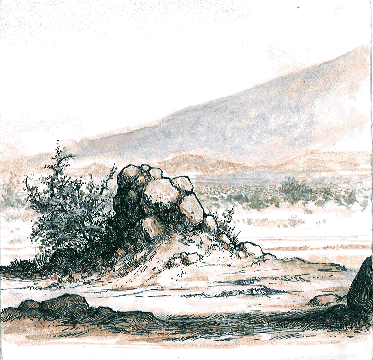 Thanksgiving day. November 1953, 11:00 AM.
The first official act of the Chesley Donavan Foundation is a group visit to see George Pal's War of the Worlds. Tad Duke paints his father's car and Ron Cobb straightens the flag. Paul Shoemaker, dressed like the others, is behind the camera.
February 2, 1954, 8:00 PM., Duke Welding Shop (upstairs), 1028 West Burbank Blvd., Burbank, CA.
The Chesley Donavan Foundation is officially born. Left to right: Paul Shoemaker, Tad Duke, Ron Cobb. The spurious notion that the name Chesley Donavan is made up of a combination of Chesley Bonestell and the novel title Donovan's Brain continues to be denied on all fronts.
STILL LIFE. 1954.
The SE corner of "The Crypt," as the CD meeting room was called. The group derived an important part of it's visible identity from here. It was the setting in which the group was truly itself.
Ron Cobb points Tad Duke to a verse in the scriptures.
This conjectural drawing of Chesley Donavan by Ron Cobb is the only portrait known, based on exhaustive researches. He is shown in late 1821 as the Donavanian party trudged off across the California desert to their destiny--and into oblivion.
This ruined cairn, discovered near 29 Palms, California, and believed to be a relic of the Donavanians in California, was sketched by Ron Cobb in 1954. Unfortunately, before serious excavations could be undertaken, Screechowl Road was extended and a house built, effectively obliterating the monument, crushing it to gravel. The loss to posterity is incalculable. Rumors persist that a strange bearded man is occasionally seen prowling the vicinity.