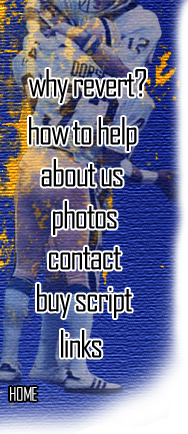 Please Donate
100% of your donation
helps to cover the costs
of FansForScript.com.
Welcome to FansForScript.com, the home of our concerted effort to resurrect the Pitt Script logo and incorporate it back into University of Pittsburgh Athletics. Our mission is to effectively notify the powers that be in the Pitt Athletic Department and in the University of Pittsburgh administration that we, as a united front, represent the majority of Pittsburgh Panthers fans who wish to bring back this identity to university athletics.

Long Departs // 09.11.2007
- Athletic Director Jeff Long has announced that he will accept the Athletic Director position at Arkansas today. That means that, effective immediately, the University is starting the search for his successor. This is the perfect opportunity for Pitt athletics to resurrect its tradition. Long (and Pederson before him) each tried to leave their own signature on the university. Pederson with the abandonment of the Script for illegible, "torchcut" logos and that abomination of a panther head. Long with the block Pitt logo and that new otter/pit bull genetic freak panther logo. It's high time that someone that values our university's rich and storied tradition is brought in.

Pitt has had 5 jerseys and 5 logos in the past decade. They look like Notre Dame or Navy wannabes on the field. A revert to Script once and for all under a new Athletic Director would unite Pitt fans and send a powerful message. The fans want it, the players want it, the head coach wants it. I implore the next Athletic Director to conduct market research and verify what we already know. Oh, and fire Ferris.

Posted by Kyle at 10:12pm
Script Wallpapers // 02.27.2007
- There is now a Wallpapers section where we will add Script Pitt wallpapers for you to download to your desktop. Currently, there are only a few, but be on the lookout for more. You can find additional links to it on the right side of every page. Enjoy!

Posted by Kyle at 5:06pm
Online Petition // 02.10.2007
- A visitor has recently notified me that someone has started an online petition in favor of the script's return. Currently, there are just under 800 signatures. I urge all Pitt fans to set aside ten seconds and sign for the cause.

Posted by Kyle at 2:28pm
Palko, Blades Sport Script at 2007 Senior Bowl // 01.27.2007
- Former Pitt players Tyler Palko and H.B. Blades wore helmets with the Pitt Script logo in the 2007 Senior Bowl. Exclusive pictures below. For a video, go here and click the appropriate link, then select "2nd Quarter Highlights." Tyler can be seen about 1:20 into the video. Those who want it back: Fans, check. Players, check. Coach, check. A.D., no.

Posted by Kyle at 9:43pm
Identity Crisis // 11.27.2006
- The Georgia Tech Yellowjackets called. They want their uniforms back. Just when you thought it couldn't get worse than the current Notre Dame-esque jerseys, the Pittsburgh Panthers trotted onto Heinz Field clad in gold on Saturday, three shades of it to be exact (picture below). These are without a doubt the biggest eyesores since the "torch-cut" font jerseys where illegible numbers and letters had teeth and claws.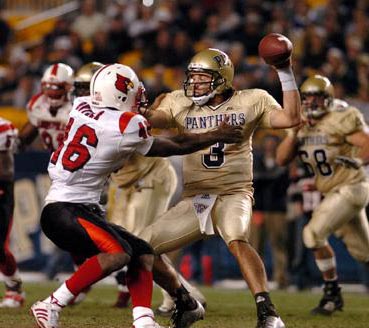 Posted by Kyle at 12:10am
2007
Record
2 - 2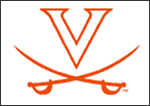 until Pittsburgh at Virginia!