This polarising microscope is further development of the Zeiss successful "L" stand done in 1950's, it can be configured for use with transmitted, as well as with reflected light. The standard configuration comes with inclined monocular tubus with a Bertrand lens, diaphragm iris and drawtube adjustable from 159 to 164 mm. Also, the rotating stage with vernier scale and marked divisions, 0º - 360º of arc.
Polmi A1 stand is essentially Ng stand4, and is equipped with a true Koehler illuminator together with collector lens, field diaphragm and mirror centring device built into the base, on top of the mirror there is also a filter tray. All transmitted light objectives are 45 mm RMS thread, non DIN, reflected light objectives are also 45 mm, non DIN, infinity corrected with M19x0.75 mm thread.
One of the most versatile features of the Polmi A is the fact that practically all of the accessories can be used on either the Ng or Nf stand, it can also be used with binocular attachment in configuration with vertical illuminator for reflected bright field observation, or for photomicrography if MF trinocular adapter is mounted.
Basic configuration consists of:
- Set of planachromat POL objectives for transmitted light observation for 160 mm TL.
| | | | |
| --- | --- | --- | --- |
| 2.5/0.07 | 6.3/0.16 | 16/0.32 | 40/0.65 |
| 160/ | 160/- | 160/0.17 | 160/0.17 |
- Set of planachromat POL objectives for reflected light observation corrected for infinite TL:
| | | | |
| --- | --- | --- | --- |
| 4/0.10 | 10/0.20 | 25/0.50 | 63/0.80 |
| ∞/- | ∞/- | ∞/0 | ∞/0 |
- Set of 30 mm POL oculars, each with screw in/out telescope adjustment:
| | | |
| --- | --- | --- |
| Compensating | Compensating | Compensating |
| PK 10x/(20) W POL | PK 16x/(12) W POL | PK 25x/(8) W POL |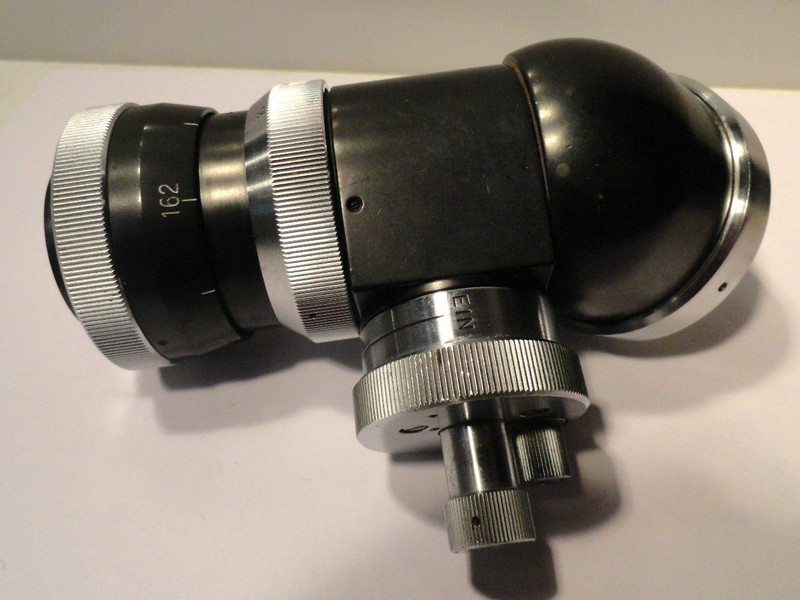 Polmi A inclined monocular tubus used for both configurations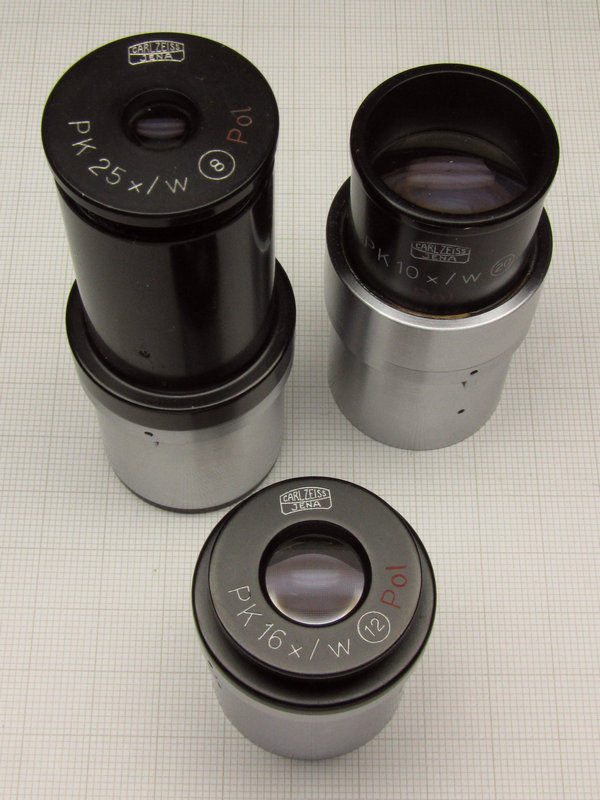 Compensating POL 30 mm Ocular Set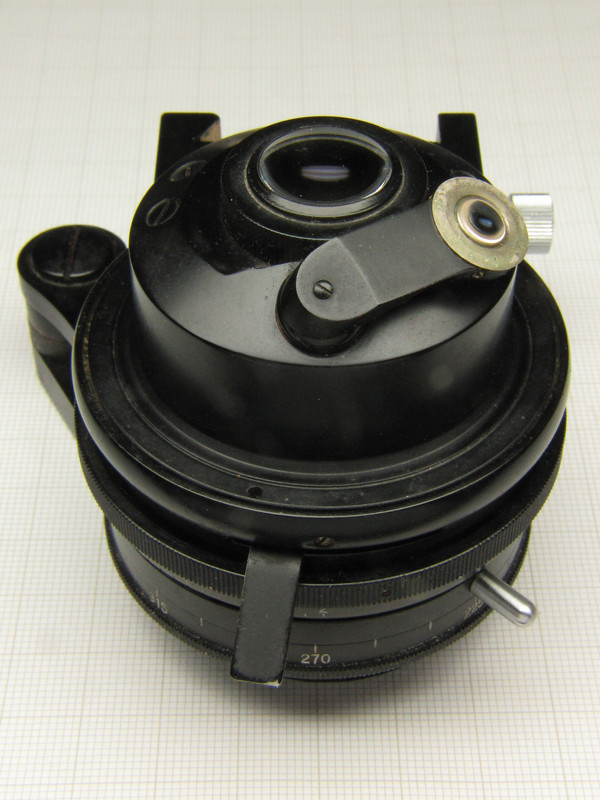 Transmitted light POL Condenser "e"
There are two condensers, one mounted under the stage, and other is part of the Vertical Illuminator. Transmitted light POL Condenser "e", mounted under the stage, has a swing out calibrated polariser and a swing out lens, with a frosted upper surface for covering large area required by low power objectives. The flip top lens on top provides illumination for high magnification objectives. There is also diaphragm iris that is 24 mm across when fully opened, and closes down to 2 mm.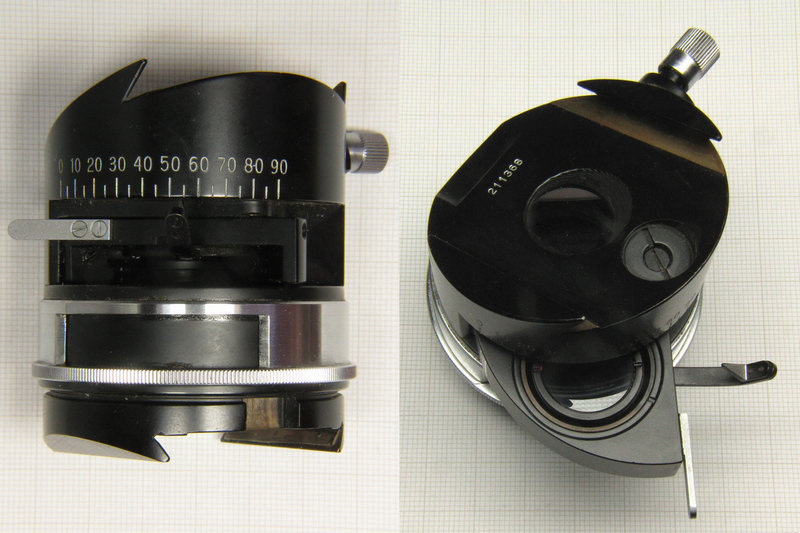 Transmitted light intermediate tube POL
Transmitted light intermediate tube POL is housing Analyser filter with position indicator 0º - 90º of arc, with slot for inserting round compensators, and under it, there is also a slot for slider compensators. On the bottom there is dovetail receptacle for 36 mm centreable objective carrier plate. Carrier plates are supplied in a set of four to accommodate four objectives and to allow quick objective change as each objective can be centred individually.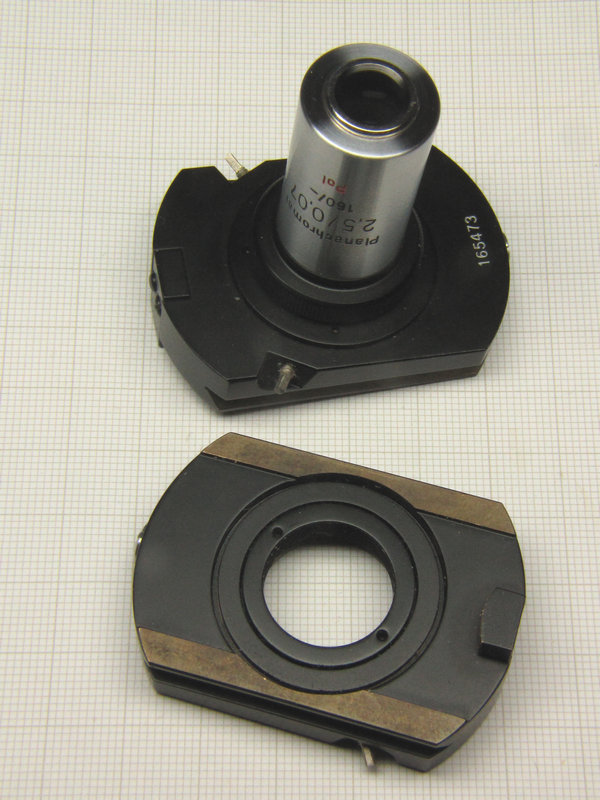 One of Zeiss transmitted light objectives mounted onto the centreable 36 mm slider plate, plus one without objective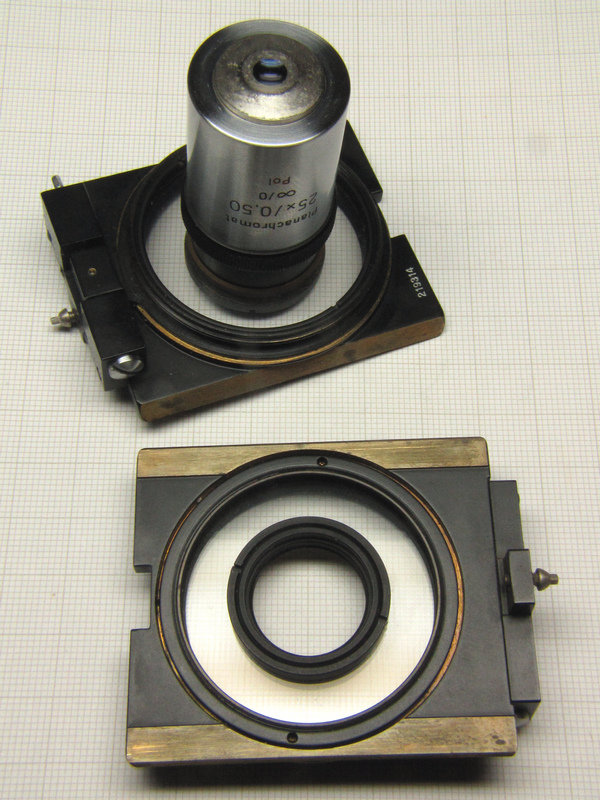 One of Zeiss reflected light objectives mounted onto the centreable 52 mm glass slider plate.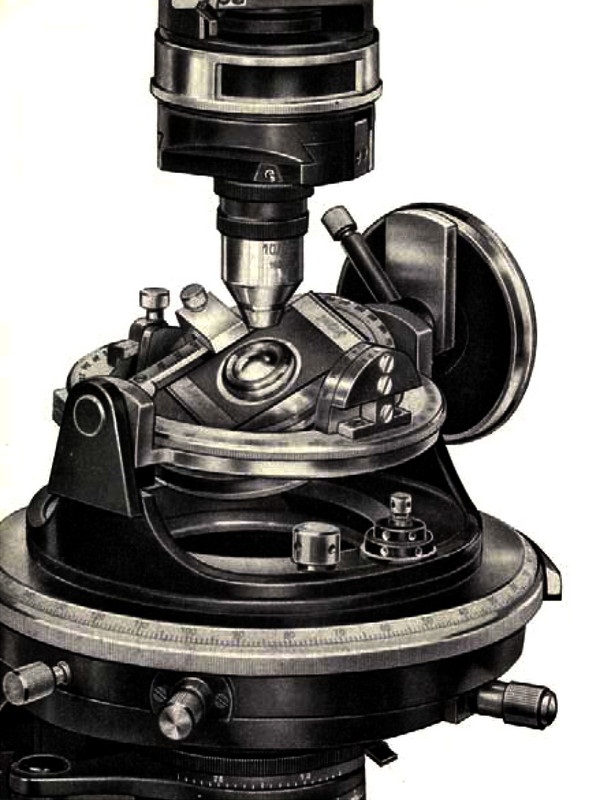 Universal Stage after Fedorov can be mounted onto the rotating stage of Polmi A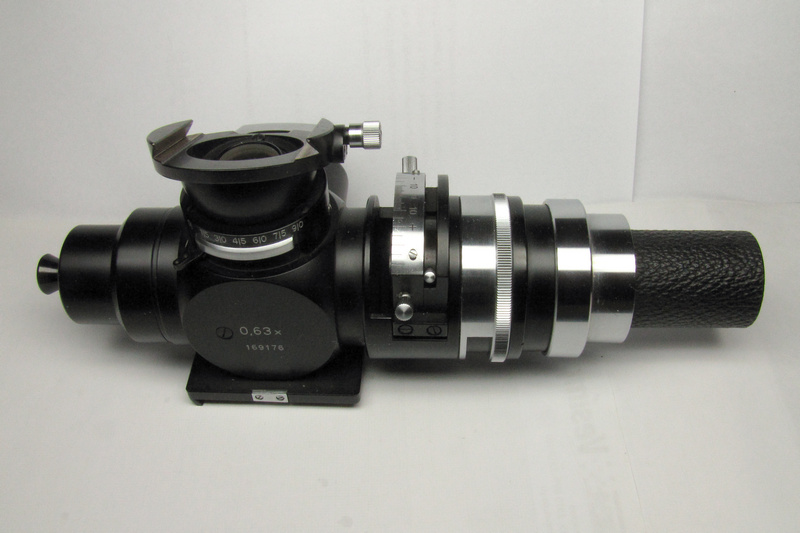 Vertical Illuminator-Condenser for reflected light
Vertical Illuminator-Condenser has a collector lens mounted in the tube where the lamp holder plugs in, a slot for inserting field diaphragm with the polariser filter, a slide in/out calibrated Analyser filter with setting lever, slot for "C" compensators, pull/push mirror rod and pull/push prism rod. There is also a slot for inserting heat absorbing filter, or other filters, e.g. green or blue etc.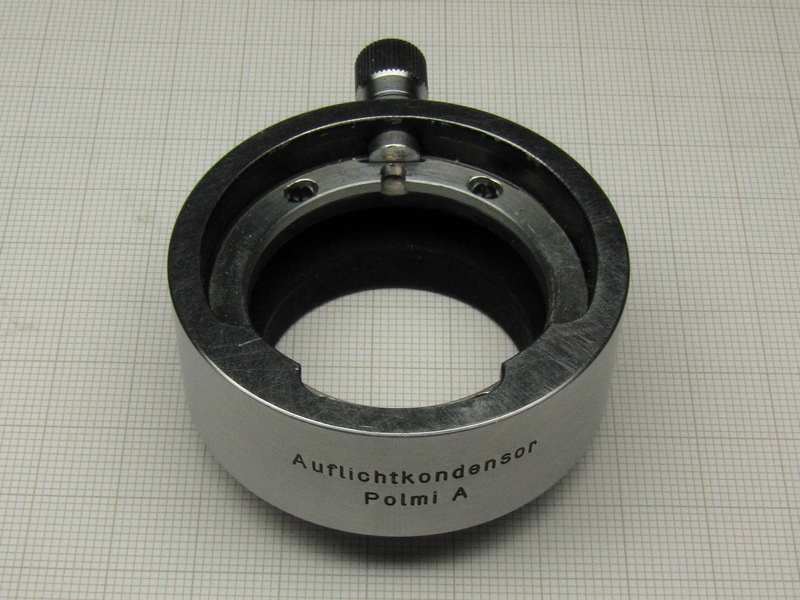 Polmi A Vertical Illuminator-Condenser Extension Tube - it mounts just under the Monocular Tube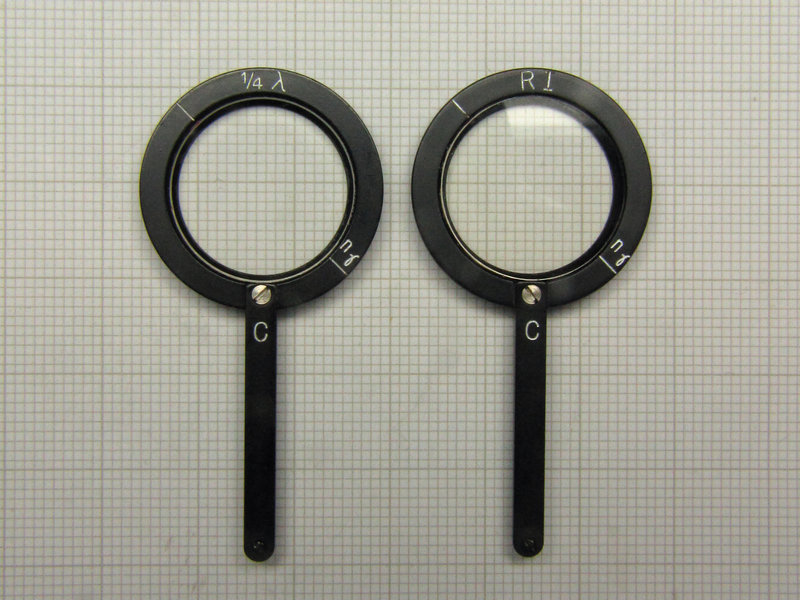 "C" Compensators: ¼λ and RI (Red)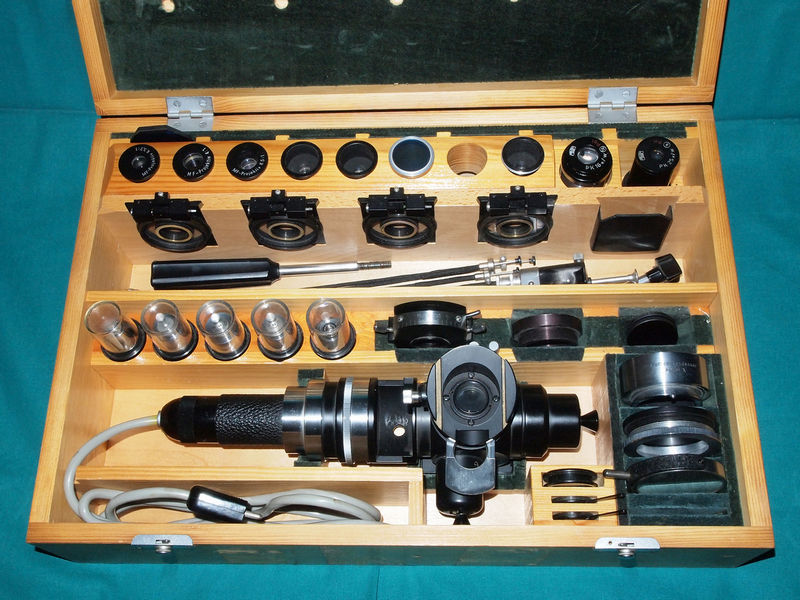 Vertical Illuminator - boxed, with all accessories
With the Polmi A lot, came Zeiss microscope camera - Werra with integral Prontor shutter by Alfred Gauthier.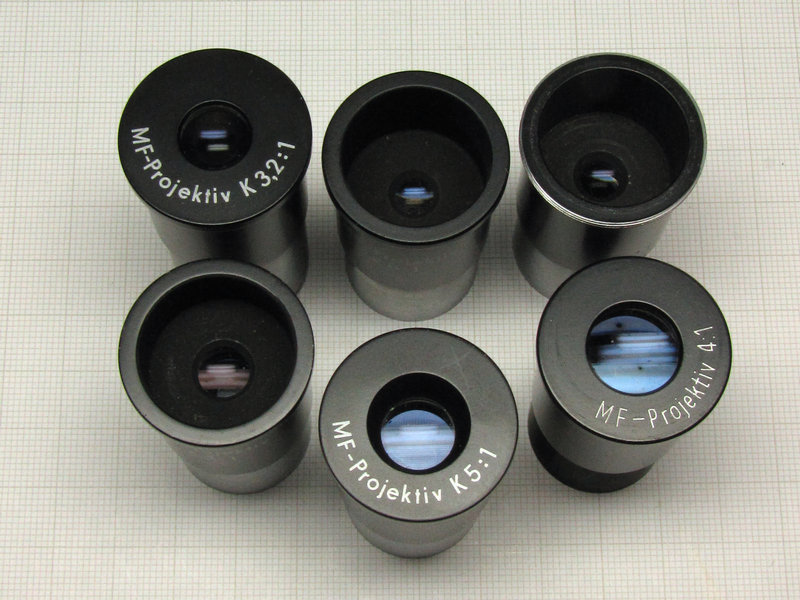 Along with camera there was an almost complete set of MF Projektiv lenses described in detail within the article on Zeiss Mikrofotoeinrichtung.
References:
1. CZJ Mikroskop Polmi A - 30-531c-1 (DE)
2. CZJ Microscope Ng - 30-036-2 (EN)
3. CZJ Polarisationseinrichtungen - 30-331c-1 (DE)
4. CZJ Planobjektive - 30-401a-1 (DE)
5. CZJ Objektive und Okulare für Mikroskope Lg, Ng, Nf, Xk und Xa - 30-400b-1 (DE)
top