Trinocular - Photomicrographic attachment for the Nf Stand
Carl Zeiss Jena
By Dushan Grujich, on May 8th. 2014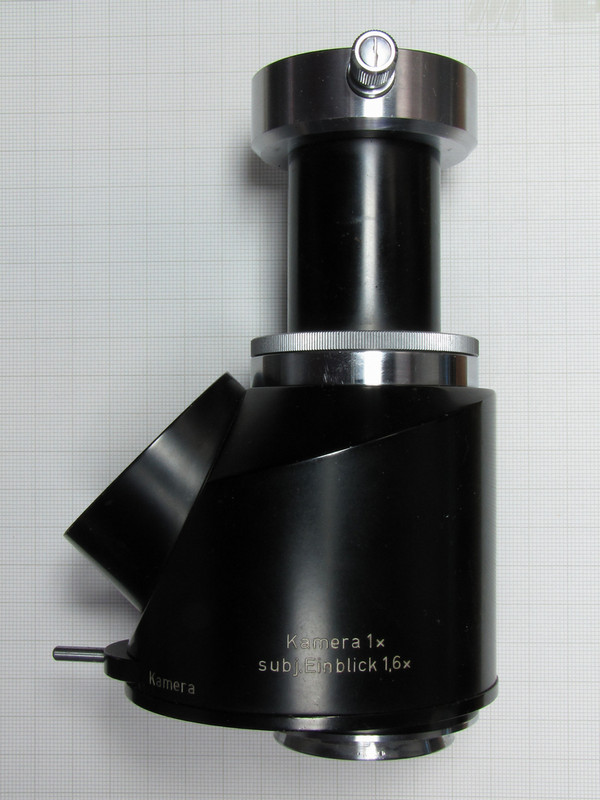 Trinocular-Photomicrography attachment for the Zeiss research Nf Stand
The trinocular device replaces prism assembly, shown below, which is used to attach the binocular to the stand with magnification factor of 1, at the same time prism assembly "D" inclines binocular attachment at an angle of 30º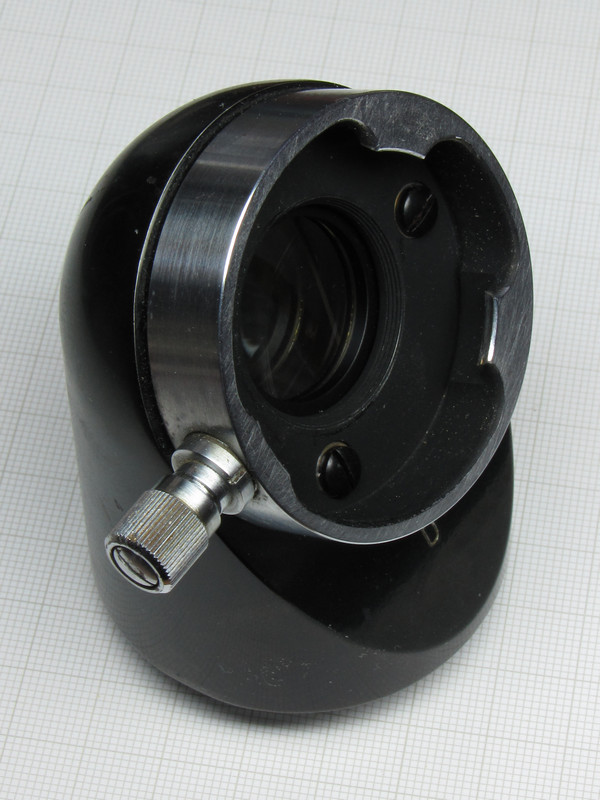 Prism assembly "D"
Trinocular attachment has the same basic prism assembly built in it and it introduces magnification factor of 1.6 for visual observation. By use of a lever, located at bottom - front, the prism assembly is placed in the light path to direct image into the binocular for visual observation, or it is swang away from the light path to project image straight up onto the film plane of the camera.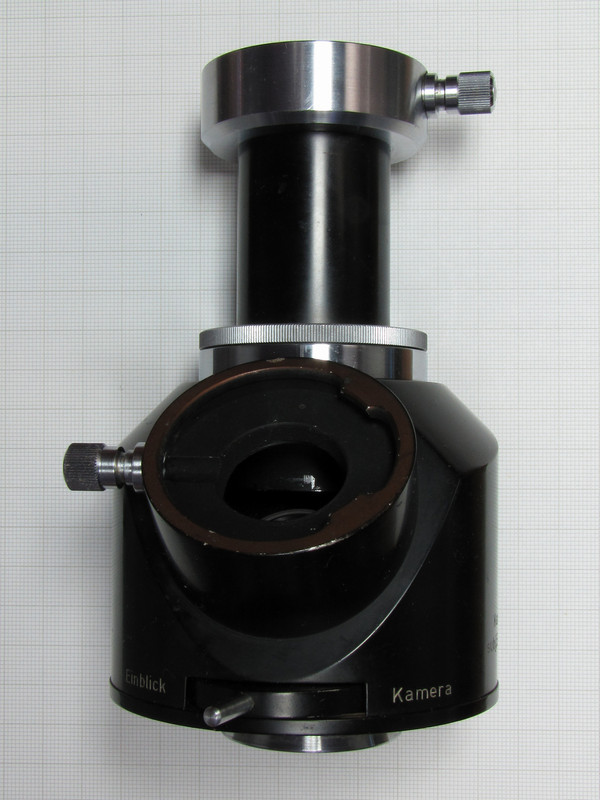 Image above shows the binocular port and port selection lever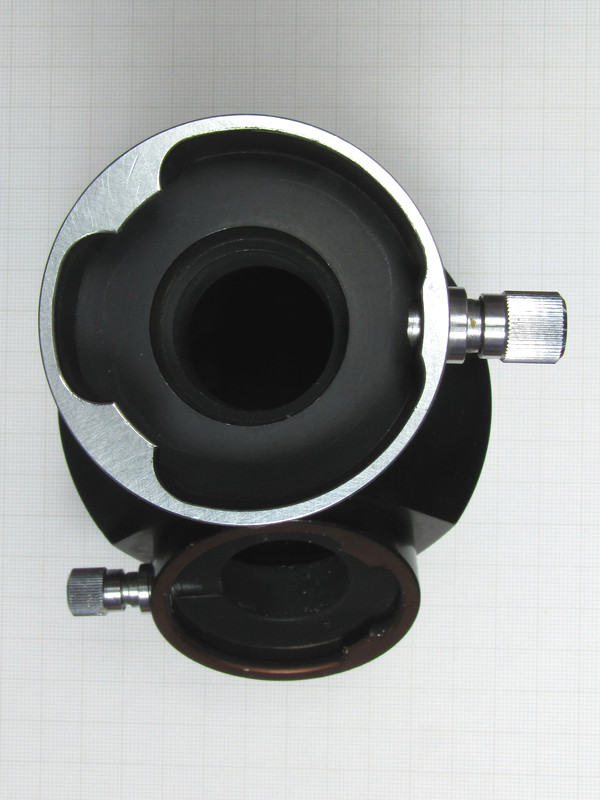 View of the camera port showing place for insertion of an eyepiece of the MF-Projektiv type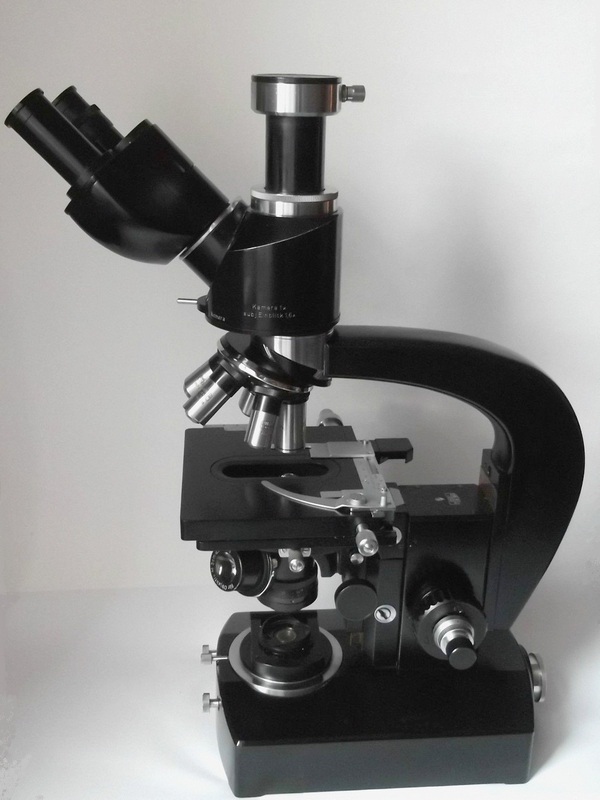 The Nf stand mounted with trinocular attachment
Camera port can, of course, be used without an eyepiece and the image can be projected directly to a digital camera sensor. To achieve this I intend to use MFT mirror-less camera, the 12 Mp Olympus PEN E-PL1. To do this I have to make a suitable adaptor to place camera sensor at exact position of the projected image.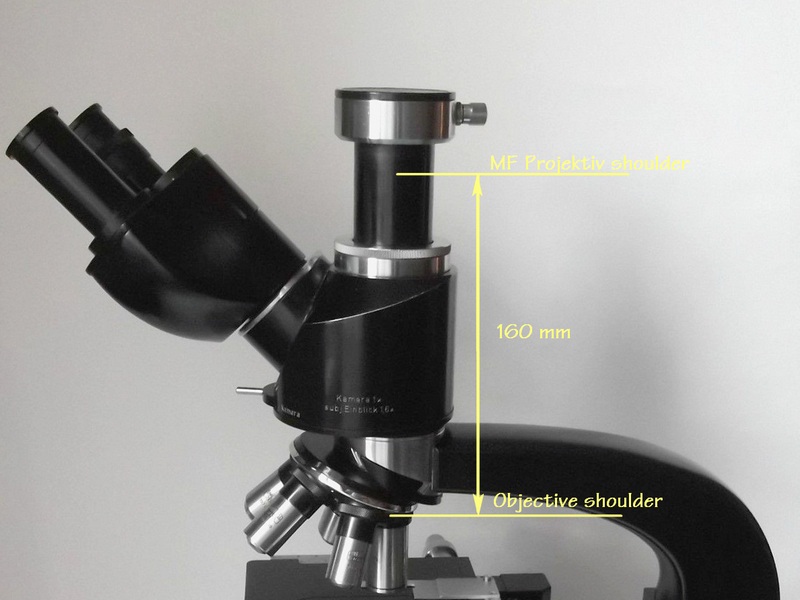 I had to check the TL of the trinocular attachment camera port, which was shown to be exactly 160 mm by carefully taking the measurement.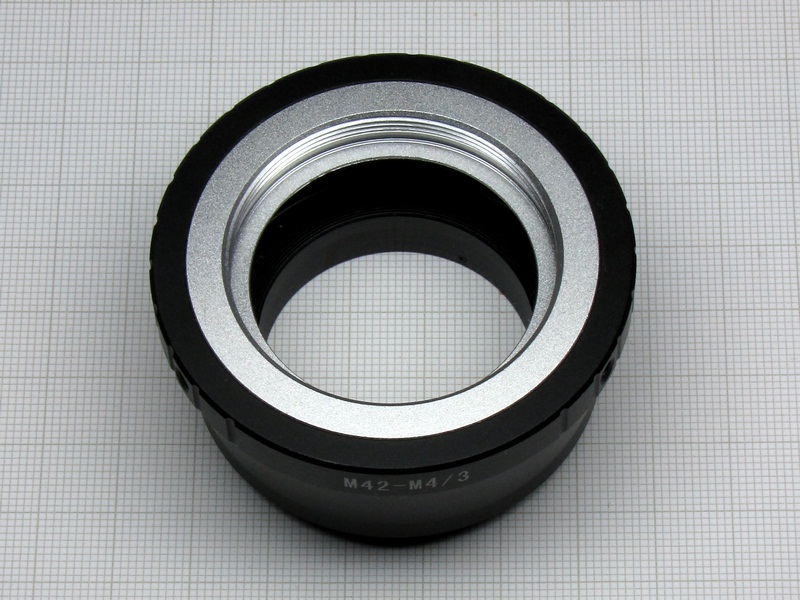 The adaptor for MFT camera with an M42 insert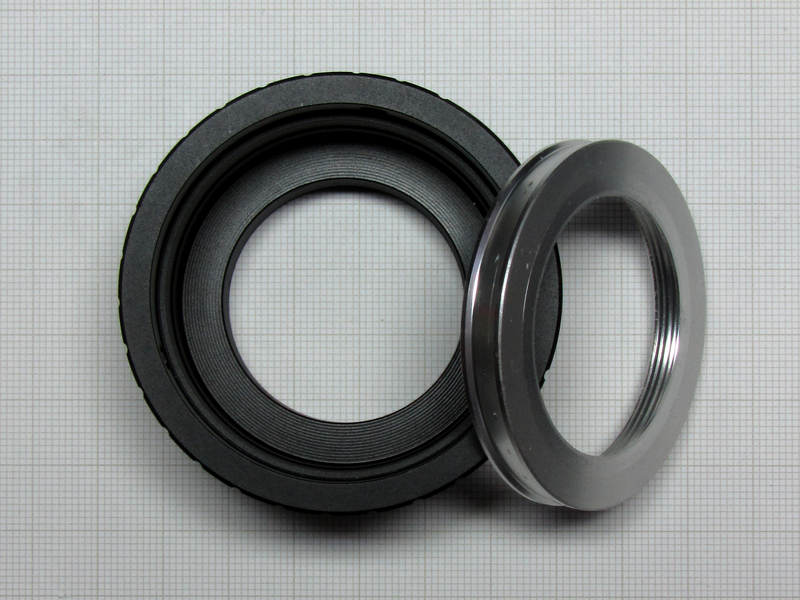 The above image shows the M42 insert taken out of the adaptor
My intention is to make a new insert with the Zeiss dovetail flange, in order to replace the M42 insert, which should then allow mounting the E-PL1 camera to photographic port. It is my assumption that whatever camera was mounted onto the photographic port of the Zeiss trinocular attachment it was referenced to the port mounting plane, thus the adaptor from the microscope to the camera should take into account the flange to image plane distance of the camera that is used.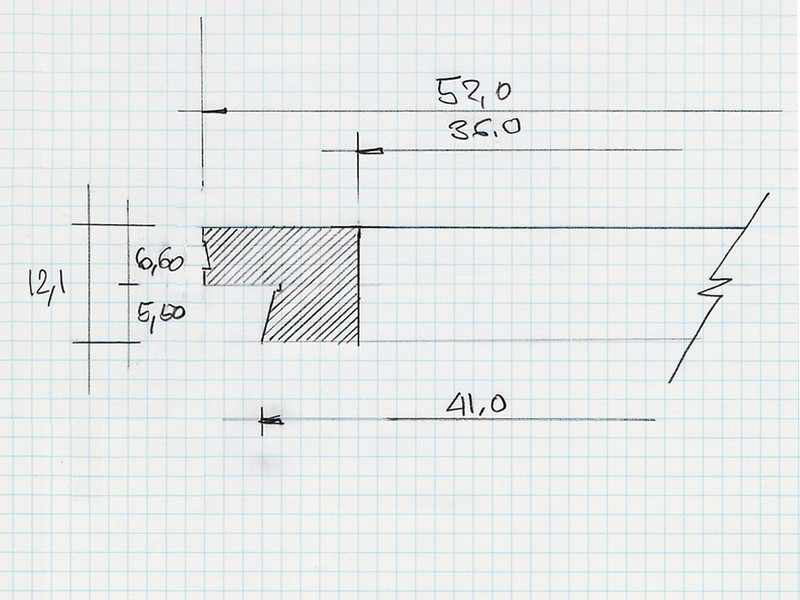 A partial cross section sketch of a proposed camera adaptor insert that should do the job of properly mounting E-PL1 to Nf Stand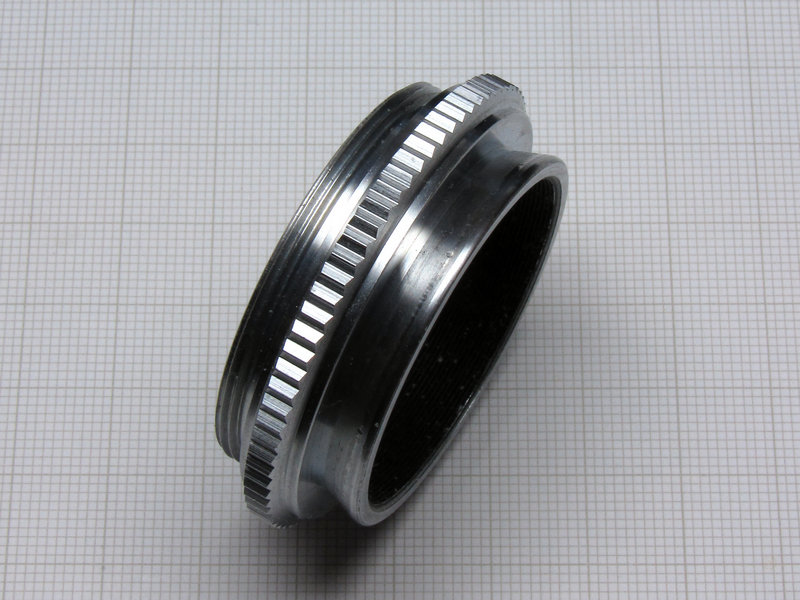 Instead of making a new insert with Zeiss dovetail, I used an Ihagee adaptor that was exactly what was needed
Looking further into the intended use of the Zeiss MF-Projektiv lenses I found out that they were specifically designed to project flat image onto the film plane to cover 24x36 mm frame with no noticeable degradation without use of any additional correction lenses between the MF-Projektiv and the film plane.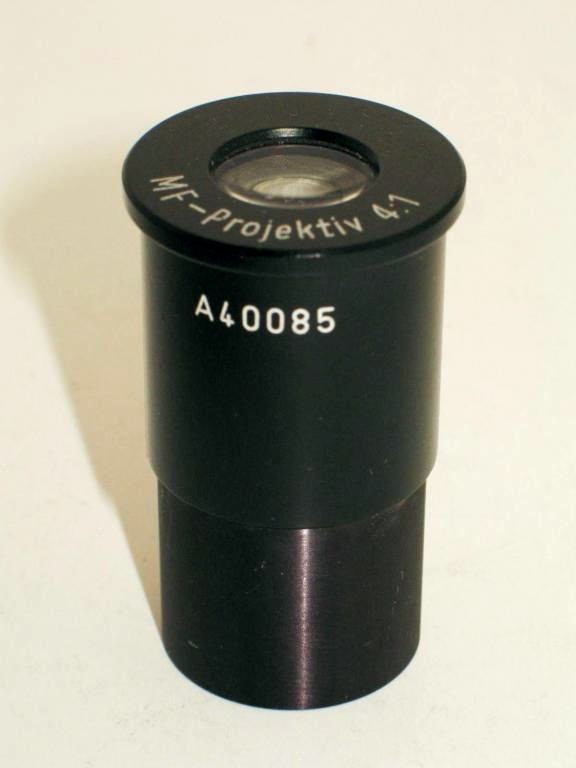 The MF-Projektiv 4:1 lens
They should be used according to the following list as is recommended by the manufacturer:
MF-Projektive:
MF-Meßprojektive:

For Achromats:

MF-Projektiv 4:1

MF-Projektiv 6,3:1

For Achromats:

MF-Meßprojektiv 4:1

For Plan objectives und Apochromats:

MF-Projektiv K 3,2:1

MF-Projektiv K 4:1

MF-Projektiv K 5:1

MF-Projektiv K 6,3:1

MF-Projektiv K 8:1

MF-Projektiv K 10:1

For Plan objectives und Apochromats:

MF-Meßprojektiv K 4:1

MF-Meßprojektiv K 8:1
Having already chosen Olympus PEN E-PL1 with Flange Focal Length - FFL of 19.25 mm. Then the M42 to M4/3 adaptor which is 25 mm long which when all is added up 125-19.25-25 = 78.75, leaving 78.75 mm to be covered with a spacer tube to satisfy design condition of 125 mm.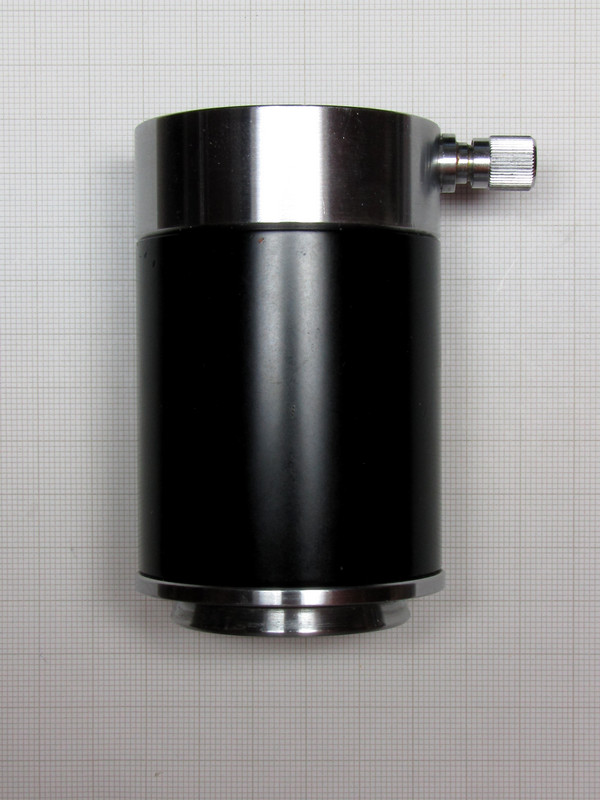 It is quite interesting that I happen to have, in my stash of odds and ends, one extension tubus of almost exactly the right length, 78 mm.
It would seem that Zeiss had this particular trinocular attachment intended to be used with a Leica format camera that had FFL of exactly 46 mm. This could quite easily have been an Exakta, Pentacon or Contax SLR.

It seems that after all, my proposed camera adaptor modification with a slight adjustment of length shall fit the job and will provide correct distance from sensor to the MF-Projektiv lens.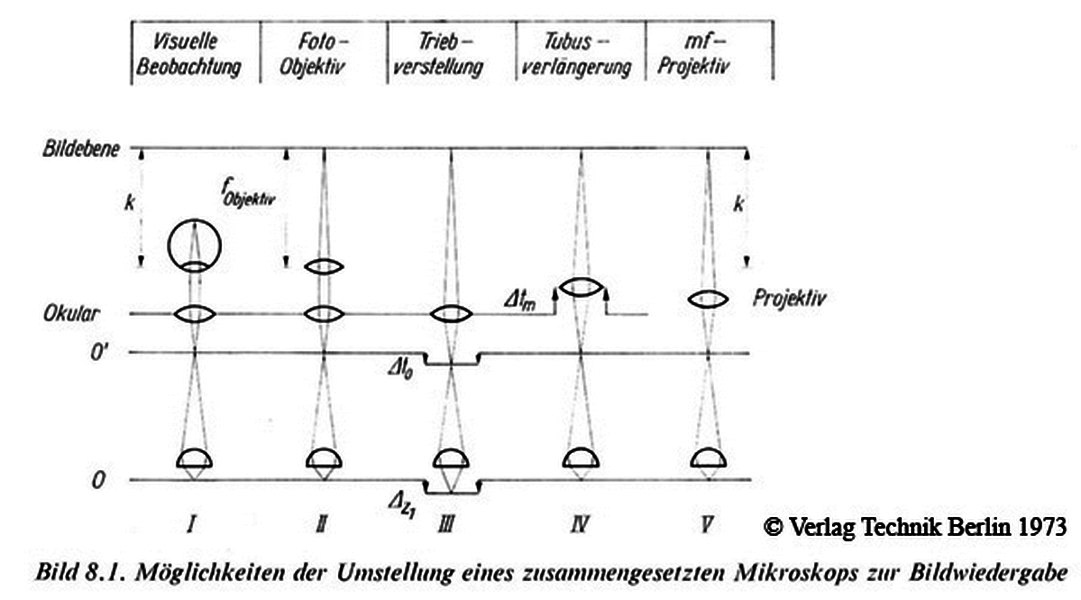 Figure 8.1 shows four options for changing a microscope set-up from visual (I) to microphotography (II-IV).
(III): When using a normal eyepiece ("Okular"), in order to project an image on film plane ("Bildebene") or in this case on a chip, it is necessary to change the focus of the microscope, which results in a shortening of the optical tube length and therefore in spherical aberration. This is a problem with high numerical aperture dry objectives as described in the Leitz Technical Information Bulletin 5.

(II): To get around this problem, Leitz used a relay lens system as described in Leitz TIB. In effect, this is a camera objective with an appropriate focal length ("Foto-Objektiv"). Leitz could therefore use regular, simple 10x Periplan eyepieces in their camera set-ups. This same approach was also used by Zeiss West Germany.

(IV): The other option is to lift a regular eyepiece slightly off its normal position to enable it to project an image. The distance ("Δtm") that eyepiece has to be lifted depends on the focal length of the eyepiece and the camera length. For a camera length ("k") of 125mm and a 10x eyepiece, the distance is 5mm.
For other values of "k" use formula below to determine Δtm:
f - is the focal length of the eyepiece
(V): Zeiss Jena instead decided to develop dedicated microphotography projectives (MF) for this purpose. They project a real image at a distance of k=125 mm while the focus position of the microscope remains unchanged. They do not require a relay lens. These MF projectives are used in the Zeiss Jena microphotography attachment "mf".
Source
:
Beyer (1973): 'Handbuch der Mikroskopie', book is from the former Eastern Germany and presents the Zeiss Jena microscopes in great detail.
Last issue left to be considered and taken care of is the E-PL1 sensor size, the Four Thirds System, which when compared to Leica format frame 24x36 mm is about half its size or one quarter of its area, as can be seen at the chart shown below.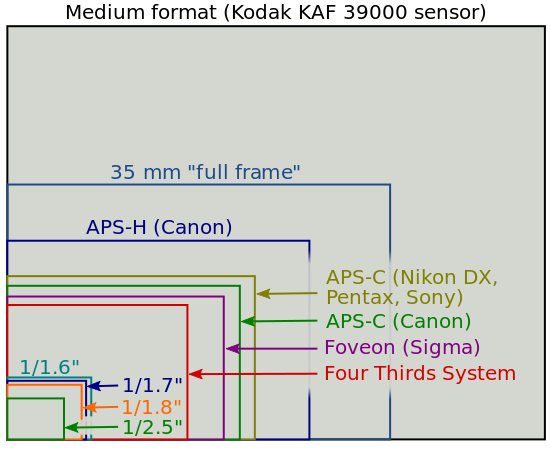 Chart showing relative size ratio of various sensors compared to Leica film "full frame" 24x36 mm
There are couple of ways one could get around this problem, each would have to be tested and solution established by experiment which at this time is beyond the scope of this article. However, this is something that I shall have to tackle with and find a solution so that whatever is seen by visual observation through the binocular will be equalled by camera sensor, size and image quality wise.
Another thing worth mentioning is that the Olympus PEN E-PL1 "Live View" will be utilised for imaging in combination with software package DIGAM generously provided as freeware by Marien van Westen.
The first couple of test images using the trinocular attachment, mounted onto the Nf stand, were of a Giemsa stained blood smear, both shown below. The first one was made with a standard Zeiss 40/0.65 achromat, and second with a "high dry" Zeiss 40/0.95 apo, which was made sometime in 1930's.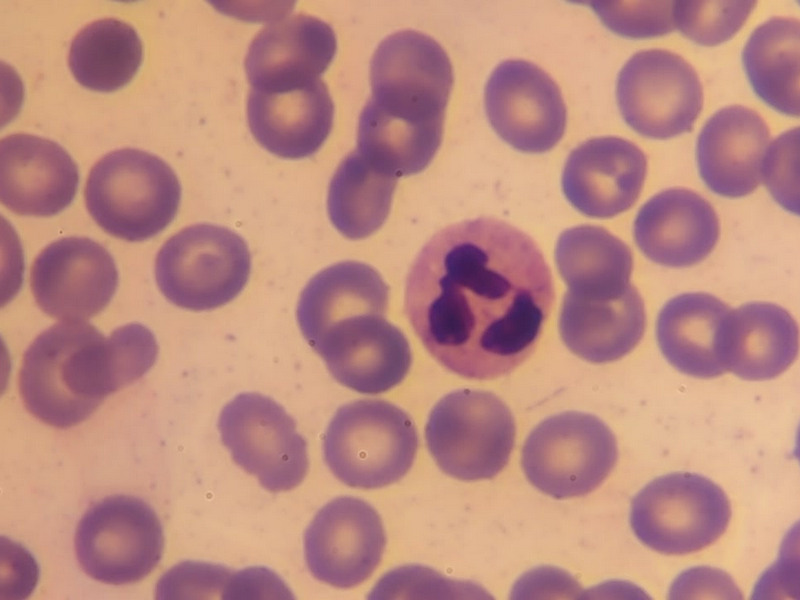 Image of Giemsa stained blood smear done using Zeiss 40/0.65 Achromat and MF Projektiv 4:1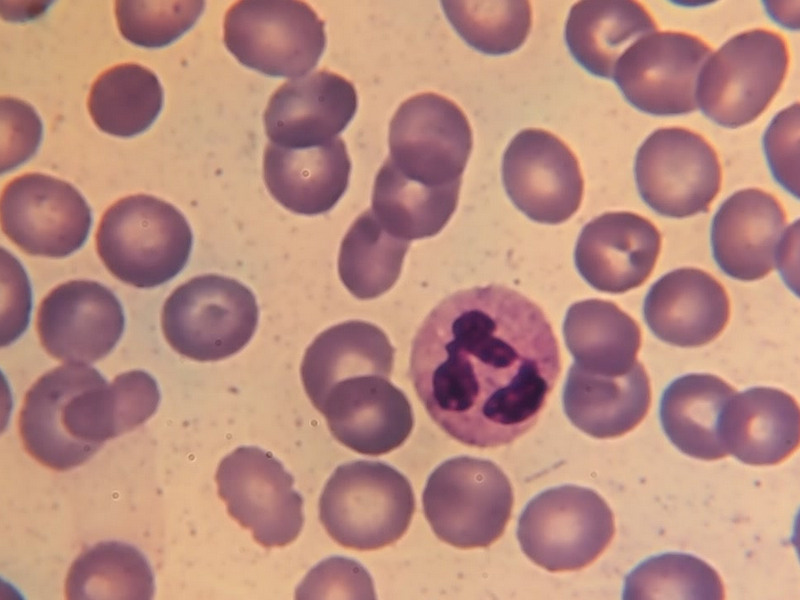 Image of the same Giemsa stained blood smear done using Zeiss 40/0.95 Apo and MF Projektiv K 4:1
These couple of images are still not quite the quality of what is seen by bare eyes looking down the binocular, fine detail is missing. This only means that I shall have to do some more investigating, figure out the reason and then try to get better results.
References:
1. Nf Stand - Carl Zeiss Research Microscope - Web presentation of the Nf stand
2. CZJ Mikroskope Nf (Text - de)
3. CZJ Mikroskope Nf (Images - de)
4. Objektive und Okulare für Mikroskope Lg, Ng, Nf, Xk und Xa - 30-400b-1.T
5. Technical Information Bulletin - Vol. IV Number 2, May 15 th. 1964 Leitz Wetzlar
6. "Die Mikrofibel" - Klauss Henkel
7. Mikrofotografie mit der Aufsatzkamera CZJ Druckschriften - Nr. 30-G605 g-1 G (Text - de)
8. Mikrofotografie mit der Aufsatzkamera CZJ Druckschriften - Nr. 30-G605 g-2 G (Images - de)
Of course, credit must be given to people who helped this project become success:
| | |
| --- | --- |
| | Merv Hobden, UK |
| | Randall Buck, USA |
| | and last, but not the least, - Mikroskopie-Forum, Germany |