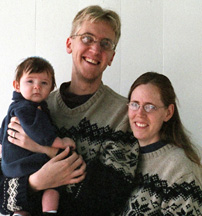 Daniel, Doug and Lesli Summers-Stay
Artist's Statement
What fascinates me about figure sculpture is the ability the figure has to immediately communicate an emotional state through gesture. I want my figures to feel human and seem like little people with emotions and thoughts.
All of my figures are quiet and contemplative. I didn't set out originally with the idea of making them all contemplative, but it is a gesture of humanity that my hands know how to form. The most profound things I have understood in life have come out of contemplative moments.
About Installation 'Edges'
When I was nineteen, I read Metamorphosis by Kafka and afterwards cried uncontrollably for three hours. During those three hours I felt like I was standing on a fence over a void: if I tried to shrug off the agony I felt from the story, I would lose my delicate balance on the fence. If the agony overwhelmed me, I would also fall. It was the first time I realized with stark clarity how fragile my hold on sanity and life really is. I have wondered if there are such edges in other people's lives. I have come to the conclusion that there are, but that most of us have learned how to avoid falling without consciously acknowledging the danger.
-Lesli Summerstay
Artist's Bio
Lesli Summerstay received a BFA in sculpture from Brigham Young University in December, 2001. She displayed in the Spring Salon Regional show at the Springville Museum of Art from May to June 2001, and in the Provo Arts Council Freedom Festival in June and July of the same year. She also participated in the Young Contemporaries art show at Sundance from October to November 2000, and in the Women of Faith art show at the Mormon Visitors Center from March to May 2004.
Lesli Summerstay focuses on expressing subtle emotions through gesture. She hopes that viewers will be able to sense a unique personality in each of her pieces. She is very careful to create balance in her work, making the figures stand or sit in comfortable, natural poses. She is continually experimenting with new ways of treating the surface to create a rich, deep visual texture, giving the effect of age and weathering. Her pieces don't show an ideal figure, upright and proud, but the beauty of the everyday, common humanity.
Lesli currently lives in New Jersey with her husband Douglas and young son Daniel.

email address: [email protected]