Diana's Diary 2001
---
Home
Diary
Photos
Biography
Links
TG Quiz
Stories & Poems
Recipes
Favorites
View Guestbook
Sign Guestbook
---
Consolidated Fantasia Fair Diaries.
---
June 28th
Last night was the last meeting of the season, the next regular meeting is in September. We had about twenty people show up for the Potluck dinner. Food tends to bring them out. Lucky I made Lasagna, because the only other main coarse food was a turkey, another member cooked. Everything else was salads or desserts. At least I had enough leftover to save for another meal for myself.
Speaking of food I am adding a new page to my web-site, my favorite recipes. Look for it coming soon.
We had prospective new member show up. She is still in the closet from her spouse of fourteen years. We also had a couple who are new members show up with a friend.
June 17th
I just got back from the cottage, went up with COS member and his wife and another member. They wanted to go to the Bike races at Laconia NH. So, I invited them up to the cottage and they could go to the races on Sunday from there. We all drove up on Friday afternoon, they on their bikes and me in my car. We were in boy mode and if you want something crazy, try keeping their names straight. I always called them by their feminine names and we stopped on the way up at a biker's "Gear Down" ( They offer a place to stop and free food. ). Here we are surrounded by all these bikers and I don't think it would of over gone over very well if I called them by the girl names.
We all had a good time, on Saturday they went out for a ride and I worked around the cottage. But, on Sunday it started to rain and the race was called off. So we stayed at the cottage playing cards, until it stopped raining around two and then came home.
June 11th.
Saturday's meeting was a discussion on "Discovering and Nurturing Your Femme Persona", in other words we couldn't come up with a guest speaker. There were about twenty people who showed up, including one of the spouses of a new member. There was much talk about how some of the members say that they feel when they dress in girl mode verses boy mode. But, for me I don't feel any difference. I believe that I act the same way in either mode, maybe others can see a difference in me, but I don't. Of course no one has really seen me in both modes, I try to keep them separate. The only thing is I like being in girl mode and try to stay in that mode as much as possible.
For one of the members, this was the first meeting back after her trip to Montreal. She is doing well and still has some slight discomfort.
June 3rd
Last night I went to see "Hedwig and the Angry Inch" with three other members of COS. The movie was great and the sound track was excellent.
When the movie first started, I thought, "Oh no, what had I come to see." But, the movie started getting more interesting and the character better developed. The story line was developed by the use of flashback to Hedwig youth in East Berlin and his unique way to escape from East Germany.
I can easily see why the movie won all types of awards. The write up in the "The Hartford Gay and Lesbian Film Festival" guide booklet. It says it better then I can.
I plan on buying the sound track from the movie when it comes out in July.
Trinity College, where the film festival is being held, is located in Hartford,on a beautiful old campus. All the old buildings are ivy-covered brownstones with wide-open spaces between them. Walking around the campus looking for the theater and waiting for the movie to begin, I felt safe.
As I think back over since I joined COS, I have going out more and traveled more than I have ever done before. I have meet new friends, gone to interesting events like this movie, seeing "Too Tall Blondes" with Kate Bornstein and Barbara Carellas and "Fractured Fairy Tales". I am enjoying life more.
Return to Top of the Page
May 24th
I had couple of friends over for supper before the meeting and I made chicken with stuffing and cheese, along with a salad. They both loved it, dug in and had second helpings. It's getting to be a regular event before the meeting and they look forward to the dinner, because both of them come up from the New London area, which is about a hour from the meeting hall.
At the meeting we had a guest from Southerner Connecticut State University who is a Sexologist. She gave a talk on Human Sexology and Sexual Orientation, it was very informative. Then she sat down and had a discussion with us. I think she learned just as much from us, as we learned from her.
We had seventeen people show up for the meeting, including two new persons.
May 16th
At the COS board meeting last night we were trying to come up with ideas for events we could have, I came up with the idea of having a trip to see the movie "Headwig and the Angry Inch" at the GLBT Film Festival - June 1-9 being held at Trinity College in Hartford. We talked about it for awhile and the Executive Directory turn to me and said "that since it was my idea would I like to organize it? "
I swallowed hard and said "Yes, I'll give it a try. " And now as I sit her the next day thinking "What the hell did I do that for? " Any one who knows me will know that I still get very nervous about going out in public, even in a group from COS. Now I am to organize it and have to wait for everyone out in front of the theater. The only saving grace is that it is a GLBT event.
Oh well, so much for opening my mouth, maybe next time I'll think before I say something.
May 13th
Last night meeting had a good turn out of about twenty members showed up for Dr. Kathleen M. Sterner from the Gender Identity Clinic of New England ( GICNE ). She gave a speech about the clinic and it's history. There was a lot of good questions asked about the procedure for going before the board, about what the board looks for in a candidate, about insurance and cost ( about a thousands dollars ) and about hormones. She talked for about ninety minutes.
May 11th
Here is my second attempt at poetry. I hope that you will enjoy these poems, if you do please sign my guestbook and let me know what you think of them, thanks.
This poem came about while I was thinking ( Yes I know that's dangerous ;-) ) about people asking me at conventions if I was TS or TG. I always said "I don't know", but what I really felt was….
* * * * * * *
The Word Not Spoken
By Diana

The word said,
means commitment.

The word said,
means obligations.

The word said,
means duty.

The word said,
is a milestone.

The word said,
is another stone in the foundation.

The word said,
is a fork in the road taken.

The word said,
closes the door behind and opens the door in front.

The word said,
burns the bridges.

The word said,
can never be unsaid.

I am a....

* * * * * * *
May 7th
My first attempt at poetry. This poem came about when I was reading a book by L.E. Modesitt Jr. "Magi'I of Cyador", in it he uses poetry from the firstborn. I thought I could write something like that too and this popped into my head.
* * * * * * *
The Lady in the Mirror
Heart skips a beat.
Stomach flutters.
Breath is lost.
I see me.
I am whole.
I am one.
Diana.


* * * * * * *
Return to Top of the Page

April 27th

The Wednesday meeting was a Koffee Klatch, we had fourteen people show up. We talked about Passing and getting read, I added that that is one of my fears about going out in public. We also had a new member joined that night. She was with her SO and it turned out that they knew me from Fantasia Fair.

The next meeting is going to be a good one, we are having a guest speaker who is a doctor from "The Gender Clinic of New England"

April 22nd

One of the COS member sent me an e-mail that she had an extra ticket to the CGMC performance of "Fractured Fairy Tales" that the person who was going to go had to go out of town on business. She wanted to know if I would like to go with them. I said yes, then I wondered what exactly did I say yes too. It turned out that it was the Connecticut Gay Men's Choir. Well, I didn't know what I was getting into, I was a little nervous about going.

I had a great time, the show was funny and the acting and singing was very well done. They had skits on "The Three Pigs", "Little Red Riding Hood", "Cinderella" and other ones as well. The performance was done at the Hartford Insurance Company's Wallace Stevens Theater.

Afterwards, we went out to eat at a small Mexican restaurant. Those of you who have been following this site know that every venture out is a new adventure for me. Going to the theater performance wasn't bad because it was a TG friendly environment, however we were the only TG there. But, the restaurant was very public. We got a few stares and raised eyebrows, but we were left alone.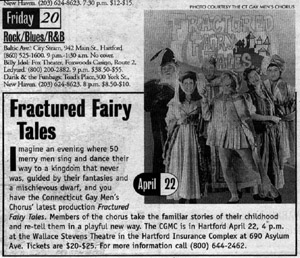 The write-up from the Hartford Advocate
Return to Top of the Page
April 15th
I'm in a blue funk, it's Easter everyone was over my cousins. It's hard to be around family, it always makes me think that I would loose them if they ever found out that I'm Transgendered. I listen to all the girls talk at the meetings about how their families reacted and I wonder if mine would react the same. They are all that I have and I worry if they would understand or not. I hope that they would, but you never know until you tell them and you can never put the genie back in the bottle.
On a lighter note yesterday's meeting was at "The French Butterfly" boutique up in Bloomfield. Before I went up there, two friends from COS stopped over after their XX club meeting for some chili that I made. Then we drove up to the store. There was a good turn out at the store and I ended up buying a casual wear outfit, a white top and a brown skirt.
March 28th
AM
I took the day off from work and went to Irene's Corset shop to use my gift certificate that I got as part of the Newcomer Award. She's located right in the heart of New Britain on West Main, so once again it's very public. I lucked out and got a parking space right in front of her shop. I was the only one in her store so no problem there, once again she is very TG friendly and she recognized me from the meetings that she gave a presentation to. I ended up buying a pair of breastforms and a half slip.
PM
The Wednesday night meeting featured a make-up demonstration by MAC Cosmetics. We had about ten members there to watch the demonstrations, they did two makeovers. I thought one was a little on the heavy side, but everyone else liked it. However, the beard cover that they showed I liked very much. The other makeover that they did was on the most senior member of the group, she must be in her late sixties, I liked. It was done rather well in that it didn't have that heavy look, it looked rather natural.
March 25th
Yesterday was a busy day, with three trips to Waterbury. A morning trip to class, Linux OS. An afternoon trip to pick up my wig. Then an evening trip over to the COS member I went with to see Kate Bornstein and Barbara Carellas read from their up coming new play "Too Tall Blondes in Love" at Yale.
Here is the article I wrote for the COS newsletter about it.
Two Tall Blondes
By Diana
On Saturday night, March 24, Kate Bornstein and Barbara Carellas read from their up coming new play "Too Tall Blondes in Love" at Yale. The performance was part of the Yale Lesbian, Gay, Bi and Transgender Pride Week.
I went with another COS member and we meet some friends from COS and XX Club there. It was the first time that I have been to New Haven and walk around out in public, sure I have been to COS events and other TG events around. But, this time I was a lot more, shall I say out in the open, it was just two of us. We got there early, found a parking space and had about a half a hour to kill before they opened the doors to the lecture hall. We walked to a local Starbucks and went back to the lecture hall.
I had heard about Kate, I think way back in the late eighties, there was an article in either Time or Newsweek magazines about her. I was looking forward to see her in person for this first time after all theses years.
The play is about the struggles of how a relationship starts and grows. It starts off with the two of them in an on-line chat room with each using an alias, they accidentally meet in person not knowing who the other really are.
The play is not for the prudish, it covers all form of sexual interplay, from heterosexual encounters to gay, lesbian, bi, transgender and SM. The play is still unfinished, but will be by late spring, since they open in a theater in Boston sometime in June.
They ended their performance with a fresh take on Abbott and Costella's "Who's on first"; skit. It was about SM with Who on top and What on the bottom and all the other characters were there. They had us all laughing, it was done rather well.
It was a good trip out and an enjoyable evening, I was glad I went.
It was a very good day.
Return to Top of the Page
March 17 th
For those who have been following my web site know that I am still not out to my friends and families and that I'm still nervous about going out in public. Today I summoned my courage and went out for a new wig.
I went over to Waterbury where there is a TG friendly Wig store. The owner has been to many meetings showing her products and we have had meetings at her store. When I got there, their was already one customer and right after I went in a family came in. They were an old grandmother, her daughter and granddaughter. The old flight or fight syndrome kicked in, but I over came my fears and stayed. I pick up my new wig next Saturday.
March 4th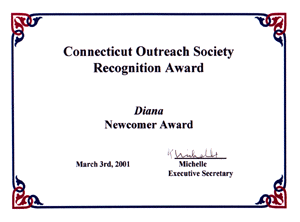 Last night was the COS Annual Banquet and beating my own drum, I received the Newcomer Award for the person who most helped COS in there first year. It took me by complete surprise and I greatly appreciate receiving the Award. We also changed Executive Director after several years as director she felt it was time to step down and pass the torch.I also got elected as a "Member at Large".
At the Banquet there were about forty plus people attending it. Beside the dinner we also were treated to the COS Follies and then we had dancing until the wee hours of the morning. I had reserved a room at the motel so I only had to craw back to it when I left around one thirty.
This was my second COS Banquet and I also been to Fantasia Fair and the TCNE First Event. I have noticed that I see a lot of the same people at all of the events. I guess I am becoming TG event junkie. I would love to go to TCNE Spring Fling in May, but it's on Mother Day weekend and I have family event to attend too. I definitely planning on attending Fantasia Fair this year for the whole week and maybe TCNE Fall Fling.
Return to Top of the Page
March 2nd
I sat moping around the house last weekend with a runny nose and aching muscle as I fought another cold. There is nothing that can bring you down in the dumps faster than a cold. In my humble opinion all these colds this year are caused by long finger nails. They seem to collect the dirt and germs under the nails and are hard to keep clean, special when preparing food for meals.
The Wednesday COS meeting was a very quite one, only eight members showed up. The scheduled agenda was to have rehearsals for the Banquet on Saturday, that might of been one reason for the low turn out. Another may be all of the colds going around.
Now I have to pack tonight and get ready for the Banquet, because tomorrow I have a Linux class in the morning and in the afternoon, I said I'll help in setting up the lights again this year. I am staying over night at the motel where we are having the Banquet and coming home on Sunday after we all have brunch at the motel.
February 17th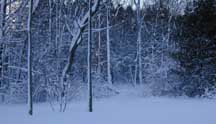 This is a picture looking out my back door just after a seventeen inch snow fall that we had on February 5th. It started snowing in the morning and by the time I left work at three thirty we had about a foot on the ground. The normal ten minute drive home took about forty five minutes and there were a lot of accidents along the way. This was the second snow fall that was over a foot this year. The first was during the "First Event".
Two days latter the temperature was up in the fifties. That's New England weather for you, as Mark Twain once said about New England weather, "If you don't like the weather, wait a minute. "
February 11th
There was no schedule program for last night meeting, which is nice once in a while. We just sat around and talked it was a good social gathering. We had about fifteen members turned out. I ended up leaving around eleven.
Before the meeting I invited a couple of COS members over for pizza, only my directions to the house turned out to be wrong. I made only one little mistake, but that turned out to be a big one. I got my right and left turn mixed up at one intersection and they ended up drive all around New Britain. I felt so bad. It wasn't a nice section of the city that they were driving around in. They finally did find a phone and call ( The section of town they were in had all the pay phone removed because of drug dealers ). I figured out where they were and got them back on track. They did have a good time once they got here and we'll do it again.
February 3rd
Today an e-mail from the COS newsgroup made my day. In it there was a link for a "Gender Test" . I took the test and the result was that it said I was a women. I thought that was kind of neat, it was marginally listed as female, but none the less it did say "Women".
January 26 th
Wednesday meeting was another quiet one we had about fifteen members show up. We sat around taking about the "First Event" and other stories. One of the members told about the time she went and meet somebody she new on the elevator. Our member was still in street clothes and the other person had already changed. The other person flipped out, and though there was some business related event going on in the hotel at the same time. It several attempts to get her to answer the phone before she was able to tell her that she was there for the same event. Since then they became best of friends and laugh when every they think about it.
I tend to like these smaller meeting and informal type meetings than the Saturday meeting with a lot more people.
Also, I just made my reservations for the COS Banquet.
January 21st
I came down with a cold on Thursday and was out of work Friday. When I went up to the Tiffany Club's "First Event" on Saturday I was still feeling the effects of the cold. I went up with two other members of COS, we had light snow all the way and the driving was slow. But, we made it all right. This being my first "First Event" I was looking forward to the banquet and all of the other events. There we meet six other members of COS. A couple of them were there for the entire event and had just got back from the shopping trip.
Some of us went to the presentation Saturday afternoon given by Dr. Toby Meltzer. He was very informative, he not only covered SRS but also went into other types of plastic surgery that he does. Breast enlargements, trac shaves and facial surgery.
At the Banquet itself, we all enjoyed our meals and the Filet Mignon the I had was very good. The keynote speaker Dana Rivers gave an excellent speech with excerpts from her book.
We left around one o'clock on Sunday when the snow stopped with about a foot of new snow on the ground. It was a long ride back with me driving, the sun was shining off the wet roads and of course I left my sunglasses home.
We all had a good time with good food, old friends and made some new friends. I know I'm planning on going back next year.
Return to Top of the Page
January 14th
The first meeting of the new year and a new millennium. The guest for the meeting was an electrolysis from Rocky Hill. We also had several prospective members show up. One was a person whose web site I found when I was surfing the web for "Fantasia Fair". She is from the western part of the state and decided to stop by and see what COS was like. I think she might be joining COS. Those of us who are going up to the First Event made our plans for the trip. I am driving and taking up two other members on Saturday. We want to get there in time to here Dr. Toby Meltzer speak at two o'clock. Right now the count is six members who are going.
All day Saturday, as usual, I was working around the house as "Diana" and then I got ready to go to the meeting. At the last minute I ran around look for my pocketbook, keys and coat. As I was walking out the door, a feeling came over me that is hard to describe. It was kind of like this was natural, I was whole. I liked it and would like it to last.
Return to Top of the Page
Go to the Second Half of the Year
Back to the 2002 Current Events Page
Butterflies from "iBAND Free Clip Art - Collection of clip art and images for web sites at http://www.iband.com/"