Diana's Diary 2000
---
Home
Diary
Photos
Biography
Links
TG Quiz
Stories & Poems
Recipes
Favorites
View Guestbook
Sign Guestbook
---
Consolidated Fantasia Fair Diaries.
---
December 28th
At last night meeting about fifteen people showed up for it. We had our Yankee swap. I ended up with an ankle bracelet ( I think it is, it is to small for a choker, to large for a wrist bracelet ). One member got a singing trout. We were all rolling around on the floor laughing so hard. I don't know who gave it, but it was the best gift of the night. Everyone else got pins, broaches or make-up cases, that trout just made the night. My thanks to whom ever gave it, I am still laughing over it.
Stayed until eleven-thirty talking a couple of members about First Event and her transition a work.
December 24th
Merry Christmas and Happy Holidays to all of you and your family and friends. May this time of year be a joyous one for all.
At last weeks board meeting it started to snow and that made my ask about canceling the monthly meeting because of snow. Half in jest I asked do we announce on the radio. Can you imagine hearing " Now for the snow closing.. The ladies from COS will not be holding their meeting tonight …". For the record they don't cancel the meeting.
For Christmas, Santa bought me a sweater and a wool dress coat. The coat was on sale at Sears for 50 % off, it a nice long black wool coat with an attached scarf. Now I am just looking for a nightgown to buy, something warm and practical. I also bought a gift for the COS Holiday party on Wednesday.
December 20th
Last night was the monthly COS Board meeting that I usually attend. They went over the budget and planned the agenda for the next couple of months meetings. Also the Executive Directory announced that she does not want to run again, that after three years she been at it long enough. So we will be having elections in February. I was asked if I would be interested in running for an " At Large " board member and I agreed. I also volunteered to do the " Membership Directory " and as many of you know already I am the " webmistress " for the COS web site.
Also last night we were talking about who was going to the " First Event " it looks like we will have a turn out of four to seven members going to at least Saturday night. So it sounds like it will be a good time.
December 10th
A real good meeting last night. I was surprised, we had a very good turn out for the discussion. There were about twenty to twenty-five people who showed up, many from XX Club. They had their Holiday Party that afternoon. We brought up a lot if interesting points of view, how we hide our double lives from our family and friends. The XX Club members added a perspective from those that have transitioned.
For me the problem first came about when I went to the Fantasia Fair and I had to come up with different lies about where I was going. One for my family and one for work, I told my family that I was going to a computer show in Boston and at work that I was going up to help my brother on his house. Otherwise I keep my cross dressing compartmentalized, the two halves are separate and no one about the other.
One of the gals said that her biggest worry is that she thinks that there is somebody else at work who also cross dresses and they might show up at a meeting. She wonders how she will handle it.
Others worry about being black mailed and being outed or bumping into friends or family while they are out shopping en femme.
Also I found out that hair can grow back, one of the XX Club member was as bald ( or to be Politically Correct - follicle challenged ) me. She is taking Rogan along with hormones, but she has most of her hair growing back. So there is hope.
December 9th
Last night there was a special sale for COS members at the " French Butterfly" boutique in Bloomfield. I went there looking for an evening dress for the Tiffany Clubs " First Event " banquet. I tried on several nice gowns and settled on a gold knit with a broached top. I also bought earrings and a necklace to go with it, now I just have to figure on what shoes to wear with them.
Also last night I made my reservation for the hotel room for the First Event. The only problem was there computer system was down and they never got back to me with a confirmation number, so I guest I will have to call them back.
Tonight is meeting night at COS. Because of all the Christmas parties I expect a low turn out tonight and I think for that reason they are only having a discussion session on " Dealing with Duality " We each make choices and live with duality as transgendered persons. Do we lead completely separate M/F lives? Or do we gender bend? Are these conscious choices or did they just happen? How does the duality of being transgendered help ( or hurt ) our careers, family life, friendship and relationships?
November 25th
Wednesday night meeting was about using computers. Many of the girls don't use computers and wanted to learn about e-mail, chat rooms, search engines and surfing the web. We had a couple of laptops with one connected to AOL. One of the big questions was how to hide their files and browser history from their kids. Many were worried that they could be found out.
We also had a guest there from Austria, she was on vacation and visiting many of the Transgender organizations here in the US. In Europe there are very few organization for TG's. She also said that getting on the Internet was very expensive because it is all run by the state monopolies and there is no competition to bring the prices down.
Today I sent out my reservation for Tiffany Club of New England's First Event. I made a reservation for the Saturday night banquet. I hope to see a number of COS members there for the banquet, about four or five members said the they were planning on going.
November 12th
At the COS meeting last night we had a Pot Luck supper, the turn out was great we had about twenty members show up including some from the Twenty Club. We also had three people who are thinking of joining, which was a good number of prospective members, we usually have only one possible new member. A group of us were talking about going up to the First Event in Woburn, Massachusetts sponsored by the Tiffany Club of New England. I think I might go up for Saturday only, it will be easier than trying to come up with a story about where I going, since I'm not out to any of my family and friends.If I do decide to go up for First Event that will means I'll have to buy a new dress, after all I can't wear the same dress as I wore before to the COS Banquet. That will also mean a new dress for the COS Banquet in March. It gets to be expensive to maintain two wardrobe.
November 8th
It has been quiet since the Fantasia Fair. I went to the COS Halloween meeting on October 25th. I didn't dress up I just went as me, some would say that that was dressing up, but it's who I am. One of the members dressed up as a 1890's school-marm wearing a black and white dress from Amazon Drygoods. Our Executive Director came as Marge Simpson and her friend as Bart. We also had Dorothy from the Wizard of Oz and a Minnie Mouse there.
This Saturday's meeting is a pot luck supper and I'm bring Chili.
October 22nd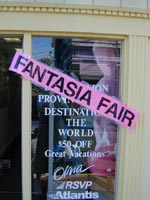 It has been just a year since I joined COS, in that years time I went to the dinners and banquet that they have hosted and have enjoyed them all. But, the Fantasia Fair can't come any where near any of those events. It's a seven day filled with all types of presentations and evening entertainment. I went up on Tuesday with another COS member and we stayed at a Bed and Breakfast on a side street just off of Commercial Street, the main thoroughfare through town. It's a nice little place that is very Transgender friendly. (Photos from Provincetown)
This year at the fair they had the events a la carte. You could buy a morning, lunch or an afternoon presentation as well as the evening entertainment. We chose only to buy the evening entertainment. On Tuesday night it was a cabaret act by Jill Richards a transgender entertainer from Vancouver B.C. and the show was held at the Vixen night club located just off of Commercial Street. After the show, we meet up with a couple from COS. They had come up on Sunday and gave a presentation on Monday .
The next day we shopped and shopped until we dropped. For those of you who have never been to Provincetown ( or otherwise know as P'town ) it is what use to be called an artist colony. The "Street" is about a mile long and is covered with small stores. Art galleries, Photo galleries, clothing stores, jewelry stores, restaurants and other assorted stores, and I mean Assorted stores there are a number of just weird stores, but most are tourist type stores. Another thing about P'town is that it is very "T" friendly. Also it is very popular with Gays and Lesbians. The last weekend of the Fair was also "AAA Lesbian weekend".
The second night we were there they had a fashion show that was also at the Vixen. The show lasted for about 90 minutes and in the show they showed sportswear, leisure wear, business wear and cocktail dresses. Once again after the show you could socialize until all hours of the night if you wanted. P'town is a partying town.
On Thursday another COS member and her spouse arrived to stay for two nights, just to see what the Fair was like. Once again it was shop until you drop. I ended up buying a necklace, a bracelet and a couple of rings. The town is hopping with bus loads of tourist during the day. As we walked down the street it was fun watching the tourist watch us and see the expressions on their faces. It was all part of the P'town experience. At no time was there any harassment or hostility toward us and the shop keepers were very happy to see us come in and look around.
That night's entertainment was a concert by Sara Buechner on the piano and Elanie Kreston on the cello. Sara Buechner is member of the faculties of New York University and the Manhattan School of Music and she is world renown for her work. She is also a transsexual who transitioned in 1996. The four of us went to to the concert. I had never been to a classical concert before and I enjoyed it. The concert was a nice change from the night before. Also at the concert we meet some other members of COS there.
On Friday one of our member signed up for the whole day of presentations with lunch and evening entertainment included. Speaking of lunch, my favorite place is the "Stormy Harbor" it has the best New England clam chowder in Provincetown. There are a lot of restaurants on the street varying price ranges. We had diners at the Governor Bradford on Thursday night and at the Lobster Pot on Friday. After dinner on Friday we went to the Crown and Anchor for the Fanfair Follies 2000. The show mistress of ceremonies was Jill Richards and included some of our COS members. They brought the audience to a standing ovation with their number 'If you read my mind". The couple from COS also did the closing number "Love Can Build a Bridge".
Saturday was a quite day for us, we were all shopped out and one of our COS members and here spouse had to leave for a previous engagement. The banquet that night was an awards banquet for all of the people who helped out at the Fantasia Fair this year. The theme song for the banquet was an old Doris Day song, "Que Sera Sera Whatever Will Be Will Be, The Future's Not Ours To See Que Sera Sera"
If there is one place where you can relax and be yourself, it's Provincetown. The tourist may gawk and stare, but they leave you a lone. After awhile it even becomes funny. As we were leaving the Lobster Pot on Friday , two couples were just coming in. The men stopped in their tracks and their jaws just about hit the ground. We just walked by and said hello. Provincetown and Fantasia Fair can be fun. I hope I can go back next year and meet some old friends from the fair, meet some new friends and maybe see more faces from COS there.They have girls coming from all over the US and Canada to spend the week and have a good time being themselves.
Return to Top of the Page
October 7th
An other first, this time I had a make-over. I actually did go and have it done and I spent over $100 on cosmetics. I had a good time with the, owner of the store. As she was doing my face we talked and had wine coolers. After she had done my face, she did my nails. The whole process took a little over an hour. I got there right at three for the appointment, there was one lady just finishing up and I was next, her last customer of the day. There were a couple of people who stopped by, but they didn't make me nervous as I was before when I bought the wig next door last spring. I guest I'm starting to get use to going out.
As I look at the picture ( Don't all of us gals take photos of ourselves ? ) I see that my Adams apple sticks out like a sore thumb, hmmm maybe some day I have something done with it.
October 6th
I went to the Gold Roc Café. The COS had dinner there and ten members came. I got there at 7:30 and the directions said to go in the front door , turn left and go all the way to the back and they will be sitting on the right. So I did and no one was there. After about ten or fifteen minutes a waiter came over and said that he thought the group I wanted was sitting over on the left. Boy, I was getting very nervous sitting there, but once I joined the group I relaxed a little. Still, it was interesting watching all the people do a double take as they walked by. I was glad that I went, it a good way to get out in public. Sitting there by myself I wanted to get up and run out, but I did over come my fears and stayed.
It is also the one year anniversary of my going the my first meeting. It's been one year and I have met many new friends, done many new things. I have been to every meeting except one, gone out to two dinners, gone to the banquet and stayed overnight at the hotel. I taking on managing the organizations web site. If I didn't join I think I would just be sitting home watching the ol' TV. Next week I will be going up to Provincetown to Fantasia Fair with three or four COS members. This will be the first week long vacation that I took in years. So all in all I think it was for the better, I am actually look forward to doing something, instead just going to work every day. :)
September 27th
Last night was meeting night. They had four vendors that caters to our community, wigs, makeup, beauty care and foundation garments ( they had us covered top to bottom ). I had another first, I made an appointment for a make-over. I figured a gal has to look her best for the Fantasia Fair. Speaking of which, we might have four or five member up there for the event.
September 24th
WHY? Why do I crossdress. I asked myself that many times, and I still don't have an answer. This is always a stressful time when I first shave for the season and it always leads to the question WHY? Is it sexual, some what. Does it feel right,some what. Is it for thrill that I might get caught, no. Do I enjoy it, yes and no. It makes me feel more complete, but at the same time I hate myself for doing it, I feel like there is an invisible line I cross in shaving. I just don't know why I crossdress, no matter how hard I try to put my finger on it, it always seems so hard to nail down. My analytical side says it has to do with endorphins and learned behavior from my childhood, but then I ask why did I ever start in the first place. You know the old chicken and the egg routine. Was it in me all the time waiting to get out or was it learned the first time I awaken sexually at that 7th grade initiation so long ago. Why, why, why me? Does any one really know why they are who they are?
September 10, 2000
The first meeting of the season was last night and they had a representative there from the Connecticut Coalition for Lesbian, Gay, Bisexual and Transgender Civil Rights. She filled us in on what they are lobbing the state legislature for this year and asked us what are our concerns. There were about twenty members at the meeting and two prospective members. I had a good time talking to friends I haven't seen all summer and I stayed until eleven, which was a record for me.
September 1, 2000
I was just reading a story on Fiction Mania called "A Good Beginning" and it made think back to when I first started to crossdress and how I would secretly dress up while nobody was home. All the close calls I had when unexpectedly they would pull into the driveway. I had run and change before they got in, I use to run and hide in the bathroom during the day or into bed at night fully clothed and hope in the morning I could sneak the clothes back into the closet.
The first meeting of the season is next weekend and it will be one year ago October that I went to my first meeting and the first time I had ever going out as Diana. It was the first time that anyone had ever saw me, Diana. As in the story "A Good Beginning", I remember walking in the door the first time thinking what am I doing here, what will they all think, will I fit in and a million other thoughts. But I did go in and I have never regretted it.
Speaking of clothes I have been keeping the mailman ( mailperson ) busy with all of the new clothes I have been buying for the October trip to the Fantasia Fair in Provincetown.
August 12, 2000
Return to Top of the Page
Had a real good time at the XX Club picnic. The rain held off and a couple of members from COS showed up. I meet a number of XX Club members and made some new friends. A nice time was had by all. Meet the other COS member who I'm going to the Fantasia Fair with in October and we discussed our plans for the trip. It turns out that there might be a number of other COs members going up there for the weekend.
August 11, 2000
Tomorrow weather permitting I'll be going to the XX Twenty Club picnic. Hopefully I will have more to write after I get back from it.
I also have agreed to go the Fantasia Fair in Provencetown Ma. for six days October 17th through 22nd. This should be an adventure, it will be the longest time that Diana is out and about, the first time I went a TG event. Except COs Banquet which was just local affair. I will be going with another member of COS. Now I just have to figure out what wear.
July 5, 2000
Over the long July 4th weekend, I went up to the family cottage on a lake in New Hampshire. There I could be Diana for most of the weekend. I sat by the lake and read "Trans - Sister Radio" by Chris Bohjalian. I enjoyed the book immensely. It is a story about the transition of a college professor named Dana and the women named Allison that he meet just before he transitioned. It is about how their lives and the lives of Allison's daughter and her ex-husband are affected by Dana's transition. It is about love found and the lost of that love. It is about the bigotry and discrimination and how a small Vermont town copes when they find out that one of their elementary teachers is living with a transexual. I found the book to be captivating and hard to stop reading.
My only comments are that Dana had a short Real Life Test of only four months, that she only needed 50 hours of electrolysis and I would of thought that she would of shaved her legs and not just his chest This seemed to indicate that she didn't go out much as a women before her transition.
All in all I would recommend this book whole heartily. I wish it was longer and had an epilog with how they all ended up in say five or ten years latter.
June 24, 2000
As I was writing the paragraph about Yahoo, it reminded me about something that the guest speakers at the Banquet said. They asked the audience how many were in a technical line of work and over half of the audience raised there hands. Nancy Nangeroni herself is a MIT graduate in engineering. Just surf the web and look how many of the TG's are in a technical field. I wonder if it has something to do with the creative process? Food for thought.
June 11, 2000
I made the newsletter. They have my photo in this months newsletter along with a number of other members who attended the Banquet. This was also the last regular meeting of COS for the season, the next meeting will be in September. They had a tag sale for charity. The proceeds went to Project 100 at the GLBT Center in Hartford. I bought a nice gauze dress for the summer and some clip-on-earrings
So with a fond Adieu, until the fall when next seasons meetings begin again. I think the first meeting will be September 9 th.
May 15, 2000
Over the weekend ( May 13th ) the Connecticut Outreach Society ( COS ) had their annual banquet. This is the first time that I went, since I'm a new member and it was also the first time that "Diana" stayed over night. I had a really great time. The food was great, they had some great speakers, Nancy Nangeroni and Gordene MacKenzie of "Gender Talk" radio, they also had a talent show which was also really great. As you can tell I really enjoyed it. They had slightly over fifty guests and the banquet was held at the Sheraton Four Points hotel in Waterbury Ct. I got a charge out of the mundanes *as they walked by the entrance to the conference room, their eyes kind of popped out and their jaws dropped when they saw us. I was a little worried about going out, but it was Ok. I signed in at the front desk in boy mode and helped in setting up the stage for the talent show, I had to walk by the banquet room a couple of times before I recognized any of the people because, they were also in boy mode. Went up to my room and changed. I wore a black velvet dress and mid-heel pumps and went marching off the to banquet. It got over at eleven and I helped them take down the stage. Unfortunately, I still was wearing my pumps and my feet were killing me. All in all I had a good time and would do it again, maybe even go to Tiffany's First Night with other COS members, it sounds like it will be fun.
*Any one know where I got the term mundanes - it was from Babylon 5 - that's what the telepathy's called the non-telepathy's
Return to Top of the Page
---
Back Current Diary Page





Butterflies from "iBAND Free Clip Art - Collection of clip art and images for web sites at http://www.iband.com/"