Southgang, jesse harte, rock music, links to southgang and jesse harte, music by southgang, southgang photos and pics, long hair, southgang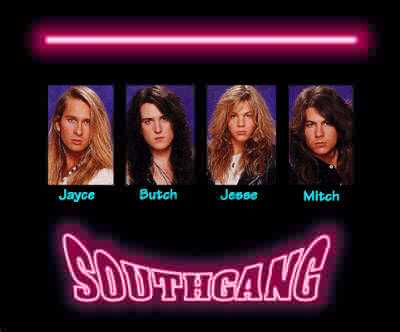 For all you fans that have visited before, we have just added a NEW PAGE of JESSE as of 3/23/99 Take A LOOK!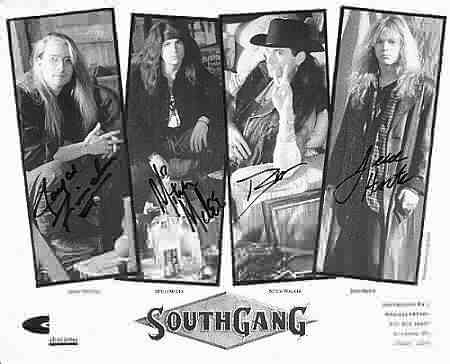 This band sad to say is no longer and they were one of the best we have ever heard. A true shame , another "victory" to commercialism and who they decide to back. I lost my faith in the music industry at about this time. Two cd's to their credit both totally excellent , kick butt rock n roll. Great lyrics and awesome rhythm. I am aware of two videos of theirs that MTV actually played. Tainted Angel and Tug of War both were done well. Tug of War being more mystic and leaving one thinking. Tug of War was played at one in the morning once. It was the last time that I went out of my way to tune in to MTV's station. As this was a true insult. Shortly after the band had to give up and go another route. More commercially acceptable without their lead singer. Here are the members of Southgang and their own descriptions from the Tainted Angel cd.

From a fanclub guestionaire. Thought some of you would enjoy it.
Butch Walker:guitarist Why: why ask . Eyes:Yes, two. Hazel. Height and Weight:6'2" 175 . Hobbies-writing music and recording. Influences: Walt Disney, Ace Frehley and Gary Moore. Fav Movie: Kiss Meets the Phantom of the Park. Fav Colors: Black/Purple & Red. Fav food: chis on a stick. Animals: Cats "Bo& Dior" Describe Yourself: Gilligan's worst nightmare. Comments: Be true to yourself , don't be a follower, be a leader. Drugs suck.
Mind you alot of this might have changed but all of us change. Looking to the past sometimes has the answer to our futures.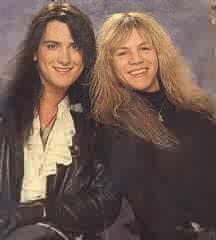 Jesse Harte: Lead Vocals - Mouth of the South. (my description follows) One of the best voices we have ever heard!!

Mitch McLee: Drummer - Drum sluggin & Beer chuggin.

Butch Walker: Guitar - Six stringin & Back up singin

Jayce Finch: Bass - Bass walkin & Crazy talkin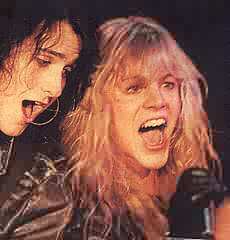 *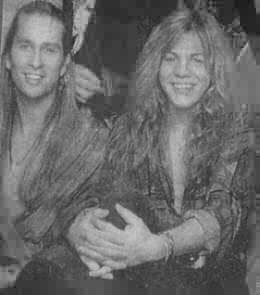 Jesse Harte: lead vocals and crowd ambushing. Why? why not. Eyes: hazel. Height/weight: 5'8" 135 . Instruments preferred: Shure/Ovation Hobbies: sports and socializin'. Influences: Everything from Beatles to Black Sabbath. Fav Movie: Basic Instinct. Fav colors: Blonds. Fav foods: mexican and Chinese . Animals: yes we are. Describe yourself: My personality is like the sea, some of it shallow, some of it deep. Comments: Believe in yourself and stand up for what you are, unless you're a psychotic killer....
We cannot figure how Southgang got placed under the "Glam Band" section of rock.We know when they were Byte the Bullet , that was more glam but they changed so much and got stuck with the tag. That seems to happen to alot of bands. They are not allowed to grow and change.
We cannot see where it fits them at all. Even reviews that were not complimentary had to
give these boys credit. They could play that music. Influences include but not limited to
Aerosmith, Zepplin, Boston, and old Kiss.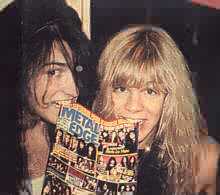 Moving out to L.A. in Jan.89, they worked hard and all types of work to get their music heard.
Playing clubs such as the Roxy, and Whiskey A Go Go, soon they got some of the recognition
they deserved. Mags like Screamer, Metal Hammer (swedish) and Metal Edge did their part for awhile
in Southgang's career.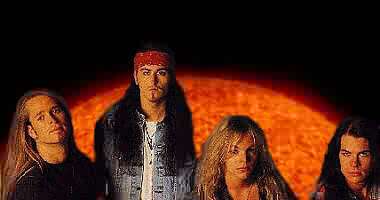 Their first release was "Tainted Angel" (produced by Howard Benson and Desmond Child) in 1991 under Charisma. A full length tape that really made me love this band for their talent! Absolutely worth the effort it might take to get your hands on this one. One of the first fanclubs that I ever took the time to join.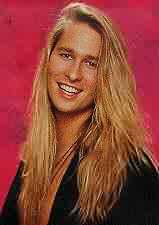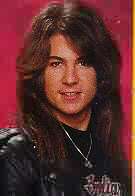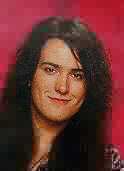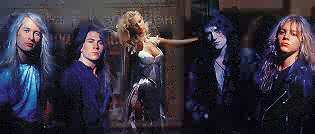 Second in 1992 was "Group Therapy", better even than their first which we hadn't thought possible. Alot of effort and thought went into this one to make a collector's dream. Magnificent ranging from ballads to rockin tunes that will vibrate the floor. We will be putting the lyrics to some of these songs up as time goes. Along with pics and a more in depth review of this band.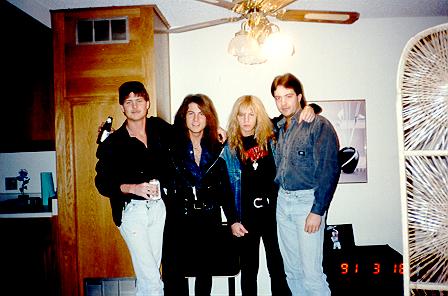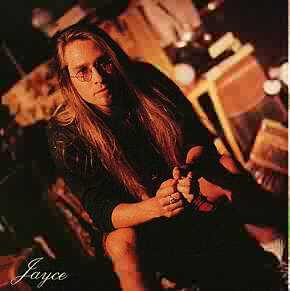 Jayce Fincher: bass attacks, groove settin', bottom holding, backup singin. Why: voice . Eyes: green. Height/weight:5'10" 155. Hobbies:running and basketball. Influences: Wizard, Tom Hamilton, John Paul Jones. Fav movie: Fried Green Tomatoes. Fav colors: Black, deep green and purple. Fav foods:Veggies, sushi, Chinese, German beer. Animals: kitty cat . Describe yourself: Spontaneous, no holds barred. Anything for a laugh! Comments: When being punched in the face, Duck!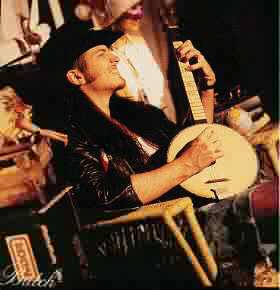 *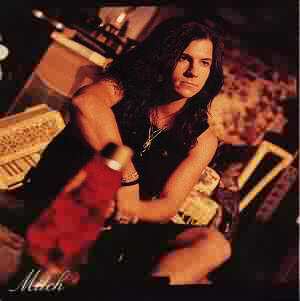 Mitch McLee: drums, background vocals, and general loudnesses. Why: because it works. Eyes: blueish/green Height/weight: 5'9" 148 Born:Niles, MI Hobbies: working out, ping pong , basketball, and veggin out in front of the tube. Influences: John Bonham, Tommy Lee, Steve Smith, Buddy Rich. Fav movie: Scarface Fav colors: cherry red , teal blue. Fav foods: Ital/Chinese/Mex. Animals: Two dogs "Shekeila"/"Baby"& Parrot "Rock". Comments: Thanks for all the killer support.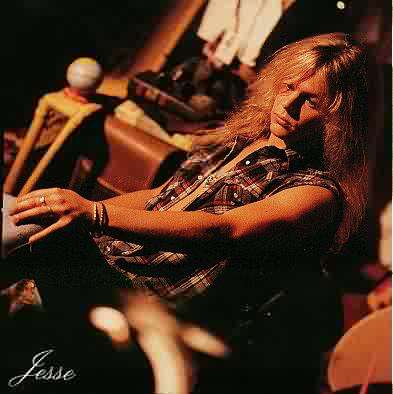 As we are avid collectors of anything on this band please email me with any info or items or just to chat about them. Any fans of theirs give me a yell. I admit to being partial to Jesse Harte and his voice and miss him on the music scene .
Here is an interview typed out by Stacey. Again whom we thank very much for her help. It is in three pages. Hope you enjoy.
Here are two pics of the guys as "Byte the Bullet" which is before Southgang.
One is at an after show party and does not include Jayce but probably a fan.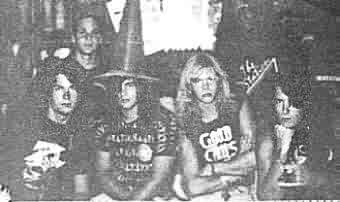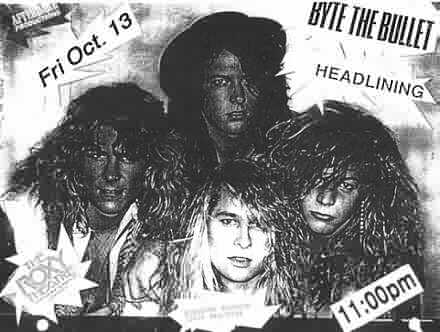 For any interested, some of the members of Southgang have continued as a band named "Floyd's Funk Revival", which changed to Floyds Funk.
Now three of the members are in a band called "The Marvelous 3", they are playing rock pop or happy rock, not Southgang but more radio friendly I guess you would call it. Butch is now doing the vocals. They have sound clips on their website so drop by and give a listen if you can.
THE MARVELOUS 3 nice site.

This is the first of their tapes/cds
Here is a blooper from a Virginia flyer. Shows what my homestate is like. *smile*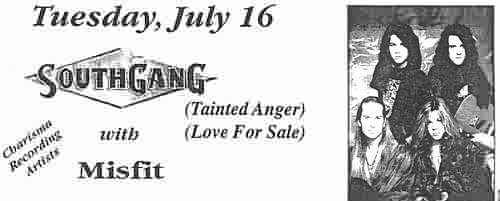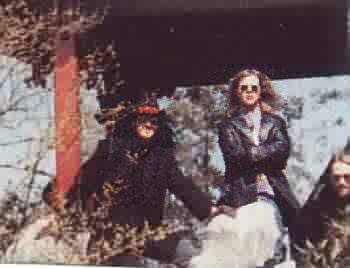 They are the first rock band to ever tour China!! They crossed China in
30 days from 1-26-93 to 2-26-93. I saw some of the pics in Metal Edge from this tour but
they were so tiny that I don't think I could put them on the pages.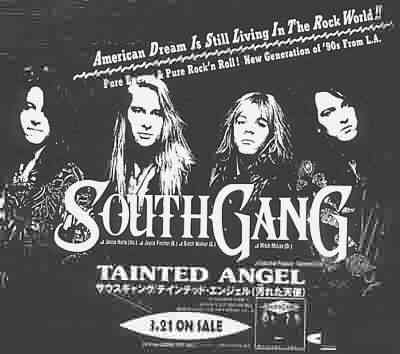 *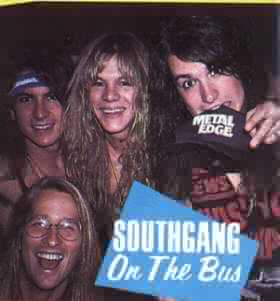 I think the guys had alot of fun while they were there. They did a cover from one of the rock
personalities from China and the fans really went wild. Recognizing the music from one of their idols
whose music was banned from his own country.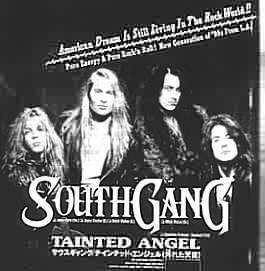 I will continue to search and retrieve all that I can.
Okay folks here's more Southgang and Jesse!!
HERE ARE THE PICS DONATED BY SQUIRTDOG, COME ON IN AND MEET HIM AND LOTS ON THE BAND!!!! We decided to give him a chapter to work with.

Click on map for more Jesse Harte!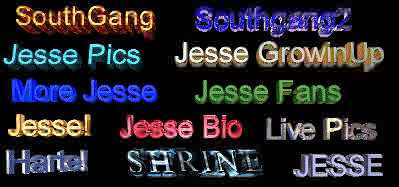 Southgang was homebased from Rome , Ga. A true loss for the fans when they split up.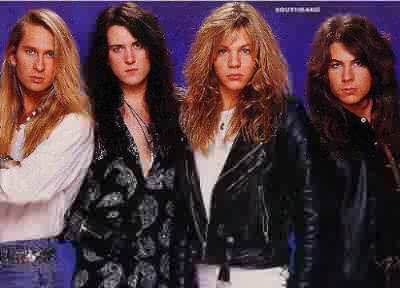 I have given you info on the rest of the band and alot of folks have wrote asking about Jesse the singer of Southgang. Well I got the shock and thrill of finding a note from him in my email. Thanking all of us that still enjoy Southgang's music. He is fine and healthy and happy in L.A.
Jesse can be heard on a cd called "Hollywood Underground" co produced by Jerry Dixon
and Erik Turner. Under Ear Candy Records... Can be found in Metal Edge under an ad for Perris Records.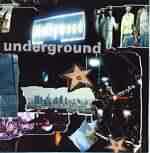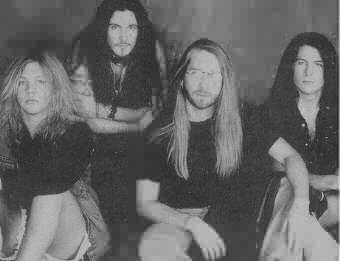 Should you ever drop by this page again Jesse, We want you to know that alot of people still think of you often ............ and thank you for your gift to us.
Email me at

[email protected]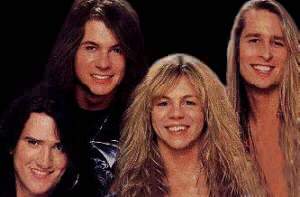 Return to homepage
For a free homepage go to