Stuart Golding and Danette Copestake tied the knot at the Chapel Royal of St Peter ad Vincula at HM Tower of London on the 13th July 2002. The wedding was a lovely occasion - even the weather was superb. In true fairytale fasion, the couple left the ceremony in a horse & carriage, as shown below.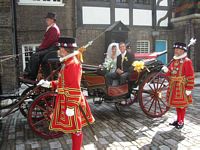 The wedding was attended by around 180 friends and relatives who all enjoyed the wonderful setting - a great time was had by all!
Stuart and Danette would like to offer special thanks to their families and to everyone who helped out in the organisation and preparation of their special day.

They would also like to thank everyone who came to share the day with them and make it such a great success. Many guests came great distances to be there and this is truly appreciated.


Those of you who know Stuart and Danette will not be surprised to hear that they did not choose to spend their honeymoon sunning themselves on the beach. Instead they decided to head off to Africa for a safari trip in Kenya and Zanzibar
The next luxury holiday will be Clarissa Falls, Belize, Central America.