THE HISTORY OF THE REIDS AT RINMORE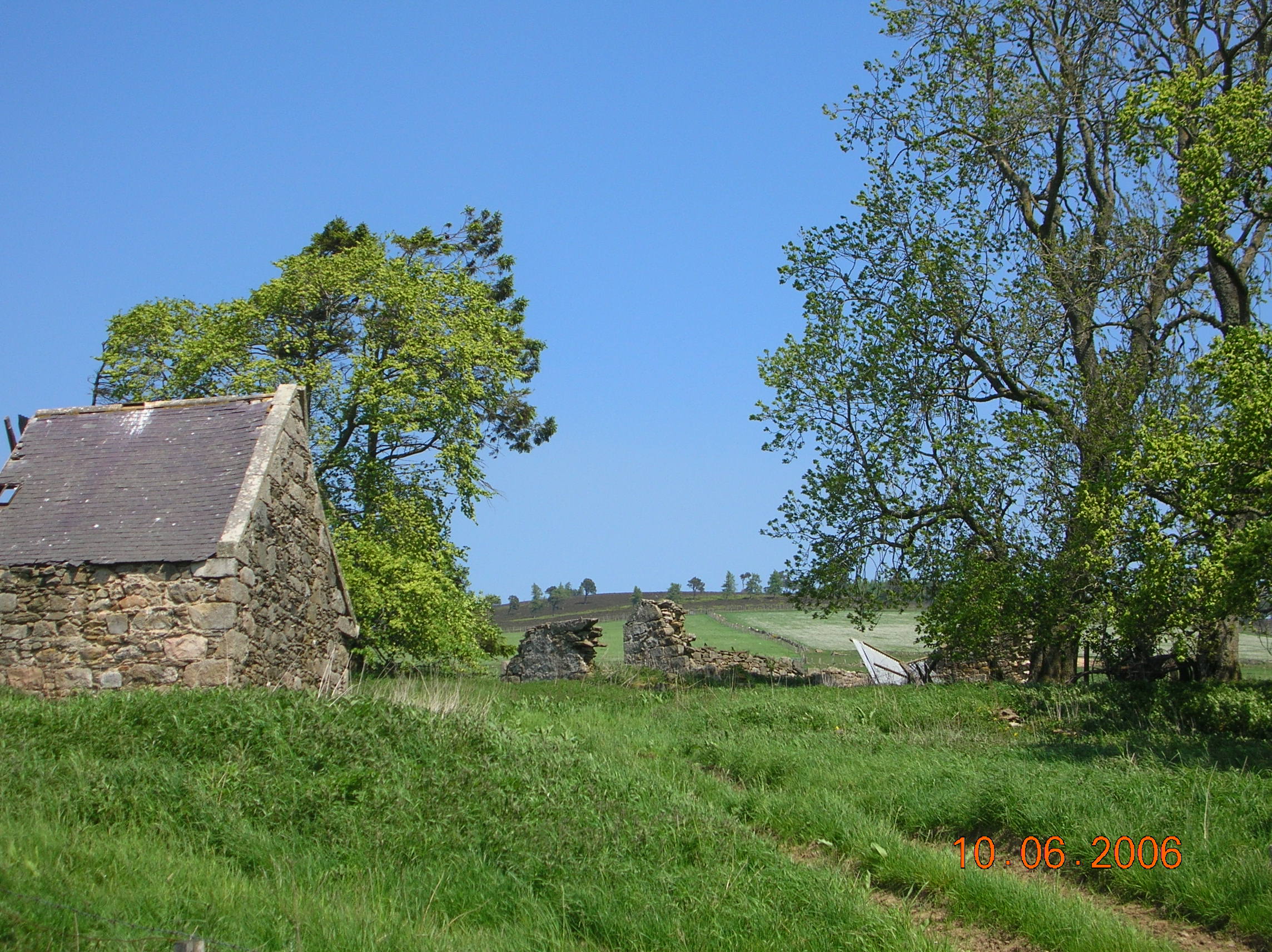 West Rinmore Farm 2006

The earliest record I have for the Reids (confirmed) is the birth of William Reid on 5th March 1727. William was born to a James Reid, unfortunately I have not been able to trace a mother's name. But unfortunately to confuse the issue - a William Reid was also born to a Archibald Reid and Elspet Toshach. (these as far as I can tell, are not related). William went on to marry Anna William on 11th August 1747 and father another James Reid, born 30th April 1757. James in turn married a Hellen Reid on 1st January 1788 in Glenbucket. Hellen was the daughter of Thomas Reid and Jean Abel and was born 8th May 1762 in Skene. Peter Reid was born to James and Hellen in 1794 and he married a Jean Reid from the neighbouring farm of Tollafraike in 1833. They in turn had Gordon Alexander Reid born in 1842 and he married Jane Grant also from a neighbouring farm, this time Ardler, in 1851. They had William Gordon Reid in 1873, who went on to marry Elizabeth Nicol from 'The Smiddy' in Muir of Alford in 1904 and they produced my mother, their 5th child, Margaret Grant in 1911.
William and Anna founded, what I consider the start of the family tree as I know it – they were my great, great, great, great grandparents. We descend thus:
William Reid and Anna William (c 1727-1815)
James Reid and Hellen Reid (1757-1843)
Peter Reid and Jean Reid (c 1794-1855)
Gordon Reid and Jane Grant (1842-1923)
William Reid and Elizabeth Nicol (1873-1960)

WILLIAM REID AND ANNA WILLIAM
William Reid was born on 5th March 1927, and Anna William around 1734 (I have still to confirm Anna's birth). They married on 11th August 1747 – this fits with the birth of their children and the fact that the last child was called Anna. *William b 1750, *Archibald b 1753, John b 8.6.1755–5.10.1844, *Jean b 27.3.1756, JAMES b 30.4.1757-1836, Peter b 25.2.1760-10.8.1808, *Adam b 24.4.1762 and *Anna b 5.8.1764. (*William, Archibald, Jean, Adam and Anna are unconfirmed as siblings, but they were all born to a William Reid). I am not certain of the grave.:
Our branch of the family descends from JAMES, he is my great-great-great-great-grandfather.
Children of William and Anna
John Reid (3rd son of William and Anna) became a farmer at Miltown of Glenbuchat and married Charlotte Lindsay (1773-1836) they went on to have at least four children, one of whom William (1804-1882) gained an M.A. and went on to be minister of the united parishes of Auchindoir and Kearn: he in turn married Elizabeth Mary Scott (1814-1890) and they had 6 children, two of whom are worth mentioning: son Alexander John Forsyth Reid * KCB, MA, LLD (1846-1913) became a Major General in the Indian Army and Hon. Col of the 29th Punjabis., marrying Alexandra Catherine Dyce Stewart (1863-1928) eldest daughter of Sir David Stewart of Banchory, Devenick and Leggart: they had no children. The other son being Robert William Reid MD, LLD, FRCS (1851-1939) Professor of Anatomy at Aberdeen University 1889-1925. John died on 5th October 1844 and is buried in the churchyard of the Old Kirk of Glenbuchat. It is worth mentioning the inscriptions here for both parts of this family. They are inscribed on white marble tablets set into stone and are upright. As of May 2005 the left hand one in memory of Alexander John Forsyth Reid had the top third broken off and laid beside it. See inscriptions on Graves and kirkyards page.
Peter Reid (5th son and 6th child of William and Anna) became a farmer at Baltimore, Glenbuchat. He married Mary Dingual and they had at least 4 children, Peter died 10th August 1808, I have no date of death for Mary. Their son Adam married twice: first to Isobel Crawford (1816-1844) which produced one daughter Ann b 1840 and secondly to Mary Chree (1829-1889) this poor woman went on to produce a further 12 children)!
Peter and some of his family are buried in the same grave in the Old Kirk of Glenbuchat next to that of his brother James and sister-in-law Helen. It is inscribed on a flat stone on graves and kirkyards page
James Reid - see below
* use this link to the Marischal Virtual Museum to see the information on Alexander John Forsyth Reid. Press enter (centre right) this will bring up a museum plan - highlight 'collecting the world (lower floor)' shown on the plan in orange, then highlight the blue section, which will then bring up the information on General Sir Alexander John Forsyth Reid

JAMES REID AND HELLEN REID
James Reid was born to William and Anna William on 30th April 1757 and Hellen Reid was born to Thomas Reid and Jean Abel from Skene on 8th May 1762. They marry on 1st January 1788 and go on to have five children, all boys and all recorded as born in Genbucket. The eldest was Harry b 1789-1819, then Archibald b 1791-1792, James b 1793-1862, PETER b 1794 and Gordon b 1797-1823; our branch of the family descends from Peter.
James Reid dies in 1836 aged 79 and Hellen dies aged 80, (I have been able to discern the age from the gravestone, so this would be around 1843).
Children of James and Hellen
Harry the eldest son died aged 30 in 1819.
Archibald the 2nd son died at only 7 months in 1792
James the 3rd son married twice, firstly to Mary Glennie (probably one of the Glennie family from Leochrie) on 8.8.1829 in Inveravon and they had three children James b2.9.1830 who died as a child, Jean b 18.8.1833 and Mary b 31.5.1835 who also died as a child. Mary Glennie herself died c1835/37 and James then married Jean Dawson (b 1799) a member of the Dawson family from Largue, just up the glen. They had no children but James's daughter Jean lived with them up to the 1851 census, when she would have been about 19, perhaps she followed many other of the family members and emigrated. James and Jean farmed at Rinmore and later Rinmore Croft, James dying on 13th October 1862 at Rinmore aged 69. His widow Jean died on 5th April 1881 at East Rinmore.
PETER the 4th son - see below.
Gordon the youngest died in 1823 aged 26, and had also been a farmer at Rinmore.
James Hellen, Harry, Archibald and Gordon are buried in the Old Kirk of Glenbuchat they share the same grave, under a flat stone, full details under graves and kirkyards.:
The gravestone has been very difficult to decipher, we have had to scrape away years of growth, dampen the stone and try our best!

PETER REID AND JEAN REID
Peter was born the 4th son of James and Hellen in 1794 and Jean was the eldest daughter of Gordon Reid and Jane MacDonald from Tollafraike (a separate story on this dwelling appears later) – a farm about a mile further up Glenkindie. Jean sometimes appears in accounts as Jean and sometimes as Jane, but it is the same person!
They marry on 10th November 1833 and have 6 children. – Peter b 1835-1917, Helen or (Ellen) b 1837. Harry 1839-1859 GORDON ALEXANDER 1842-1923, James b 1845 and Mary Jane b 1849 all recorded as born in Strathdon.
We descend from Gordon Alexander.
Peter must have died around 1849/51 as his youngest daughter Mary Jane was born in 1849 and his wife Jean was a widow in the 1851 census. Jean died somewhere between the census of 1851 and the death in 1859 of her son Harry, the informant for Harry's death was her brother Gordon, as Jean was already described as deceased.
I have yet to find Peter and Jane's grave, but I believe it to be the fallen gravestone adjacent to that of James and Hellen in the Old Kirk of Glenbucket.
Children of Peter and Jean
Peter the eldest son married Isabella McDonald (1834-1904) and went on to farm East Rinmore after his father, he and Isabella had seven children – James 1860-1.6.1941, Robert b 1862, Jean or Jane b 1864, Isabella b 1866-25.12.1958), Helen b 1869, Peter b 1873-18.2.02 and Elizabeth b 1878. I have further information on two of these offspring – namely Isabella who married 1) ?? Stephen and 2) Alex Webster, she had two children from her first marriage John and Isabella Stephen.
Peter and Isabella are buried in the churchyard at Towie in a tall four sided granite faced edifice flanked by two well clipped yew trees along with their daughter Isabella. Full inscriptions under graves and kirkyards.
Helen or Ellen is the eldest daughter born in 1837, as yet I have no future for her, but am working on it!
Harry (2nd son) died on February 5th 1859 at Rinmore of acute rheumatism sequelae of scarlatine, 3 days (both his parents were already dead). He is buried in the churchyard at Glenbucket and the informant was Gordon Reid of Chapeltown (uncle). This uncle was his mother's Jean's brother, not his father Peter's brother.
GORDON ALEXANDER (3rd son and 4th child) see below
James is the youngest son and was born in 1845, as yet I have no future for him, but am working on it!
Mary Jane is the youngest child and was born in 1849, as for James and Helen, I have no future, as yet, for her.

GORDON REID AND JANE GRANT
Gordon Alexander was the 3rd son and 4th child of Peter and Jean and was born on 12th April 1842. Jane Gauld Grant was the eldest child of George Grant and Mary Fyfe and was born in 1851.They married in 1870 in Glenbucket, he was 28 and Jane 19. Jane had moved with her parents George and Mary from Blackmill, Logie Coldstone, where she was born, around 1864 to Ardler Farm, about a mile down Glenkindie from Rinmore.
Gordon and Jane had 9 children – WILLIAM GORDON 1873-1960, Mary Jane 1874-1894, James b 1876-1910, Helen Ann b 1879, Isabella Grant b 1880, John Grant b 1883, Margaret Grant b 1884-1968 Alexander Grant b 1885, Georgina Grant b 1888.
We descend from William Gordon.
Jane Gauld Grant was the eldest of 10 children. Her father George Grant's mother was Jean Gauld (born in 1782 in Tarland and Migvie) and the name was passed on to his eldest child. One of Jane's brothers, Alexander, was a student of theology in the 1880s and this would sit well with her husband Gordon's own ideology. Unfortunately Jane does not enjoy a long life and dies at West Rinmore on 3rd January 1888 after giving birth to her ninth child Georgina, she was only 37. The death certificate states pyoemia as the cause of death – this is an old word for blood poisoning or septicaemia.
After her mother's early death, I assume that Mary Jane takes over and brings up her seven younger siblings, as she is the eldest daughter. She would have been only 14, but as children left school at that age in those days, it would have been deemed the correct course of action.
On 25th June 1894 Mary Jane, (eldest daughter and 2nd child of Gordon and Jane) in turn dies at West Rinmore of acute rheumatic endocarditis (this is the effect of rheumatism on the heart) she died even younger than her mother, being only 20. Poor Mary Jane does not seem to have had much of a life.
Jane Grant and her daughter Mary Jane are buried in the Old Kirk of Glenbuchat in the same grave, topped by a tall four-sided pink granite edifice, this is situated above the flat stone inscribed to James and Helen Reid and is described in full under graves and kirkyards.
In 1895 Gordon moves his family (with the exception of son James) from West Rinmore to Shannoch Farm on the Breda Estate, Alford, a move of some 15miles to the east. I now think there was only one reason for this drastic move and that was the tragic early death of his beloved eldest daughter. The land in the glen was very hard to cultivate successfully, the houses were not maintained adequately and the conditions very hard for most of the year. I am assuming that perhaps at the cattle and sheep market in Alford he would have attended regularly either he or William would have heard about the tenancy becoming available for Shannoch Farm
Children of Gordon and Jane Reid
Three of Gordon and Jane's children - John, Alexander and Georgina emigrated to the USA. John in 1905 and Alexander and Georgina in 1906.
James emigrated to Australia in 1908.
William Gordon Reid (eldest son and first born child) b1873. (see the Shannoch page)
Mary Jane (eldest daughter and 2nd child) b1874 dies at West Rinmore of acute rheumatic endocarditis (16 days) on 25th June 1894.
James (2nd son and 3rd child) b 1876 dies in Melbourne Australia 21st December 1910 aged 35: he was murdered because of a gambling debt. Gordon erected a gravestone in Alford Cemetery to his memory. It is a large grey granite stone with the inscriptions in black.
Helen Ann Grant (2nd daughter and 4th child) b 1879 married somewhat later in life (sometime after 1911) to a John Watt. They lived in Inverurie. My mother did not relish the visits of 'Aunt Nell' who was stern and unbending and well aware of her supposed station in life, rather looking down on those who didn't measure up to her high standards. Apparently, these visits were not much liked by her mother Elizabeth Nicol (Nell's sister-in-law) who always had to produce the best china when Aunt Nell dropped in for afternoon tea.
Helen appears in a photograph taken in the summer of 1911 at Shannoch, where her sister in law Elizabeth is sitting in a trap nursing her latest baby Margaret and surrounded by her surviving children, Gordon, James and Bessie. William is holding the horse's reins and Nell is standing upright and unbending in her black high necked dress, with not a smile on her face. A smiling maid is standing to the left with a very strong resemblance to my grandmother Elizabeth, which rather infers that she is a sister, possibly Maggie (the high cheekbones are obvious) another farm hand is holding two pairs of Clydesdale horses. This is a wonderful picture, but unfortunately I only have a newspaper photographic reproduction.
Isabella Grant (3rd daughter and 5th child) b 1880 was as different as chalk from cheese to her sister Nell. Bella, as she was known, married Peter Laing a printer and they too lived in Inverurie (no offspring). The visits from Aunt Bella were greatly anticipated by her nieces and nephews.
John Grant (3rd son and 6th child) b 1883 was a joiner by trade and sailed on the ship Columbia out of Glasgow on 20th March 1906 to Ellis Island. From here he transferred to a friend R Martin at 220 East 31st Street, New York City (Manhattan). Some time in the following two months he moved upstate to Rochester, where his address was 21 Mathews Street. Later John founded his own building company in Chicago, but it is believed he was wiped out during the building slump of the 1930s. It is thought that John never returned to the land of his birth.
In the USA Census for 1930 John is living with his wife Amy Brigham, who was born in New York of English parentage and mother in law Elizabeth in Detroit City. He married Amy in 1915 , but they did not have any children. He owns his home which is worth $4,500 and is aged 47. As yet we do not have a date of death.
Margaret Grant (4th daughter and 7th child) b 1884 married William Milne and lived in Aberdeen, she was a nurse. Known to the family as 'Peggy', she became a widow I believe around WWII. She didn't remarry, dying in 1968 shortly after a fall. Peggy is buried in Aberdeen Cemetery.
Alexander Grant (4th and last son and 8th child) b 1885 was a clerk in Insch, Aberdeenshire before he emigrated. He sailed on the Ethiopia out of Glasgow on 11th May 1906 again to Ellis Island en route to his brother John now living in Rochester, upstate New York. Alex (as he was named on the ship's manifest) later became a civil servant. He married Nora, (surname unknown) who was also Scottish and came over in the same year (wonder if they met on the ship)?? and when we knew him lived in Denver, Colorado. 'Uncle Alec' returned to the UK on a few occasions, never missing out on visiting any of his nieces or nephews. In his 80s, he intrepidly flew back and forth (on many occasions) over the Atlantic visiting his niece Margaret and family in London, before embarking on a train to Lincolnshire to visit his niece Bessie and thence up to Aberdeen, where he visited his sister Peggy, nephews Gordon, James, John and Ronald and niece Bunty and their families. Alexander died sometime in the 1970s I believe, I have still to trace this.
In the USA Census for 1930, Alec and Nora are living in Columbia Heights, Jefferson County, Colorado, they are both 44 years of age and have been married for 18 years, therefore marrying in 1912, no children. Their home is worth $4,000, but no occupation is listed.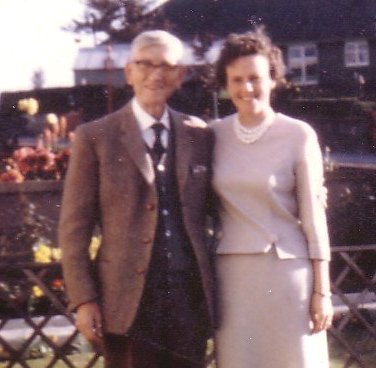 Alexander Reid on a trip to Aberdeen in the early 1960s with Melba Reid
Georgina Grant (youngest and 9th child) b 1888 was the last of the siblings to travel to the USA. She sailed out of Glasgow on the Columbia on 22nd September arriving in Ellis Island, New York on 30th September 1906 to join her uncle James Bird at 24 Mathews Street in Rochester, upstate New York. There is more information on Georgina in the ship's manifest than the others it states that she is 5ft 2, with a fair complexion, brown hair and blue eyes. Also she paid for her own ticket and had more than $50 in money on her. In addition she was not an anarchist or polygamist! I do not know what she did next, but in 1911 she married one Johnston Walter Day Denyes a Canadian by birth and around the time of WWI Walter was called up and gave his occupation as an electrician and an address 272 Hazelwood Terrace, Rochester. He was of medium height and build and had blue eyes and brown hair and Georgina is listed as his next of kin.
In the US Census for 1920 they are still at the same address in Rochester, Walter, as he was known, was 37 and Georgie 32, they are listed as having arrived in the US in 1906 and Walter became a naturalized citizen in 1919 and thus Georgina by marriage. They had two boarders lodging with them. They did not have any children, When I came to know of her she was living in Gary Indianna. Georgina is believed to have returned to Scotland at least once, probably when her father was still alive, but if not possibly just after. Georgina was the last to die of her generation, sometime late 1960s/early 70s.

For the next generation of Reids - William Gordon Reid and Elizabeth Nicol - see Shannoch Farm