Craig's Book Club
Book Reviews

Spotlight on: Max Allan Collins

Books Reviewed:

writing under the pseudonym "Patrick Culhane":
Black Hats by Patrick Culhane
Red Sky in Morning by Patrick Culhane

posthumous "collaborations" with Mickey Spillane:
Dead Street by Mickey Spillane (prepared for publication by Max Allan Collins)
The Goliath Bone by Mickey Spillane with Max Allan Collins

Series Novels:

Nathan Heller's "Memoirs":
Damned in Paradise by Max Allan Collins (Nathan Heller #8)
The Million-Dollar Wound by Max Allan Collins (Nathan Heller #3)
Stolen Away by Max Allan Collins (Nathan Heller #5)
True Crime by Max Allan Collins (Nathan Heller #2)
True Detective by Max Allan Collins (Nathan Heller #1)

Quarry series:
The First Quarry by Max Allan Collins (Quarry #7)
The Last Quarry by Max Allan Collins (Quarry #6)
Quarry's Greatest Hits by Max Allan Collins (includes Primary Target, Quarry #5)

Other series entries:
Deadly Beloved by Max Allan Collins (Ms. Tree)
Strip for Murder by Max Allan Collins (Jack and Maggie starr)
The Titanic Murders by Max Allan Collins (Disaster #1)
Two for the Money by Max Allan Collins (Nolan #1 & #2)
The War of the Worlds Murder by Max Allan Collins (Disaster #6)

The Road to ... saga
Road to Perdition (novelization) by Max Allan Collins
Road to Purgatory by Max Allan Collins
Road to Paradise by Max Allan Collins

TV/Movie Tie-In Novels:

CSI Novels:
Body of Evidence by Max Allan Collins (CSI #4)
Cold Burn by Max Allan Collins (CSI #3)
Double Dealer by Max Allan Collins (CSI #1)
Sin City by Max Allan Collins (CSI #2)

Movie Novelizations:
The Pink Panther by Max Allan Collins
Road to Perdition by Max Allan Collins

Short Story Collections:
Murder -- His and Hers by Barbara Collins and Max Allan Collins
My Lolita Complex by Max Allan Collins and Matthew V. Clemens
Quarry's Greatest Hits by Max Allan Collins
---
To arrange to have products considered for review, send an email to

[email protected]

.
---
---
Max Allan Collins, Deadly Beloved (Ms. Tree series)
Any new Max Allan Collins novel is cause for celebration, especially one from Hard Case Crime, because they are revisiting his best characters from his earlier days. First, they reprinted the first two novels Collins ever published (featuring professional thief Nolan) in Two for the Money. The next year saw the telling of his professional hitman Quarry's "final" story in The Last Quarry, which was based in part on the short film "A Matter of Principal" (available in the DVD set Max Allan Collins's Black Box).
His latest, Deadly Beloved, features yet another celebrated return, that of Ms. Michael Tree. What most people don't know is that Collins (along with artist Terry Beatty) is responsible for the longest-running private investigator comic book series. That it featured a female P.I. was even more ground-breaking, as Ms. Tree originated in 1980, before Sara Paretsky or Sue Grafton came to fame with their girl gumshoes.
Deadly Beloved is the first all-prose novel to star Ms. Michael Tree, and it features cover art by Beatty in a nice combination of the usual Hard Case Crime motif and Beatty's own comic style (Ms. Tree's features have been softened considerably, for one thing). Ms. Tree has appeared in short stories — most notably "Inconvenience Store," which was adapted into the indie film Real Time: Siege at Lucas Street Market with Collins himself directing (it is also available in the Black Box DVD set) — but this is her first long-form appearance.
Comics have been a large part of Collins's career: he wrote the daily Dick Tracy strip for fifteen years, and even Road to Perdition started out as a graphic novel. This is simply a warning for those who may be put off by the comic book–style character names in Deadly Beloved. They aren't quite Chester Gould–quality puns, but they're close. (If the Ms. Tree/mystery pun doesn't make you groan, you'll probably be fine.)
Past fans of the character and her adventures will notice immediately that a good portion of the backstory that originally served as the impetus for Ms. Tree's exploits has been changed to suit this brand-new story, the murder of a philandering accountant by his jealous wife. But those coming to Deadly Beloved with little foreknowledge are in for a surprise: Ms. Tree is a hard-boiled woman with a heart as dark as any male private eye they've come into contact with before. Not the shy, retiring type, she has no compunctions against putting a bullet into anyone who gets in her way. Fans of Mickey Spillane's Mike Hammer series (Collins is a highly vocal fan) will find a kindred soul in Ms. Tree.
The only real downside in Deadly Beloved is in the way the story is told. Its visually related origins are very apparent, especially in the use of the "telling her story to her therapist" conceit, which is usually only successful in comics or movies. Collins makes it work for the most part, but the jumping back and forth from the actual story to the "outer" conversation was jarring. Still, Collins has included some of his leanest prose yet in Deadly Beloved — I guess writing for those little boxes has made him an expert at picking his words carefully for the greatest impact — and I look forward to more adventures from both Collins and Tree.
---
Max Allan Collins and Matthew V. Clemens,
My Lolita Complex and Other Tales of Sex and Violence
Matthew V. Clemens has collaborated with Max Allan Collins on the research and plotting of all of the popular series of CSI and CSI: Miami novels written by Collins, in addition to the recent Bones: Buried Deep. In between novels, they have also been slowly building a cache of short stories in various magazines and anthologies. My Lolita Complex and Other Tales of Sex and Violence collects nine of those stories. It is a slim volume, but it really packs a punch.
It is a motley collection, to be sure, with stories based on Buffy the Vampire Slayer and Hellboy, as well as pastiches of such cultural landmarks as James Bond and The Thin Man. Those only familiar with Collins's and Clemens's TV tie-in work will be surprised by the variation present in My Lolita Complex, but not by the authors' adeptness with the characters of others, displayed in five of the nine stories.
Putting the weaker tales at the beginning isn't the greatest idea, but it gets them out of the way. Still, if you skipped over "A Woman's Touch," a mostly pointless Civil War story with an admittedly surprising ending, and "A Pebble for Papa" (the authors' first collaboration), a tedious Prohibition-era mob tale, you wouldn't be missing much.
I don't know how Collins and Clemens managed to write a story faithful to both the Buffy the Vampire Slayer mythos and also to Collins's specialties (1940s private eye with connections to Frank Nitti), but "Stakeout on Rush Street" offers the best of both worlds. Hellboy meets cryptozoology in "I Had Bigfoot's Baby!" which shows the crimson hero investigating the title legend for the Bureau of Paranormal Research and Defense and finding more than he bargained for.
In "Sand on the Beach" and "Lie Beside Me," Collins and Clemens bring forth international superspy John Sand, "inspiration" for James Bond, and show that even a retired and newly married intelligence agent has made too many enemies to expect peaceful marital bliss, even when that marital bliss is as healthy (and happens as often) as occurs in these stories. There is a lot of humor especially in "Lie Beside Me," as Sand discovers that, even in marriage, sexual shenanigans can be dangerous.
In "East Side, West Side," Collins and Clemens bring their own touch to Nick and Nora Charles from The Thin Man (here Mickey and Maryanne Ashford, though Mickey still looks like "a taller, unmustached William Powell"), as they solve their first mystery as a couple. The inclusion of celebrity cameos harkens to Collins's Nathan Heller series, but the lighter tone reminds me more of Stuart Kaminsky's Toby Peters mysteries.
All three of the previously mentioned stories were originally the first chapters of novels for a publisher that wanted to produce sexy books for and about married couples, and Collins and Clemens add a lot of spice to these relationships. Another story that was originally the first chapter of a novel (the inaugural CSI release, Double Dealer) was "Graveyard Shift," which has been rewritten with a more shockingly unexpected finale that suits the theme of My Lolita Complex perfectly.
So, it is too bad the title story, "My Lolita Complex," is a bit of a disappointment. It is lurid in all the right ways, despite the predictable outcome, but the details of Clemens's life used as atmospheric details were distracting. Had I not known that another story held this title, I would have thought this was Collins's and Clemens's first collaboration. It is not a bad little tale; it simply lacks the originality necessary to take it to another level and end the collection with a "wow finish."
All in all, My Lolita Complex is an entertaining volume of sexy and violent stories. Editor Tina Jens could have reordered the stories to better effect, however that would only have covered over the existent flaws until they became apparent in the reading. Fans of Max Allan Collins's novels, though, should enjoy this other side of his fictional output (of which novel readers are likely to be unaware, as I was), and be grateful that Twilight Tales has brought them together in a form that properly showcases them.
---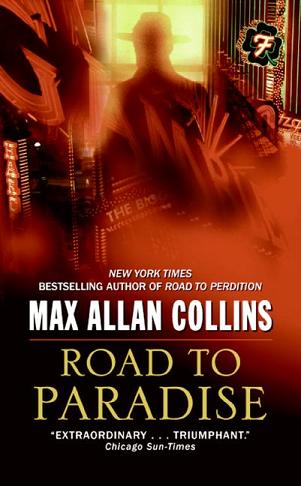 Max Allan Collins, Road to Paradise
He'd been Michael O'Sullivan, Jr., a kid in Rock Island, Illinois. He'd been the Angel of Death's getaway driver, written up in newspapers all over. He'd been Michael Satariano, a teenager in DeKalb. He'd been Michael Satariano the war hero. He'd been Michael Satariano the mob enforcer. And he'd been Michael Satariano the casino boss.
Being Michael Smith, the restaurant manager, was no strain. -- from Road to Paradise
His career comes full circle as Max Allan Collins's latest novel mirrors the plot of his first. Bait Money, published in 1973 (currently available along with its sequel as Two for the Money), featured a "fifty-year-old bank robber on the run from his former mob bosses" (writes Collins in his bibliographic afterword), and so does Road to Paradise, which is set in that same year. About this coincidence, Collins writes, "so much for progress" and "had I known I'd be writing about the mid-'70s, I'd have paid more attention."
Michael Satariano -- formerly Michael O'Sullivan, Jr., who followed his father down the Road to Perdition, taking revenge on John Looney and other Chicago mobsters; later the adopted the son of Italian immigrants and the Congressional Medal of Honor–winning World War II hero who infiltrated the Outfit from within to seek further revenge on Al Capone's role in Michael, Sr.'s murder (read Road to Purgatory for this chapter of the trilogy) -- is living comfortably as the nearly retired "entertainment manager" for the Cal-Neva casino resort when he is asked to perform a task, one that he refuses. Only you don't say no when the mob requests your services.
Road to Paradise is the story of the making of that fateful decision and its aftermath, and it closes the trilogy of Road to... stories (each named for a volume in Dante's Divine Comedy) with a level of satisfaction I was not expecting from a second sequel. Along the way, Collins paints a portrait of a loving family put yet again into the path of danger and what they have to do to escape. Collins's only real concession to the time period are a vocally feminist (though not heavyhanded) daughter and the inclusion of the Satarianos (now the Smiths) in the newly burgeoning Witness Protection Program (WITSEC), as well as the appearance of Las Vegas Outfit leader Sam "Mooney" Giancana.
Readers unfamiliar with the previous entries need not read them first (though I highly recommend them as terrifically involving historical crime novels) -- Collins fills the reader in on all the information necessary to understand the significance of the events that occur in Road to Paradise (a tactic which is also useful to those of us with poor memories). When WITSEC fails, Michael must go back on the road with what is left of his family, and, for the last time, take revenge on those who double-crossed him. It is an emotionally complex journey, and one that I look forward to retaking.
---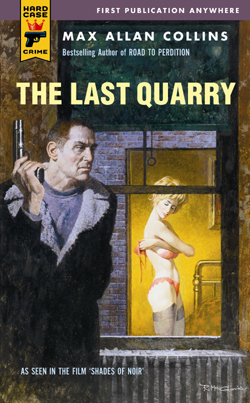 Max Allan Collins, The Last Quarry (Quarry series)
Thirty years ago, author Max Allan Collins created the first hired-assassin series character in Quarry, the protagonist of his novel, The Broker (later republished simply as Quarry). Quarry appeared in four more novels, ending with 1986's Primary Target, and then didn't show his face (except for a few short stories, eventually collected along with the novel in Quarry's Greatest Hits) for almost two decades, until a young filmmaker named Jeffrey Goodman politely badgered the author to let him make a short film of one of the short stories, "A Matter of Principal."
Collins eventually gave in, having been impressed by Goodman's tenacity, with the provision that Collins himself would write the screenplay. (His own bad experiences in Hollywood during the making of The Expert had made Collins wary of others directing his material and Collins has at this writing helmed three features himself. All of them are available, including the short film of "A Matter of Principal," in the DVD box set Max Allan Collins' Black Box Collection.)
The short film was a hit on the festival circuit and won a number of awards. This led to Goodman's idea for making "A Matter of Principal" into a feature, which would of course require another screenplay from Collins. Coincidentally, Charles Ardai had also asked Collins for a new Quarry novel to publish for his Hard Case Crime line, and it only made sense to combine the requests. The Last Quarry is therefore a brand new Quarry novel and also an unofficial novelization of the feature film, as yet to be made. (Collins has vast experience with novelizations, including novelizing the screenplay -- not written by him -- of his own graphic novel, Road to Perdition.)
The resulting novel is some of the best and tightest fiction Max Allan Collins has ever written (and it's dedicated to the director "who brought my killer to life"). Anyone who has read "A Matter of Principal" is going to feel a strong sense of déjà vu for the first three chapters, but that's just the lead-in to the real story as a millionaire hires Quarry to kill a meek librarian, whom Quarry then proceeds to fall for, making the all-too-familiar mistake of mixing emotions with business.
As in its predecessor, previously unforeseen connections appear between characters, making for some interesting surprises in this concise suspenser. Collins doles out the words in The Last Quarry only as needed, in keeping with Quarry's laconic personality -- he doesn't waste time, words, or bullets -- and fills barely 200 pages with the same amount of story that a less careful author would stretch to twice that length. And this killer shows a distinct sense of humor, peppering his narrative with occasional asides that raise a chuckle or sometimes even a full-bellied laugh.
It is obvious that Collins likes Quarry (and he seems to contain a good amount of Collins himself, based on what I've seen from interviews on his DVDs) and is having a lot of fun with this final outing (at least chronologically speaking, according to the Afterword). Simply put, it is a perfect example of Collins' combined talent and skill. Two for the Money was my introduction to his work and if there's any justice in the world, The Last Quarry will garners scores of new fans to this and Collins' other series characters (like private investigator Nathan Heller).
---
Max Allan Collins, Road to Purgatory
Michael Satariano, formerly Michael O'Sullivan, Jr., son of John Looney's "Angel of Death," has become the one-eyed war hero who won the Congressional Medal of Honor for his service in Bataan. He is looking to avenge his father's murder by the famous Chicago gangster Al Capone, now released from prison but sequestering himself from all but his most intimate fellows (including acting Outfit boss, Frank Nitti) due to the advanced debilitating effects of syphilis.
To succeed in doing that, Michael will have to infiltrate the highest echelons of the Outfit, using his apparent Sicilian heritage to his benefit (Papa Satariano, his adoptive father, ran a restaurant that was a favorite hangout of Outfit personnel), and with the full knowledge of FBI agent Eliot Ness, who has kept Michael's true identity a secret (and even assisted with his eventual adoption).
Part sequel (Collins considers this a sequel primarily to his Road to Perdition novelization -- the events begin ten years later) and part prequel (four chapters focus on Michael O'Sullivan, Sr.'s, role in a political riot in 1922, his antagonistic relationship with Connor Looney, and the birth of Mike's brother, Peter), Road to Purgatory is, above all, a novel of betrayal. Mike can't seem to keep his word to anyone but himself, not even the too-good-to-be-true hometown girl he left behind when he went to war, and a good deal of the novel's suspense comes from wondering when Frank Nitti, who all but adopts Mike as a surrogate son, will find out the truth. Mike digs himself deeper with each new relationship and things really start to fall apart when someone from his pre-war past resurfaces in the present.
The Chicago gangland of the 1920s, '30s, and '40s is author Max Allan Collins' specialty. Eliot Ness, in particular, has appeared in so many of his novels (specifically this and his Nathan Heller series, as well as his own starring series of novels and other media) that it is almost a surprise when he is absent (like in Collins' Disaster series, like The War of the Worlds Murder, featuring mystery writers as amateur detectives). Luckily, Ness plays a major role in Road to Purgatory (though, with Prohibition over, he's pretty much stuck fighting that other social pariah, venereal disease, giving him yet another connection to Capone).
Collins' characteristic exhaustive research (he even lets us in on the Outfit's "made man" ceremony) adds considerable depth and atmosphere to this not-so-simple revenge tale, the middle story in a saga named after the three parts of Dante's Divine Comedy. He takes the bold step of making Capone and Nitti sympathetic characters and manages to add Nitti's death into the narrative in a way that does not contradict his earlier dramatization of it in his Nathan Heller novel, The Million-Dollar Wound. And the best part is the saga of Michael Satariano is not over yet, and I can't wait to sink my teeth into the final entry of the saga, taking place primarily in the 1970s, Road to Paradise. Fans of the graphic novel of Road to Perdition will also want to seek out the graphic sequel of sorts (really an expansion of the middle), Road to Perdition 2: On the Road.
---
Max Allan Collins, The Pink Panther
I have to admit I had very low expectations when I picked up Max Allan Collins' novelization of Steve Martin's prequel to Peter Sellers' classic film The Pink Panther. In fact, the only reason I gave it a chance at all is because of Collins' name on the cover. Since I read Two for the Money last year, Collins has quickly topped my list of favorite authors. I will read anything he writes, and if anyone could make something out of what is sure to be a travesty (this poor attempt to reignite a dead franchise), it would be Max Allan Collins.
The Pink Panther is a very quick read. At 250 pages, it flies by; Collins' prose is smooth and easy to read, flowing quickly through the all-too-familiar plot to a surprisingly appropriate finishing one-liner. It's fun, provided you don't think about it too much.
The problem seems to be that Collins didn't have all that much to work with. The body of The Pink Panther's storyline (script by Len Blum and Steve Martin from a story by Blum and Michael Saltzman) is weak and relies on pratfalls, bad-accent humor, and completely unsubtle sexual innuendo for its laughs. Physical comedy is hard enough to perform properly, and Collins is stuck with the thankless task of trying to describe it.
It is therefore not surprising that little humor remains. While Collins may be a superb comic writer, he is not a comedy writer; mysteries are his forte. Sadly, the "mystery" as such is of little consequence in The Pink Panther; the purpose is solely to witness Inspector Jacques Clouseau's bumblings toward eventual -- if probably undeserved -- success.
After reading The Pink Panther, I am not likely to see the film -- not that I had planned to in the first place. It just seems like so much of a waste of time -- even though, given how long the film's release was delayed, there is probably a good deal that is different in the finished film from the script that Collins used as his source. But it's rarely a good sign when poor audience testing requires reshooting scenes or reediting the film.
No, if anything, I'll just get out my well-worn copy of A Shot in the Dark and try to recapture some of the magic of the legendary Blake Edwards / Peter Sellers team, while Max Allan Collins' novelization of The Pink Panther is relegated to its rightful place in my Collins collection but unlikely to be opened again.
---
Max Allan Collins, The War of the Worlds Murder
Max Allan Collins' historical mysteries are some of the best reading available. His Nathan Heller series has been nominated nine times for the Shamus award (winning twice, for True Detective and Stolen Away) and his "disaster" series has received similar acclaim, with was also nominated for the Shamus). Mysteries are often considered fluff writing, but Collins mixes fact and fiction in a way that is irresistible to those of us who like a little grit in our meringue.
The War of the Worlds Murder is the sixth in the Collins' "disaster" series, and it continues the series on a slightly different note. It is both less "disastrous" than previous entries and slightly less effective. But that doesn't keep it from being fascinating reading, especially to such a rabid fan of Orson Welles, the Shadow, and old-time radio as myself.
This War of the Worlds does not focus on the H.G. Wells novel (although it was undoubtedly released to coincide with the recent film adaptation). It instead features the 1938 Mercury Theatre radio presentation that "panicked America."
Collins introduces the novel, much like the Orson Welles film F for Fake, with the assertion that what follows is true -- the result of a conversation with Walter Gibson in 1975. (Gibson created the Shadow, authored over 230 novels featuring the character, and was the person who recommended Welles the young actor for the role on radio.)
However, also like F for Fake, he abandons this tactic once we are well and truly hooked, introducting a fictional murder into the proceedings. (Welles' mistress, or one of them, is murdered in CBS studios on the night of the broadcast and it is up to pulp writer Gibson, in town to assist Welles on a Shadow film project that never materialized, to solve the crime.)
Unfortunately, it is the murder that is the weak point in what is otherwise a fascinating portrait of an important incident in entertainment history -- it plays little or no role other than slightly enhancing the storyline. It is the real story of the events on the night of October 30, 1938, that keep the reader turning pages: showing the famous War of the Worlds broadcast from behind the scenes (from Gibson's point of view primarily) and how the radio play affected those millions of listeners who tuned in late and missed the opening announcement. By the time they switched from the popular Edgar Bergen and Charlie McCarthy program (once Nelson Eddy began singing), the Mercury play and the "Martian invasion" were well underway.
Max Allan Collins puts a lot of research in his work and often comes up with surprising, heretofore unknown facts. After all, who knew that Judy Holliday (who would later win an Oscar for her portrayal of not-so-dumb blonde Billie Dawn in Born Yesterday) was an office assistant at CBS studios back in 1938, subject to abuse from Welles' Mercury Theatre partner, John Houseman? I didn't. (Interestingly, as Welles' career was coming to an embarrassing close, Houseman's second career was just taking off due to his own Oscar-winning performance in The Paper Chase.) This use of facts brings further enjoyment to The War of the Worlds Murder, and offers a further example why I'll pick up a Max Allan Collins novel over any other.
---
Max Allan Collins, Two for the Money
(Hard Case Crime is a new imprint from Dorchester Publications and Winterfall LLC that focuses on books written in the style of the old pulp crime novels. They will be publishing new works in the old style, as well as reprinting classics from the masters, like Max Allan Collins's Two for the Money.)
Max Allan Collins is one of those authors that other authors don't want to hate, but simply have to because he is so prolific, and because he makes it look so easy. Since his first novel was published thirty years ago, Collins has churned out mystery series, stand-alones, comics, and movie and TV tie-ins to the tune of 80+ published full-length works -- even going so far as to write the novelization of the screenplay of a film (Road to Perdition) that was already based on his own work (in this case, a graphic novel)! Two for the Money contains his first two published novels (in their 1981 revised versions, as opposed to the 1973 originals): Bait Money and Blood Money, #1 and #2 in a series of eight (so far) books starring professional thief Nolan.
The book seems to start at the end of one story and the beginning of another as we are introduced to Nolan 35 days into his convalescence from a gunshot wound. (Although "convalescence" may be the wrong word since he seems to be spending the majority of the time having sex with the waitress who has put him up -- and put up with him -- for all that time.) One phone call changes all of that, however, and he sneaks out soon after she goes to work.
The first book (Bait Money) of Two for the Money falls under the "last big heist" heading, with Nolan wanting to retire. He's 48 and it's definitely time to give up this high-risk business. Unfortunately, some "Family" members have a grudge against him that makes that difficult-to-impossible. But he has an out: if he pulls one more heist for them, to the tune of $100,000, they will "forgive" him. The catch is that he has to pull it with the planner's nephew, Jon. This contrasting of old blood and new has long been a cliche (it may even have been then), but Collins' skill at characterization makes it work, even if a few leaps of faith need to be taken.
Book Two (Blood Money) was written very soon after the acceptance of Bait Money for publication, and so follows closely on the latter's heels. Collins himself even sees the two as one long novel, hence the omnibus publication. In it, we learn more about Jon, an aspiring comics (or "graphic story") artist. Jon's love of comics is a thread that runs throughout Blood Money and this is a world that Collins certainly knows something about, having written for the comic strip Dick Tracy from 1977 to 1993 (Max Allan Collins fans should note that reprints of that series are becoming available under the title Dick Tracy: The Collins Casefiles), as well as authoring numerous graphic novels of his own creation.
Collins wastes no time getting Blood Money off to a running start. A vital supporting character from Bait Money is killed -- and $800,000 is stolen -- in the first few pages. Later, Nolan finds out that someone he thought was dead isn't. Collins uses a fascinating technique throughout this entry of having news delivered by telephone to one character and then backing up to show the story leading up to the exchange, this time from the caller's perspective. He also adds useful tidbits of information, like how having high blood pressure can make a victim more likely to die of a gunshot wound. He also showcases the unheralded victim of a gunfight: the guy who has to clean up the mess.
Darkly funny details like these make Two for the Money a joy to read, Max Allan Collins a new favorite author, and Nolan a character I plan on revisiting soon. Collins admits that Nolan is an almost complete rip-off of Donald Westlake pseudonym Richard Stark's Parker, but Westlake appreciated the differences Collins offered the stories and gave Collins his blessing to continue the series. These stories would make terrific movies, and artist Mark Texeira helps out Hollywood's casting directors by drawing his own preferences on the cover painting, with Nolan resembling a cleaned-up Nick Nolte, and Jon and the irresistible Shelly looking strikingly like modern "it couple" Ryan Phillippe and Reese Witherspoon. Someone should advise Nolte to latch on to this possible comeback opportunity. In the meantime, I'm going to latch on to all the Max Allan Collins books I can get my hands on.
---
Max Allan Collins, Road to Perdition
Given that this is a novelization of a screenplay adapted from the original graphic novel by the same author, the parts of the original source material that were changed for the movie are also changed in this version, such as the names of the protagonists (the O'Sullivans are the Sullivans, and the Looneys are the Rooneys) and the folding of several different killers into composite villain, photographer Harlen Maguire (a choice Collins said he would have made himself). However, if you have not read the original Road to Perdition comic, you are not likely to care and can skip on past the italics to the meat of the review.
My first comment about Max Allan Collins' Road to Perdition novelization is that I admire him for sticking to the changes of David Self's screenplay, despite his being the author of the original graphic novel Road to Perdition. The second thing, and probably more important, is that I enjoyed Collins' novelization more than the movie Road to Perdition as directed by Sam Mendes (American Beauty). Collins' tight prose is a very different approach than Mendes' inherently visual style that often focuses on cinematographic set pieces in lieu of powerful storytelling. However, one cannot help picturing Tom Hanks and Paul Newman in their respective roles, especially given Collins' knack for describing the characters as seen on the screen. For example, this description of John Rooney describes Newman far better than the original John Looney:
The lanky, almost-tall, white-haired, white-mustached paterfamilias had been a rakishly handsome young man. And even now, in his seventies, his powder-blue eyes, prominent cheekbones, and strong chin gave him the sort of distinctive good looks many a lady ... still sighed over.
I've long admired Collins from afar, having not read any of his work prior to Two for the Money. His prolificity astonished me, particularly one I began seeing his name appearing frequently on CSI tie-in novels. I had seen the movie Road to Perdition, as I mentioned, but, not being particularly impressed by the film, had not pursued any further work by the author until Two for the Money was published by Hard Case Crime (a new publisher I greatly admire) and I actually was immersed into the author's literary world. That changed my mind and I decided to give Collins a chance to tell his own version when I found the Road to Perdition novelization at a library sale.

"Angel of Death" Michael Sullivan is the chief enforcer for crime boss John Rooney and they share a father and son-type relationship. When Sullivan's own son Michael, Jr., witnesses a hit done by Sullivan and Rooney's jealous (and possibly crazy) son Connor, Connor decides to protect his interests by having the boy killed. A mistaken identity leaves only the two Michaels alive and Sullivan sets out for revenge, with son in tow, by hitting them where it will hurt the most.

A combination crime thriller, period piece, revenge treatise, and coming-of-age novel, Road to Perdition satisfies on all levels. As young Michael becomes aware of his father's work, he learns the skills needed to do it properly, becoming a man and tightening their relationship in the process. Through this, the reader learns that even a hired killer loves his family. Collins' sensitivity towards family within these lurid surroundings exhibit his incomparable skill at hiding his literary (and historical) sensibility within familiar genre trappings. Max Allan Collins is one author whose works are both fun and good for you.
---
Max Allan Collins, Double Dealer (CSI: Crime Scene Investigation)
I would imagine that the first words out of the mouths of many Max Allan Collins fans reading this are: "Why is he writing CSI novels? Isn't he better than that?" and I would then have to imagine that they must have forgotten (or never knew) that, in between his various graphic novel and historical mystery projects, Collins has had a lively TV/movie tie-in sideline going on for some time now. Sure, his two Shamus awards are for entries in his Nathan Heller series (True Detective and Stolen Away, to be specific), but it was his novelization of Saving Private Ryan that gave him the "New York Times Bestselling Author" designation that has appeared on nearly every one of his book covers since.
In any case, the bottom line is that Collins writes intelligent, detail-oriented, fast-paced novels (mysteries for the most part) and so is a perfect fit for CSI. His experience writing in the voices of already-existent television characters (NYPD Blue, Dark Angel) also serves well in his representation of Grissom, Willows, Brass, Brown, Stokes, and Sidle: every line reads as if it were delivered by the actors; and remember, these are original plots, not novelizations of previously-filmed teleplays, making the result that much more admirable.
Double Dealer is the first novel in the series and contains a good amount of extra detailed history, in-depth predictive reenactments, and copious description, while still respecting the "reality" of the events from the first season. (Something that is also good to remember: later season events, relationships, and promotions are not reflected here, the only major drawback to reading a novel based on an ongoing television series.)
A mummified corpse is discovered that carries the same shooter's-signature as a more recently dispatched victim. However, true to form, Grissom considers the two to be separate cases until the evidence proves otherwise. I'm hesitant to provide too much detail about the plot but series fans will love how Collins follows the normal procedure of a typical episode in Double Dealer -- all the way down to the jaw-dropping climax and Grissom's bon mot ending. In addition, he adds his own brand of humor, particularly in the form of in-jokes during an interrogation in a video store. (He not only name-drops his own innovative DVD Real Time: Siege at Lucas Street Market -- which I heartily recommend in its own right -- but also a classic from a lead cast member's past.)
A satisfying read all around, Double Dealer enhances the CSI mythology without having to go outside the expected realm, and leaves plenty of room for further development, making it perfect for fans, but also approachable for the uninitiated. (Of course, this metafiction-loving reviewer would be tickled pink to see the worlds collide by having this novel adapted into a future CSI movie, bringing everything full circle.)
---
Max Allan Collins, Sin City (CSI: Crime Scene Investigation)
Max Allan Collins continues his second career (in addition to being an award-winning historical mystery writer and graphic novel scripter) of authoring the best TV/movie tie-ins in the business. Sin City repeats everything that was good about Double Dealer -- solid plotting, familiar characterization, loyalty to the format. It's the rare sophomore effort that improves upon its predecessor. That it is also longer makes this feat even more surprising.
Las Vegas earns its notorious nickname when a man's wife disappears and their neighbors suspect the husband, particularly since the wife gave them a secreted cassette tape with the husband threatening to dismember her recorded on it. Meanwhile, a stripper is murdered in the lapdance room at Dream Dolls (where Catherine used to work) and the surveillance cameras point to her boyfriend, who was not only under a restraining order, but also claims he was home watching the game at the time.
Sin City fulfills on all levels and the reader profits from the experience that author Collins has in writing for already-existing television characters. The voices are perfect and one can go from watching the television series to reading the novels seamlessly, which is likely the best compliment one can give to a genre that gains little respect from the literary community but has been vastly appreciated by TV watchers and readers alike for decades.
---
Max Allan Collins, Cold Burn (CSI: Crime Scene Investigation)
In the time between Thanksgiving and Christmas, two wintry murders, separated by most of the continental United States, tax the resources of the Las Vegas CSI team. While Catherine, Warrick, and Nick remain on home turf to take care of the mysteriously wet and naked dead female dropped on a park trail, Sara and Grissom are on their way to a seminar in New York, a working vacation. Surprised by work in its midst, they come across an ad hoc funeral pyre in the middle of a snowstorm.
Author Max Allan Collins (with help once again from researcher and plotter extraordinaire Matthew V. Clemens) again delivers the forensic goods in Cold Burn, his third novel based on the popular television series. He stays faithful to the existing characters while taking advantage of the novel format, creating new storylines and suspects that fit the surroundings but that stretch the usual boundaries with their use of more realistic murders and even rough language. A highlight of this novel is watching Grissom learn new techniques when a Canadian CSI shows his particular skills in working a crime scene covered with snow.
I find reading the novels a perfect way to pass the time instead of watching another rerun for the fourth or fifth time, given how many stations are carrying the show in syndication. (Coincidentally, however, an episode that is referred to as "the Marks case" in Cold Burn was rebroadcast on the night I read about it, allowing me to get deeper insight into the actions of one of the regulars.) I still feel as if I have just begun this series, and I'm not about to stop now.
---
Max Allan Collins, Body of Evidence (CSI: Crime Scene Investigation #4)
The week begins for most people on Monday morning, but CSIs Catherine Willows and Nick Stokes are just ending their Sunday night shift when they get a call to go out to a local advertising agency because one of the partner's personal assistant has found child pornography on her boss's printer.
The investigation is instantly difficult because several of the employees are on vacation and it is impossible to tell who was in the office over the weekend. Sifting through this Body of Evidence is not going to be easy.
IT expert Tomas Nunez is called in to assist the technical part of the investigation and he discovers which computer the print command was sent from, but when the CSIs find multiple fingerprints on the keyboard of that station, they realize that they've got a real corker on their hands. Add to that their personal feelings about child pornography and this is going to prove to be one emotional case, with more than one instance of misguided accusation.
Elsewhere in Las Vegas, Gil Grissom, Warrick Brown, and Sara Sidle are called to investigate a woman's body discovered by a local citizen. The profile of the case is heightened instantly when her identity is confirmed as the long-missing secretary of Mayor Darryl Harrison.
Sheriff Brian Mobley immediately takes himself off the case because he has everything to gain by implicating the mayor in this crime: Mobley was planning to run against the mayor for his seat. Mobley's campaign manager Ed Anthony has been doing everything in his power to help Mobley, including several things he shouldn't have done.
Author Max Allan Collins (again with research and plotting assistance from Matthew V. Clements, a true-crime writer in his own right) is on a roll with these CSI novels, and Body of Evidence is no different. He captures the tone, setting, and characters from the television series perfectly, complete with the touches of humor that so wonderfully break the tension and illustrate the friendships that lie under the professional relationships.
The computer and Internet knowledge contained within Body of Evidence is just another example of the fine work done by Collins and researcher / co-plotter Matthew V. Clements (a true-crime writer in his own right and the co-author of several short stories with Collins). The details are part of what makes CSI so fascinating, and Collins and Clements do not skimp.
Tie-in novels like Body of Evidence are ideal for fans who are looking for an original CSI mystery during the summer rerun season. Plus, the stories are longer so, generally speaking, there is room for more detail and character development, making for a more fulfilling, multi-hour experience -- more like a CSI movie than a typical episode.
---
Max Allan Collins, True Detective (Nathan Heller series)
Max Allan Collins' first novel in his acclaimed Nathan Heller series, the Shamus Award–winning True Detective, is a stunning mix of fact and fiction. The setting is 1930s Chicago and Collins paints the city of that time with a bold brush. Heller is a city cop who gets roped into a messy situation by his fellow officers. When he ends up killing a man with the same gun Heller's father used to commit suicide, Nathan's own, that's the last straw that leads to Heller quitting the force, despite the efforts of the higher-ups to get him to reconsider.
But working as the president of your own detective agency (called "A-1" so it will appear first in the telephone directory) is by no means boring -- not when your best friend is Eliot Ness and you have connections to Frank Nitti, Al Capone, mayor Anton Cermak, Walter Winchell, George Raft, and a young future actor who goes by the name "Dutch" Reagan (gangster John Looney, whom Collins would feature in Road to Perdition fifteen years later, even shows up).
Collins took five years to research the place and time and this, combined with his immense storytelling skill, make True Detective an immersive experience. The World's Fair comes alive in his hands, as do the characters, who have never seemed so real (even in The Untouchables) as when they are dealing with the fictional Nathan Heller. I plan to repeat this experience soon with the sequel, True Crime, and I think I'm about to become very familiar with the exploits of Nathan Heller.
---
Max Allan Collins, True Crime (Nathan Heller series)
Max Allan Collins continues the Nate Heller series (begun with True Detective) with the second in the "Frank Nitti Trilogy." Taking place just months after the events in its predecessor, True Crime centers around the famous killing of gangster John Dillinger in front of Chicago's Biograph Theater (Manhattan Melodrama was the picture that he, a girlfriend, and the famous "Lady in Red" had just seen).
Nate has just begun a relationship with renowned feather/bubble dancer Sally Rand, when a man comes into his office asking Heller to find his wife. How this connects with Dillinger and how Heller then gets mixed up with Pretty Boy Floyd, Baby Face Nelson, Ma Barker and her boys, and J. Edgar Hoover is a narrative of historic proportions. The accuracy of Collins' details and the amount of research done to get the facts right (sources are named in the back) are an example of the dedication Collins has to his craft.
That he is able to whip up a plot that uses these, but does not rely on them for a crutch, while inserting a fictional character into the midst of the fracas, is nothing short of remarkable. Nominated for the Shamus Award, True Crime is only the second Nathan Heller novel I've read, but it certainly won't be the last.
---
Max Allan Collins, The Million-Dollar Wound (Nathan Heller #3)
Max Allan Collins sends his historical detective Nathan Heller off to war in the Shamus Award–nominated The Million-Dollar Wound, the third in the series after True Crime. A little male pride, some misplaced patriotism, and a few drinks too many land Heller, too old for the draft, in the Marine enlistment office in 1942, right alongside best friend and ex-boxer Barney Ross. Far too soon after, they find themselved smack dab in the middle of Guadalcanal Island, surrounded by "Japs" and fighting death in both its projectile and contagious forms.
As especially bad case of malaria finds an amnesiac Heller back in the States with a fuzzy memory but a thriving investigation practice, and a request to testify against Frank Nitti, now in control of the territory left vacant by Al Capone's prison sentence. The story quickly flashes back to 1939. Those used to the linear narratives of the first two novels in the series (True Detective and True Crime), and their relative chronological proximity to each other, may be thrown by The Million-Dollar Wound, which takes place nine, then six, then ten years after the events in True Crime.
The Million-Dollar Wound was Max Allan Collins' most complex novel, both emotionally and narratively, up to that point. The weight of the combat experience weighs heavily on Heller's mind throughout the remainder of the novel, especially the bad dreams he has involving a fellow Marine's death by "friendly fire." Did Heller fire the fatal shot? He can't remember. This lends a gravity to this third entry that only enhances the reading, offering a deeper sense of character through Heller's reaction to the truth. I understand that the war effects Heller throughout the series, but only time will tell. (Note: The title refers to a war wound that gets a soldier sent home, but doesn't kill him.)
---
Max Allan Collins, Stolen Away (Nathan Heller #5)
The fifth novel in Max Allan Collins's Nathan Heller series of historically accurate private-eye mysteries not only won the Shamus Award for best private-eye novel (the second in the series to win after True Detective), but is also, at 600 pages, the longest private-eye novel ever written.
But there's a lot of story to cover in Stolen Away, which focuses on the kidnapping of young Charles Lindbergh, Jr., "the Lindbergh baby," son of the famous pilot, "Lucky Lindy," who flew The Spirit of St. Louis across the Atlantic, the first person to do it solo.
The story begins, however, with Heller, at this point still a cop on the Chicago force, following a suspicious-looking blonde, baby in tow, through the local train station. The Lindbergh kidnapping is only a few days old, and Heller thinks he might be on the trail to solving it, which would do wonderful things for his career. He tails the woman all the way home, only to discover he's stumbled onto another kidnapping entirely. But this case catches the attention of Charles Lindbergh ("Slim" to his friends), who requests Heller's assistance in the investigation of his own child's disappearance.
Since Heller is still a cop throughout most of the book, Stolen Away walks the line of being a true private-eye novel. It is only Heller's distance from his normal jurisdiction that, in the long run, makes it feasible -- that and its part in an already established series. Heller works alone, and I guess that's what counts. Having an elderly Heller writing his "memoirs" from his retirement complex in Coral Springs is a nice touch. It lends a realism that an actual person is recounting these events from memory (though he must have Archie Goodwin's memory for dialogue to be able to remember conversations as clearly as he does).
Collins' solution to the kidnapping is a little too clean for my taste, but Stolen Away as a whole is quite a gripping read with a surprisingly emotional conclusion. Fans of the series will tear through this (I have a separate Nathan Heller page with reviews of the ones I have read so far), and I would especially recommend it to those interested in the Lindbergh kidnapping as history, given that Collins' usual exhaustive research is in high gear here. All the characters, except Heller, are either real people, "have real-life counterparts," or are composites of real people, and their actions and motives are taken from various articles and books about the case, mostly written by the participants.
That it all fits together so well is a testament to author Max Allan Collins' skill, especially since, in his "I Owe Them One" afterword (where he lists his sources), he cites the "conflicting source material" and the fact that "none of the books contemporary to the Lindbergh case proved entirely reliable." Nevertheless, Stolen Away is my favorite Heller mystery yet, and I have already stocked my bookshelf with others in the series for when I want to indulge my taste for a great historical whodunit.
---
Max Allan Collins, Damned in Paradise (Nathan Heller #8)
This eighth entry of the series of historical mysteries where Max Allan Collins places his private eye Nathan Heller within real-life cases is the first one that I haven't loved. That is not to say that Damned in Paradise is not good; it is just not as good as the other entries I have read. There was a marked lack of suspense where I really didn't care about the outcome of the characters and was only along for the ride that Collins so ably provides.
Damned in Paradise focuses on the Thalia Massie case that also inspired the movie Anatomy of a Murder (and the bestselling novel by Robert Traver of the same name). Massie, the wife of an Army Lieutenant stationed in Hawaii, was attacked, raped, and beaten by a bunch of locals. After a subsequent trial resulted in a hung jury, Massie's mother and husband took the law into their own hands and, with the help of two soldiers, murdered the leader of the alleged gang, Joe Kahahawai. The trial of Lt. Massie and Grace Fortescue (the mother) is the focus of this novel.
The most fun of these novels comes in watching real-life celebrities interact with Heller. Famous attorney Clarence Darrow is called to represent the defendants in this case and, since Darrow was a friend of Heller's father, Nate is asked to accompany him as an investigator. Nate has just finished the first portion of his involvement in the Lindbergh baby incident (as told in Stolen Away), but Darrow promises to keep his police department pay active while Nate is away. (The fact that Darrow manages to get by without paying anyone for their help is a running joke.) Also appearing are Detective Chang Apana (the inspiration for Earl Derr Biggers's character Charlie Chan) and a young Buster Crabbe in supporting roles.
Despite all these bells and whistles, however, I found it difficult to care about the outcome of such a despicable character as Thalia Massie. I always felt that she was hiding something -- that she was lying about what happened -- and so could not sympathize with her. Heller's presence ties everything together, and Chang's easygoing manner (except when he has a bullwhip in his hand) make for a relatively easy read, but one that was, on the whole, mildly unsatisfactory. I'll have to read another one soon to get back into the swing of it.
---
Max Allan Collins, The Titanic Murders
Inspired by a story reportedly told to him by Jacques Futrelle's daughter, Max Allan Collins once again makes a mystery out of history with The Titanic Murders. Futrelle, the author of the Thinking Machine mysteries featuring the Holmesian professor Augustus S.F.X. Van Dusen (Futrelle was also referred to as the American Conan Doyle), died after the sinking of the Titanic, so he was the perfect sleuth for this first of Collins's "disaster" series of mysteries centering on real-life tragedies. In this case, the finding of two bodies in the Titanic's cold-storage compartment is the catalyst that moves the story.
Fans of the movie Titanic who pick this up may be disappointed by the lack of a love story other than the one between the happily married Futrelles. Also, the pacing of The Titanic Murders isn't what it could have been. But what can you expect from a novel that takes place entirely onboard an ocean liner?
The Titanic Murders is certainly not the best book in Collins's library, but fans of cozies and locked-room conundrums should especially enjoy this visit back to the early twentieth century, and it will hopefully gather more fans for Jacques Futrelle, a sorely underappreciated mystery writer.
---
Max Allan Collins, Quarry's Greatest Hits (Quarry series)
This collection of stories featuring Max Allan Collins' hired killer called Quarry features all four Quarry short stories and the fifth novel in the series, Primary Target, which appeared ten years after the fourth entry, Quarry's Cut (previously published as The Slasher). But that's nothing when you consider that it would be almost twenty before Collins would write The Last Quarry for Hard Case Crime.
Here, Quarry is offered one million dollars to assassinate up-and-coming third-party presidential candidate Preston Freed. When he turns it down -- he is retired, after all -- there are major consequences and Quarry is forced to get back into the business he knows best: killing. Only this time, it's personal.
What results is a wonderfully intricate story where every character is connected to at least one other. Collins stretches out the suspense beautifully and only reveals the connections one by one, as Quarry discovers them himself. Collins' style is engaging as always and Quarry is a fascinating choice for a protagonist, given that he is only ever looking out for himself (although he does show a surprisingly tender side). Primary Target is exceptionally well-crafted, with every piece fitting firmly into place. It also has a perfect ending and is just the right length, coming in at just under 200 pages.
Also included are four short stories, the most significant of which is "A Matter of Principle," which has been adapted into a short film and is purported to be the basis for the forthcoming (and abovementioned) The Last Quarry; it would certainly work well as an opening chapter. Originally published in the seminal genre anthology Stalkers, "A Matter of Principle" has Quarry rescuing a kidnapped woman through his own special means. But Quarry's motives are his own, as we soon find out....
---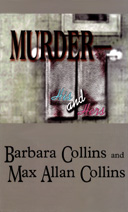 Barbara Collins and Max Allan Collins, Murder -- His and Hers
Husband and wife authors Barbara and Max Allan Collins released this collection of nine short stories -- four by her, three by him, and two by both -- entitled Murder -- His and Hers in 2001, preceding Jonathan and Faye Kellerman's Double Homicide by three years. Unfortunately, the level of quality cannot compare, mostly due to one particular party.
Things get off on the wrong foot with "Eddie Haskell in a Short Skirt." Attributed to both Collinses, their voices are easily distinguishable, with each sticking to his/her own gender and trading off passages. Barbara Collins' writing is amateurish and juvenile, always telling more than necessary, in effect talking down to the reader. Max Allan Collins' (henceforth known here as Al) prose is cleaner and more assured.
First impressions are very important to me, and I believe that a short story collection should start off on its best foot. Operating on this belief, it was with some trepidation that I proceeded to the "Dead and Breakfast" Barbara solo. Written with three years less experience than its predecessor, the premise is more interesting but the ending is so bad, concluding with a trite pun (not even an original one -- and I like puns!), than I felt insulted, as if she were mocking me for bothering to finish her story.
The first Al solo story, "Cat's-eye Witness," to my great disappointment, wasn't much better. Yet another addition to the seemingly-endless genre of cat mysteries (and the first of two in this collection alone), it owes a great debt to the author's middle-namesake, Edgar Allan Poe. Unfortunately, the execution is hackneyed, the protagonist uninteresting, and the ending comes to easily, with improper development.
The opening sentence of "Reunion Queen" could give no better example of the low quality of Barbara Collins' writing: "Her mood darker than the night" is bad enough, but the fact that she then feels the need to explain that "the night was very dark" just shows the contempt she has for her audience -- that we won't understand just how dark the mood of "the striking blonde" was as she "tooled the candy-apple Jaguar into the Marriot lot" unless she tells us explicitly. There's one vital rule that she is breaking: assume your readers are at least as intelligent as you are. Her use of music as punctuation is clever but it does not support with is essentially a revenge story with a weird twist ending tacked on for shock value.
"Inconvenience Store" is (almost) worth the price of the book alone. An entry in the continuing Ms. Tree series of stories, this Al solo has a remarkable female lead unlike any I've seen and is a fast-paced, gripping tale of a trip to the market gone awry. (It was also the basis for Collins' independent film -- and innovative DVD -- Real Time: Siege at Lucas Street Market.) Al could teach his wife a few things about writing active females who take charge of a given situation and don't just whine bitterly, and also how to write endings and not come up with some off-the-wall conclusion that negates everything that came before. "Seeing Red" is another example. "Catgate" is a fascinating but weaker entry -- and the second cat-themed story -- from Al. A senator's murder of his mistress causes serious, and interesting, trouble from all sides, but the ending is just a little too pat.
Then again, it's still a sight better than Barbara's "World's Greatest Mother," a Dragnet pastiche that uses its faux-investigatory format to press a moral agenda. The last entry, "A Cruise to Forget," borrows heavily from Roald Dahl and still manages to be the best of the lot. Written by both Collinses, the prose is seamless, with no sign of who wrote what. Original to this collection, it is a hopeful sign of things to come. Murder -- His and Hers works best with seen as a portrait of developing short story talent, since it seldom delivers on the entertainment front.
---
Click on the links above to purchase any of the books mentioned, or use the search box below to find what you like.



(Email me and let me know what you think.) <! - - BEGIN READERS RING-->

<! - - END READERS RING - - !>