TeamSolo's Racing Boat
---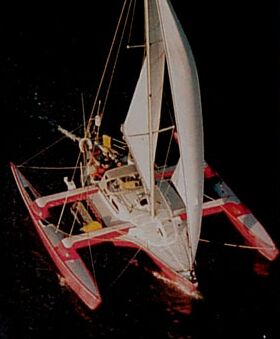 High Flyer is a production-built performance ocean going trimaran with good cruising accomodations conbined with high stability and sail power for fast passagemaking.
High Flyer was built for the original owner with the intentions to compete in the singlehanded transatlantic Ostar Race but the owner never entered it.
The trimaran has beaten several "hot" multihulls in the North East in the NEMA races.
During 2002 the boat will be raced by TeamSolo in the NEMA races. Please visit the team's website for results, racing and delivery times, and race reports from the boat.
She handles like a planing dinghy, is extremely stable and goes through off-shore conditions with aplomb, having endured several gales and a hurracane while at sea.
The established NEMA rating for the boat is 68.
High Flyer is an exciting racer cruiser which is offered for sale by its owner who moved on to a larger catamaran. The asking price is $55,000. Please see the specifics here or contact Serge at [email protected].