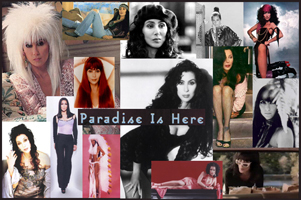 Newsview
Older picture items have been moved to this page from The Latest.
News items have been moved to News Archive.
---
Cher appeared at another poetical fundraiser, this time at Camden's E-Centre in Philadelphia 12 September 2000. Along with Michael Bolton, David Brenner and Luther Vandross, Cher helped to entertain approximately 10,000 Democratic activists with Al and Tipper Gore headlining the $800,000 Democratic National Committee fund-raiser.
Below is a photo of Cher with Al and Tipper Gore at the event.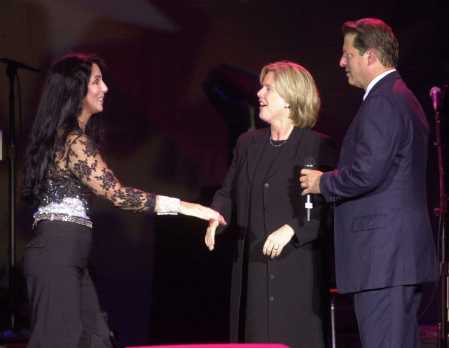 The 52nd Annual Academy of Television Arts& Sciences EMMY Awards were presented Sunday 10 September. "Cher: Live In Concert - From The MGM Grand In Las Vegas" was nominated for seven awards.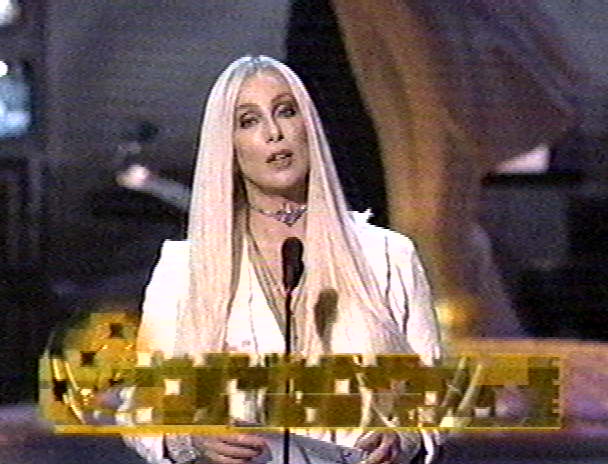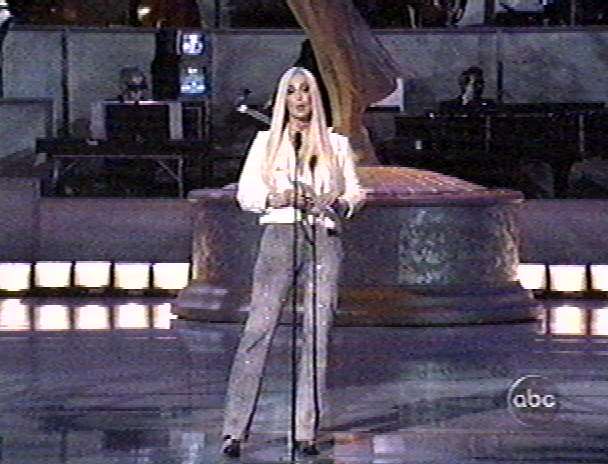 Cher did not win her nomination for:
OUTSTANDING INDIVIDUAL PERFORMANCE IN A VARIETY OR MUSIC PROGRAM
The Creative Arts Awards were given Saturday 26 August 2000. "Cher: Live In Concert" won two awards:
OUTSTANDING COSTUMES FOR A VARIETY OR MUSIC PROGRAM
OUTSTANDING SOUND MIXING FOR A VARIETY OR MUSIC SERIES OR SPECIAL
Sadly, these Creative Arts Awards were not won by "Cher: Live In Concert":
OUTSTANDING ART DIRECTION FOR A VARIETY OR MUSIC PROGRAM
OUTSTANDING CHOREOGRAPHY
OUTSTANDING LIGHTING DIRECTION (ELECTRONIC)
OUTSTANDING TECHNICAL DIRECTION, CAMERAWORK, VIDEO FOR A MINISERIES, MOVIE OR A SPECIAL
For a complete list of all nominees and winners, follow this link.
The 7th annual Women In Film "Lucy Awards" were presented Friday 8 September 2000 at the Beverly Hilton hotel in Los Angeles. Cher was honored as one of the cast and creators of HBO's "If These Walls Could Talk".
Below are pictures of Cher alone and with fellow Lucy Award recipients Sharon Stone and Anne Heche.
For more information, follow this link.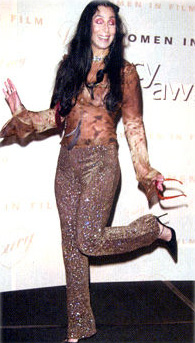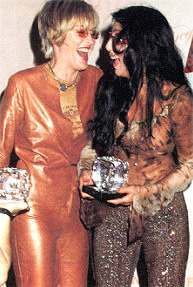 In the September 18, 2000 issue of People magazine, Cher is featured as being in a league of her own.
Below are a couple of pictures from the absolutely enormous September 2000 issue of In Style. The first is Cher at Jennifer Nicholson's clothing line debut, the second with Bill Paxton at a party after the premiere for "The Perfect Storm".
Auntie Cher? ABC TV's upcoming remake of the Broadway and film musical hit "Mame", originally said to star Barbra Streisand, has producer Jerry Herman scrambling to cast a lead. Barbra's focus is elsewhere and Herman has Cher on his list for the title role. The TV-movie is scheduled to air in May 2001.
Cher holds the number 58 spot in Entertainment Weekly's special softcover book "The 100 Greatest Entertainers", which features the vintage 70s photo below and a brief tribute to her. The issue will be on newsstands through 13 November.
On Thursday August 17th, Cher paid a visit to a Century City theatre in Los Angles to attend the premiere of "The Cell".
Pictured below is Cher and the film's star Jennifer Lopez, Cher by herself,
and one with Elijah Blue from US magazine's September 4-11 2000 issue.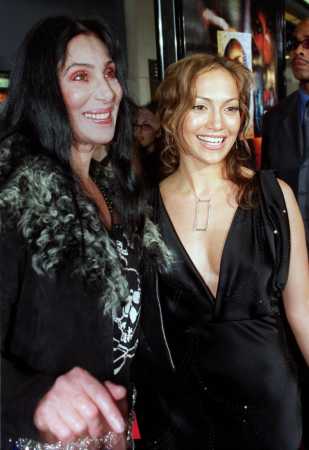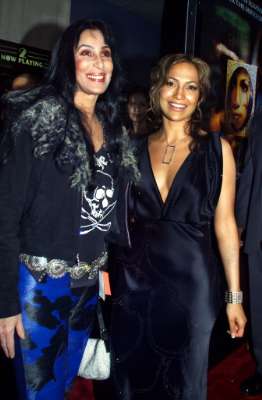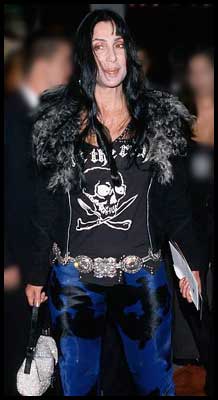 Below are two photos of Cher as she arrives at the premiere of "The Perfect Storm" in Westwood in Los Angeles.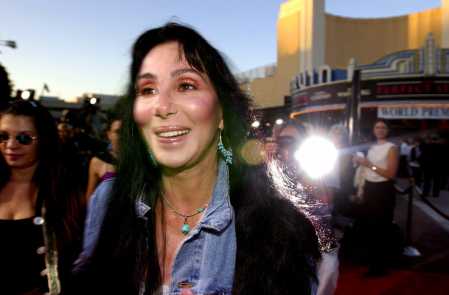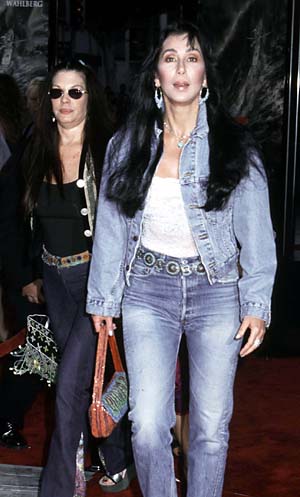 Here are some pictures from Roger of Cher at an after-Oscars party. Thanks a lot!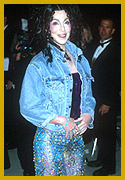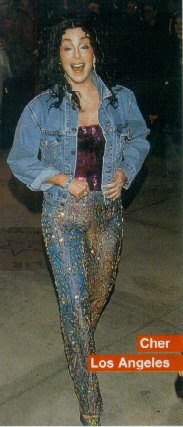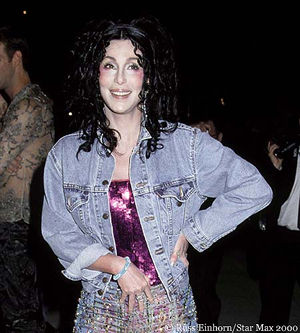 Cher is featured three times in the 10 April 2000 Oscar issue of People magazine.
Below: Cher and Best Song winner Phil Collins backstage at the Oscars 20 March 2000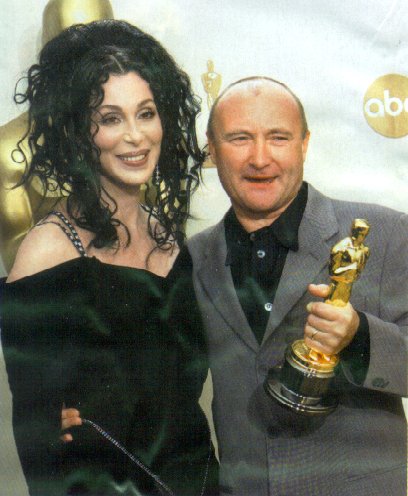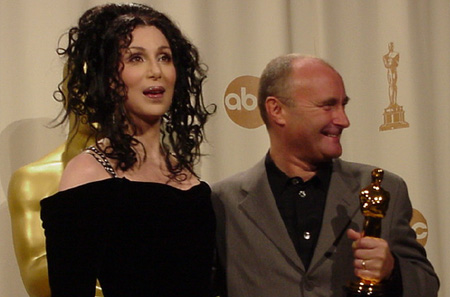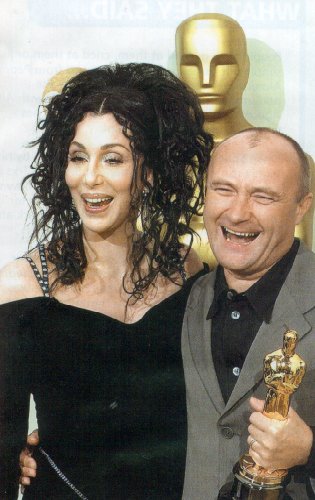 thanks to Roger for these great pictures!
Cher did indeed present the award for Best Song at the Academy Awards on Sunday 20 March 2000. She quipped about dressing as a grown-up and promised never to do it again. Click here for a .wav of what she had to say. For a full-size image, click the pictures below.
Cher has topped Mr. Blackwell's 1999 40th annual list of worst-dressed women. "A million beads and ONE over-exposed derriere--when it comes to the ultimate fashion fiasco...Ladies and Gentlemen, it's Cher!" the catty former dress designer quipped Tuesday 11 January 2000 at a press conference in Los Angeles. Click the photo below for a larger view.


Biography Magazine's January issue has Cher's biography as one of the top 10 biographies of the year. The issue is on newsstands now. Click the cover below to visit the Biography website, click the image for a larger view.
A new print ad for "Believe" appears in the new issue of Time magazine (the New Year's celebration in New York's Times Square is on the cover). Click below for a larger image. Thanks to Oz and Neal!

book. Click the picture below to view her potion of the layout. (Warning! The file is 2.5 MB!)
People Magazine Best & Worst Dressed '99

Cher makes the People magazine 10 Worst Dressed list. Click the pages below for a larger view.

For a full-size image of the regular TV Guide or the alternate Ultimate Cable TV Guide cover, click below!

Thanks to Barb for the alternate cover!

Here's a photo of Cher on Friday 11 June 1999 at the Grand Canal Shoppes at the Venetian resort in Las Vegas. Click for a full-sized image.

Cher appeared at the World Music Awards in Monaco, French Riviera 5 May 1999 to accept her award for lifelong contribution to the music industry from Prince Albert of Monaco. The World Music Awards aired in North America 20 May 1999 on ABC. Click the photos below for full-size images.

Cher is featured three times in a Autumn 1999 issue of "Tribute" magazine, which is given away at Canadian movie theatres. Click the graphic below for a full-size image.

Cher is on the cover of issue #482 of Entertainment Weekly magazine dated 23 April 1999. There is an interview and photos inside. This magazine can be found on the newsstand with a white-background photo with a longer shot of the same Cher image - this cover is by subscription only. Click photo for a full sized image.

Cher appeared on the "Rosie O'Donnell Show" 14 April 1999. The interview portion was very well done - Cher was relaxed and in very good spirits! She later lip-synched "Strong Enough" and even did a little choreography along with her four dancers.

Photos and sound files can be found at Rosie's website in the April 1999 Scrapbook. (Scroll down to April 14th)

After her appearance, Cher autographed a "Divas Live 99" poster for Rosie's charity auction at eBay. Click image for full-size.

Cher sang "If I Could Turn Back Time", lip-synched "Believe", and helped Tina out with "Proud Mary" on VH1 Divas Live 99.

Photos from "Divas Live 99". Click below for full-size image.

Cher appeared on the cover of "Celebrity Style" magazine and was interviewed inside.

Gerben also sent along a picture of Cher & Robbie Williams from the 1999 Brit awards. Click for full-size image.


The 22 April 1999 issue of Britain's "OK" magazine featured a 5-page article and interview with Cher and includes new photos. Click graphic below for a full-sized image.


Cher appeared alongside several other stars of "Tea With Mussolini" at the film's premiere at at London's Empire Leicester Square. Guests included Prince Charles as it was a Royal Charity Premiere.

---

[ Home ]

[ The Latest ] [ Music ] [ Films & Video ] [ Books ] [ Links ]

©1998-2000 Chastity Sun Productions Inc. [email protected]