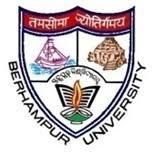 INTERNATIONAL CONFERENCE ON
"Chemical and Biological Science in Drug Discovery-2019"
(CBSDD-2019)

Dated: 01-03 FEBRUARY 2019
Confirmed Speakers !
This is the 3rd international conference, entitled "Chemical & Biological Sciences in Drug Discovery -2019, (CBSDD-2019)" which will be organised by Department of Chemistry, Berhampur University during 1-3rd February 2019. The Conference aims to provide an interactive platform amongst young scientific researchers, Senior Scientists and internationally recognized scientists as well as industry personnel for a key ideas about recent applications of chemistry, biology, Physics and medical science for development of new medicines. The conference aims to highlight new Applications of Chemistry and Biology in Medicine, Natural Product and Drug Discovery. The Technical session will comprise of plenary, keynote and lecture by young scientists as well as poster sessions.
HOME

Organising Committe

Important Dates

Brouchure

Abstract

Poster

Flash Poster

Accommodation

Contact Us

Site Attraction

Hotels

Focoused Area:

Organic Chemistry, Asymmetric Synthesis, Medicinal Synthesis
Drug discovery & Natural product
Biochemistry, Chemical Biology and Molecular Biology
Protein & Biophysical Chemistry
Biotechnology and Biophysics

Inorganic, Physical & Material Chemistry

Nano-Biotechnology and Chemistry

Medical Sciences

(Neurot

herapy, Immunology, Allergy, etc)

Prof. Rout