For many, 'GWTW' brings back memories 60th anniversary: Some who recall premiere will be on hand for events next week that include opening of Midtown museum.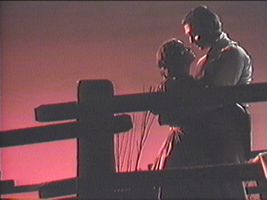 Author: Joe Earle
Source: The Atlanta Journal and Constitution, 12-09-1999, pp J5.
For many, 'GWTW' brings back memories 60th anniversary: Some who recall premiere will be on hand for events next week that include opening of Midtown museum. BYLINE: Joe Earle, Staff EDITION: Home SECTION: CityLife Atlanta (Extra)
Sixty years later, Eloise Wilson still remembers the excitement. She recalls parading through Atlanta as part of an all-girl marching band and standing on the terrace of an elegant hotel to watch the celebrities stroll past. It was a time for hoopla. "Gone With the Wind" had come to town. "It was mind-boggling," said Wilson, who as a teenager played trumpet in the Georgia State Girls Military Band and, dressed in her royal blue band uniform, marched in the parade before the movie's premiere.
Wednesday, the 79-year-old Stockbridge woman plans to join members of Historical Jonesboro/Clayton County Inc. in a public celebration of the 60th anniversary of the premiere of "Gone With the Wind." The star-studded event took place Dec. 15, 1939, at Loew's Grand theater, the site of the Georgia-Pacific building in downtown Atlanta. Celebrities Clark Gable and Vivien Leigh joined the parade down Peachtree Street, along with novelist Margaret Mitchell. The 60th anniversary of the movie premiere also marks the opening of a new, permanent addition to the Margaret Mitchell House & Museum in Midtown.
A former NationsBank branch at the intersection of Peachtree Place and Crescent Avenue is being renovated for a "Gone With the Wind" museum, which will likely attract even more visitors to the already popular tourist site.
But Mitchell's legacy continues to reverberate beyond the city of Atlanta. The author had relatives who lived near Jonesboro. Her book, and the movie based on it, included scenes set in Clayton County. The story's appeal regularly draws fans to Jonesboro in pursuit of a glimpse of "Tara," the fictional home of "Gone With the Wind's" central character, Scarlett O'Hara.
"This particular movie and this book has had a powerful impact on Clayton County," said Ted Key, chairman of Historical Jonesboro' s executive committee. "The movie is 60 years old and people all over the world still flock to see it. It (the celebration) is our way of showing our tribute to Margaret Mitchell. It's history, and that's what we're all about."
To celebrate the anniversary of the movie's Atlanta premiere, Historical Jonesboro will present tours of historic sights in Jonesboro during the day Wednesday and then hold a ceremony Wednesday night at Stately Oaks on Carriage Drive.
The tour will include stops by several homes, a visit to "The Road to Tara" museum and Confederate Cemetery, displays of memorabilia from the Atlanta theater where the movie premiered, displays of mementos of the Civil War battle at Jonesboro, and a visit to a playhouse where Mitchell played as a child, Key said. Some stops on the tour will charge admission, Key said.
The celebration, which begins at 7 p.m., will include a re- enactment of a radio broadcast from the 1939 premiere. Also, a marker will be unveiled at a chimney that was moved from the farm owned by the Fitzgeralds, Mitchell's relatives.
"Most people say there's nothing to see south of Atlanta related to 'Gone With the Wind,' " Key said. "We're out to prove them wrong."
Betty English of Hampton grew up hearing her parents talk about how much there was to see 60 years ago around the movie's premiere.
Her father worked as an Atlanta police officer then, and was assigned to the security detail that watched over the celebrities in town for the movie. Her mother ended up with a ticket to the premiere. "I can remember her telling me how they dressed up in their best clothes to go," English said.
Her father also came away with the distinct impression that star Clark Gable was a likable guy. While the police officers were standing watch, Gable came by and offered them a drink, English said. When the officers pointed out that they couldn't drink on duty, she said, Gable went into his room and returned to give them a basket of fruit.
Her parents, she said, never forgot the excitement of the premiere.
"They talked about it every time they'd reshow the movie, " English said. "My mother would tell it all over again. . . . I remember because my mother told it so many times."