Clark Gable in the eighth Air Force
Credit: Air Power History; Washington; Spring 1999; Steven Agoratus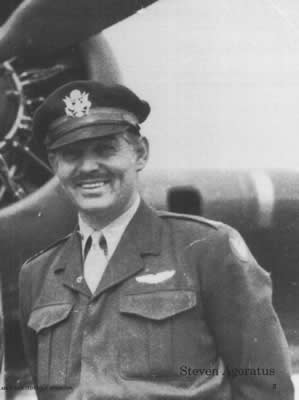 The Little Hollywood Group soon decided it needed some equipment from MGM. Hatcher could simply have signed orders, but flew them to Hollywood himself Proud of Gable, MGM not only helped, it also reaped a bit of publicity, at one point photographing him with the 446th Bomb Group (H)'s Capt. James Stewart, a fellow MGM star. Soon Hatcher let Gable give hand-held cameras to aircrew, and to modify the B-17's bomb bay. His interest benefited Gable.
As they had in Miami, the men were at first wary of him-"it nearly killed him that the kids shunned him," noted Mahin-but he soon put them at ease. They began to kid around with him, as did a couple of young airmen at the radio hut one day. Signing out a pair of headphones, Gable identified himself with a straight face to men who obviously recognized him. Not everyone caught on. Local women, perhaps too thoroughly briefed, studiously avoided Gable at dances. Eventually Gable began to feel like part of his unit. He even, undoubtedly after expressive barracks discussions, had MGM design unit patches for the group's approval.
While the 351st, now at Pueblo, Colorado, prepared for combat, the Eighth Air Force continued to convince Allied and enemy leaders of the validity of precision bombardment. On March 18, bombers, on the mission that earned 1st Lt. Jack Mathis a posthumous Medal of Honor, put the Vegesack submarine yards out of action for two months. Record claims against the Luftwaffe emphasized again aerial gunnery's increasing importance. Combat aircrew training expanded.
Although the movie was to focus on combat, Gable began filming at Pueblo, capturing the excitement and seriousness of young men about to set out on the adventure of their lives. In time this produced an uncommon, candid portrayal of the 351st. On April 2, the group's B-17s deployed, McIntyre filming them against the Rocky Mountains. In England, Gable honored many inevitable social invitations, but soon enlisted Hatcher's help in dodging insistent requests. Stardom was not always a burden. Undoubtedly thinking of Lombard, he agreed to a bond-selling radio show. He got a scarce London hotel room by using his name, as Mahin and Hatcher laughed at his discomfort. The AAF tackled the press, fending off charges of favoritism when Gable, Mahin, and McIntyre were promoted to captain.
Soon after his arrival, the enemy dimmed Gable's hopes, if he had any, of refuge from stardom with Nazi radio propaganda broadcaster Lord Haw Haw's greeting: "Welcome to England, Hatcher's Chickens, among whom is the famous American cinema star, Clark Gable. We'll be seeing you soon in Germany, Clark." As unnerving as this was, Hermann Goering offered to reward any Luftwaffe pilot who downed his B-17. Such an honor, not confined to Gable, was less thought-provoking than talk that he was a favorite of Hitler's; or, stranger still, distantly related to Joseph Goebbels. "How can I hide with this face?" he exclaimed to Mahin. "If I ever fall into Hitler's hands the son of a bitch will put me in a cage like a big gorilla. He'd exhibit me all over Germany" "If the plane goes down," he concluded, "I'll just go with the son of a bitch."
As the 351st arrived at Polebrook, their base in England, a record 115 B-17s of the veteran units flew on April 17 to the Focke-Wulf plant at Bremen, losing fifteen to head-on attacks. Tired of watching other people fight, Hatcher, his staff, and Gable flew their first mission on May 4, 1943, to Antwerp, Belgium, with the veteran 303d Bomb Group. Gable briefly fired the radio room gun on Capt. William ft. Calhoun, Jr.'s Eight Ball II. Eager, but green, he wore leather gloves, but they kept the electrically heated pair from warming his hands, causing frostbite. Newspapers quoted him as saying that he "enjoyed it and learned a lot." No longer could anyone say he would not see danger.
Moving into the officer's barracks, Gable ate in the noncommissioned officer's mess. He set up shop among the repair huts that tended to the complex B-17. Technicians enjoyed seeing him come and go. Perhaps struck afresh by the scope of his task as he watched his unit prepare for combat, he told Eaker at the ceremony in which the RAF turned the base over to the 351st that he was "turning the cameras on everything and everybody."
After the work of settling in, Gable loosened up a bit. Acquiring a motorcycle others got along with bicycles-he toured the countryside. Soon he became familiar to locals, although daring fans snatched his coat buttons. He hunted at the Rothschild estate (on which the base lay), visited David Niven, a nearby Hollywood friend, or dined with Maj. Glenn Miller (scouting for his band). He even dated a little.
Gable did not fly the 351st's first few missions, on which it gained crucial experience. Nonetheless, he covered the preparations, takeoff, nervous waiting at the base, and return of its second mission, to the airfield at Vcourtrai (Courtrai), Belgium on May 14, 1943, on which the group lost its first two planes.
Gable's second mission was on July 10, to an air depot at Villacoublay. Prevented by clouds from bombing, the 351st got nothing in return for a running air battle. Nominally a failure, this mission taught him that war could not be scripted. He had McIntyre's camera operators record men frustrated by not being able to "strike a blow." Gable's consistent focus on General Arnold's mandate to portray what aerial gunners would find in combat-even aborts-gave the film a gritty genuineness.
The 351st and other new groups picked up the Eighth's mission pace. It put up over 200 planes for the first time on May 14; on June 10, round-theclock bombing emerged as the Combined Bomber Offensive, focusing on submarine yards, the aircraft industry, ball-bearings, and oil. The growing Eighth dispatched a record 322 bombers on July 17. "Blitz Week" put sustained pressure on the enemy during a rare period of clear weather starting July 24, at a cost of almost 100 B-17s. Recruitment and assignment of men to aerial gunnery peaked in mid-1943, eliminating the need for Gable's film. Blizzards of wartime paperwork hid this fact from the few people in a position to tell him.
As he had in the United States, Gable cultivated a knack for getting along with the men, pretending to borrow some change for tea and a roll one day to give a shy, but thrilled young airman the opportunity to meet him. He played softball and motorcycle dodge-em with enlisted men, who copied Mahin's Hollywood nickname for him, "Pappy," and, as fans had for years, copied his mustache and mannerisms. Truly he became one of them; the men refused to give him away in the audience when Bob Hope, bringing his USO show to Polebrook, vainly called for him from the stage. He developed some close friendships, dubbing a lead navigator, Lt. Leonard Lee Korf, "Ouiji" because, more an aerial gunner than a mathematician, Gable was convinced that was how Korf got planes to the target. Gable's desire to fit in sometimes turned the tables. One day on a hardstand, he heaved himself overhead, feet first, through the small door in the B-17's nose section. Quite a feat for men half his age, Gable wanted to be able to do it, too. Despite this success, some men outside the 351st, possibly misled by press clippings, always believed Gable, an officer, improperly held an enlisted aerial gunner's job.
Just as the men's regard grew for Gable, so did his admiration for them. Deflecting personal questions, he extolled the combat crews whose heroic labors he filmed: "They are the greatest men in the world," he said in a radio interview, "and every one of them is doing a fine job, risking his life daily for us all." Without being maudlin, he filmed men lying awake the night before a mission, listening to ground crews run up engines, wondering if they soon would be dead or POWs. Gable's feelings were genuine enough to prompt a rumor that he once roughed up a doctor who spoke out of turn in front of a doomed airman; like others, he sometimes drank to forget his worries.
Aircrew noted the air war's building tempo that summer:
(it was) hot and heavy.... German Air Force was a crackerjack outfit.... Goering's Yellow Noses (get the unit) on your neck the moment you crossed the Channel.../lak barges hauled by tugs, up and down Channel...a hot situation...other German fighters laid back till after the flak barrage
testified Sgt. Joe De Giacomo, a 385th Bomb Group (H) aerial gunner. Seeing friends depart was telling "When you got back from a mission and had lost a lot of people and saw the empty bunks it really hit you," said the 306th's TSgt. Harry Alleman.
Combat wore down Gable as well as the rest of the men. "It's murder up there," he admitted to Mahin of air combat, "they're falling like moths. Like dying moths." Climbing from a B-17 after a grueling mission, he exclaimed, 'This is a lot of crap." Yet everything was relative. After another mission, Gable told curious ground crew that OCS was tougher than combat. Despite its negative effects, combat was cathartic for Gable. The sacrifices of his fellow airmen touched him. Feeling as though he could speak from the heart, he wrote to the families of those killed in action.