"Gone With The Wind": Atlanta Premiere stirs South to Tears and Cheers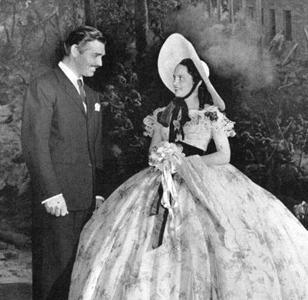 Source: Life 12/25/1939 pg 9

In all the South last week, there was no news so important as that Selznick had taken Atlanta with his film version of Gone With the Wind. Bringing his principals-Vivien Leigh (Scarlett O'Hara) and Clark Gable (Rhett Butler)-by plane to the Georgia capital, the movie producer held the world premiere of a picture which promises to be a cinema milestone. Atlanta and the South ate it up.

In three and a half years, Margaret Mitchell's epic glorification of the Old South has run to 2,150.000 copies. An Atlanta girl born and bred, this ex-newspaper reporter laid her Pulitzer-Prizewinning story. historically, in Atlanta's backyard and when it finally reached the screen on the night of Dec. 15, 1939, Georgia's capital had been through 4 hours of emotional excitement unmatched since the city's evacuation of 1864.

Happiest girl in Atlanta was pretty brunette Margaret Palmer, whose figure conformed more closely than any other Junior Leaguer's to the measurements of Vivien Leigh. As a result of this lucky accident, Miss Palmer was lent one of Miss Leigh's Scarlett costumes in which to lead the Grand March at the Gone With the Wind Ball. Another reward occurred next day when Miss Palmer inspected the Battle of Atlanta, a cyclorama, in Grant Park in company with the indefatigable Mr. Gable.

Night of the premiere, thousands jammed the streets outside theater. Loud-speakers announced arrival of distinguished personages among the 2,000 people who for $10 and up managed to get seats. And when the film went on, cheers went up and tears flowed freely. At the announcement of War (1861), the audience rose to its feet with Rebel yells (Yee-aay-ee or wah-hoo-ee or yaaa-yeee). Band played Dixie, and Atlanta relived American history.

Artistically as well as sentimentally, Gone With the Wind was a smash hit in Atlanta. At the end, Margaret Mitchell quavered: 'it was a great thing for Georgia to see the Confederates conic back." President-General of the United Daughters of the Confederacy pronounced "Miss Leigh is Scarlett to the life." The president of Georgia Trust Co. said: "I've been crying and, by God, I'm not ashamed to say so.".

Gone With the Wind runs for nearly four hours. This week it opened in New York at two theaters. Newspaper ads announced: "Gone with the Wind will not be shown except at advanced prices until 1941."