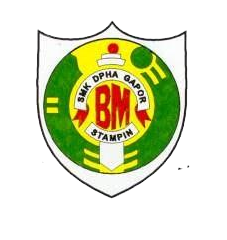 HISTORY
School logo was created by the school's first principal, Mr. Abdul Rahman Haji Sahari in 1974.
Easy Moto Practical Logic has been amended by Mr. Bedu bin Une in 1999.
Colors are available in the school badge White, Yellow, Green and Yellow.
UNDERSTANDING THE WHITE, YELLOW, GREEN, RED
White: Discipline and Trust
Yellow: Obedience
Green: Forward
Red: The Brave and the Suspicion Hold
Torch symbol: Science As Pelita Hidup
Hornbill: Symbols of State
The Vision
Make SMK Datuk Patinggi Haji Abdul Gapor a leading educational institution in 2015.
mission
Holistic empowerment of human capital through quality education with full responsibility.
Educational goals
The country became the Hope School in 2015.
HISTORY OPENING SMK DPHA GAPOR, KUCHING
Datu Patinggi Abdul Ghapur an ancient Pewira in Sarawak. He was appointed a governor (loud) before the arrival of the Brooke family Kuching Sarawak. In terms of ethnicity, Datu 'Patinggi Abdul Ghapur Malay and has blood ties with Tun Abang Haji Openg. He is the ancestor of Tun Abang Haji Openg. To commemorate Datu Patinggi Abdul Ghapur to negeriSarawak, then a school has been built and put his name in April tahun1974.

In 1854, Datu Patinggi Abdul Ghapur namely, that a French speaker in Kuching was stripped of his rank and position by James Brooke because she was wearing very high taxes on the people below. Datu Patinggi Abdul Ghapur angry because of the loss of privileges enjoyed the past and make a complaint against inadequate compensation paid to him. However, James Brooke has eliminated the title of top management and sent him to Mecca for pilgrimage. After that, he was exiled to Melaka. So ashamed, Datu Patinggi Abdul Ghapur also associated with Sharif Masahor and they had a secret pact to eliminate James Brooke of Sarawak.

Time seems quite appropriate for them to rebel against Brooke because China has seen the rise of the weakness Brooke. James Brooke departed for England in late 1857 and left his nephew Charles Brooke to govern Sarawak. This situation is ideal for design and Datu Sharif Masahor Patinggi Abdul Ghapur. In June 1859, Sharif Masahor and Datu Patinggi Abdul Ghapur attacking fortifications in kanowit Brooke. In that battle, the Melanaus in Konawit led by Sawing and Sakalai have killed Charles Hendry Folx and Steele in the city kanowit. Some people who live in river Iban Pol and Ngemah the Bukit Rejang river branches intervene in this attack.

Henry Charles Fox and murder in kanowit Steele has shocked the British in Kuching just deal with the Chinese rebellion in Bau. In July 1859, Charles Brooke with the army went to rivers Hill kanowit and French soldiers killed in the city and allow the hosts to manage as they pleased. Dayak any person who has assisted the killers. In addition, he also dropped death penalty against 10 people believed abetting murder Fox and Steele. Charles Brooke then repair it and return to the city of Kuching to remove the country as a gateway to Lagos.

In early 1860, Sharif has directed the Chief of the district Masahor Hayim Jalil from Brunei who inhabit the area Dung went to Damascus to meet with Datu Patinggi Abdul Ghapur who was sacked earlier and brought together for the attack Kuching. After knowing the plans Masahor Sharif attacked Kuching, in early February 1860 Charles Brooke has launched the initial attack on the team in mid-sharif Masahor Sarawak river. Charles Brooke in the fighting have destroyed the ships Masahor Sharif and Sharif Masahor fled to Brunei. James Brooke then forced the sultan of Brunei remove syarif Masahor to Singapore in 1861 where he died in 1890. Before he could Datu Patinggi Abdul gate attacking cats from Pontianak, the Netherlands prior to his arrest and imprison him in Batavia, Java. Charles Brooke has requested the assistance of the Netherlands to hold Datu Patinggi Abdul Ghapur and prohibit him from returning to the state. Thus ends the Malay opposition to the Brooke family in Sarawak.

High School Datuk Patinggi Haji Abdul Gapor, Stampin in Jalan Stampin established by the Sarawak Education Department and named the High School English, SMK Kuching in 1974. DPHA Gapor is located approximately 3 km from the Headquarters of the State Education Department, 4 km from Kuching International Airport and 8 km from Kuching. It was established around the undulating land and low land area of ​​12.15 hectares.

In the early stages, S.M.K. D.P.H.A. Gapor live with SRK Race at William Tan on 1st January 1974 until July 1975. The first was the school principal Abdul Rahman bin Haji Sahari (1974-1976). At that time, the school has four classrooms, a transition class, two classes Form One and Form Two two classes. In 1974, there were only 182 students and partly student hostel. The number of teachers, there were four people.
In the beginning, the school has two slogans that one, located on the school badge (BM) which means "SUCCESSFULLY DEVELOPED" or English and the other official was "Towards Excellence". However, Mr Bedu bin Une, the 10 school principals has made some amendments to the school motto of simple, logical and practical. School theme song is "TRADE AND CONFIDENT" created by Mr. Zainuddin Hj. Suut.
In 1974, the number of classes increased by 4 again. 2 intermediate class, 3 classes Form Two and Form Three class 1. April 1974 was the history of this school because it has been moved from SRK Race to the new premises in Jalan Tun Jugah, Stampn. With the SMK DPHA Gapor also known as SMK Stampin. This school is the first school in Sarawak who use English as the language of instruction.

In 1975, there was a Form One and ninth grade transition class. In 1976, there were only two classes form one and form one of the seven classes. In addition, there are 10 classes of transition. In 1977, the number of classes to 26 classes. There are eight classes of transition, a 10 grade levels, seventh grade levels one, two and three grade levels. In 1976, the first admission of students from Peninsular Malaysia integration of 20 and six of Sabah. The student integration program organized by Yayasan Sarawak. All of them are boys.

On July 18, 1987, the school was officially opened by the Minister of Finance at the time of the Honorable Reverend Tan Sri Tengku Razaleigh. 1986 was the most challenging year in the history of this school because this year, for the first time this school has received the admission of pupils Lower 6 Literature (3 classes) and hearing impaired students in Form 3 (special class). Thus, in 1987, the school issued STPM candidates and SRP (deaf) first. At the time, this is the School Principal Ms. Fatimah stair.
Form 3 is a special class that has been transferred in its class of SMK Batu Lintang along with sedation once, Ms Elizabeth and Mr. Adam. Two reasons why this class moved to S.M.K. Stampin are: -
(I) S.M.K. Stampin a boarding school. Most of the students hostel at that time came from the region Bau, Lundu, Serian, Tebakang, Santubong and Bako.
(Ii) S.M.K. Batu Lintang has set up special classes for the blind (Near Central) and it can not handle two special classes at once.
These special students come from all over the State. This special class increased to 5 in 1996. Students who have sat exams specially SRP / PMR, they continue their education in Special Education Vocational Secondary School Shah Alam, Selangor.

After more than a decade (1986-1999), the number of classrooms increased from 43 classes to 58 classes. This shows how quickly progress up the school has two sessions, morning and afternoon sessions.