Adilson Marcelino was born in Bebedouro, city in the countryside of São Paulo State, Brazil, on August 10, 1967.
Since childhood Marcelino overcame in school due to his gift in developing artistic subjects, but for many years his paintings were restricted only to his closest friends.



Later, in 1990, with the incentive of friends and the plastic artist Newton Quintella, Marcelino accomplished his first individual exhibition, in the dependences of Bebedouro Shopping Center.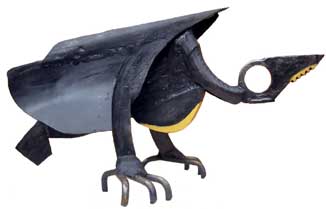 Marcelino's work marks the counterpoint between pop and the contemporary. His sculptures are made from metal scrap found in junk yards. His paintings are expressives and disclose the closest feelings of the human being.
His works received many compliments from the journalist and art critic Mr. Enoque F. Sacramento.