A MAN WITH A GOAL AND A DRIVE
---
HECTICS
IBEX
WRECKAGE
SOUR MILK SEA
---
"I'm not going to be a star.
I'm going to be a legend!"
---
HECTICS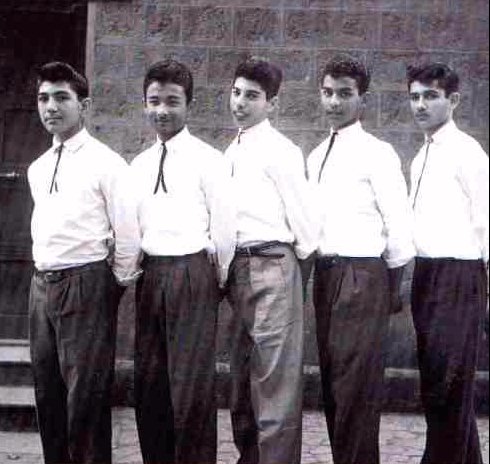 In 1958, five friends at St. Peter's, a certain Farrokh Bulsara, 12 years old, by now nicknamed 'Freddie', Derrick Branche, Bruce Murray, Farang Irani and Victory Rana, formed the school's rock'n'roll band, the Hectics.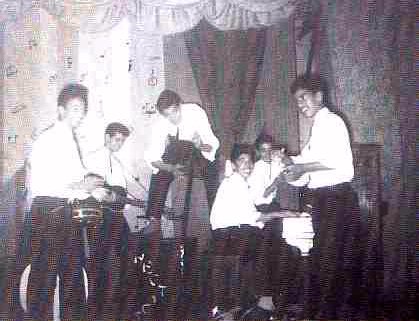 It was as the piano player in the Hectics that Freddie first performed as a musician. He would play at school concerts, at the annual fete. Freddie was shy in the Hectics and was content to let Bruce Murray bask in the 'limelight' as frontman.
The Band was not allowed to perform outside the school grounds, but little else is known about them.
However, the idols of the day were Elvis Presley, Little Richard, Cliff Richard and Fats Domino. Just Little Richard and Fats Domino were said to be Freddie's favourites. It's easy to think that Freddie wanted to emulate their style.

---
IBEX
It was a Merseyside-based trio comprising two eighteen-year-olds, Mike Bersin (guitar and vocals) and John 'Tupp' Taylor (bass and vocals) and a "mad milk-man" drummer by the name of Mick 'Miffer' Smith. Bersin and Taylor had played together since 1966 in a band called Colour, under the influence of Cream.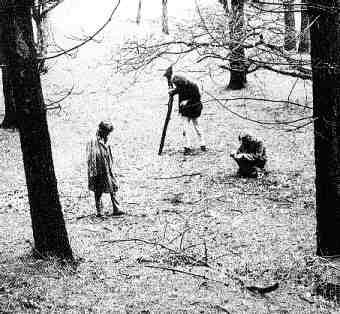 On 23rd May 1969 Ibex played their debut in the small Merseyside town of Penketh and had packed off a demo-tape to the Beatles' Apple label.
Freddie, who had not quite persuaded Smile to take him on as a vocalist, first met Ibex on 13th August 1969. Such was his enthusiasm, that just ten days later, he had learned the band's set, brought in a few new songs and had travelled up to Bolton, Lancashire, for a gig with them - his debut public performance. The date was 23rd August and the occasion was one of Bolton's regular afternoon 'Bluesology' session, held at the town's Octogon Theatre. Peter Bardens' band, Village, preceded Ibex on stage.
Freddie's first-ever public performance was well-documented. There were at least three photographers present and the proceedings were covered in Bolton's 'Evening News'. This even featured an uncredited picture of Freddie, the caption of which ran: "One of the performers gets into his stride"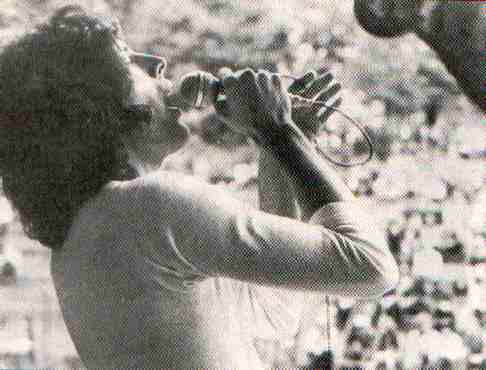 The following day, Ibex appeared in the first 'Bluesology pop-in', an open air event on the bandstand in Bolton's Queen's Park.
Back in London, a rivitalised Ibex began to make plans. They were spending much time together, working out a new set which included different covers and some original stuff. In September Mike Bersin came back to Liverpool to begin his pre-diploma year at the local art college. The pre-dip freshers, new students, threw a party. Needless to say, Ibex provided the entertainment.
Ibex's third and final gig took place on 9th September 1969 at the Sink Club in Liverpool, which was situated on Hardman Street and was a small venue.
Their appearance at the Sink was recorded by a Ibex's roadie, Geoff Higgins who had a Grundig TK14 reel-to-reel machine. (They used to record almost everything, and practically all of it is now gone).
Tupp was on the right-hand side, Mike on the left, Miffer in the middle and Freddie out on the floor in front of the stage. The tape runs for thirty-five minutes and demonstrates Ibex's love of Cream, Jimi Hendrix and Led Zeppelin.

IBEX's Final Gig - Tracklist
'I'm So Glad'
from Cream
'Communication Breakdown'
from Led Zeppelin
'Rain'
from The Beatles
'We're Going Wrong'
from Cream
'Rock Me Baby'
from Jimi Hendrix
'Stone Free'
from Jimi Hendrix
'Jailhouse Rock'
'Crossroads'
from Cream
'Vagabond Outcast'
Freddie's composition!
'We're Going Home'
a variation on the Ten Years After R&B 'I'm Going Home'
Smile were in Liverpool that night, playing another club, possibly the Green Door. It has been said that Roger Taylor and Brian May went to the Sink and wasted no time in joining Freddie on stage. They probably bashed out a few Smile numbers (and Freddie did know all the words!) and this occasion marked the first time the three of them played together in front of an audience. Shamely Geoff Higgins' tape recorder ran out before the three musicians had the chance to play a note together.
Sometime between 9th September and the end of October 1969, while Freddie was staying in Liverpool with Geoff Higgins, Ibex underwent an upheavel: Freddie had the idea of calling the band WRECKAGE, but it seems that nobody was very enthusiastic. However, Freddie equivocated by giving each member a ring, and asked him if he didn't mind the name-change at all, given that the others had already agreed. As Mike Bersin recalls, Freddie had the same conversation with each member.
So it was WRECKAGE !
---
WRECKAGE
The name-change went hand-in-hand with the departure of drummer Mike 'Miffer' Smith, as Freddie wrote to Celin Daley.
Also Freddie wrote the date when Ibex became Wreckage: "Our first booking as Wreckage is on Friday, 31st October at Ealing College" where Richard Thompson, the former drummer in Brian May's 1984, would have been Miffer's replacement.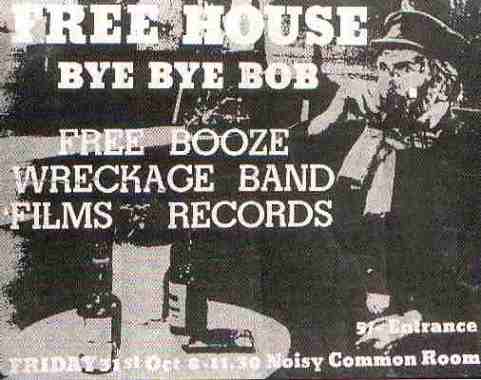 Despite the arduous rehearsal, no-one seems to recall Wreckage's debut at Ealing College, but a typewritten setlist for the gig (by Richard Thompson) has been recently auctioned.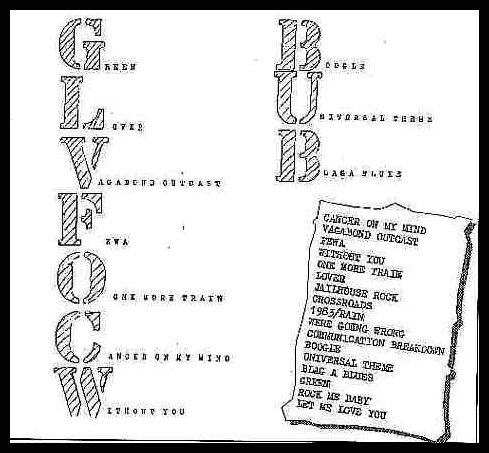 Richard Thompson wrote out these set-lists in October 1969. All titles on the larger of the two were written by Freddie, while the smaller document refers to their debut Ealing gig.
Miracoulusly, one of the tracks has survived: Green. The song was taped at the flat in Barnes, on a little Fidelity two-track recorder. "Green" was a melodic, medium-paced ballad, whose tone would recall "Mad The Swine" and some of the more reflective material he wrote towards the end of his life. "There's a sudden change in me...", sings Freddie. "I believe my time has come. Any moment I'll be drifting to the sun... Green, turning Green. Rapidly changing through the bassline, turning Green."
Apart from pre-Queen titles like 'Lover', which Freddie later turned into 'Liar', the newly discovered 'Vagabond Outcast' and the three originals disclosed in Freddie's letter to Celine Daley ('Without You', 'Blag-A-Blues', 'Cancer On My Mind'), there are, at least, other four unknown tracks, whose words and melodies can only be imagined, unless any other tapes miraculously surface. 'Universal Theme', probably a Bulsara-Bersin guitar instrumental, 'Boogle', 'One More Train' and 'FEWA', which was an acronym for "Feelings Ended, Worn Away", as Chris Chesney recalls.
It was a far better group than Ibex, but the brief history of Wreckage isn't nearly as well documented. Only a handful of gigs were booked under that name, one of which is said to have seen them support U.S. rockers Iron Butterfly at Imperial College, possibly at the 5th November 1969 gig listed in Freddie's letter to Celine Daley.
The last Wreckage appearance probably took place at the 1969 Christmas dance at the Wade Deacon Grammar School For Girls in Widnes, booked with the help of John Taylor's younger sister, who was a pupil at the school.
There are lots of legends about that night: fed up with the microphone stand he had been using, Freddie removed part of it from its base and leapt around the stage thus discovering what was to become his trademark.
Despite flashes of true potential, the end of the Sixties also marked the end of Wreckage. Gigs were few and far between, and while John Taylor, Richard Thompson and Freddie remained in London, Mike Bersin was sent to his college in Liverpool. Inevitably, the band petered out.
So, when Wreckage started to fall to pieces, Freddie moved on to something else.
---
SOUR MILK SEA
That "something else" was the Leatherhead-based quartet, Sour Milk Sea, for whom Freddie auditioned in early 1970 after seeing a "Vocalist Wanted" advert in the "Melody Maker".
They were a blues-based four-piece, playing predominantly their own material, really influenced by Traffic. Their roots lay in a outfit called Tomato City, formed by Chris Chesney (then known as Chris Dummett) who was the lead vocalist, and Jeremy 'Rubber' Gallop, who played rhythm guitar. In 1968, with Paul Milne on bass and original drummer Boris Williams (who turned up in the Cure in the 1980s), the band played arts labs, as they were called then. Williams was soon replaced by Robert Tyrell. Although they turned professional in June 1969, they felt they needed something extra.
That "something extra" was Freddie Bulsara.
When Freddie joined they were in the habit of playing two or three gigs a week and they continued to do so. They played one down at the Temple in Lower Wardour Street, the Oxford gig and few others.
The Oxford gig was in the ballroom at the Randolph Hotel, one of the grandest in the city.
The only other gig featuring Freddie which the members of Sour Milk Sea are certain about was a benefit for the homeless charity, Shelter, staged at the Highfield Parish Hall in Headington, Oxford, on 20th March 1970 - just weeks before Freddie teamed up with Brian May and Roger Taylor in a new group.
Surprisingly enough for such a low-key gig, just like Ibex's Bolton show, Sour Milk Sea's appearance at Headington also made the local paper. This time it was the 'Oxford Mail', which even included a photograph of the group complete with Freddie - the only shot known to exist of him with Sour Milk Sea.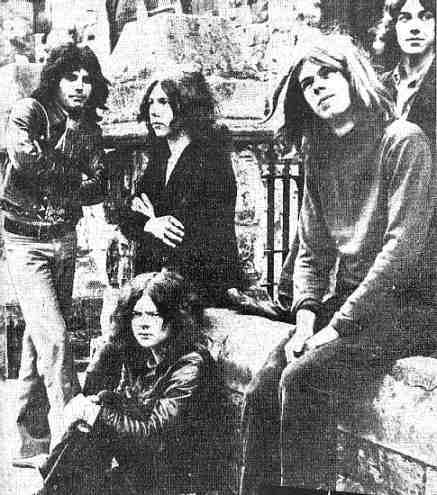 Also the article included an interview with the band on account of Chris Chesney's parents being minor local celebrities. It also remarked that vocalist Freddie Bulsara had only arrived "a couple of weeks ago", and quoted from his song, "Lover".
As Chris Chesney said, their relationships were very important: Freddie asked Chris to stay with him in Barnes, which Chris did. They started songwriting together. Freddie had some material from the Ibex days, including 'Lover', 'Blag' and 'FEWA'. He also introduced covers like 'Jailhouse Rock' or 'Lucille', which the other members had never considered playing.
Freddie's creativity and drive for control within the band had a catastrophic effect on Sour Milk Sea: Gallop and Chesney had been friends since school and had worked together for more than two years. However, within weeks of Freddie's arrival, their relations became strained.
As Chesney recalls: "When Freddie joined, the band lost its focus. The cohesion between the four of us was significantly weakened. Musically, we were more pastoral than what Freddie was into, he was coming from a different place. He was heavily into Led Zeppelin. We became so un-blues based, whereas before we were stuck on that R&B template.... When Sour Milk sea broke up it was a terrible shock," admits Chris. "It was fairly acrimonious. Rubber had basically bankrolled the band by buying all the equipment, so he took back his Gibson SG Standard that I'd been playing and my Marshall stack, and i was pretty f****d. I was just eighteen. Our drummer went off with Rubber in another band, and I went off to work in Huntley & Palmer's bakery in Reading for months on end to get the money to buy my own guitar... I was planning to form another band with Freddie, but not having a guitar and not having much money put the kibosh on the idea."
 
Freddie had been through three different groups in less than seven months.
What next?
---
My source of information has been
RECORD COLLECTOR, Issue N° 199, March 1996
---
Check out CDNOW to find QUEEN stuff 

---

to go back
---
Member of the Queen Network
---
This page hosted by
Get your own Free Homepage