Day Three – Thursday 17th September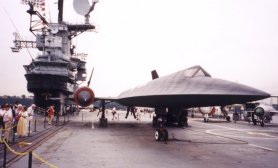 I slept quite late and didn't get out of the Hostel until 10am. I had decided to go and see the Intrepid Museum, a giant aircraft carrier that had been turned into a sea, air and space museum. I got on the subway and made my way to Times Square. I'm not sure I really get Times Square. There didn't really seem to be anything in particular there. It was just a big road junction, and there were more neon signs than usual. I didn't linger long, but instead found a bus stop from where I caught the M42 cross town bus. That took me to the Circle Line Ferry place, and it was just a couple of blocks North to the museum. The museum was very big and aircraft carrier-y, and I wandered about for a couple of hours looking at old planes and modern planes and lots of other warry type stuff. In the main hangar there was a video running all about the Intrepid's time in WWII. Some war veterans were giving a group of tourists a guided tour and telling stories about what life was like there. At one point the video showed some aborted landings on the carrier, and when one plane slid along the deck and splashed in the water one of the WWII crew pointed at another and said "that was him! He couldn't swim, but he learnt real fast!" Next there was a bit about kamikaze pilots and one of the veterans pointed out where in the hangar a kamikaze had crashed right through the deck. It was then that I noticed how there were no Japanese tourists to be see anywhere!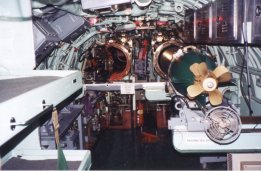 After the aircraft carrier I went on a guided tour of the Growler, the only tactical missile submarine open to the public. That was really quite fascinating. Some of the bunks were in really awful places like in the torpedo tubes room. The guide joked about how sometimes they would fire off torpedoes just to make extra room for them to sleep. You could really get a feel for what life on a submarine must have been like.
Bus Tickets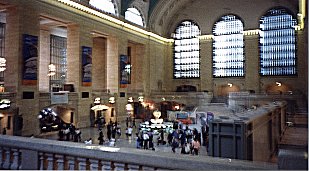 Before long I was heading back to Times Square on the bus. I got some lunch in Macdonald's, and as I was going to be getting the bus to Harrisburg, PA the next day to see my friend Steve, I decided that it would be a good idea to get some bus tickets and find out exactly where the bus went from. So I got the subway to Port Authority Bus Terminal, and remembered just why I hated the place so much the last time I was there. I couldn't find any sign of Greyhound buses, so I decided that they must live at either Penn Station or Grand Central. How stupid I was. I wanted to see Grand Central Terminal anyway, so I went there first. It certainly is grand. But very busy too and there's not much to see beyond the architecture so after finding out that there were no buses (it was all trains) I went to Penn Station. No buses there either, all trains. Obviously I had not searched hard enough at Port Authority. On the way back there I stopped off at the public library but it didn't feel very friendly in there so I promptly left. I also stopped off at Macy's and had a quick look round, but there was nothing much to interest me there. I got back to the bus station and immediately found Greyhound buses (not quite sure how I missed it before) and bought a ticket to Harrisburg for $58.
Empire State Building

I wanted to get to the top of the Empire State Building in time for dusk, so I headed there next. I only just made it, there was a long queue and about three separate elevators to wait for – this is a far older building than the World Trade Center towers and it shows. Everything is done in marble and bronze instead of concrete and its all rather grand. The observation deck was cramped and crowded, but when I actually got past all the other tourists to look over the wall the view was well worth it. The roads stretched out in all directions, and I tried following some cars for a while to see where they went. Looking at all these cars going everywhere made me wonder how a city like this could possibly work – with people just moving from place to place almost like a continually oozing fluid. When technology gets so advanced that people don't have to leave their homes for any particular reason, what will the view from the Empire State Building be like then?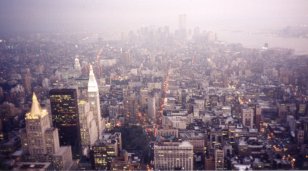 All this contemplation made me feel hungry, so I went and ordered a hot dog (again) and some chips at what seemed to be a very reasonable price until I was handed a bag of crisps and remembered that they have different names for things in this country! The sun went down and so did I, back to ground level. I walked up Broadway (a different section of it this time) and before long got the subway back to the Hostel. I didn't stay long, after consulting my copy of Time Out New York I decided to go and see the film Cube which a friend had told me about. I wanted to see something I wouldn't be able to see back home and this film seemed quite intriguing, so I set out for Loews Sony Theatre on 64th and Broadway.
I'm not usually in the habit of going to see movies alone, so I expected to feel out of place – but when I got into the theatre it seemed that almost everyone else there was also alone. I'm not sure if it was because it was 10pm (and a kind of sci-fi film!) or just that in America people really can go to the movies on their own without feeling out of place. The film itself was pretty good – and it was very tense in places. I was a bit tense myself about the prospect of getting back to the hostel at about half past twelve, so when the film ended I went outside and flagged down a taxi. In about five minutes I was back – taxis are definitely the best way to travel at night!
---
This page was last updated on October 20, 1998