RUBENS' PUPILS
Important painters amongst Rubens' pupils were:

---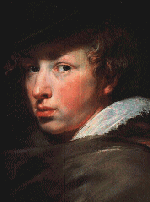 Antony VAN DIJCK:
one of the best portrait painters
of the world and of all times ever.
Rubens himself testified in one of his letters:
"He is my best pupil."
This is probably the reason why he painted Antony's
portrait when he was 17 years old; this work belongs
to the rich art collection which visitors can admire in
Rubens' House.
---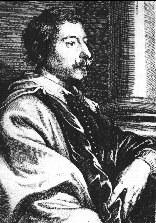 Cornelis SCHUT,
whose complete work hasn't been sufficiently studied until now, was also a very
productive and talented pupil of Rubens.
He made many paintings, tapestry cartoons, ceiling paintings ("affreschi") for churches and palaces, also in Italy and in Germany.
Wellknown is the wonderful Assumption, a round painting he made for the Antwerp Cathedral, and which still can be seen inside the tower of its transept.

---

Erasmus QUELLIN,
whose family counted several artists
- sculptors and painters - was another very succesful pupil of Rubens.
After his master died, he also had an active workshop and many pupils at his service.
Quellin made baroque paintings and drawings of all kind; he became Rubens' successor as the main illustrator of the famous Antwerp printing office PLANTIN, then runned by the Moretus family.

---

Theodoor VAN THULDEN
often painted detailed and imposing monumental compositions.
He was one of the main Baroque artists helping Rubens to realise the
somptuous festive decoration - gorgious triumphal arches - in Antwerp streets when in 1635 a new regent of the Netherlands for the first time visited the town.
Van Thulden made, amongst many others, the engravings published in a remarkable remembrance book of those festivities in Antwerp.

---
Return to the

Quick Links Page.
Latest update April 7th 2005.
---
This page hosted by
Get your own Free Home Page