More about the Antwerp 'hand':
The Legendary and the Artistic hand
In the original BRABO-legend, there was no giant's hand involved to be thrown
into the river Scheldt. This fact was only introduced during the 15th century,
in order to explain the town's name: 'hand'-'werpen' (dutch:'hand'-'throwing'),
thus Ant-werpen (dutch), Ant-werp (english).

The Brabo fountain (see the pages on ANTWERP and on BRABO on the Grand Market ) isn't the only Antwerp monument, where the notorious hand is represented.
At the end of the nineteenth century, the Antwerp impressionist sculptor LAMBEAUX created that naked Brabo on the Grand Market.
But at the beginning of the sixteenth, it was blacksmith METSYS (later Antwerp's first famous renaissance painter) who put a roman warrior (what Brabo would have been) on top of a late-gothic well; this is a 'well'-known monument on Gloves' Market (Handschoenmarkt) near the cathedral and the Grand Market.
There are some other small statues of Brabo throwing away the giant's hand on different town locations...
... we said SMALL ???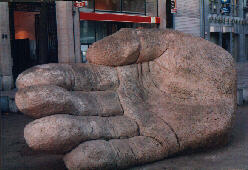 Finally, a contemporary French artist, DE MILLER, sculptured a gigantic hand for Antwerp, as an eye catcher. It lies in one of the city's busiest streets: the MEIR.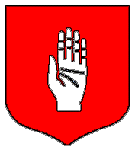 (return)