Porsche 944 Turbo S
Production Data
[HOME]
---
Under Research.
In contrast to the normally aspirated (NA) 944 types, some of which were produced in Stuttgart, all types of the 944 Turbo were manufactured in Neckarsulm.

Under Research.

944 Production by Type and Year
944 Production
The 944 was first available in Europe in 1982, and elsewhere in 1983, when it achieved immediate success. The 944 Turbo also received an early European release, with 178 vehicles produced in 1985.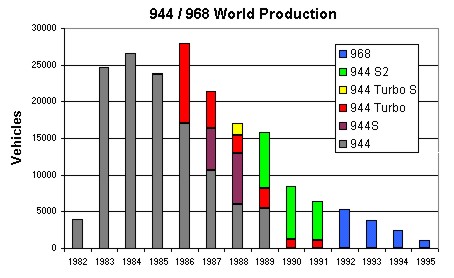 This was immediately followed by its largest production year in 1986. Volume steadily declined until 1991, when the 944 was replaced by the 968. In total, 176,126 Porsche 944s were produced, of which 25,245 vehicles were 944 Turbos. The successor, the 968, was not able to counter the decreasing sales trend, due in part to a declining market. Production ceased in 1995.



The 944 in 1988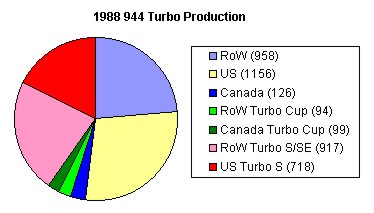 In 1988, there were 17,079 Porsche 944s produced worldwide, of which 4068 were Turbos. Of these 4068 vehicles, 1635 reportedly included the "S" option package (or "SE" in some markets). Additionally, there were 193 Turbo Cup cars produced with the M44/52 engines, though these were intended as dedicated race cars. In all, some 2099 road-going 944 Turbos found their way to North America in 1988. The 1874 that entered the USA joined the 133 million registered cars already on US roads!


Turbo-S Color Breakdown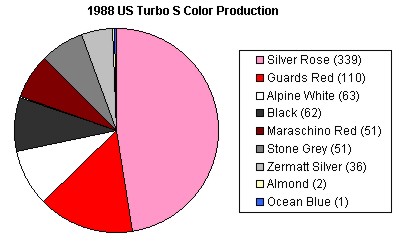 The available information concerning the colors of the vehicles with the "S" option is somewhat sparse. According to Morgan's book, 718 vehicles with the "S" package entered the US. A separate, unconfirmed source ([email protected]), has provided these color statistics. They total to 715 vehicles, which is very close to Morgan's numbers for the US (718 in above chart).

Chassis Numbers
The following 1988 production numbers are provided by the excellent book "Original Porsche 924/944/968" by Peter Morgan.

Interpreting Chassis Numbers: Anatomy of a VIN (Porsche)
1988 Porsche 944 Turbo Production Data
Market
Engine
Chassis Numbers [Info]
Non
Turbo S
USA
M44/51
WP0AA095_JN150001
thru 1874
Canada
M44/51
WP0AA0950JN160001
thru 0126
Rest of World
M44/51
WP0ZZZ95ZJN100001
thru 1875
Turbo S
USA
M44/52
Mixed throughout above USA numbers
Rest of World
M44/52
Mixed throughout above RoW numbers
Turbo Cup (Canada)
M44/52
WP0AA0950JN165001
thru 5099 (99 Produced)
Turbo Cup (Rest of World)
M44/52
WP0ZZZ95ZJN104001
thru 4094 (94 Produced)
Comments on "Limited Edition" and Factory Options
Several resources, including Morgan's book and online websites, make various statements about the options that were included as standard on the "S" vehicles and/or the Silver Rose Limited Edition vehicles. The comments that follow are aimed to address the many reported discrepancies from these resources.
What We Probably DO Know
What is clear, is that the 1988 Turbo S first appeared as a Limited Edition run of cars, equipped with the "S" options and all dressed in the LM3Z motiff (Silver Rose paint with Burgandy Plaid interior). These cars were supposedly modeled after the "Turbo Cup" race cars, and the production run was intended to be limited to 1000 vehicles. However, history shows us that this did not happen. A total of 1635 "S" cars were reportedly produced, many of which are in color schemes other than LM3Z.
The Factory Options
Many comments as to what features the "S" cars or the Silver Rose cars (as a separate matter) possess can be found with a little bit of reading. The most consistently reported options are related to the performance of vehicle, particularly the M030 sport suspension package, ABS, and the M44/52 engine. Where accounts differ, is in the so-called creature comforts. Based on data from the registry and related communications with owners, it is becoming more evident that "standard" options varied from market to market. For example, the US Silver Rose cars all seem to have a sunroof, but no heated seats. Similarly, a reported German Silver Rose car has heated seats listed as standard, yet has no sunroof. As registry data continues to be accumulated, these issues will hopefully become more clear.
Limited Edition Status
The "Limited Edition" status of the "S" vehicles has become somewhat diluted from the original intentions. Not only were more than 1000 produced in 1988 (1635 worldwide), but furthermore, the 1989 944 Turbo retained all of the "S" features (except LM3Z dress), and simply dropped the "S" from the designation.
On the other hand, the Silver Rose cars ended up being more scarce than originally planned. If the reported US numbers can be extrapolated worldwide, then only about 775 Silver Roses were made worldwide in comparison with the planned 1000. Unfortunately, reliable statistics on the worldwide color production have not yet been acquired.

US Department of Transportation, Federal Highway Administration (website)
944 Turbo S Technical Service Information, WKD 495 021
Original Porsche 924/944/968, Peter Morgan