Maserati's by Vignale
 1953 Maserati A6GCS Spider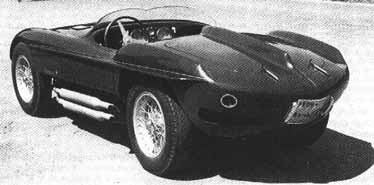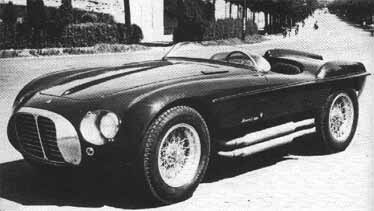 ---
Maserati 3500GT Vignale Spider 1960-1964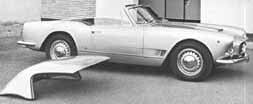 Vignale proposed (and advertised) a sleek updated version to the Maserati 3500GT in 1964, only a one-off was produced. Herunder you can view copy of the Vignale
advertisement and a photo of the real car.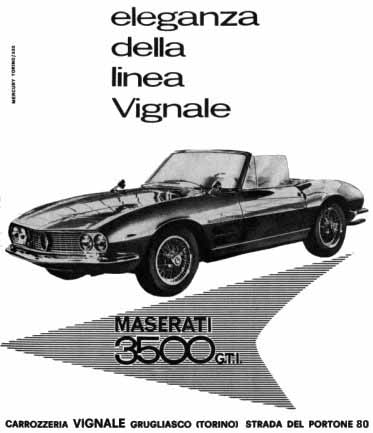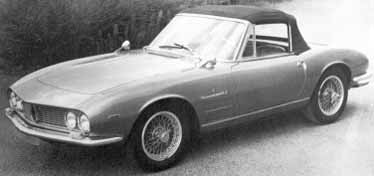 ---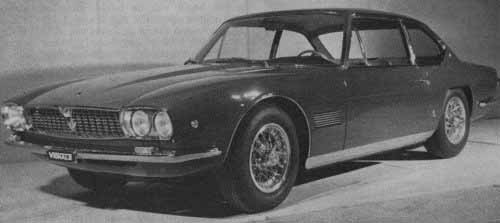 As shown on Turin Motor Show, 1965
---
Maserati Mexico

Produced from 1966 to 1968 with approximately 250 cars built.
1971 Maserati Mexico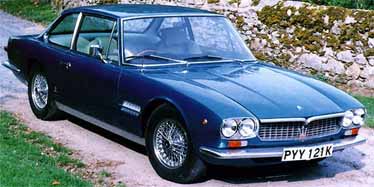 1971 MASERATI MEXICO TWO-DOOR COUPE COACHWORK BY VIGNALE Registration no. PYY 121K Chassis no. 112471044 Engine no. 112471044 Effectively the replacement for the six-cylinder 3500GT and Sebring models, and based on the Quattroporte saloon, Maserati's new two-door, four-seater sportscar debuted at the 1966 Turin Motor Show. Named later in honour of Cooper-Maserati's victory in the 1966 Mexican Grand Prix, the Mexico sported elegant Vignale coachwork, the latter a big improvement on Frua's 'ugly duckling' Quattroporte. Maserati's four-cam V8 was employed in 4.7-litre, 290bhp form for the newcomer; a more-economical 4.2-litre version becoming available subsequently, which was good for around 220km/h. The Mexico had a live axle, disc brakes all round, a five-speed ZF gearbox as standard, and optional automatic transmission. Production ceased in 1973 after 250 cars had been built. The 1971 London Motor Show car, and one of only six Mexicos produced with right hand drive, PYY 121K displays a recorded 77,000 miles and has been in the vendor's hands since 1989. Benefiting from a comprehensive rebuild carried out between then and 1994 at a cost of approximately £40,000, the car is now in pristine condition. The restoration work included replacement of all corroded panels; bare-metal re-spray; inspection and re-wiring of electrics; replacement of brake calipers and pipes; fitting of stainless-steel exhaust; re-Connollising of leather upholstery; installation of complete new carpet set. The carburettors and valve clearances were checked and adjusted, and the engine is said to hold regulation oil pressure. Finished in Sea Blue metallic with Bone interior, and equipped with manual transmission, it comes with file of bills; paint and sundry other spares; current MoT; and Swansea V5. Perhaps the nicest example
around. Information from: Auctions-on-line.
---
Maserati Indy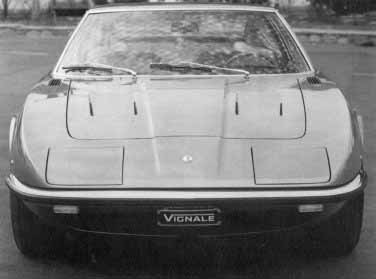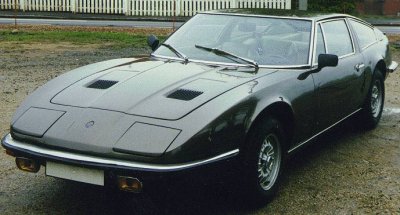 Numbers produced: 1136
Years Produced: 1969 to 1975
Engine: 4.7 liter V8, Power output: 320 hp,
Top Speed: 154 mph

---
Maserati Sebring 3700 GTIS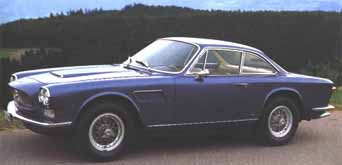 ---
More Maserati/Vignale information at 'Limited Cars' and at Club Maserati.
 Most images on this pages thanks to Ivan Ruiz.
---
This page hosted by
Get your own Free Home Page