Link to Cybertown
In the beginning it was IRC chat for me but now finally I have found something much better!
It's not just that Cybertown is alot nicer in the layout, it is even totally free and so much fun.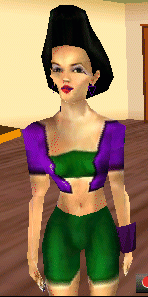 Sure it can seem to be a tad complicated in the start but after a while I can guarantee you are caught and you can start enjoying the scenery.

It is a chat with both 2D and 3D and it requires a special software to chat in 3D, but you can download it from the site of Blaxxun.
You get a username and password, some money (called CC = Cyber Cash) and 0 in experience (EXP) when you are totally new into Cybertown. It is tempting to start waisting money at once but try to save some money cause as long as you dont have a job you wont earn any money at all. The first job you can get in Cybertown is like a Club Assistant (CA) in some of the many clubs.
To get more EXP you just have to log in to Cybertown every day and while u get better jobs, your EXP and money will increase. A little tip from me: the first time you are in Cybertown, go to as many places as you possible can to make as much EXP as u possibly can.
You can buy items for your CC and it is in the mall or the flea market where you can do that. The mall is the cheapest place to get stuff while the flea market is more foritems that are rare and often much more expensive. Please watch out for people who tries to fool newbies into bad deals. Even if Cybertown is a virtual world, it doesnt mean that it is perfect.
I must guarantee 3D cause without it, Cybertown is just a chat room and I must say i dont understand those people who keep staying in 2D. It is in 3D that you can really enjoy all the beautiful surrounding, the people, your house and all the other good visual candy Cybertown can give you.
The most popular chat rooms is LeŽ Cafe, the Flea Market and the Plaza and there is always lots of people, even in the middle of the night. You can also use a so called avatar who is a kind of three dimensional human who have both movements and speech. A small collection of Avatars is avaible in Cybertown's own avatar gallery.Avatara.com have some really nice avatars for you.
I know I am not alone of being addicted to Cybertown (so stop telling me!). Hour by hour I sit there with all my wonderful friends cause it really is difficult to get lost of a habit, especially when it is as fun as Cybertown.
I really recommend this site but I should warn you, do not get to attached to it cause when you finally get your bills from the phone company....poor you, hehe
I have to admit me myself was really addicted and spent way too much time on the Internet but today I have a pretty good distance between real life and the life online and the virtual reality. Not that I'm trying to spoil all your fun and your use of the Internet, but nowadays I can just feel that Internet's just boring and it feels like I've seen it all. Keep that in mind but anyway - See it and enjoy, the virtual reality is here to stay!

Anders a.k.a. Spiritman

Solita and I got married in Cybertown
Link to Cybertown