National School Bus Safety Week spoiled by series of bus accidents
Original story, Safety Week spoiled by series of bus accidents, posted October 21, 1998, at http://www.schoolbusfleet.com/News/news.htm, original story updated and edited by James Kraemer at Safe Schools. Safe Schools was alerted to this story and thanks Nora Job, P.A.S.S. at http://www.sihope.com/~kjob/pass/, an organization advocating for seat belts on school buses in the State of Minnesota.
This year's National School Bus Safety Week (October 18-24) was marred by a series of school bus accidents, including one in which a 10-year-old girl was killed.
The fatal accident occurred in Merrill, Wisconsin, on Monday (October 19) when Montana Kleinschmidt was run over by her school bus after she crawled under the vehicle to retrieve school materials. The girl reportedly entered the bus and then suddenly got off again, without the driver's knowledge. There were no charges pending against the driver.
In Redmond, Washington three buses were involved in an accident, injuring 51 students and one bus driver.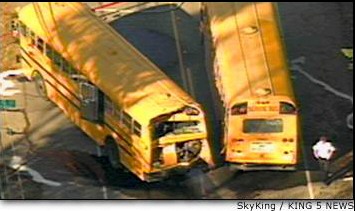 <! --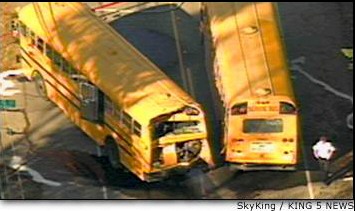 KING 5 News, a Seattle (Washington) television station, reported that investigators say the first bus stopped to let off a student, the second bus stopped behind it and the third (not pictured) plowed into the second. "People fell on the floor and smashed against seats," a student riding one of the buses said.
An unconfirmed report, from a Portland (Oregon) television station, reported a student riding the third bus said, "The bus driver was telling some students in the rear of the bus to sit down." Lake Washington School District officials would not say whether a mechanical problem, such as brake failure, speeding or another problem might have been involved.
The Redmond accident has renewed the debate as to whether buses should be equipped with seat belts. "Iím a strong believer in seat belts for my own vehicle and I donít really know the statistics, so it just makes sense that school buses should have those too," said parent Julie Adam. (Click on picture for complete KING 5 story)
Also on Monday, a school bus overturned in Tiffin, Ohio, slightly injuring seven kindergartners and the driver. The driver, who was cited for failure to control the vehicle, reportedly was driving erratically before striking a telephone pole and rolling the bus.
In Rio Rancho, New Mexico, 11 students were injured in another school bus rollover accident. This one occurred on Tuesday, October 20. A 12-year-old boy reportedly pulled the driver and several students from the vehicle after using his cellular telephone to call for help.
Injuries on school buses have escalated over the past decade, from under 7, 000 per year in 1985 to over 13,000 injuries reported in 1996, by the National Safety Council. Driver distraction accounts for over 30 percent of the nation's school bus accidents.
Advocates for seat belts believe injuries could be dramatically reduced, lives saved and medical costs slashed by installing seat belts on our nation's school buses. They often refer to the refusal of students to remain safely seated, thus defeating "compartmentalization," an alleged outdated safety concept currently used on many of our nation's large school buses. New York and New Jersey are the only states currently mandating seat belts on their large school buses.
Your comments about this story, Subject: Safety Week Marred.
Note: Safe Schools is looking into the school bus seat belt debate. New York and New Jersey school bus drivers are invited to e-mail their experience with seat belts now in use on their buses, (Subject: Seat Belts)
E-Mail your story
Every person has a great school or school bus story, safety story, idea, war story or "something funny happened today" story. Perhaps something for the rest of us grown-ups to think about or perhaps to affirm, encourage and support other adults.
When e-mailing a story please include your name, contact address and something about yourself. If the story is controversial and you wish to remain anonymous we can often do that, depending on the story, or not print the story until it can be verified through another source.
E-mail stories to: [email protected].
For more information on how to submit a story,Click Here.

Copyright ©1998 James Kraemer. Click on this Copyright
Notice to view copy without charge limitations.