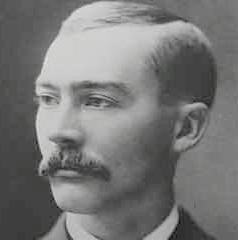 The Veblenite.
This is a Thorstein B. Veblen project page.
| Introduction | Writings | biography | thoughts | contemporaries | institutionalism |
Thorstein Veblen ... was arguably the most original and penetrating economist and social critic that the United States has produced" (Rick Tilman, Thorstein Veblen and His Critics, 1891-1963; Princeton: Princeton UP., 1992, p. ix.).
He was one of the first academics to examine the complex relationship between consumption and wealth in society. "His significance to the development of political economy and sociology is still to be evaluated. Very great as his influence has been both on his own contemporaries and the later generations of economists and social thinkers, the bulk of it still lies in the future ..." (Horace M. Kallen, The Forward, in: Dorfmann: Thorstein Veblen and His America [1934], p. 506).
The main goals of these sites are

to introduce into personality and work of American economist and social critic Thorstein Veblen (1857-1929), "the most finished and tenacious criticism" of american business civilization.
to place all of his works as a repository to everyone's disposal (as far as not copyright protected),finished !
to show the importance of his thoughts at the present times.
Our intention is not only to unveil but also to tear the veil, drawn over his work and personality, esp. for and by Europeans.

Political economy is institutional, human and environmental in its scope. The processes of production, distribution and exchange need to be situated within a context of the reproduction of institutions, belief and behavior.
And "... under the rule of the current technology and business principles, industry is managed by businessmen for business ends, not by technological experts or for the material advantage of the community" (Instinct of Workmanship, p. 351).
Notwithstanding that these sites are incomplete, maybe forever, they want to render access to the life-work of a very remarkable and noteworthy person.

Terms of Use / Disclaimer
Project manager: Ralf J. Schreyer, D-86381 Krumbach, (chief social welfare officer).