"After Arizona came up with this brilliant revenue-raising idea, over twenty other states have passed various Marijuana and drug taxes. There are tax stamps for Marijuana, Controlled substances, LSD, psychedelic mushrooms, and others. Unfortunately some of the stamps are quite expensive. (They range in price from 35 cents to $4000.00). Some of the expensive ones (according to the State Revenue Department) have never been purchased by anyone. For the first ten years, of the Arizona stamps, 83 sheets of the 1 gram Cannabis stamp were sold, and 3 sheets of the Cannabis 1 ounce stamp were sold. ($10) No one has ever bought any of the Cannabis one kilo, ($352.74) or any of the three controlled substances (1 gram, $8.80; 1 ounce, $250; and1 kilo, $4000). Remember that you have to buy an entire sheet of 50 stamps....

"Since I wrote the above, something interesting has happened. The authorities in Arizona arrested a fellow who was selling marijuana, and he had a license and had put the tax stamps on his "product". A judge decided that if the state sold him a license, they shouldn't arrest him for selling the product so licensed. So he dismissed the charges against the fellow. The last I heard, the state had appealed and the case was still wending its way through court." ... The State of Arizona has since repealed the drug tax law.



On Sale from

Rick Loomis
P.O. 1467
Scottsdale, AZ 85252

Phone: 480-945-6917
"24 hour fax number is the numbers 994 and then 1170 with area code 480"
(NOTE: Our phone area code changed from 602 to 480).
rick at flying buffalo dot com



---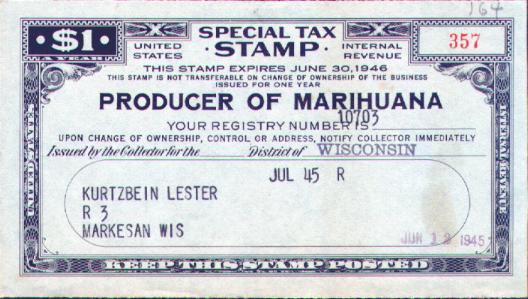 Special Tax Stamp issued to a grower of marijuana in 1945.
During World War II, the government encouraged the growth of marijuana for production of rope and other war materials.

The Marijuana Tax Act of 1937 imposed an annual occupational tax, with payment reflected by a special tax stamp, on those who dealt in or possessed marijuana. It also imposed a tax upon all transfers of marijuana, with stamps reflecting payment. The Supreme Court held the Act unconstitutional on self-incrimination grounds in 1969.
My name is Rob Henak (cf.), and I am not a drug dealer. Rather, I am a lawyer specializing in criminal appeals and First Amendment work.
I first became interested in state drug tax stamps when I represented a gentleman charged with a felony because he hadn't bought the necessary tax stamps and attached them to the bag of cocaine he happened to be carrying. I challenged Wisconsin's drug tax law and ultimately convinced the state supreme court to strike it down on self-incrimination grounds. Read the decision.
POSSESSION OF THE TAX STAMPS THEMSELVES IS NOT ILLEGAL AND YOUR PURCHASE WILL NOT CAUSE THE POLICE TO RAID YOUR HOME!!!!
Visit Rob's website for a lot more on the subject - aj
---
... At the turn of the twentieth century the use and distribution of marijuana in the southwestern United States and Territories became an issue with the advent of migrant workers. Originally marihuana was included as one of the substances to be regulated by the Harrison Act of 1914, but opposition from the drug industry is generally believed responsible for its exclusion from the act. In 1937 it was classified as a controlled substance and had occupational and trade taxes imposed upon it.

"In the early 1980's states in a new war on drug started implementing their own taxation programs. 24 States are known to have issued stamps for the collection of tax on marijuana. The laws do not legalize marijuana and tax stamps are rarely found on actual marijuana. Tennessee in 2005 became the latest state to adopt a marijuana tax program. ... " (his website features images of most known U.S. marijuana tax stamps - ed.)
Gerry Kissane, @-mail 1, @-mail 2 ...
150 Broadway
Greenlawn, NY 11740, USA
Phone: 516-250-3890
On his marijuana website you can purchase T-shirs, a poster and even some of the tax stamps.
He also operates: EFO Stamps.com
And has an interest in: C13-15, Confederate State stamps and FTPO-Dummies.
He also notes he "will broker the sale of your stamp collection."





Last update 3/12/2012


Copyright mumbo jumbo...like contact data