See Also:
Americover (Stamp Show)
late July
or early August
a World Series of Philately (APS) show dedicated to first day covers and the annual convention of the American First Day Cover Society (see below).
FDC -- My Philately World
Fan Ming,
Shanghai, China
(in English) A Well done blog rich in detail covering worldwide FDC's! - aj c.2008
There are some cachet makers that have been around a long time and as interesting information surfaces it will be noted: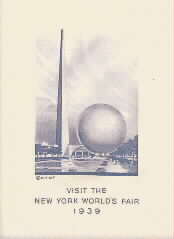 ArtCraft covers have been produced for almost every U.S. stamp issue since the World's Fair Issue of April 1, 1939,

"...There wasn't time to create a design an prepare a plate for the cachet, but Bill Decker's company had a plate with the Fair theme, for use on letterheads, and this perisphere and trylon motif (symbolizing the Fair) was the right size for a cachet. With a minimum of reworking, Al Nelson converted the letterhead plate, and thus the "first" ArtCraft engraving came into being. With reruns, only about 2,500 impressions were made, so it's by far the scarcest of them all. ..."

The Washington Press
(Note: See 'PoppyGun,Inc. below re: varitey catalog.)



-
Colorano started producing covers January 19, 1971 with Scott number 1423. They are still producing covers to this day. They produce a beautiful silk cachet that adheres to the envelope.



Dave Dresdner's Colorano Silk Collector's Page



Fleetwood and Fluegel Covers


Fleetwood started producing covers March 4, 1941 with Scott number 903. They are still producing covers to this day. We have the first Fleetwood to some of the current issues ( produced by Unicover - aj.). They started out with simple black and white cachets and now produce beautiful full color cachets. Fluegel started producing covers June 27, 1945 with Scott number 932 and ended October 18, 1966 Scott number 1361. They are beautiful mulitcolor cachets. But some of Fluegels cachets are still used today with the newly released stamps. - The original link to this info page is now dead :(



Literature





- From: Washington Press (makers of ArtCraft FDC's)


Jr. Philatelists' First Day Cover design contest
Sadly the JPA is no more! - c.2007 +- ; ajw.



RARE 2-cent Jefferson on Silkote Paper FDC
"..the rarest first day cover of the 1954 Liberty Series. " - by Ken Lawrence



One man, David Saks (Composer of The Official Songs of Memphis "One Last Bridge" & "In Memphis" ) says he has The World's Greatest Postal Collectible - the first FDC issued for the Elvis Presley stamp! And a few philatelic resources.




The Story of my FDC collecting
yep, I collect. aj
Catalogs, Books and Supplies

From Amazon.com

Now, while some of the following may be out of print they're good information and you can search Amazon.com for 'First Day Covers' related books.
Noble's Catalog of Cacheted Inaugural Covers
by Edward Krohn
Box 357309, Gainsville, FL 32635, USA
?????????????
Not listed c.2009 try Google
See Also: FIP Covers : Inaugural Covers
From: FDC Publishing Co.


(and alternate
URL at eBay

Voice (908) 479-4614 Fax (908) 479-6158
First Day Cover Catalogues - to help Price, Identify, and Organize...
Scott/Mellone First Day Cover Catalogue (includes US First Class Postage) - "... the Price Guide that is the 'National Standard'.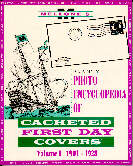 Mellone's Planty Photo Encyclopedia of Cacheted FDC's - (10 volumes) "Photos of every known printed cachet ... 1901-36 ... Scott#'s 294 - 784"
More
ArtCraft and PCS* Bargin Box Specials @ $1.00 (-)
P.O. Box 762, Rockville, MD 20848-0762
E-mail: Marty Severe: "I also produce and sell the ArtCraft variety catalog which lists over 12,000 ArtCraft collectibles and contains prices."
It is entitled "The Comprehensive Listing of ArtCraft Covers; Their Varieties and Values (1939-1996)" [5th ed.], covers U.S., UN, and foreign FDCs as well as miscellaneous event and topical covers. It "documents all known Artcraft covers and varieties produced by the Washington Press (Washington Stamp Exchange) (including those marketed by the * Postal Commemorative Society (PCS))" Retails for $29.50 + $3.50 postage. Dealers can inquire. (c. 2000)
Cachet makers, clubs, subscription services ...
(Note: many stamp issuing entities (countries and agencies) offer FDC's...

American First Day Cover Society (AFDCS)
The AFDCS also offers Expertization of American FDC's
See Also: Dealer listing for AFDCS, .us-OH for address.
Association of GB First Day Collectors
Check it out!
Brookman The CoverSpecialists


Home of the 'Brookman Price Guide'
and The Brookman Times
"..packed with articles by famous stamp & cover writers such as Les Winick, Lloyd deVries, Wayne Youngblood, Gretchen Moody, George Griffenhagen, and David Straight. Along with article reprints from the American Air Mail Society's Airpost Journal. The Brookman Times also has ads, and special offers from leading philatelic companies like; Brookman Barrett & Worthen, Artcraft Cover Society, Champion Stamp Co., Henry Gitner, Eric Jackson, Brookman Stamp Co., Alan Miller, Nutmeg Auctions, Gary Posner, Regency/Superior, and others."
---

Artmaster, Inc.
Home to Artmaster, House of Farnam and Cover Craft Cachets.
P.O. Box 7156


Louisville, KY 40257-0156
1-888-200-6466
FAX: 502-587-2314
8:30 a.m. - 5:00 p.m. EST Monday - Friday
a/o 2000 the set a 'Brookman Cover Company' at brookmancovers.com to take over the FDC division, "This acquisition gives Artmaster customers full access to a complete line of general back issue First Day Covers, including specialty cachets such as Collins, Fluegel, Roesseler, Barbour and Heritage. :

Brookman Cover Company

PO BOX 6208
Louisville, KY 40206 USA
888-200-6466
Contact Bill Toutant for the best selection of past issue covers anywhere -- we have it all!"
(this apparently did not work out..)
---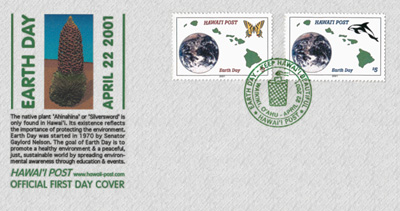 Hawai'i Post - "Hawai'i's personal delivery service"
A 'Local Post' on the island of O'ahu

Created by Paul Edney (out for the year 2007 having been deployed to Iraq); who owns 'Stamp Shows Worlwide and 'The Stamp Yellow Pages Directory' - 'Hawai'i Post' is a urgent delivery service in Waikiki which issues its own 'Local Post' stamps for prepayment and is one one of the few that have offered collectors the opportunity to get its stamps and covers from the first issue. (8/31/01)
Contact Paul's E-mail




Aristocrat Cachets (dead link 2/2000-)


P.O. Box 450
Seaford, De. 19973
E-Mail
still '404' 8/2001; email sent to inquire 8/22/2001






Bill Pertz's Stamp Section

And don't miss Bill's "Seal-A Meal" Stamp Mounting System ..

Interesting person; inspired prisoners at AZ State Pen to make FDC covers ... and made a few of his own (which I collect). He collects Germany.





Cashat's Cachets

"I personally design, hand draw, and color each cachet, thus making each cachet an individual piece of artwork. When designing my covers I try to think of a design that always relates to the stamp issue and might add some historical value to the cover. Unfortunately, since this is mainly a hobby, I don't always have the time and resources to create a cachet for every US issue.


E-mail
http://cajuncachet.hypermart.net/ ; '404' c.2008




Gateway Stamp Company

, St. Lousis, MO, USA
Tom and Rose Wiley
Autographed sports and politically related cachets..
http://www.imall.com/stores/gatewaystamp '404' c.2008
http://www.gatewaystamp.com '404' c.2012




Gary & Sharolyn Chicoine (she'-quin)
Geesee Cachets
207 Lyons Road
Geneva, NY 14456




P.O. Box 17604,
Boulder, CO 80308-0604

Telephone: 303-417-9007, Toll Free: (888)325-5907


E-mail
(note: from Home page there is a link to 'Doris Gold' FDC's.



- WWII Cachets, Autographs, Stamps, First Day Covers, Philatelics

"For those who wound up here not knowing what a cover/cachet is..."


E-mail (no postal address posted)



- very expensive but nice

- E-mail






Album Pages, Art Pages, Blank Pages
Cacheted Covers, Binders and Dust Cases
C/O - Custom Impressions
P.O. Box 2286, La Grange, IL 60525-8386, U.S.A.
Phone (708) 579-1447 FAX (708) 579-1473


Lehmann Christmas Test Seal Covers
(incl FDCs)
Douglas K. Lehmann, @