This is a brief look into the fascinating world of revenue stamped paper. It can be collected by type, geographic location, user, or vignette. There are imprints with higher values for certificates of deposit, bonds, stocks, agreements, insurance policies, and other documents taxed more than two cents (Scott Types RN-P through RN-W). There are facsimile designs used for a number of years after the tax was abolished.

Documentary taxes were reinstated in 1898 to assist in funding the Spanish American War. A new imprint design was used in connection with these taxes, Type RN-X.

("At some point in the near future I hope to create a website concerned entirely with the Type X imprints.")
(He took the 'Grand Award' at the Minn. Stamp Expo of July 2007 for these issues. - ed.)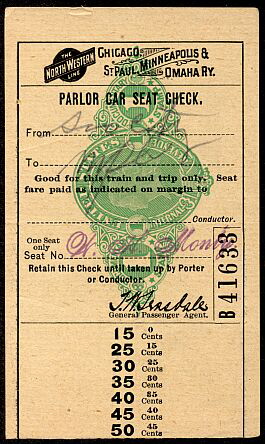 And from an interview (click image), Bob notes, "I am an avid collector of parlor car tickets issued between July first, 1898, and July first, 1902, that have revenue imprints. ...
My favorite items are the tickets, and some of the beautifully engraved drafts. I have always been fascinated by the tickets and the role they played in transportation at the end of the 19th c. and the beginning of the 20th c. And the drafts are just magnificent items in themselves. ..."