Anthony Weir 
philosopher, poet, painter and photographer
visited South-Western Albania twice in 1994.
"When I went to Albania in 1994, 'the poorest country in Europe', with ethnic divisions and virtually no modern 'infrastructure', I thought it compared very favourably with Northern Ireland. The food was edible, for a start (okra, beans, tomatoes, peppers). Almost every family distilled its own raki, from grapes or plums, some of it of a quality that any French maker of alcool blanc would envy. People were very friendly and curious. I was enthusiastically directed or taken to places that interested me. I could get by very well with a mixture of Italian, German and French as well as English and a few words of Albanian - aided by Albanian goodwill".
From his impressions of Albania and its people
he wrote  these poems.
 ________
DHE JETES I AFROHET FUNDI
AND LIFE APPROACHES ITS END
| | |
| --- | --- |
| Ikë e ikë | On and on |
| Kënga e Mukës | The same old tale: |
| Muri luan | A wall may give way |
| Burri s'luan | A man may not |
| Bota vuan. | The world suffers on. |
DERI VONĖ
TILL LATE

Ndaj tė gdhirė
Towards the dawn

Pa natėn
Without night

Me lajmet
With news

Ato biseduan pėr "pushimet"
They talked about "the holidays"

Kjo dhuratė ėshtė pėr ty
This present is for you

Qė tė zhvillosh
To develop

Me anė tė vetėvrasjes
Through suicide
Nuk jam as nė toke dhe as nė qiell.
I am neither on the earth nor in the sky

Percillni kėtė nyje pėr versionin e mikpritjes
Click here for hospitable version.



BÓTA GABON
THE WORLD MAKES MISTAKES

Sė rishmi
Once again

Sidomos nesėr
Especially tomorrow

Nė vend tė autopsikografisė

In lieu of autopsychography

Pézull
Adrift

Fjala e fundit e botės.
The world's last word.

Mė shkruaj nė shenjė:
Write to me as a sign:

Gjuha shqipe nuk ėshtė aq e vėshtirė.

Albanian isn't that difficult a language



NDAJFOLJET
ADVERBS

SHKATĖRROJ - I unravel, I destroy

Fatkeqėsisht - Unluckily

Rrėmbimthi - Drivenly

Barkazi - Crawlingly

Fshehtazi - Secretly

Gjerėsisht - Lengthily

Majtazi - On the left

Djathtazi - On the right

Me tė eger - Wildly

Kalimthi - In passing

Dita-ditės - Day by day

Parreshtur - Non-stop

Nga viti nė vit - From year to year

Paqenēe - Undoglike

Ngado - Anywhere

Sado - No matter how






VARG - VERSE

Urdhėro ?
What can I do for you ?

Krejt:
Everything:

Mė pėlqen jetėshkrim
I like biography

Porosit patjetėr
Order by any means

Shpejt
Quickly

Zarfa
Envelopes

Njė kilo kumbulla
A kilo of plums

Raki, zhvillim
Raki, development

Vetėvrasje
Suicide

Por s'ka gjė
But it doesn't matter

Vėrtet
Really



LAKURIQĖSI NAKEDNESS
Pėr bukurķ, nuk ėshtė pėr turp
Beautifully, not shamefully
Ėmbėlsisht, rrėmbimthi
Sweetly, impulsively
Ujku, pėr sė lįrgu, pėr sė gjįti
Wolf, from afar, lengthwise, slowly
Njėri ndėr poetėt mė tė mėdhenj
One of the greatest poets
Njėri mė i hutuari, dhe mė i huaji nė kėtė botė.
One of the most confused, the most other
Mjekėra me e shndritshme nė mal
The brightest beard in the forest
Veēse sillej poshtė e lart.
Only wandered up and down.
Mė mirė tė vdesėsh njė ditė sesa pėrditė. Pėrnatė.
Better to die one day than every day.Every night.

Edhe nė fjetsha, mėndjen s'ma vė dot njeri nė gjumė
Even if I sleep, no-one will put mind to sleep
Dhjelpra, kur iu dogj bishti, mendoi se gjithė bota kishte marrė zjarrė
When the fox's tail was alight he thought the whole world was burning
Kujtimet mė tė lodhurat.
The tiredest memories.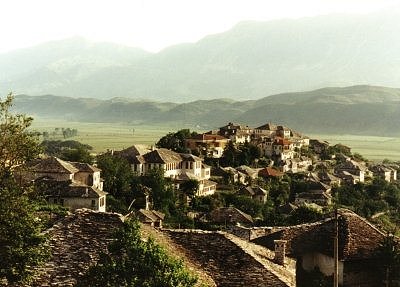 Gjirokastėr, southern Albania photographed by Anthony Weir

ZHVARROSUR
DISINTERRED
in memoriam Enver Hoxha

Rreth e rreth
All around

Varg e varg
In a row

Natė e ditė
Night and day

Fund e krye
Tip to toe

Hundė e buzė
Flat on your face

Poshtė e lart
Up and down

Dimėr e verė
Winter and summer

Nė radhė tė parė
In the first place

Kot mė kot
In vain

Breg mė breg
From hill to hill

Degė mė degė
From branch to branch

Shpat mė shpat
From slope to slope

Shteg mė shteg
From path to path

Shpresė mė shpresė
From hope to hope

Skaj mė skaj
From corner to corner

Javė pėr javė
Every week

Dorė pėr dorė
Hand in hand

Kokė pėr kokė
Head to head

Gju mė gju
Knee to knee

Sy mė sy
Eye to eye

Faqe mė faqe
Cheek to cheek

Gojė mė gojė
Mouth to mouth

Buzė mė buzė
Lip to lip

Fjalė pėr fjalė
Word for word

Dhembje me dhembje
Pain to pain

Gjak pėr gjak
Blood for blood

Sy mė breg
Eye to hill

Kot mė kot
All in vain


PĖSHPĖRĶT
WHISPER

Pėr tė zbuluar
To discover

rastėsisht
by accident

e me te butė
and softly

njė fshatar
a villager

i mermertė:
of marble:

njė shenjė
a sign

mikpritjeje
of hospitality

Sa eshtė ora ?
What time is it ?

Pikėrisht ?
exactly ?

Pėr tė kthyer ndė dhet.

To return to the earth.


LODHEM SË FOLURI
I GET TIRED OF TALKING
Sa herë që shpreson shumë, fiton më pak.
Whenever you hope for much you gain little.
Sado që ia shpjegova disa herë, ai nuk e kuptoi mësimin.
Although I explained it to him several times, he didn't understand the lesson.
Duke qenë se ndihej i padëshiruar, shkoi më herët në shtëpi.
Since he felt unwanted, he went home early.
Duke mos ditur ç'të bënte, u ul pranë televizorit.
Not knowing what to do, he sat in front of the TV.
Eja tek unë kurdoherë që ndihesh vetëm.
Come to me whenever you feel lonely.
Edhe në qoftë se vonohem pak, më prit se do të vij.
Even if I'm a bit late, wait for me, for I'll come.
Edhe sikur të isha i lirë, nuk do të shkoja me ta.
Even if I were free, I wouldn't go with them.
Rrafshi është i rrethuar me male të larta.
The plain is surrounded by the high mountains.
Vetë e vërteta s'është shumë e fuqishme.
The truth, in truth, is not very powerful.



PLANET E SOTME
TODAY'S PLANS
Pėr tė shtypur kokėn e fluturės
To rack the butterfly's brains
Tani hamė drekė Now we eat lunch
 Pastaj Then
Nese mė duhesh do tė therras
If I need you I'll call you
Po qe se vjen ti vij edhė unė
If you come, I'll go, too
Ditėt shkojnė e vijnė
Days come and go
Nė kaltėrsinė e pyllit
Into the blue of the forest
Nėpėr qiellin e zi
Through the black sky
Flutura eshtė nėn tryezė
The butterfly is under the table
Nuk kam ngrėnė qė dje
I haven't eaten since yesterday
Sa herė qė vij te ti
Whenever I come to you
Ndihem mirė (pėrvec…)
I feel good (except…)
Deri nėser Until tomorrow
Vdekje Death

PAQĖNDRUESHME
In the world we've turned to misery
beauty is unbearable.


EMIGRATION
How much better is it to be hated
as an American
than as an Albanian ?

AFTER THE REVOLUTION
(1994)
Under the terrible dictatorship
we knew we had no freedom
to speak or to publish,
and we thought
we had freedom of thought
and imagination.
We could eat and drink frugally, quietly,
be quietly proud of our frugal lives,
and think ourselves modestly
self-sufficient.
We did with so little for so long
that we thought we could do anything
with nothing.
Today we realise that our imaginations
were stringless kites.
Because of the dictatorship
we are poor and unwrought.
We don't know what to think
in a world of multiple pollutions and corruption
where everything is bought
- even despised asceticism.
We have no faith in our truncated
sneered-at, jeered-at nation.
Those of us who dare to think
think secretly that there is no such thing
as freedom of thought.
There were no tourists before,
but now they come, under the new dispensation,
like old men's dribbles without let or hindrance,
not to admire the unravaged landscape but to pity
and savour our demoralisation.


SHQIPĖRI ABSOLUTE
Absolute Eagledom, March 1997
"Absolute Anarchy,"
the blow-in correspondents trilled.
"No rule of law."
The missionaries and minor Mafia fled
their easy pickings and told lurid tales,
but the Deputy Director of Prisons (himself
a political prisoner for 16 years) said
how proud he felt that Albania was the first
European state with empty goals.
The correspondents knew not one word
of our ancient and eclectic language,
did not mention that half our little craggy land
was seized by Serbs and Greeks
when the benign Turks pulled out,
said nothing of the coup d'état by Zog,
the Italian annexation and the Greek attempt
to annexe even more.
They said the usual little
about the paranoid dictatorship of Enver
which locked us fast
in aspic, as it were. Top reporters came
to wring their silky hands, and sneer, be shot at,
and leave for somewhere else to be aghast.

MAN'S DIRTY SLATE
Yesterday the sodden trudge
Today the paper crayoned black
Tomorrow the burnt
and blackened house

Next week the child will
draw her home
as it was before the burning
With the dog
abandoned of course.
"Culture is war"
"All dogs are heroes"
In man's unremitting conflict
against nature, I too
am a conscript war-criminal.
Click for more poems
from
POST-MILLENNIUM MAGGOT
by

_________
click here to see



Albanian donkeys

Anthony Weir's website
has been awarded





status by the
Shane Land Poetry Search Engine