Please circulate to interested parties
You are invited to attend a unique international conference
Merde Alors! An interdisciplinary conference
on excrement, past, present and future
<![if !vml]>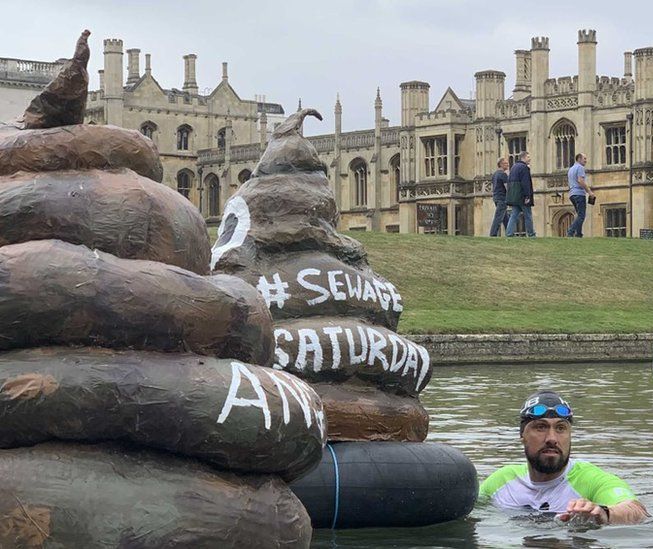 <![endif]>
Photo: River Cam, Sewage pollution protest, 2022 / Little Blue Dot
VENUE: School of Oriental and African Studies [SOAS, University of London], Thornhaugh Street, London WC1H 0XG. Tube: Russell Square.
DATE: Saturday 21 and Sunday 22 October 2023 from 10.00am to 6.00pm
FORMAT

: 

In-person conference, with options for distance participation.
REGISTRATION for the Conference is free and is open to the general public. However, all attendees should register at the following events page:
www.eventbrite.co.uk/e/merde-alors-an-interdisciplinary-conference-on-excrement-tickets-651748737017
______________
Hosting: Our conference is hosted by the Food Studies Centre, SOAS, University of London, and we extend our thanks to them.
________________
Further information and programme: #shitologyconference
E-mail: [email protected]
________________
Discussion List: If you wish to join our JISC discussion list, you will find us at
https://www.jiscmail.ac.uk/shitology
________________
Hashtag: #shitologyconference
___________________________________________________________
CONFERENCE PROGRAMME
___________________________________________________________
1. Breaking the silence on gendered sanitation taboos across urban Africa
Adriana Allen [University College London] [Abstract]
2. From the privy to the paper: Excrement, public health, and discourses of race in the Progressive Era U.S. South
Jared Kazik Asser [University of Georgia] [Abstract]
3. 'Boys will be boys': the putto pissatore in European Renaissance art
Charles Avery [Independent researcher] [Abstract]
4. Keeping soils healthy with shit: What we can learn from Chinese farmers
Nicole Elizabeth Barnes [Duke University] [Abstract]
5. ADCO and the case of a patented artificial manure
Tad Brown [University of Cambridge] [Abstract]
6. Take a break: Backdoor toilet defecation messages in industrial spaces
Tania Casimiro [Nova University of Lisbon] and Joao Sequeira [Universidade do Minho] [Abstract]
Cess pits and society
John Collis [University of Sheffield] [Abstract]
7. From gunpowder to fertiliser: How Confederates used human waste during the American Civil War and Reconstruction
Andrew Loyd Craig [University of Georgia] [Abstract]
8. The case against Anglia Water
Al Dixon [Little Blue Dot] [Abstract]
9. The 'Dirty Strike' of Irish Republican prisoners in British jails, 1976-81
Ed Emery [SOAS, University of London] [Abstract]
10. The remarkable preservation of excrement in the archaeological record and what can be done with it
Eleanor Green [University of York and Natural History Museum, London] [Abstract]
11. Excrement in the City: Tokyo, 1867 - 1933
David L. Howell [Harvard University] [Abstract]
12. Shit and Civilisation - Western reports on nightsoil in 18th and 19th century China
Joerg H. Huesemann [Leipzig University] [Abstract]
13. Between economic and hygienic reasons. Recovering and using excrement in Italian cities and countryside in the late 19th century.
Luciano Maffi [University of Parma] and Manuel Vaquero Pineiro [University of Perugia] [Abstract]
14. Brown Gold? Reconciling existing practices and new innovations for shit re-use
Lyla Mehta (Institute of Development Studies) and Tanvi Bhatkal (Institute of Development Studies), et al. [Abstract]
15. Merda Pompeiana
Laura Nissin [Aarhus Institute of Advanced Studies] [Abstract]
16. 'Shit business is serious business': Isaac Durojaiye Agbetusin ('Otunba Gaddafi') and the business of mobile toilets in Lagos (Nigeria) since the 1990s
Ayodeji Olukoju [University of Lagos] [Abstract]
17. How latrines lost the war: Race, waste, disease, and demoralisation in the Confederate army
Benjamin Roy [University of Georgia] [Abstract]
18. Dump and pump: The impact of COVID-19 and income on septic system pumping patterns in Athens-Clarke County, Georgia
Julia Sharapi [University of Georgia] [Abstract]
19. Building protection: Public bathrooms and boundary making in United States history
Bryant Simon [Temple University, Department of History] [Abstract]
20. There is something fenny (糞) about warfare in the Song (960-1279) and Ming (1368-1644): Bio-chemical weapons of Imperial China
Benjamin Avichai Katz Sinvany [Columbia University] [Abstract]
___________________________________________________________
PLEASE NOTE: We shall be publishing the proceedings of the Conference, both on-line and in print, and including additional solicited articles.
Contact:
Last updated: 17 September 2023
Website: Universitas adversitatis