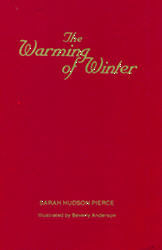 ---
The Warming of Winter, a 128 page, softbound, burgundy, gold-stamped, limited edition book of free verse poetry was written by Sarah Hudson-Pierce in the middle 1980's and was published in 1989 with a preface by former Shreveport Mayor James C. Gardner.
---
The 1987 publication of Friendship Is A Journey, a collection of poems by
Sarah Hudson-Pierce, brought an increasing regional recognition to the North Louisiana author. She became recognized as a repidly emerging major poet and soon found herself in great demand to not only publicly read her fine works but also to teach and lecture on poetry and writing.

The publication of her second major work, The Warming of Winter, can reasonably be expected to gain favorable recognition for the talented Sarah Pierce in an area far beyond her home region.

This remarkable lady has the ability to translate her gifted perceptions of life into poetry. She does so in a manner that reflects a spirit that seems to fly above us all, to capture something that eludes most of us. And she does it with a rhythm, a flow of words that touches something deep within us because she seems able to look into our hidden selves.
James C. Gardner
Former Mayor
Shreveport, Louisiana
---

I am privileged to write the Foreword for the second book of poetry by Sarah Hudson-Pierce who was a high school student of mine over two decades ago.

It is rewarding for a teacher to see the goals and aspirations of former students come to fruition. Sarah's interest in writing and public speaking was quite evident as a student. Her rewards from having achieved a measure of success are also mine. I like to think that I, as a former teacher, may have had some small part in sparking the inspiration that it took for Sarah to see one of her dreams fulfilled.

Sarah has a remarkable ability to express with great sensitivity her feelings of love and compassion for and friendship with others in a poetic fashion that seems to be speaking directly to the reader. Her mental awareness of and ability to capture in words, life's happenings around her, seem to reveal the creativeness that distinguishes her writings that makes her verse very special to me. I feel that this book will widen her scope and cause many more people to feel as I do.


Shirl White, Chairman
Communications Division
Northeastern Oklahoma A & M College
Miami, Oklahoma
---

Dearest Sarah: I love your poems and especially the ones that you decicated to me. I shall treasure them always and hope you great success!

Wendy Reves
Lapausa
Cap Martin, France

---

Sarah's poems reflect that which she is most observant of - the emotional needs of others.

Lynda Huebel
---

Sarah's gift of words ring beautifully and true upon her audiences and settle quietly into their souls.

Marcia Thomas
Living Room Theatre
Jefferson, Texas
---

Sarah Pierce is one of those rare individuals who has the ability to see and understand people on a much deeper and larger scale than the average person. I believe this is due to a heightened sense of human nature which she possesses and her genuine love for people. She is then able to translate this perception into beautiful and very poignant poetry, as reflected in her book, Friendship Is A Journey. Sarah is what we define as a "real" person.

Carol Boyd
Carol's Collections
---

Sarah came out of hard times with a compelling need to write. I believe that you will feel better about yourself and the world after reading her poems.

Herber Taylor, Professor
English Department
Harding University
Searcy, Arkansas
---

This book was dedicated to my husband and children who have aided my growth.
---

Click here to order this book by postal mail. Click Here to order online.

Sarah Hudson-Pierce

---



Back

&copy Sarah Hudson-Pierce 2003-2004-2005