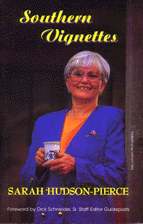 ---
Southern Vignettes, a 116 page, laminated, softbound, limited edition book of inspirational short stories, written during the early 1990's. Sarah Hudson-Pierce has stories within that will touch your heart as she describes her life in an orphange after her father died. This book is complete with a book jacket cover photograph by Shreveport Photographer, Neil Johnson. Frank May, Editorial Page Editor, of The Times wrote; "Sarah Hudson-Pierce is one of the most persistent, prolific and passionate writers around. She has real life, real people and real feelings in her articles and they are enjoyed by many of our readers." The Times
---
To be a good writer, you must love to write. You've got to have a passion for it. Sarah Hudson-Pierce has that love and that passion, and those qualities come through vividly in everything she writes.

The feeling and energy she puts into her renderings make them come to life before your very eyes, and you can re-live her experiences with her, as though you are actually there. It is a unique talent to have that ability, and Sarah is one who has it.

Love, passion, and uniqueness are three qualities every writer must have if he or she is going to grab the attention of the reader and hold it. You will find them all when you read Sarah Hudson-Pierce.
Lou Gehrig Burnett
Political Columnist
Managing Editor
The Bossier Post
---

More than being a good writer with a fascinating heritage from which she draws, Sarah Hudson-Pierce has the kind of perseverance which can make all the difference.

She finds something useful in almost everything that happens to her, transforming disappointments, problems, and everyday happenings into nuggets of inspiration for her readers.


Dick Schneider
Senior Staff Editor
Guideposts Magazine
---

A unique southern woman's voice.


Dan Garner
Editorial Cartoonist
Manager of Time Warner
Shreveport Channel
University of Shreveport
Blue Grass Singer
---

This book is a collection of my newspaper columns which have appeared during the past four years in The Times, Bossier Post, Minden News Herald, Guardian Journal, Neosho Daily News, Tulsa Tribune, Daily Citizen, Grove Sun, Miami News Record, Claremore Daily Progress, McDonald County News, Joplin Globe, Licking News and Byline.

I'm grateful to these editors for giving me a stage on which to perform my creative work.

Thanks must go to some special people who have made my four books a reality. They are Ric-Mar Publishers; the Adams-Gray Publishers and now Swann Publications. I would also like to thank friends of Turley Children's Home, now Hope Harbor, who have supported my work, assisting in the publications and distribution of my books.

I must thank Steve Buseick and Tammy Randell, of LaPressCo Printers in Shreveport, Louisiana, for the design and production of the cover; Photographer, Neil Johnson of Shreveport, Louisiana, for the photograph on the cover and on page 9; Photographer, Robert Stout of Noel, Missouri, for scouring the countryside until he found my birthplace near Sulphur Springs, Arkansas, pictured on page 10; Linda Mahoney for typesetting the book; and Dawn Britt, Patti Luce and Brian Stierle of McNaughton and Gunn, for being so helpful.

I won't begin to thank my friends who have encouraged me, who have been angels in the night when I needed them most. I've been blest beyond measure to have so many special people in my life.
---

This book was dedicated to Calvin and Anne White of Turley Children's Home, now Hope Harbor, who came into my life when I was seventeen when I needed them most.

This book is in appreciation for the thirty years they have unselfishly given to child-care.
---

Click here to order this book by postal mail. Click Here to order online.

Sarah Hudson-Pierce

---



Back

&copy Sarah Hudson-Pierce 2003-2004-2005