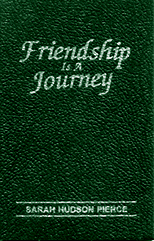 ---
Friendship Is a Journey, an 80 page, softbound, hunter green, gold stamped, limited edition book of free verse poetry, was written by Sarah Hudson-Pierce, a native of Sulphur Springs, Arkansas. It was first published in 1987 and was republished in 1994.

The preface was written by Maxine Dowd Jensen. Friendship Is a Journey was written in the early 1980's while Sarah was undergoing a traumatic emotionally painful time in her life. In this book you can feel her pain as she struggles to come to grips with the realities of life, having spent her teenage years in Turley Children's Home, now known as Hope Harbor, near Tulsa, Oklahoma. After reading this book the reader will say "I've been there. I know what she was going through."
---
My friend, Sarah, possesses an uncanny sensitivity which enables her to detect and feel the hurts of others. Because she has survived ordeals of her own, her heart is softened toward those who struggle. This empathy, this compassion, this love surfaces in many of her poems.

Maxine Dowd Jensen.
---

One of the rewards I receive as an educator is to learn of the successes of former students or to see them achieve their desired goals in life.

After forty years in education, I have received many such rewards. The confidence in believing that I may have, in some small measure, contributed to the encouragement or inspiration of a student to discover a life of enrichment, is one of the joys of teaching.

This has been the experience of my relationship to Sarah Hudson Pierce as instructor to student. It was my privilege decades ago. It is a joy to know that she, after many years, has fulfilled a secret desire of writing poetry and sharing her inspiration through publication. I hope that the inspirations of this book, may be your experiences as well.


Shirl White, Chairman
Communications Division
Northeastern Oklahoma A & M College
Miami, Oklahoma

---

This book was dedicated to Cullen and Martha Adair, whose loving care in their foster home changed my life.
---

Click here to order this book by postal mail. Click here to order online.

Sarah Hudson-Pierce

---



Back

&copy Sarah Hudson-Pierce 2003-2004-2005