Modelo de barro (clay model) 10-1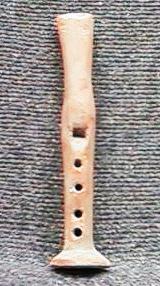 Fotografía del modelo
(Picture of the model)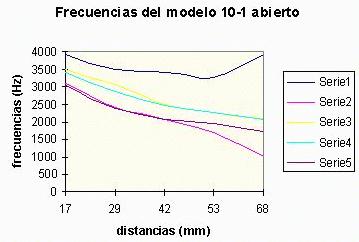 NOTA:
Las series 1 y 2 son frecuencias máximas y mínimas operada en forma cerrada y las series 3, 4 y 5 son frecuencias máximas, medias y mínimas operada en forma abierta.

(Series 1 and 2 are maximum and minimum frequencies with close tube and series 3, 4 and 5 are maximum, mean and mimimum frequencies with open tube.)

---
Principales resultados::


Las frecuencia medidas de cada digitación se dan en rangos.

Pude ser operado con su tubo abierto y cerrado, generando two timbres.

El rango máximo de sonidos que cubre el modelo de barro es de 2,870 Hz.


(Main results):


The measured frequencies for each digitation are given in ranges.

It can be operated with his tube opened and closed, generating two timbers.
The maximum range of sounds that can produce the clay model is 2,879 Hz.
---
Roberto Velázquez Cabrera