The Decline and Fall of the Catholic Church
The decline of the Catholic Church in the U.S.A.
Priests
Between 1930 and 1965, the number of priests in the United States more than doubled to 58,000.
Since then the number has fallen to 45,000.
By 2020, there will be only 31,000 priests left, and more than half of these priests will be over 70.

In 1965, 1,575 new priests were ordained in the United States.
In 2002, the number was 450.

In 1965, only 1% of U.S. parishes were without a priest.
In 2002 this number is 15%.

Between 1965 and 2002, the number of seminarians dropped from 49,000 to 4,700.
Two-thirds of the 600 seminaries that were operating in 1965 have now closed.
Religious Orders.
In 1965, there were 179,954 women in Catholic religious orders.
By 2002, that had fallen to 75,000, in 2005 it was 68,634
and the average age of a Catholic nun is today 68.

In 1965, 3,559 young men were studying to become Jesuit priests.
In 2000, the figure was 389.

With the Christian Brothers, the situation is even more dire.
Their number has now shrunk by two-thirds.
In 1965, there were 912 seminarians in the Christian Brothers.
In 2000, there were only 7.

The number of young men studying to become Franciscan and Redemptorist priests
fell from 3,379 in 1965 to 84 in 2000.

Catholic schools.
Almost half of all Catholic high schools in the United States have closed since 1965.
The student population has fallen from 700,000 to 386,000.
Parochial schools have suffered even worse. Some 4,000 have shut down,
and the number of pupils has fallen from 4.5 million to just under 2 million.
Catholic Marriage.
Catholic marriages have fallen in number by one-third since 1965.
The annual number of annulments has soared from 338 in 1968 to 50,000 in 2002.
Attendance at Mass.
In 1958, a Gallup Poll reported that 74% of Catholics then attended church on Sundays.
In 1965, it seems that 65% attended, according to a recent Fordham University study.
In 1994, it seems that 27% attended church, according to study by the University of Notre Dame.
In 2000, the rate was 25%, according to the Fordham study.
Indicative beliefs
70% of all Catholics in the age group 18 to 44 believe the Eucharist is a "symbolic reminder" of Jesus.
90% of lay religious teachers reject church teaching on contraception.
53% believe a Catholic can have an abortion and remain a good Catholic.
65% believe that Catholics may divorce and remarry.
75% believe one can be a good Catholic without attending mass on Sundays.
The decline of the Catholic Church in Latin America
Halfway through the synod on the Eucharist held in the autumn of 2005, Cardinal Hummes said:
"The number of Brazilians who declare themselves Catholics has diminished rapidly, on an average of 1% a year.
In 1991 Catholic Brazilians were nearly 83%, today and according to new studies, they are barely 67%. We wonder with anxiety: how long will Brazil remain a Catholic country?

In conformity with this situation, it has been found that in Brazil there are two Protestant pastors for each Catholic priest, and the majority from the Pentecostal Churches. Many indications show that the same is true for almost all of Latin America and here too we wonder: how long will Latin America remain a Catholic continent?"
The Decline of the Catholic Church in Europe
In 1952 the Spanish Church had 7,052 seminarians. In 2002 it had 1,797.

In1980 the French Church had about 35,000 priests. In 2000 this had declined to 19,000.

In 1989 the German Church had 297 priestly ordinations. In 2002 it had 131.
In 1989 the German Church had 1,667 seminarians. In 2002 it had 1,035.
The decline of the Catholic Church in Ireland
A survey conducted by the RTE broadcast network in 2006 found that 13% of Irish people attend daily Mass, and another 35% go to Mass every Sunday. The total of 48% attending Mass at least weekly represents a sharp drop from 1990, when a survey put the figure at 81%. However, RTE reported that a steady decline in Mass attendance over the past 15 years appears to have leveled off. The survey showed that 60% of respondents identified themselves are "religious."
The decline of the Catholic Church in Scotland
Edinburgh, Jun. 12, 2006 (CNA) -
The Cardinal Archbishop of Edinburgh has announced the need to close parishes in light of a significant priest shortage and declining church attendance. "The fact remains: we are not producing enough home-grown Scottish priests. That is the root of the problem," he said. The number of active priests in the Edinburgh diocese is expected to fall from 63 to 34 in 10 years. The average age of priests in Scotland is above 60, and there are very few new vocations. Furthermore, religious practice has dropped. The number of practicing Catholics is a little more than 200,000; down 20 percent since the mid-1990s. In the last decade, the number of Catholic couples in Edinburgh baptizing their children has also dropped, from 1,910 to 1,075.
The decline of the Catholic Church in England and Wales
It is manifest that the practice rate started to drop at exactly the time that the Novus Ordo Missae was introduced, and has continued to decline at the same steady rate ever since. My figures are taken from the official website of the Church in England and Wales. At the present rate of decline, the number of people attending Mass on Sundays will drop to zero in 2035.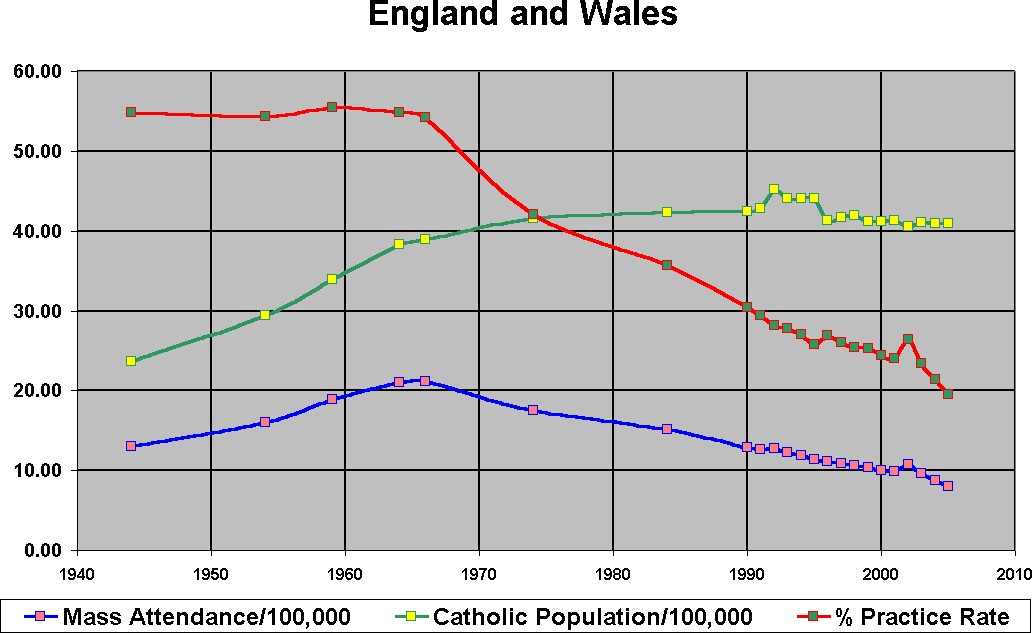 The official Catholic Directory of England and Wales documents a steady increase in every important aspect of Catholic life until the mid-sixties: then the decline sets in. The figures for marriages and baptisms are not simply alarming, but disastrous. In 1944 there were 30,946 marriages, by 1964 the figure had risen to 45,592: but by 2003 it had plunged to 11,013, little more than one third of the figure for 1944. The figures for baptisms for the same years are 71,604 (1944), 137,673 (1964), and 56,180 (2003). Nor can it be presumed that even half the children who are baptized will be practicing their faith by the time they reach their teens. An examination of the figures for a typical diocese indicates that less than half the children who are baptized are confirmed, and a report in The Universe as long ago as 1990 gave an estimate of only 11% of young Catholics practicing their faith when they leave high school.



A study carried out by Anthony Spencer of the Pastoral Research Centre covering period from 1963 to 1991 has found that:
Mass attendance has slumped by 40 per cent,
Baptisms by 50 per cent,
Marriages by 60 per cent,
Confirmations by 60 per cent,
Convertions fell by 55 per cent
First Communions by nearly 40 per cent.
It describes these figures as the "greatest pastoral and demographic catastrophe" since the Reformation of the 16th century. Mr Spencer collated the figures from statistics gathered by parish priests and dioceses, and published by the Church since 1911.

In a separate publication, a former senior press officer for the Catholic Bishops' Conference has called for better strategic thinking to lift the Church out of crisis in this country. In "The Future of the Catholic Church in Britain", Tom Horwood said:
"The Church in Britain is suffering from a terminal decline in membership, irregular commitment among the remnant, and, in the wake of persistent child abuse scandals, a leadership of bishops and priests that has toppled from its pedestal with a mighty crash."
Mr Horwood's book calls for "fundamental changes of attitudes and behaviour" and more effective leadership. It accuses Bishops of an "inability to set a clear direction", and emphasises the need for "straight-talking honesty".
"It is clear that if the Catholic Church in Britain is to successfully communicate its messages and persuade an increasingly secular and cynical audience it must change its approach. Reactionary, defensive tactics have failed. The Church needs to become more of a proactive and positive force for building community in fragmented, 21st-century British society."