Anime - Yu-Gi-Oh! Zexal - The Story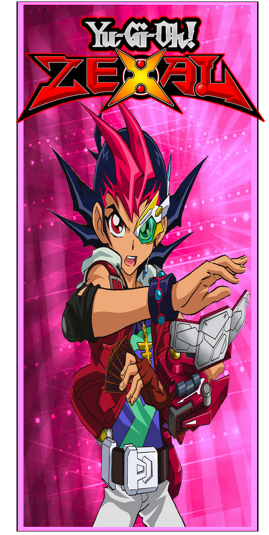 The series is set in a city in the near future, Heartland City. In this era, children and adults enjoy Augmented Reality Duels. Augmented Reality Duels are Duels that use Duel Gazers and D-Pads, which when the two are used together, whether on the ground or in the sky, cause monsters to erupt from buildings and fight each other. The hero is Yuma Tsukumo.

At a beginner level, he's a champion at absolutely losing. Due to a chain of events, Yuma ends up challenging the number one delinquent at his school, Reginald. His destiny is changed by a bizarre door he's seen in his dreams. When Yuma unlocks this sealed door, countless lights fly from it and escape. And when Yuma comes to, he sees the mysterious entity, Astral, who came from a parallel universe, standing before him.

In order to regain Astral's lost memories, the flying lights from the door that have turned into the 99 "Numbers" cards, these two must work together. A series of mysterious and powerful rivals begin to appear before Yuma and Astral including a young boy named Kite Tenjo, revenge-seeking Vetrix and the maniacal Dr. Faker.

The curtain falls on the World Duel Carnival, peace has finally returned to Heartland City. But now, emissaries from the Barian World, hostile to the Astral World, are aiming to steal the "Numbers" and Astral for themselves. In order to protect him, Yuma, Kite and Shark join together to combat the Barian menace, as they ultimately become involved in the Interdimensional War of two worlds.

When the memories of Shark's past life, Nash, are awakened, he decides to lead the Barians against Astral World. With Nash restored to the throne and Earth fusing with the Barian World, the Seven Barian Emperors decide to invade Earth for the final battle. When Yuma and Nash finally confront each other, their duel will end the Interdimensional War in the most unexpected way...