GERMAN PINSCHERS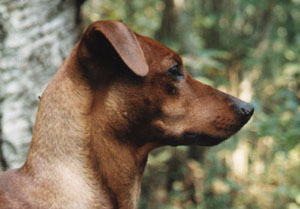 Head is the point for pinschers!
Finnish Champion Of Leijliden Gregory
Pedigree
My German pinscher progenitor dogs had basic German origin, in which Jutta Jung, used in recovery of the German pinscher breed, appears in fourth generation.
Combination Benno v. Allergrund (pedigree) - Julia (pedigree) I repeated in order to get many good individuals for further breeding, from which I could disperse breeding material into separate lines.
I have brought breeding material from Germany, Kennel Von Haingrabens Lord, Quency and Quino v. Haingraben, from France Inox de la Capelliere and from Denmark Vedhauge Kivi.
Today I´m making an effort to develop also the black colour in German pinschers and miniature pinschers as well.
My aim is to maintain the correct pinscher type, in which there is a correct shaped head and body structure in a mentally sound dog.
-Doris Leijonqvist-



RESULTS

Our team makes us happy with fantastic results:

Of Leijliden Arambo Photo
Kouvola 2000 CAC BOB
Porvoo 2001 CAC BOB
Of Leijliden Catalina Photo
FinCH, CAC in Helsinki 2000 BOB, Kouvola 2000 BOS, Orimattila 2001 BOB
Kotka 2001 BOB
St.Pietari Int 2001 BOS CACIB CAC RusCH, Belye Nochi Winner
Tuusula NordW-Show 2001 BB2 Res-CACIB
Of Leijliden Claudia Photo
Eurajoki 2001 CAC BOB
Tampere 2001 CAC BOB
Of Leijliden Daddy´s Girl Photo
Fin&EstCh, CAC in Porvoo 2000, Tampere 2001, Kouvola 2001, Tallin 2001
SSPK Club Specialty 2001 BOS
Tuusula NordW-Show 2001 BB4
Tallinna Int 2001 BOB CACIB CAC
Lahti Int 2002 BOB CACIB
Tallinn Int 2002 BOS CACIB
St. Petersburg, Russia, Int 2003 BOS CACIB CAC Nevsky Winner-03 RusCH IntCH
Of Leijliden Dark Dracula Photo
FinCh, CAC in Turku Int 2001, Tampere Int 2001, Tampere 2001
Of Leijliden Diamond Diana
Lieto 2001 BOS CAC
Of Leijliden Frida
Helsinki Int 2001 CAC
Forssa Int 2002 CAC
Hyvinkää 2003 BOB CAC FinCH
Of Leijliden Furry
Oulu Int 2001 CAC
Of Leijliden Galaxina Photo
St.Petersburg 03-2001 BOB-Puppy
St.Petersburg 03-2001 BOB-Puppy, BIS2-Puppy
St.Petersburg 05-2001 BOB-Puppy
Moscow ISPU-SHOW 2001: BOB-Puppy
Kaliningrad Int 2001 BOB-Puppy
St.Petersburg 05-2002 BOB Champion of Russian Working Dog Federation
Belye Nochi Int, St.Petersburg 06-2002 BOB CAC CACIB
Kaliningrad Int 07-2002 BOB CAC CACIB
Velikij Novgorod Int 08-2002 BOB CAC CACIB
Minsk 09-2002 BOB CAC Belo-Russian Champion
Festival Kinologii St.Petersburg 09-2002 BOB CAC
Christmas Show St.Petersburg 01-2003 BOB CAC
St.Petersburg Show Dog 2002-ranking: 9th place
Kohtla-Järvi, Estonia 01-2003 BOB CAC Estonian Champion
Of Leijliden Grazia Photo
Club Specialty 2002 BB4
Of Leijliden Harmoni
Club Specialty 2002 BB3 CAC
Oulu Int 2002 BB2 CAC Res-CACIB
Seinäjoki 2002 BOB
Turku Int 2003 BOS CAC CACIB
Tampere Int 2003 CAC FinCHAMPION Res-Cacib
Of Leijliden Hendrika Photo
Hollola 2001 BOS-Puppy

St.Petersburg Newsky Winner 2001 BOB-Puppy
Of Leijliden Hertzman Photo
Hollola 2001 BOB-Puppy
Helsinki Int 2001 JuniorWinner-01 CAC
Lahti Int 2002 BOS CAC
Hamina 2002 BOB
Forssa Int 2002 BOB CACIB
Turku Int 2003 BD2 CAC Res-CACIB
Tampere Int 2003 BOS CAC FinCHAMPION CACIB
Ståckholm SSPK Specialty 2003 CAC S CH
Västerås Int 2003 BOB CACIB
St. Petersburg Int 2003 ResCACIB CAC RusCH IntCH
Turku Int 2004 BD4 Res-CACIB
Porvoo 2004 BOB
Helsinki Int 2004 WINNER-04 BOB CACIB
Of Leijliden Izellah Photo
Lohja 2002 BOS CAC
Porvoo 2004 BB2 CAC
Helsinki 2004 BOB CAC FinCH
Of Leijliden Julia Photo
Tallin Int 2002 Junior-CAC
Espoo SSPK 2003 CAC
Helsinki SSPK 2003 CAC
Lohja 2003 BOS CAC
Porvoo 2003 CAC
Turku Int 2004 BB2 ResCACIB CAC FinMVA
2nd Club Specialty 2004 BB2
Of Leijliden Little Sniff
Barcelona EV 2004 European Junior Winner-04
2nd Club Specialty 2004 CAC
Helsinki Int 2004 CAC
Of Leijliden Nefertiti Photo
Hyvinkaa 2004 BOB-Puppy
Riihimaki 2004 BOB-Puppy
Lahti 2004 BOB-Puppy
Jyvaskyla KV 2004 BOB-Puppy
Helsinki Konala 2004 BOB-Puppy
Espoo 2004 BOB-Puppy
Helsinki Arabia 2004 BOB-Puppy
Of Leijliden Nora
2. Club Specialty 2004 BOB-Puppy BIS4-Puppy
Of Leijliden No Speed Limits Kuva
Leppavirta 2003 BOB BOB-Vet
Of Leijliden Ophelia
Helsinki Int 2004 BOB-Puppy
Of Leijliden Quella Julia Photo
St.Petersburg 03-2001 BOB RusCh
Novgorod Int 2001 BOB CACIB
St.Petersburg 05-2001 BOB-Vet BIS-Vet3
St.Petersburg 05-2001 BOB-Vet BIS-Vet4
Moscow ISPU-SHOW 2001 BOS, ISPU-Winner 2001,
Champion of Russian Schnauzer-Pinscher Union
Espoo Let´s go 2001 BOB BOB-Vet
St.Petersburg Int Newsky Winner-2001 BOB-Veteran
Helsinki Aptus Show 2002 BOB BOB-VET
Helsinki Spring Show 2002 BOS BOB-VET
Finnish Schnauzer-Pinscher Specialty 2002 BB2
Tallinn Int 2002 BB2 Res-CACIB CAC Estonian Champion
Tampere Int 2003 BOB-VET
Hamina 2003 BOB BOB-Vet
Helsinki 2003 BOS BOB-Vet
Porvoo 2003 BOB BOB-Vet
Veteran of the Year 2003, Finnish Pinscher Club
Pilsner Power-team in agility Photo
Breed-Team members : Of Leijliden Best Design (Siru), Zarlino (Dino), Be My Best (Vilma) ja Quella Julia (Juli)
Mikkeli Agi-Rotu 1999, 5.
Vääksy Agi-Rotu 2000, ?. (Roke replaced Vilma)
Lappeenranta Agi-Rotu 2001, 60.
Janakkala Agi-Rotu 2002, 33.
Jyväskylä Agi-Rotu 2003, 25. (Nappe replaced Juli)

The dogs will speak for themselves: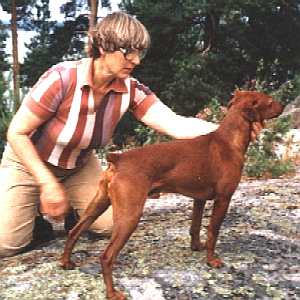 International&Nordic Champion
NordWinner-78-82 FinWinner-76-78-81-82
Of Leijliden Norman
Pedigree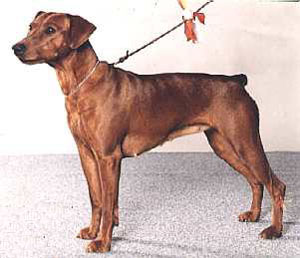 International&Finnish Champion
World Winner-89
NordWinner-84-85-86-87
FinWinner-85-86-88-89-90
Of Leijliden Quella-Donna
Pedigree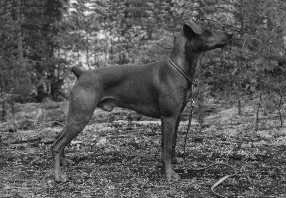 Int&Est&N&S Champion
FinWinner-92-93 NordWinner-94
Of Leijliden Leonardo
Pedigree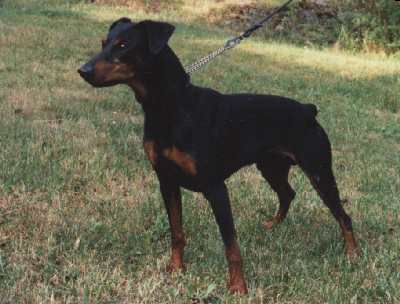 Finnish Champion Of Leijliden Erno
Pedigree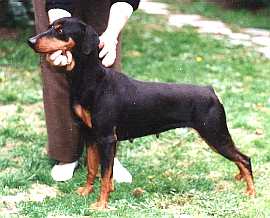 Finnish Champion Nightfall
Pedigree

German pinscher - a versatile breed for many activities
easy-to-groom show dog
agile and long-lived agility dog
rights to participate in working dog competitions
obedience dog for a patient handler
Show
It´s easy to take a German pinscher to a dog show, because with his smooth hair he always looks neat. Anyway it´s necessary to train ring moving and posing. This can be done easily in unofficial match shows, that are often organized in cities. Before the show it´s recommended to check the dog´s nails, ears and teeth, sometimes even a bath is required.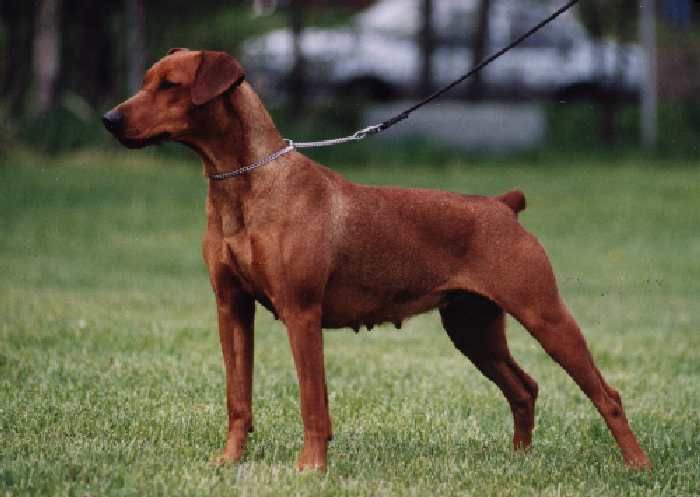 Int&NordChampion NordWinner-97
Of Leijliden Prima-Donna
Pedigree
Agility
In Finland German pinschers have participated in agility training since the beginning of the 90-s. The first finnish pinscher participated in official agility competition in 1992, this was Of Leijliden Wera, who also competed in obedience. In 1992 also started her official agility career Of Leijliden Quella-Julia and she is still going on in year 2000 with her age of 10.
Agility team "Pilsner Power" with it´s four Of Leijliden-pinschers took part in a big agility event AGIROTU1999 and took the 5th place. In AGIROTU2000 there were already two and 2001 three pinscher teams - so it can be said, that German pinschers are capturing their place in Finnish agility.
Finnish Pinscher Club founded a prize for "Agility Dog of Year" in 1998. First to get this title was Of Leijliden Quella Julia. In year 2000 title was awarded to Of Leijliden Best Design and 2001 to Of Leijliden Zarlino. Animation 1 Animation 2

Pinschers give their own colour to agility competitions with their joyful and brisk performances. When no faults are made pinschers always compete of the best placements because of their great speed. For the handler it´s not so easy to keep up with his pinscher...
In year 2000 following pinschers have achieved Agility Certificate:
Of Leijliden Quella Julia "Juli"
Of Leijliden Zarlino "Dino"
Of Leijliden Be My Best "Vilma"
Of Leijliden Best Design "Siru"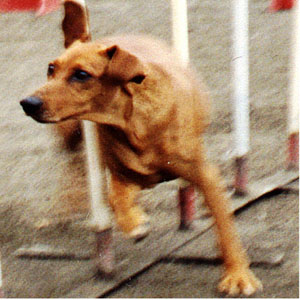 Agility Dog of the Year 1998
by the Finnish Pinscher Club
Fin&Rus&Est&RSPU Champion Finnsieger ISPU-Sieger2001
Of Leijliden Quella Julia
Pedigree
Obedience
A German pinscher is suitable also for obedience training, because of it´s intelligence and eagerness to learn. Due to pinschers liveliness it´s important to train obedience only in small doses in order not to frustrate the dog. This requires a handler with lots of patience!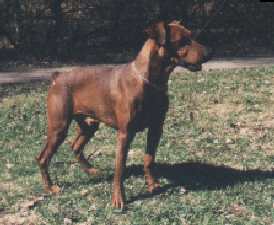 Finnish Champion NordWinner-97
Of Leijliden Qing Fransman
Pedigree
Working dog
The breed got rights to participate in the working dog competitions in the 90-s. Track, search or relay sound suitable for a German Pinscher. For the handler the hardest part may be the obedience test required for competition.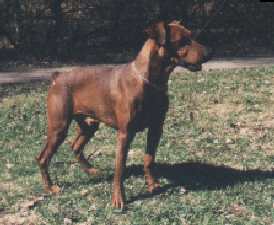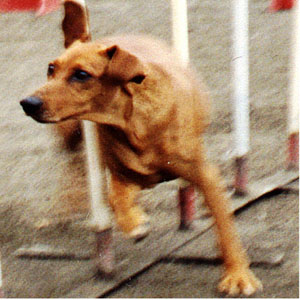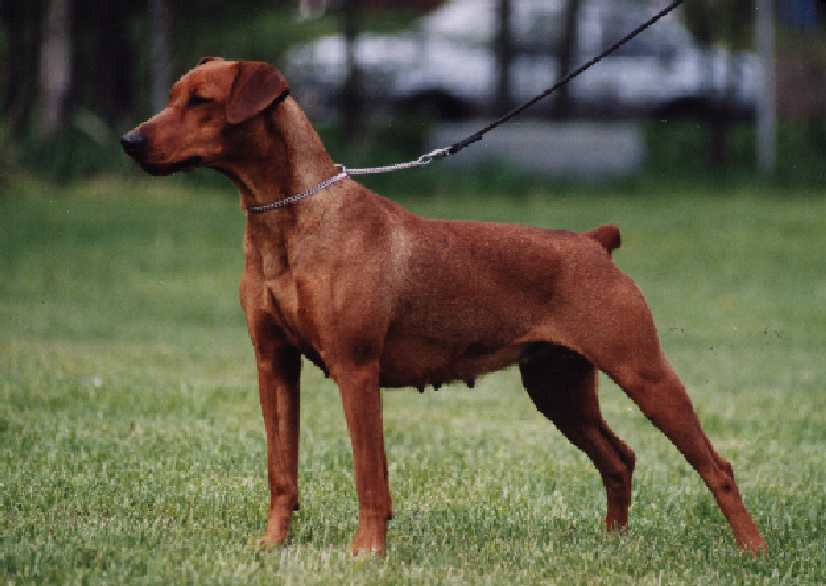 "Pinscher is passionate both in love and hate."