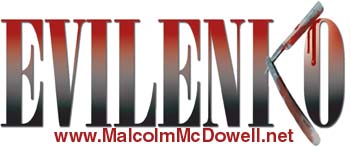 If you are looking for a VHS or R0 DVD copy of the film contact me.
Cast | Articles | David's Introduction | DVD | History | Interviews | Notes | Pictures | Mini Reviews | Press Release | Q&A with David, Malcolm & Marton | Quotes | Stories | My Summary | My Review | Together Before
| | |
| --- | --- |
| Character | Actor |
| Andrej Romanovic Evilenko | Malcolm McDowell |
| Vadim Timurovic Lesiev | Martin Csokas |
| Aron Richter | Ronald Pickup |
| Doctor Amitrin | Ostap Stupka |
| Captain Ramenskij | Alexei Chadyuk |
| Surinov | Adrian Mc Court |
| Fenja | Frances Barber |
| Tabakov | Fabrizio Castellani |
| Pavel Aleksandrov | Manuel Grieco |
| Rulana | Eugenia Gandij |
| Oleg | John Benfield |
| | Thor Ciszkewycz |
| | Frances Barber |
| | Vernon Dobcheff |
| | Giaime Grieco |
| | Camilla Grieco |
| | Francesco Grieco |
| | Fabrizio Castellani |
Written and Directed by David Grieco
By Olga Mysafirova for Komsomolskaya Pravda
Kiev, Ukraine June 2003
Malcolm McDowell: from Chicatilo to Sherlock Holmes

The British cult actor who is best known for playing villains has just celebrated his sixtieth birthday in Kiev by shooting his final scenes in the new film about the serial killer Chicatilo. Have they shot him?
Imagine it. The year is 1986. A schoolteacher named Evilenko (the last name is made up from the English word "evil" and the real name Chicatilo) is discharged from a school and accused of child molesting. Evilenko is a molester and he is a devoted communist, so when Gorbachev begins pushing the communists out of seats of power, Evilenko goes insane. He works at the railroad, squeals on his coworkers then kills, rapes, and eats children in his spare time.
That's what David Grieco's screenplay is like. The Italian journalist attended the real court hearing and wrote a novel titled "The Communist Who Ate Children." Now he is a director, working at the film based on his own novel.

Q: David, what will happen to Evilenko at the end? Will he end just like the real Chicatilo?

A: I don't think that Chicatilo has been executed. More likely, he's been sold.

Q: Sold?

A: In October 1992, the court at first instance sentenced Chicatilo to death. Several months later his lawyers demanded the case to be moved to the court of appeal. However, the trial never took place, and in February 1994 it was announced that the serial killer had been executed. First they said it happened in Novocherkassk, then Rostov. There were no photographs of the execution. Approximately three months earlier Schpigel Magazine stated that two scientific institutes-an American one and a German one-offered huge amounts of money to the Russian officials to get the serial killer to them alive in order to explore his brain tissue. I've been to Moscow recently, I've met Mr. Lujkov, the mayor of Moscow, and he didn't deny the gossip.

Sperm for the rapist

I managed to sneak a glance into the pavilion where the interrogation scene was being filmed. The serial killer wore a blue terrycloth robe and slippers, just like they always did in Soviet prisons. Then the crew began preparations for the "special scenes," and the number of people on the set was reduced.

At that moment, I was interviewing the producer, Mario Kottone.

Q: How much violence is in the film?

A: It's a psychological drama, not a horror flick.

At that moment a crew member walked past us. I asked him what he was doing. "Well," he hesitated. "I'm just carrying some sperm for Mr. McDowell. It's still warm!" Noticing my wide-eyed look, he smiled. "We've just made it. It's boiled rice." Having taken off the serial killer's make-up, McDowell muses on beauty During a break, I was lucky enough to talk with Malcolm McDowell.

Q: The audience knows you as the despotic Caligula and the somber assassin of the tsar from Karen Shahnazarov's movie. But your present character is the absolute embodiment of evil…

A: I don't look at things that way-pure good, pure evil. There is no distinct border between black and white. Yes, I'm playing a serial killer now, but personally I don't find anything about him nice. I'm just playing a character. It's with me only on the set. When I come back to the hotel and have a dinner with my wife, we talk about beautiful things. It's the first time in all my experience when I play a character without using anything of myself. See, here is Evilenko (the actor puts on the glasses, sticks out his bottom lip, and looks awfully similar to Chicatilo). And here is McDowell. I'm a professional. When I get an offer, I accept it or I don't accept it. That's all. Evilenko was an offer I've taken. The next one will be Sherlock Holmes.

Ukraine isn't just a location for McDowell.

"The grandparents of my wife Kelley are emigrants from Ukraine. They came to the USA and went to Minnesota because the weather is the same, hot summers and frosty winters. But their seven brothers have been left here. So my wife should have a lot of relatives in Ukraine, but we have no idea who they are or where they live. They are lost forever, and it's sad."

On Sunday the shooting period in Kiev was finished. The producer and the director hope to introduce the film to the general audience at the film festival in Cannes.
Philadelphia 4/16/05
I would like you to be prepared. It's a serial killer movie, but it's also something else. If somebody heard about the story of the real man, the real name of name is Andrei Romanovich Chikatilo, not Evilenko. Evilenko is just my invention and very cheap too, Evil / enko. It is not his biography. I wrote a novel when I was there 12 years ago during the trail and I wanted to make a movie. I found that the story was more complicated and more interesting than how many he killed. So I decided to write a novel and invent some of it because basically to me it is a political story. I'm telling you because maybe you won't notice it since the film has so many subjects. What was really passionate to me was the fact suddenly communism fell, to millions and millions of people the whole reality fell down. I think he is the absolutely the symbol of what happened. You will see the film and will tell me later on it.
The first version released was Collector's Edition by Dolmen in Italy 10/04
Cover - front
Cover - back
Disc 1
16x9 widescreen 1.85:1
Italian or English Dolby Digital 5.1
Biographies
Trailer
Galleries
DVD-Rom content
Chapters:
1. Prologo (Prologue)
2. A Scuola (At School)
3. Complotto (Conspiracy)
4. Aspettando L'Autobus (Waiting For The Bus)
5. Sul Treno (On The Train)
6. L'Incarico (The Task)
7. Il Testimone (The Witness)
8. Interrogatori (Interrogations)
9. Un Malato Di Mente (His Mind Is Unsound)
10. Sottomissione (Submission)
11. Ai Nostri Figli (To Our Kids)
12. Sono Tuo Padre (I Am Your Father)
13. Paure (Fears)
14. In Caserma (Into Barracks)
15. Troppa Fretta (Too Fast)
16. A Nudo (Naked)
17. Il Diario (The Diary)
18. Segreti (Secrets)
19. Processo (The Trial)
20. Epilogo (Epilog)
Disc 2
Making of dossier about the protagonist by Sky TV
Deleted Scenes
11 interviews
1. David Grieco (Director)
2. Mario Cotone (Producer)
3. Agata Cannizzaro And Benedetta Baiocchi (Costume)
4. Angelo Badalamenti (Music)
5. Malcolm Mcdowell (Actor)
6. Thor Ciszkewycz (Actor)
7. Alessandro Bertolazzi (Make-Up)
8. Alessandro Zamario (Photography)
9. Martin Csokas (Actor)
10. Fabian Cevallos (Scenery)
11. Ronald Pikap (Actor)
US Release 2/7/06
Distributor: TLA Releasing
Running Time: 111 minutes
Format, Sound: Anamorphic widescreen 1.77 format with Dolby Digital 5.1 Sound, 5.1 DTS
Country, Year: Italy/Russia, 2004
Language: English with optional subtitles for hearing impaired
DVD Features: "Dossier: Evilenko" - 30-minute Italian television program on the film and on the original "Evilenko".
Interviews with Cast and Crew:
David Grieco, director
Mario Cotone, producer
Agata Cannizzaro & Benedetta Baiocci, costume designers
Angelo Badalamenti, composer
Malcolm McDowell, actor
Ihor Ciszkewycz, actor
Alessandro Bertolazzi, Make-up Artist
Fabio Zamarion, Director of Photography
Marton Czokas, actor
Fabion Cevallos, Scene Photographer
Ronald Pickup, actor
Chapter selection (chapter titles are names, ages and death dates of victims)
Original EVILENKO theatrical trailer
TLA Releasing trailers
Genre: Thriller, Rating: not rated
The film is about the true story of Andrei Chikatilo who sexually molested and murdered over 50 women and children in Russia, Ukraine and Central Asia in the Soviet era from 1982 until 1990. The Russian investigation teams technology was archaic in nature, so it made it more difficult to catch killers. They didn't publicize the kills, fearing panic and embarrassment. The men in charge of the investigation were Viktor Burakov and Colonel Fetisov. Three more victims were found stabbed many times and they also had knife wounds in the eye sockets. Burakov and Fetisov, meanwhile were linking the cases showing that the killer started with girls, but added young boys to his list of victims. Burakov and Fetisov thought that the killer lured his victims at the train station in town. The stations were then monitored by plain-clothes detectives, looking for any suspicious behavior or anyone talking to young boys or girls. Chikatilo told how he got sexual gratification from murdering and mutilation, and he also told of cannibalism. Chikatilo admitted to at least 53 murders and also led police to some undiscovered victims.
He was executed on February 14, 1994, in a penitentiary in the Rostov region. The investigation into his capture lasted for five years. David Grieco attended the Chikatilo trial as a journalist and got an idea for his book from which the film is based. Chikatilo stayed at the investigation center in the vicinity of Novocherkassk after his death sentence had been pronounced in October 1992. His appeal to Boris Yeltsin, then Russia's President, was turned down a week before the execution.
6/15/05 - My Second Exclusive Interview with David Grieco
4/2/05 Exclusive translation of Malcolm with Anna Zippel in Italy
12/19/04 My Exclusive Interview with David Grieco
11/04 Exclusive translation of the official Italian Interview
4/16/04 Exclusive Translation of an interview with Malcolm in Italy
4/04 Exclusive translation of an Italian newspaper with David Grieco
5/04 Italian Newspaper with Malcolm and David Grieco
6/17/03 Kiev Newspaper with Malcolm
5/15/03 Kiev Newspaper with Malcolm
Malcolm returned to the Ukraine for the first time since Assassin of the Tsar on May 15, 2003 to star in this film about a Russian serial killer.

It is directed by one of Malcolm's best friends David Grieco (based on the writer's own novel "The Communist who ate Children"). This project has been in the works for Malcolm since 1998.

Shooting was in Kiev, which is in the Ukraine and not in Russia. It is not such a nice area as they don't even have a regular hot water supply in that city.

A movie was made about the case before called "Citizen X".

Filming lasted 26 days, until the end of June 2003.

Score by Angelo Badalamenti, Dolores O'Riordan sang "Angels Go to Heaven".

The film is dedicated to Lindsay Anderson.

Premiered in Italy 4/16/04.

Made $175,000 in it's 1st week in Italy.

Played at the 52nd San Sebastian Film Festival.

Played at the 24th Fantafestival in Rome 10/18/04 and won the Silver Méličs Award for Best Film.

Played at the Brussels Festival of Fantasy, Thriller & Sci-Fi Films.

Won the most important prize in Barcelona at the Noir Film Festival 10/04.

Played at the 12th Annual Hamptons International Film Festival 10/23/04.

Played at the San Francisco Intl Film Festival 11/20/04, 9:30 PM w/David Grieco in attendance.

Played at the N.I.C.E. film festival in NYC 11/04 w/David Grieco in attendance.

Then regular screenings at the Angelika Theatre in NYC.

Played at the Tiburon Film Festival 3/05 with Malcolm and Marton Csokas doing a Q&A where it won the Golden Reel Award for Best Director.

Played at the Festival de Cine Fantástico de Malaga 2005.

Played at the Manresa International Festival of Film Noir 2005

Played at the Munich Fantasy Filmfest 2005

Played at the Copenhagen NatFilm Festival 2005

Played at the 14th Philadelphia Film Festival 4/16/05, one year after it's Italian premiere with Malcolm, David Grieco and Marton Csokas doing a Q&A together for the first time. It played again on 4/17, this time with only David & Marton for the Q&A.

Played at the San Sebastian Horror and Fantasy Film Festival 2005

Played at the St. Petersburg Film Festival 2005

The Russian bootleg DVD has this tagline: "the real story and the butcher of Rostov goes hunting..."

Played at the Pioneer Theater in NYC 2/6/06 with Malcolm, David Grieco and composer Angelo Badalamenti in person.
Behind the scenes
Exclusive - Malcolm in character with wig having a drink in his trailer
Exclusive - Chikatilo in a cell during the trial
Exclusive - Malcolm in character on the set sitting on a bench 6/7/03
Malcolm on the set in bathrobe, screaming and bloody
Chikatilo walking down a road with a boy
Chikatilo close-up
Movie
Chikatilo eating with police behind him
Memorabilia
Poster
Philly Fest Ticket Stub
Premiere Magazine DVD Ad - March 2006
Philly Fest 2005
David Grieco during his intro
David, Malcolm and Marton at start of Q&A
Bizarre Russian views
"Just came back from the St. Petersburg festival of Italian cinema. I watched an eccentric comedy Evilenko by some unknown Italian director. I thought it was well-directed, esp. for a first timer (I wouldn't guess!), and McDowell rules as always, but unfortunately, it wasn't really funny. I had thought it would be more like Kill Bill."

"It was pretty good, seems they had a consultant too. It was classy that they didn't have too much blood, since everyone goes for gore now. But the casting was off. I mean, that actor is too good looking even though he is older than the real guy, I couldn't believe he was a serial killer who murdered people because he didn't get enough sex. They should have found someone else, wearing the nasty glasses isn't enough. and the second guy was too pretty too."
Inside scoop
I think this movie is going to be major somehow. There is a scene between Malcolm and Marton Csokas that is so powerful, it will blow you away. I think it is Malcolms' best work in years. It ranks up there with ACO. It was filmed so beautifully like a Francis Bacon painting. The cast saw a rough cut of the film the other night and it is amazing. Malcolm thinks it is the best thing he has done for the last 15, 20 years. It is mesmerizing. Just wait till you see it. - Big K.
Philadelphia, January 29, 2006 - TLA Releasing brings the award-winning psychological horror film Evilenko, starring Malcolm McDowell in a tour-de-force performance, out on DVD in a deluxe 2-disc edition. Written and directed by David Grieco and based on the true story of a notorious Russian serial killer, Evilenko co-stars Marton Csokas and Ronald Pickup and features an original score by Angelo Badalamenti.
A joint Italian-Russian production, Evilenko has screened at over a dozen film festivals around the world, picking up the Best Film Award at the FantaFestival in Rome and Best Director Award at the Tiburon International Film Festival. The street date is February 7, 2006, and the DVD edition includes a 30-minute featurette on the real-life basis for the film and nearly ninety minutes of interviews with the cast and crew.
The Film: In 1992, Russian police arrested a former schoolteacher named Andrej Romanovic Chikatilo, accusing him of raping, murdering and cannibalizing 55 children and young women. Italian journalist-filmmaker David Grieco followed the story and turned it first into a novel, "The Communist Who Ate Children," then a screenplay, which became the film Evilenko (Italy/Russia, 2004, 111 minutes, in English).
McDowell plays Evilenko, a fanatical communist and pedophile who turns his rage at the dissolution of his beloved Soviet Union against children. His hypnotic eyes and soft voice lure his victims into the woods, where he commits horrific acts of brutality (that are all kept off-camera). Assigned to track him down is the police detective Lesiev (Csokas) who enlists the aid of psychoanalyst Aron Richter (Pickup). Richter gets too close and is himself cut down by Evilenko, so it is left to Lesiev to bring Evilenko in. The film builds to a final psychological showdown between hunter and hunted that strips them bare - emotionally and physically - in a police interrogation room.
Filmmakers: Born in Rome, David Grieco has worked in the entertainment industry at almost every level. After a turn at acting, he served as assistant director to such legends as Pasolini and Bertolucci and wrote numerous screenplays. In his role as journalist, he created the Italian radio program "Hollywood Party" that is still on the air after twelve years, and he has produced, directed and hosted numerous television programs. Evilenko marks his directorial debut for a feature film, and it earned him a David Di Donatello nomination (the Italian Academy Award) for Best New Director.
To musically express the hypnotic power of Evilenko's eyes, Grieco turned to composer Angelo Badalamenti. Best known for his collaborations with David Lynch, Badalamenti has written the scores for Lynch's "Twin Peaks," Wild At Heart, Lost Highway and Mulholland Drive. Other scores include "The Last Don," "Secretary" and "Inside the Actors Studio." Evilenko's theme song "Angels go to Heaven" is composed and sung by Dolores O'Riordan of The Cranberries.
Cast: Since embodying the young arrogant rebel of the 60s in Lindsay Anderson's IF… and Stanley Kubrick's A Clockwork Orange, Malcolm McDowell has been one of the most prolific, versatile and respected actors of our time, playing nearly 150 roles, ranging from Caligula to the man who killed Captain Kirk. Most recently he has appeared in USA's "Monk" and HBO's "Entourage."
As Evilenko's nemesis, New Zealand-born actor Marton Czokas began his career with roles in "Xena: Warrior Princess" and other projects before achieving international stardom as Celeborn in The Lord Of The Rings trilogy. Since then he has appeared in The Bourne Supremacy, xXx, Kingdom Of Heaven, Aeon Flux and other films.
DVD Release: The retail price for Evilenko is $19.99, and the street date is February 7, 2006. It is presented in anamorphic widescreen 1.77 format with Dolby Digital 5.1 Sound, 5.1 DTS, and optional English subtitles for the hearing impaired. TLA Releasing is bringing Evilenko out on its first-ever deluxe two-disc set. The first disc has the feature film, and the chapters are labeled with the names, ages and dates of deaths of Evilenko's victims. The second disc features a documentary on the real-life "Evilenko" made for Italian television, nearly 90 minutes of interviews with the cast and crew, and the original trailer.
Evilenko can be purchased at the TLA Video Web site at a discount - www.tlavideo.com - or through such major retailers as amazon.com, Borders Books and Music, F.Y.E., Suncoast, Tower Records and Virgin Megastores. For more information, visit www.tlareleasing.com
Philadelphia 4/16/05
David Grieco: You gave it to me? I see a hand.

Q: Did they actually catch Cikatilo and let him go?

DG: They caught him, he had a trial...
Malcolm McDowell: They arrested him early on and let him go.
DG: Yes, this is another story that will take long.
MM: Forget it, just answer his question.
DG: Anyway he got the death penalty. He was waiting for another trial, they said yes and suddenly they said they killed him. One month before in Der Spiegel, the German magazine said a group of Americans and Europeans went straight to Moscow and wanted to buy him. Nobody ever saw his body, nobody knew what happened. They said they killed him in a place called Novacheckscast, where he was living out of Rostov. I've been there and there's not even a bar. So, I don't think they killed him in the street.
Q: Did they arrest him and let him go before the trial?
DG: Yes, absolutely, twice. They arrested him for the first murder, but he was very lucky because they arrested another man nearby nearby where the girl was killed. This guy was just out of jail, when he was 14 he raped and killed his teacher, so they decided he was the one. After six years they decided maybe Cikatilo was the guilty one, so they brought him to jail and said he stole some linoleum. Then he was in that prison...
(Suddenly the microphone picks up another signal)
MM: Did somebody order a taxi?

DG: Anyway, he went in twice.
MM: Just answer 'yes.'
DG: Yes. Thank you. This is broken I think? Now, it works, OK.
Q: For Malcolm, You've played some disturbed and disturbing characters in the past...
MM: I would certainly have to argue with that. I'm a fairly disturbed fellow myself, so don't get too close, especially with this carpet. It seems to be rising up and hitting me in the eyes. Who picked the color scheme here? Are they blind? Anyway, stand up, stand up, let's know who you are for god's sake!
Q: Compared to the other characters you've played how did you wrap yourself around the character because you scared me.
MM: Yes, good! Turn around. What's that mess on your pants? Listen, if you had to work with Marton Csokas and David Grieco believe you me, that's enough study on being a psychotic. You know, no, I didn't. It's interesting that you should say that. It's really an intuitive performance. When I say intuitive, David gave me 8 hours of tapes, which to be honest I never looked at. I can admit that now, of the real guy. I'm not playing the real guy, so what's the point? However, I will that say at the very, very end of these tapes that were running as I was walking in and out of the apartment I had in Kiev as we were shooting the film, I suddenly saw this man Cikatilo, the real man, in a cage, as you saw here, just in that real cage. He turned and looked at the camera and just sort of went with a sort of goofy look and I went (snaps fingers) that's how I play it. So that 8 hours of tapes he gave me really paid off.
Q: As a follow up, was the walk you had taken from the real man?
MM: No, that was the first day. The first shot of the film was on this bus, me watching and seeing this young girl. I had to cross the road, so I better come up with a walk. So I went up to David and and I did this. He said, that seems fine to me. The hands (curling up) and pain of this character is all in the hands. It just sort of came. (More mic interference) These bloody phones, I don't know what's going on. It sort of evolved, but it was open to anything. I didn't go to psychiatrists or any of that bullshit. I'm not a method actor, not there's anything wrong with that. It's not my way. Does that answer your question? Great. Yes?
Q: For Marton, how did you get involved in this project and what did you bring to the role from your background and experience?
MM: Good, here.
MC: (Laughs) The first one, a big stroke of luck really, I think David is equipped to answer that really.
DG: I can answer. At your place...(mic goes out again) I hadn't seen him, first I had a call from him. I was in Rome, he read the script and we spoke for more than an hour. He understood the script so well and the place where the story takes place. He has a completely unconscious background, because he was of Hungarian origin. We started to talk about Soviet films and he knew a lot a bout it. At the end of this conversation I said, 'Marton, I don't know if you'll be able to do this film.' Because he had so many offers. I am really pleased we had this conversation because it's quite rare that an actor can go through this kind of subject which is so exotic for someone who is from America or Australia or New Zealand. I think I answered in some way like you would, because I know you would never remember this conversation.
MM: If he's boring you...sorry.
MC: We had an extensive conversation and had an affinity with all the work that was done in the script, that's where everything was sourced. It was relatively easy. As for my background, it was all on the page and David wrote the script, so there you are.
Q: Has the film been shown in Ukraine or Russia yet?
DG: In the Ukraine, not yet. In Russia yes. He's Italian, we can talk in Italian. It's been shown in Moscow and St. Petersburg, but just for two days in a festival. I have not been there. I must tell you I was a little bit scared to go there and I was right. In Moscow they argued and fought with their hands pro and against. The film will be released in Russia, but I don't know when it's going to happen. I don't want to know.
MM: Don't worry, I'm sure the film has been pirated.
DG: Yes, already. Everybody has seen it in the Ukraine and Russia in the underground, the streets, you can buy it everywhere. It's in China, this is new to you (Malcolm), it's one of the best sellers on DVD, we'll never get a penny, but anyway.
Q: I thought the film was very interesting. I can see that you might be open to accusation for making a deeply conservative film and making too simple of a connection to the fall of organized communism and metal illness and doing something along the lines of...
DG: Thank you. It's like 12 films for the price of 1.
Q: I'm sure you've gotten some accusations.
DG: No, I was waiting for this and maybe this is the first time. No, because I met a lot of Russians everywhere I go in the world. The only accusation they make is 'we are not like that and this could happen anywhere in the world, not just in Russia.' This is the only thing they used to say. I was waiting for that, but it never happened.
Q: Were there any scenes that were particularly difficult to shot?
DG: You must ask them. Like the scene where they are naked really started in a funny way. There were rumors on the set for weeks that they are going to have something on...
MM: Sex.
DG: No, not sex. That they won't be totally naked. Everyone was saying this during the day. Then when we went for it...you should tell this.
MM: I had done months of training in the gym. Then he makes me be naked next to this bastard here (Marton) who's worked out every day of his fucking life! That is one of the most remarkable things I've shot in my career. I must say and he knows this, Marton was a great sport, great all around actually. He had quite a nice ass didn't he? It was kind of weird, I was teasing him a bit because there was one point when Evilenko goes up and you think he was going to kiss him and then I take a piece out of his neck. I don't think he knew what the hell coming. I think it is an incredible scene actually. It is one of the most extraordinary scenes I've been in as an actor. It will always be there for the rest of our lives.
(He hands the microphone to Marton who acts like he's wiping a tear, shakes his head and gives it back to MM.)
MM: Enough said there I think. Well, I will say one thing. I was going through the script with David and I said, 'This bloody film is so long for god's sake, give me the pen. Let's take some of this out.' What's all this nonsense about lions and stuff? Out! Cut!' Then Marton comes in and I said 'we've got some great cuts, thank god for that.' He said, 'Anything of mine?' I know what he's thinking. No, we haven't touched yours yet. Well, every actor would, wouldn't they? He said, 'What did you cut?" I said all that nonsense about the communist and the lion, I don't know what the hell that meant anyway and he says, 'DON'T cut that! That's one of the best things in the script.' We sort of looked at each other and I mean he (David) wrote it and he was prepared to see it cut.
DG: That's totally true.
MM: And we went, 'ooh, oh alright Marton we'll put it back.' And he was absolutely right actually. Thank god he came in with sanity. I don't know what it means to this day.
DG: But you like it.
MM: Yeah, for some extraordinary reason just saying those words in that sort of position and circumstance made it very extraordinary. Something about this man's father and all that made him an extraordinary character in many ways. He was so genuinely screwed up, deeply, deeply gone on another planet. He was really a true character. So we'll come back to your question. The truth is that the inept police work by the Soviet authorities was beyond staggering. It was beyond frightening. Their attitude was, 'we can't possibly have a serial killer, that's an American disease. We are the Soviet Union. There's no way a citizen of our system would ever behave like that.' Just sheer and pure ignorance. This man's sperm count was not the same as his blood count. It's one of the rare instances, it's 1 in a million that they are not the same and he got away with it because of that. Certainly he admitted to killing 57 people, children mainly, but it's probably nearer to 100.
DG: Yes, he just stopped talking.
MM: He got bored with the judge and he said, "Right, I'm not answering."
DG: The judge said 'just go quick, quickly, quickly.' Because he was disgusted. He said OK, you don't understand.
MM: Hurry up. 'I'm not doing it, so that's it.'
Q: What's the rating for this film?
MM: PG.
DG: In Italy it is 'all audiences'. You would never believe it.
MM: In Italy in 20 years time if there is a spate of serial killings, you'll know why. Yes?
Q: You mentioned the strong reaction it's getting in Russia. What have you heard from people in the United States about the film since we have no information on the real man like the Russians do.
DG: No, you have a lot of information. They had no information at all. I think you are totally informed on these kind of things. But there, there was absolutely nothing. They finally got the man in 1990 and the trial started in the beginning of May, 1992. The people in the rest of the world knew this man existed. The first day of the trial they didn't even say they got him when they did. Not even when they made all the research. So can you imagine having no information at all? It's still like this. I think you heard two summers ago that there was a serial killer in Moscow killing women, and you never heard what happened after that.
MM: He moved to Philadelphia.
DG: I think you can't compare them.
Q: The scene in which the soldier goes mad, was that based on a real event?
DG: No, it was invented. What is real is when the soldier doesn't remember he stopped him.
Q: So his madness was representative to the response of many people?
DG: Yes.
Q: What interested Malcolm and Marton in getting involved in the film?
MM: We are very old friends. David wrote a book called "The Communist Who Ate Children." Not a comedy. It was about this man and I had a house in Italy and we used to meet every Summer and I'd come with my children. I encouraged him to write the script. I said 'well you're going to direct it of course because nobody else could direct that.' So I read the script after it appeared one year in English and I went, 'wow, whoever plays this, frankly you are going to have to get rid of the rape of that child in the first five minutes. You can't possibly carry on after that. The poor actor who plays Evilenko is dead in the water.' I came out next year and the scene was still there. I sort of mentioned it again, mumbled it. We read it on my terrace. I noticed the next year I came out it was still in the script. I figured, well you know he must really want it there. When I finally came to shoot it I could've killed him because it was not an easy scene to shoot, the whole scene with this child. I must say though that this child could chew me up and spit me out. She was a real hard boiled Australian. She was quite a girl and her mother was quite something too as I remember, right? We said 'there are men like this' and she said, "No problem."
DG: 'I know that'.
MM: Yeah, 'I know all about men like that, nasty men like that.' You do hmm? OK. That whole sequence was shot that day, that and the principal's office. On May Day whenever year that was. 2003, the first of May.
Q: Did your bias about serial killers effect you in your performance?
MM: You don't think, 'Oh, I'm playing a serial killer, what can I do today or who am I going to eat today?' You just take it as it is. I try to find the better parts of a human being if possible. There's not too many with this one. He's deeply disturbed. To me it's more a film about mental health than anything else. You really can't take the troubles of this character on your own shoulders. I'm just an actor. He's the man (David) if you want to stone someone tonight. He wrote the damn thing. Marton played the good one.
MC: To the man over here who asked me what attracted me to the script. The thing that I loved most about it was there is an interconnectedness between the the worst character of Evilenko and Vadim Timurovic. That's his name isn't it? I can't even remember. Their polarity and proximity to one another that were all related. Rather than kill someone to try an ascertain what it going on, to not close doors, but open them in order to get somewhere else. As for bias, when you are working with Malcolm there's no way you can take anything seriously which is a pleasure.
Q: There seemed to be many similarities to Silence of the Lambs - that the killer was intellectual and he would only talk to one person. Were you influenced by that film?
MM: No. I loved it and I loved Tony Hopkin's performance, but that's a Hollywood version of a psychopath. I don't think a real psychopath doesn't behave like that. It's a wonderful cinematic invention, but it's a Hollywood invention. Evilenko was more based in reality, he was more disturbing. It's a real psychopath, he believed everything that he said was true and everybody else was wrong and they were all persecuting him like psychopaths do. Paranoid, schizophrenic and all the rest.
DG: I agree with what you said. I love Hannibal Lechter so much, but he is like a Disney character. He's totally invented. I realized after I was inspired by another movie I saw it again with Marton - The Boston Strangler. After seeing it again after all those years I said, 'oh my god, I've stolen so much stuff.' But maybe it's better, like the scene you did between Henry Ford and Tony Curtis, but it's not that warm.
Q: Why did the girl follow him and were you suggesting that he had some sort of hypnotic power?
DG: There are two versions, which one do you want? Here is my version, but it doesn't work very well. The version that works is that she is a prostitute. I never thought about it. Everyone thinks the beautiful ones are, you must remember that. The hypnotic aspect was never told in the trial. What impressed me was that all the witnesses they found after said the victims were always following him, he never grabbed them off the street. One day when I was at the trial I had a chance to stay alone with him for many hours and I shot some film and asked questions. He was answering just nonsense, but I realized his eyes were working like this (He moves his fingers up and down.) I found it's called vertical straubism, I'm not sure if it's correct in English. It's very rare and you can find it in many texts about schizophrenia. He was looking for very young and very weak people. He had this power handy.
Q: What happened with his wife?
DG: When I arrived in Rostov she had just vanished. They said to me that they sent her and his kids, in reality he had two children, they sent them away. The excuse was that some relatives of the victims could do something to them. In reality she was helping him. She was about to go to the trial and say this, because she thought it was a mission what he was doing. She was crazier than he was in a way. It's something I can't explain. When you hear a mother allows her husband to rape her daughter, how can you explain this? I don't know. You are a woman, maybe you understand more than I do? It's beyond belief. Thank you very much.
Tim Nasson with Malcolm 3/27/06
"I never intended to make Evilenko. It is a repulsive story and I never thought it would get made. But a friend of mine wrote the movie and asked me years ago if I would star in the film if he got financing for it. I never in a million years thought he would get the film financed and agreed. I guess he had the last laugh. I am a man of my word and couldn't very well back out. I worked on Entourage for a half dozen episodes and that was a lot of fun. It didn't involve eating any children, to say the least."
Which brings us to the question: 'How did you research the role and get into character as 'Evilenko?'
"The only thing I could do was read up on the creature on which the movie is based. I certainly couldn't go around eating children to get in to character. I have been acting long enough to not allow the subject matter get to me, or to bring it home with me, no matter the horrific nature."
"We have been friends for 30 years, and my profound knowledge of Malcolm's style helped me to portray the character." David Grieco on Malcolm
Have your earlier experiences of bad guy roles helped you in this project?
MM: No. That was long ago. I have not made any particular preparations for the role as I decided to act spontaneously, not wanting to have any final notions of the character. I did not want to speak about that with anyone let alone a consultation with a psychoanalyst about the serial killer phenomenon. I will not be of great help in the step-by-step work on the role. I am portraying a specific person, not just an idea, and I have to feel every moment and live from scene to scene to make his performance realistic. Chikatilo was a sick person who must have been mistreated in his childhood, but that was no excuse. I did not want to sympathize with the character or make him a romantic hero. Chikatilo was what he was. It will be the first time that I will portray a man about whom I have no positive feelings. I'll to ponder every detail carefully, because I will use nothing of myself in this character.
From the Tiburon Film Festival 3/05 by DJ Zucker.
After the film McDowell and Marton Csokas spoke with us (mostly McDowell) taking our questions and spiritedly answering them, in one case rebuking a fellow for not listening to his previous answer. McDowell had urged Grieco to write the screenplay but had not thought (so he says) that Grieco would press him into playing the part of the monster. Feeling that he was somewhat responsible for getting the ball rolling and because David Grieco was a good friend he accepted the part. McDowell said he is not a method actor stating "Not that there's anything wrong with that" but that all parts of this role were "externally applied" and then left on the set. He did not want to bring any of this home to his family. Someone actually did ask what of himself did he bring to the role. Answer in short ... nothing. Csokas, highly praised by McDowell, was self-effacing and didn't speak much.
The young girl in the school 'seduction' scene was very good and completely comfortable with the part. McDowell said he had discomfort initially with this scene and went to Greico to talk it over. Ultimately, the young actress just played the part as a pro would. A number of David Grieco's relatives played the parts of the victims and McDowell said by the end of the film he'd devoured a good portion of Grieco's family (big audience laugh there).
Maton Csokas remained in the shadows for much of the Q&A and seemed somewhat shy. McDowell referred to Marton as an 'Adonis' particularly when discussing the nude scene that they had together. McDowell said that he had been eating the pasta and cheeses that Grieco had imported from Italy every day and had gained weight claiming it a trick of the director to fatten him up. He said he was surprised that he was not going to be able to wear underwear for the scene. David said, "Malcolm, it's okay that you're not 23 anymore and don't have six pack abs. We come to see you act, not how many bench presses you can do." In person McDowell is a charming rogue who made instant audience contact and acceptance perhaps for everyone except those who may have been stung by his sharp tongue. He doesn't seem like one to pull punches and he referred to an old hurt in which a reviewer in one of his first films had blasted him for a lazy performance.
Based on writer/director David Grieco's novel "The Communist Who Ate Children" and inspired by the shocking true story of the former Soviet Union's most notorious serial killer, this riveting, haunting film explores the mind of a man who mutilated, murdered and devoured more than fifty children. Rather than reveling in gore, the film focuses on the psychological force of the man and the battle of wills between him and the detective assigned to the case.
Andrei Evilenko (Malcolm McDowell) is a fanatic communist and pedophile whose rage at Gorbachev's dismantling of the Soviet state turns his sexual predation into violence. For nearly ten years, he criss-crosses the USSR, luring children into the woods with his hypnotic stare and gentle voice, and frustrating the police, led by Lesiev (Marton Csokas), at every turn. At one point Lesiev enlists the support of a psychologist (Ronald Pickup), but he becomes so mesmerized by Evilenko's mind that he himself becomes a victim. Finally, the hunter and hunted face each other in a psychological showdown that strips them bare, both emotionally and physically.
The story opens in Kiev, Russia 1984. Right outside of a school children are playing with a soccer ball as teachers watch and smoke cigarettes. Evilenko, who is the senior teacher at the school sits nearby on a park bench reading the Pravda. Suddenly the ball goes in the air and lands on his lap. All activity stops as he stares at the children and the children stare back in silent horror. They fear this man. He gets up with ball in hand and heads toward the school as the sea of children part for him. The bell rings and he begins teaching his class.
The ball is on his desk as Evilenko teaches. Sasha, a 10 year old boy in the front stands up. He wants his ball back as it was a birthday gift from his mother. Instead of giving it back, Evilenko scolds him. He tells him he is lucky to have a mother as some people there do not. The ball doesn't not belong to him, it belongs to everyone. His mother was wrong to give it to him and he will have a talk with her. The child doesn't realize he is being taught the communist doctrine. Then he notices Tonja, a pretty girl in the back row spreading her legs so another boy can see up her dress. When she realizes Evilenko has seen her, she quickly closes her legs and looks down.
Soon after the bell rings and the students run out the door. Evilenko stops Tonja and tells her it is her turn to clean up the classroom. She starts sweeping the floor and he calls her a whore again and again until she hears him and starts crying. This is what he wanted. He tells her to come to him and he holds her saying she's the only one who isn't afraid of him. He asks her what she was doing when he caught her. She says nothing. He saw her blush and says she is blushing now. He then understands that secrets cost money and offers her 50 cents to show him. She happily takes it and lifts up her dress to show him her red panties. He then gets up and takes his pants off with his penis is right near her face. He knows it is the first time she's seen a real man up close and wants her to touch it. He says ir likes you, wants to be friends and can do anything. She resists touching it, but asks if it can fly. He says of course and she can fly with him. She wants to know if it can talk. He says yes, but only to him since it doesn't trust anyone. She doesn't believe him and wants him to make it talk and then says she knows it can't talk because it is dead. She starts to laugh at him and he flips. He grabs her, throws her down on top of his desk and rips her dress up. She grabs a letter opener on the desk and stabs him in the arm with it. He howls and grabs his arm and she is able to run out and down the hall.
Later Evilenko is called to principal Surinov's office. Tonja is there and has already told what happened. Surinov explains that she said he tried to rape her. Evilenko says that the girl misbehaves, so he has to punish her and is she obsessed with sex. That is why she accused him of rape. Tonja keeps her head down and Surinov asks her how she could make up such a horrible story. She exclaims she didn't make it up she stabbed him in the arm. If he doesn't believe her he can look at his left arm. She then runs out.
Evilenko says the other teachers have turned her against him, it is a conspiracy. Surinov asks why they would do this? He says basically because he's a good communist and they are not. Surinov asks Evilenko to satisfy his fears by showing his arm. When Evilenko refuses, Surinov tells him he must resign. Evilenko leaves with his things and Tonja watches him go from the window. We then see the blood running down his arm.
The next day Evilenko's wife Fenja is getting ready to go to work and tells him he must hurry and get ready or he'll be late for work. He is sitting at the table reading Pravda and tells her he isn't ever going back to the school. She is startled and wants to know why. He says he'll explain later, but she wants to know now. He made the discovery of a conspiracy. Another teacher explained to her class that communism was an impossible dream. He reported her to Surinov and said he would quit if he allowed this teaching and he let him go. She is shocked and says he should go to the party about this, he should write them a letter. He says he will, but he has to be careful. She comforts him.
Later Evilenko is riding a bus and spots a girl sitting alone at a bus stop and decides to get off the bus there. He crosses the road and sits next to her. He asks her why she's there and her name which she tells him. He bets that she is nine years old and got a bad grade today. At each correct statement she is astonished, but isn't thrilled to learn that he knew this because he is a teacher. He says he's sure her mom won't be happy that she's coming home late with a bad grade. She cries and he comforts her by saying he'll drive her home. He offers his hand and she takes it. He promises to walk her to his car in the woods, but we know there is no car and this will be her last walk.
An old woman is walking through the woods days later and comes across the girls tied up body and screams. The credits begin.
It is now May Day 1989 and Evilenko is watching the proceedings on his crappy little TV. He suddenly gets up and turns it off. He tells his wife that he is so disgusted from it and is going out. As he leaves he runs into Tabakov. He is from the party, but Evilenko doesn't know him because he has come all the way from Moscow. Evilenko wants to know what he wants. He says he is returning his letters and pulls them out of his briefcase. Evilenko is worried, but he wants him to know the letters weren't ignored, but many in Moscow don't think like he does. Evilenko says he'll die a communist and he won't give in to him. This is what Tabakov wanted to hear.
They go for a walk and Tabakov explains they have a job for him at the railroad. On the surface it is a regular old boring job, but in fact he'll be working for the KGB. Evilenko is secretly thrilled. They want him to spy on a man called Bagdasarov who has gone over to the Gorbachov camp and to find out if he steals. Evilenko says he can do that. Before he leaves Tabakov gives him a card and says if he ever needs to not to hesitate to call him.
The next day Evilenko is doing his job, which consists of riding on the trains. He sits across from a young school boy named Pavel. Once again he works his evil charms to find out his name and what he's doing. The boy tries to say he had permission to visit a sick aunt, but Evilenko knows he's lying, he cut school. That's why he has his books with him. The boy starts to panic, but Evilenko assures him his secret is safe with him and asks what he will do when the conductor comes. He shows him his ticket, but Evilenko says it won't work since the man will have a list of all the boys who cut school today. Pavel gets up, but he tells him there is nowhere to go, the next stop is 30 minutes away and the conductor will be around by then. He says the solution is for Pavel to go hide in the bathroom and when the conductor goes by he'll come and get him by knocking three times. The boy runs off to do just that. He leaves his books behind so Evilenko takes them and throws them all out the window as the train continues it's journey.
Eventually he gets up and goes to the bathroom and knocks. Pavel opens the door and Evilenko forces his way in and attacks. He cuts him up, pulls the toilet up and disposes of the body through the hole. He cleans himself up and his straight razor and casually exits the train at the next stop.
It is now Autumn of 1989. Police inspector Vadim Timurovich is at home with his wife and daughter playing in the back yard when he suddenly has an unexpected visitor. He's a fellow officer named Oleg and they sit down to talk. Vadim's daughter Mariam sits on his lap. Oleg says she should leave, but Vadim has her stay. Oleg wants to know if he is familiar with the "wood strip". He assumes he is referring to the killer and then has his daughter go play. Vadim has heard he has killed 3 or 4 girls. Oleg says women too, in fact he has killed 22 people. Vadim is shocked. Oleg say they have no witnesses, no leads, nothing and that he has killed as far as Leningrad. He assures him he has a trademark and that all the killing are the work of one man and that besides raping them, he eats them. Vadim is shocked and wants to know why he is telling him this. Oleg announces he has chosen him as his successor. Vadim wants to know why. Oleg says that he is a party member. That's not good enough to Vadim. Oleg explains that he has a family, a daughter that is in danger of being a victim too.
We then see Evilenko with his next victim, another young girl. This time she is tied to a tree and he tells her a story about a girl like her who learned to fly before he kills her.
Vadim is now on the case. He wants his team to get inside the killers head to find him. Boris explains the strangest part is the victims go with him willingly, he doesn't use force. Soon after the phone rings, they've found the next victim.
They rush to the scene to find the girls' mother screaming to let them see her child. Boris finds that she has been impaled with a tree branch, but can't remove it. Vadim wants it out, so the mother doesn't have to see it. He also wants a sperm sample and samples of all the criminal men in the village because it is their only lead. Boris is surprised since they've never done anything like that before. Sgt. Frolov is writing down details and Vadim tells him to get Boris help with the branch.
Next we see Evilenko at his job in the railway station. He is behind a desk in a shabby office and two other women are in the room with him. He writes a letter to the KGB when his boss comes in. His boss scolds him for not doing any work, just riding the rails all day, but stops when he sees the letter. He grabs a bag Evilenko has under his desk and pulls out a bloody white shirt. He wonders what Evilenko has done, murdered someone perhaps? He says he helped a friend slaughter a pig. His boss says maybe he should go into farming and not to be so selfish next time - he should bring in some sausages for his coworkers.
It is now New Year's Eve and the police are having a dance party. Vadim is dancing with his wife, but paying all his attention to his daughter. His wife Rulana asks him what he'll do when she moves out. He says that is a long time away, but he'll have to console himself with her. Frolov comes over with champagne and wants to drink to their children, then right after the countdown to midnight begins.
At the same time a soldier is patrolling near his barracks when he suddenly hears the shriek of a child. He runs over to investigate, but doesn't find her. Instead he finds Evilenko with a mouth full of blood. he draws his weapon, but instead of shooting, he runs away in fright.
The next day two policemen are interrogating the solider, Nosov, who is now in a straight jacket. They think he is the killer, but he is totally dazed and says little. Frolov and Vadim arrive at the station and learns the solider is 21 and knows there is no way he is the killer since the killings go back 5 years. The two policemen exit and Vadim goes in. All the solider says is "mommy" over and over again so Vadim strikes him hard in the face, sending him to the floor. The man screams and Vadim puts his hand over his mouth and tells him he knows he isn't the killer and he must have seen something. He removes his hand and the man just screams, so he puts his hand back. Vadim then asks if he brings the killer in can he just point him out and to close his eyes if he agrees. The man slowly closes his eyes.
The next day many male suspects are rounded up and put in a room where Nosov can see them through a two-way mirror, but the suspects can't see him. They take the straight jacket off and Vadim asks if he sees the killer and he points right to Evilenko. After a few seconds though he starts pointing to another and another and another until they take him away.
Vadim then sets up a makeshift tribunal where they question all the men, show them pictures of the murders and get their sperm samples. They are given test tubes, a porn magazine and told to go behind a curtain to masturbate into it. One guy jokes the tube won't be enough for him. We then see how the questioning goes when Dr. Aron Richter is interrogated. He is asked his name, surname, place of birth, address, occupation. They have a file on him that he is a known homosexual and was arrested in 1975 for molesting a boy. Then he is asked where he was on New Year's Eve, but he has no alibi, just home alone. When he is shown the pictures Aron says they'll have a hard time finding him. Vadim is there now and says he knows. Aron says the killer could be anyone. Vadim asks what kind of doctor he is and he explains he is a psychoanalyst. People come to his house and talk, he listens, preferring that to putting them away. He is then told to go over for the sperm sample.
Next up is Evilenko. He is questioned and Evilenko answers at one point calling Amitrin, the interrogator, comrade, which he objects to. Evilenko is upset with this and wants to know why. He raises his voice which causes Aron, now behind the curtain to take notice of him. He refuses to answer any more questions, instead badgering him about why he isn't accepting he is a communist. He demands to talk to his superior and Amitrin goes over and gets Vadim. Since Vadim is also a communist, Evilenko will speak to him. He explains he has gone from being a teacher to working as a railroad inspector. Vadim is surprised and asks about this major career change. He explains he was forced out by the perestroika crowd. Vadim doesn't understand. Evilenko says he's not a good communist then and doesn't realize there is a war going on. Vadim's only war is on crime. He then asks him about his father who died in prison. Evilenko is glad because he was an enemy of the state. Vadim says those people can be cured now and Evilenko mocks him. Then we learn how they have Evilenko on their list, he tried to rape a woman two years ago. Evilenko says she was a prostitute, but Vadim can't verify that. Aron leaves and Vadim tells him it is his turn to give a sample. Evilenko tells him there is no point, because his penis doesn't work. Vadim doesn't really believe him, so he detains him until he can prove otherwise.
An officer leads Evilenko to his cell when he suddenly reaches in his pocket and comes out with bribe money and the KGB business card. The officer is apprehensive, but asks who the man is on the card. Evilenko says it's his bosses boss and to give him a call.
Later Vadim goes to pay a call on Evilenko's wife. He catches her returning from work and wants to go in her house and ask some questions. She says he can ask her out in the open since she has nothing to hide and wants to know why he arrested her husband. He explains he has been detained, not arrested and he'll tell her more inside. She won't budge and presses him. He finally says he's being held in suspicion of multiple murders. She asks him more questions, but he blows them off and asks her about their sexual relationship. She tells Vadim they don't have sex, it doesn't interest them. He asks her about children and she says he used to have a lot of children when he was teaching. Vadim means children of their own. She says as communists all children belong to the state and therefore everyone. He wonders why they got married. She says they love each other and then walks away.
Vadim returns to work the next day and asks what the results of the sperm tests are. Boris says it isn't good as 23 out of the 30 men have the same group. He is then told that the KGB came and picked up Evilenko. Vadim is shocked and wonders why. Frolov says he tried to ask, but they didn't answer.
Vadim then decides to go pay Dr. Aron Richter a visit at his home. The place is typical of what you'd expect to see in a poor shrink's office - lots of book, a picture of Freud and a couuch. Vadim asks how much he charges patients. He tells them it varies, but that the real interesting ones he sees for free. Vadim wonders if he thinks the killer is interesting and Aron is quite certain he is and wishes he was his patient. Aron asks how many he has killed and Vadim says 29 over the last 5 years. Aron is flabbergasted and asks how he'll ever catch him. Vadim is hoping for his help, but Aron isn't interested. Aron gets up and Vadim grabs him and pushes him back down. He says if he doesn't help him then he'll find some young boy to testify against him. Aron has no choice but to agree. Vadim asks if the killer is crazy and Aron says yes. He believes one has to be to enjoy killing and that he is a schizophrenic. It isn't rare, but it is festering in the Soviet Union because communism is going away, therefore many people's identities are gong away. Vadim asks if the killer is alone and Aron says yes he is and lonely. He can do it by survival instinct. Vadim is a bit disgusted that Aron is so fascinated with him. Aron can't believe he isn't. Vadim says his job is to catch him and let the courts decide what to do with him. Aron is worried that the courts will kill him and they'll never solve the problem. Vadim doesn't know what will happen. Suddenly the phone rings. It is for Vadim, there has been another murder. Vadim goes to leave and says Aron is coming with him.
It is pouring rain in the woods where a dead naked woman is tied to a tree. Aron is shocked to find her clothes nearby in a pile untorn, like she willingly removed them. Vadim comments that he has already started to work, but Aron says it's impossible for him to work if he doesn't have access to all the files. Vadim says it's done, he can have access. Aron can't believe it is that simple.
That night Aron is going through the files and stops at Evielnko's. He writes down information including the address of Irina, the prostitute who accused Evilenko of rape years ago. That night he goes to her place where he finds her painting her toe nails with the door wide open. He offers her money and she asks if he has a condom, if not it'll cost more than he's offering. He says he's not interested in sex and uses her name. She asks how he knows her name. Is he a cop or gay and he says both. She says he doesn't look like either.
She takes his money and lets him in. He wants to know what happened to her with Evilenko. She says she was at the train station sitting down and we see it in a flashback. She looks over at him and he catches her eye. She doesn't know what happened, it's like he hypnotized her and she willingly went with him. The next think she knows is she's on the bed with him standing over her holding a razor and she screamed. The neighbors heard her and he ran away.
Soon after Evilenko is at a train station and catches the eye of a young girl walking with her school books. He stares at her and then heads for the bathroom and she follows him. He goes inside and when she gets to the door a man bumps into her hard, spilling her books. She snaps out of it and sends her away, it is Dr. Richter. Evilenko is hiding in one of the stalls and when Aron goes to use the sink he can see his feet sticking out. When he turns the water on, Evilenko pulls his feet in and disappears in the dark.
That night Evilenko is at home drawing a bizarre scene in pencil of a little girl. Suddenly he notices something outside. Down on the street is Dr. Richter staring at him. The two men stare at each other for a moment until Evilenko quickly turns out the light.
Later Dr. Richter is in a movie theater packed with children fooling around while a cartoon is playing. Richter seems to have no interest in the film. Suddenly Vadim sits down behind him, startling the man. He wants to know what he's doing there. Vadim says he's been looking for him for days, but Richter says he has nothing to report. He hasn't found anything and doesn't think they'll ever catch the man because he isn't acting alone. Vadim doesn't believe his sudden switch. Richter says he could be anywhere. Vadim says like an old man alone in a theater getting off on watching children? Richter is nervous, but Vadim sees that's the way it is and leaves.
On another day Evilenko spots a girl crying and goes to her. She says her mother left her there. He says he'll take her since her mother doesn't love her. She objects and says her mother left her there because her brother was sick. He says that's because she loves her brother more. He leads her into the woods and suddenly Dr. Richter is following them. Evilenko ties her hands and then produces a razor from his pocket. The girl shows no worry. Suddenly Richter calls out to him and walks over. He puts his arms out and says he is Evilenko's father and has been looking for him for years. Evilenko stops, as if in shock. Richter keeps telling him that he has returned and everything will be okay. Evilenko finally comes to him and rests his head on Richter. Richter makes a shooing motion with his hand toward the girl and she suddenly runs off. Evilenko snaps out of it in rage and slices Richter's throat with the razor and he falls down dead. The girl runs up an embankment toward the train tracks and Evilenko chases after her. She finally makes it to the top and a train barrels down on her as she does. Evilenko is shocked as the train grinds to a halt, but he can't see down the other side where the girl is running toward safety.
That night Evilenko is home in his bathroom sobbing. He tries to kill himself by slitting his wrists. His wife catches him though and ties up the wounds. He says he watched a girl die today and he was helpless to save her. She holds onto him as he sobs.
The next day the police have found Dr. Richter's body. Vadim is there and Boris says they've been hunting the killer for years and the doctor found him in only a couple of weeks. Vadim knows Richter was only in it for himself though.
The next day Evilenko is going to work and KGB agents are hauling out his boss, Bagdasarov. Evilenko tells him he knows he didn't steal anything and everything will work out. Bagdasarov is actually glad to see him, even though he knows Evilenko is the one who turned him in. He leans close and begs for Evilenko to put a good word in for him. He assures him he will and Bagdasarov is grateful as they haul him away. An agent asks Evilenko what he said to him. He says nothing, he was just trying to bribe him.
Vadim returns home late that night. He lives in an apartment on the eleventh floor of a building. The elevator doesn't work so he hoofs it up the stairs. At his floor he is horrified to see the doors opening and closing on a doll laying in the opening. He rushes inside to check on his daughter and when he sees her in bed with blood on her pillow he flips out, knowing Evilenko has gotten her. He picks her up screaming and his wife rushes in. She informs him she had a nosebleed and that she gets them from time to time. She asks what is wrong with him and if he's gone crazy. They go to bed and he tells her for the first time he's hunting the cannibal. She of course knows about him and can't believe the risk he's taking. He doesn't understand since he doesn't know who the killer is. She says the killer might know him though. He says he'll quit the case then.
The next day his wife is leaving early with his daughter. He doesn't understand. She says they are going away so he can catch the killer. Without them around he'll be able to focus better.
Later Evilenko is at a carnival sitting on a bench watching a young pretty lady. She catches his eyes and goes over to a shooting gallery booth and he follows. She pays the money and picks up the gun, aiming at the cans. Instead of firing, she turns the gun around and points it at Evilenko. He walks away and she goes after him. She grabs his hand and pulls him into the woods. She says she knows he wants her and he doesn't have to pay for it. He begs her to leave him alone. She ignores his comments and leads him into an abandoned horse stable on a military base. She says she'll make him feel good as she gets on her knees and starts undoing his pants. He says no and to stop which she doesn't. He then quickly pulls out his razor and cuts her throat.
As he is leaving his is stopped by a solider who demands his papers. Evilenko hands them to him and he checks them before noticing the blood on Evilenko's face. He asks him what happened and Evilenko stares him down until the guard backs away.
Days later Vadim and company arrive at the crime scene. Boris does his work and Vadim questions the officer in charge. He tells him there are 80 men on the base and Vadim knows someone must know something and wants to question them. He then asks Boris what the time of death is and he can't be sure. Vadim snaps at him and Boris breaks down crying, he can't take it anymore. Vadim tells him he better have the autopsy results by tomorrow or he'll really have something to cry about.
The soldiers are all in a room and Vadim goes in. He tells them a woman was murdered there on May 1 and they are all equally responsible unless someone tells him otherwise. Everything stops and silence ensues until the private that spotted Evilenko comes forward. He says he might have seen a man that day and might have stopped him. Vadim asks him what does he mean by that? The private says he did stop him, he wrote it down in his notebook. Vadim asks again why he said might? The soldier doesn't know, so he just hands over the notepad. Vadim reads the name Evilenko in the pad. The soldier says he doesn't remember seeing the man, it all sounds crazy, but he knows he wrote it down. Vadim believes him.
The next day Evilenko is walking when he spots an officer following him. He quickly jumps on a passing bus and loses him, smiling evilly. When he sits down though, he doesn't realize he is sitting next to another cop. Meanwhile Vadim is at the attorney general Novikov's office. He congratulates Vadim on catching him. Vadim says he'll bring him right in then. Novikov doesn't want him to do that. Vadim says he's got 20 men on him and get him right away. Novikov wants them to catch him killing someone else. Vadim is astounded and Novikov says it doesn't matter if it is 36 or 37 bodies, they have to be sure. Vadim can't believe him. Novikov says they don't have an evidence except for a note written by an unsure guard. Vadim says they have more than that including his whereabouts matching many of the murders. Novikov says it isn't enough. Vadim says he's got enough to get a confession out of him. Novikov can't imagine why he would confess. Vadim says because he's mentally ill, but Novikov doesn't want to hear any more of it.
In the middle of that night Vadim is restless and can't take it anymore. He makes a phone call and leaves. Four of his men are outside Evilenko's house watching. They assure him Evilenko is inside. Vadim tells the men to go get him, but they say they have order not to. He says he's in charge and to do it. They come out with Evilenko and drive away. Vadim and Boris are to follow in his car, but it won't start.
When they finally get to the police station they see Evilenko in the questioning room getting beaten by the other officers. Vadim is horrified, he is told it was to soften him up. Vadim tells Boris to get him a white coat because he's going in. One last blow sends Evilenko into the glass. Vadim says he's going in alone and no one else is to come in, no matter what happens, or they'll be court marshaled.
He goes in and yells at the men to get out and tells Evilenko he is a doctor there to help him. He helps him up on to a chair and tells him not to worry. Evilenko assures him there is no reason to worry since he is already dead. Vadim says he isn't dead, he's just sick and if he wants him to help him he has to explain all the bad things he's done. Evilenko says nothing. Vadim promises him if he tells him everything that no one will hurt him. Evilenko says he can't tell him everything and there isn't enough time anyway. Vadim assures him they have all the time they need. Evilenko starts with his birth. He says he was abandoned and a lion picked him up and saved him. Before he left the lion told him he had to choose, so Evilenko chose to be a communist. Vadim asks who the lion is, but Evilenko says it doesn't matter, he's dead. Vadim asks who killed him, but all Evilenko will say is the cowards did it. He won't tell him anymore, explaining if he was a true communist he would already know. So Vadim has him undress to check his wounds.
Evilenko stands before him naked and Vadim examines him. He tells him he isn't a doctor, because he looks at him like a woman. Vadim asks if that is because he looked at his penis? He talks to his penis and Evilenko says he can't hear him. Vadim says that is because he is impotent, that is his problem and Evilenko says that's his privilege, not a problem. He won't explain, only that if he does, they are finished, he can't tell anyone. Vadim says the truth is that he isn't impotent, he gets excited when he spots a young boy. What happens then?
Evilenko stares at Vadim and seems to have hypnotized him. He leads him to a chair and asks him name. he tells him and also that he isn't home because his parents are dead. He speaks like he is a child in a trance. Evilenko says he can take care of him now, but he must take off his clothes and he does.
The police watch all this in stunned disbelief. Frolov says he's had enough and is going in, but Boris blocks the door. He tells him no one goes in.
Vadim asks where he is taking him, but Evilenko tells him not to mind. He pulls him closer and grabs Vadim's hand and puts it in his crotch. He asks Vadim if he feels it and likes it. He says he does. Evilenko leans in like he is going to kiss him and instead bites him hard on the neck. Evilenko asks him if he feels his penis growing. Vadim then jumps up, back to normal. He tells him he understand that is how he gets off, by drinking the warm living blood of a child. He says the blood going down makes him feel like a man, but he's losing his erection. Vadim wants him to look at it. Evilenko refuses. He screams at him to look at it, but Evilenko yells at Vadim that he disgusts him. Vadim says he doesn't disgust him since he was aroused by him. Now he says it's time for him to tell all. Evilenko says it's all written down in a book in his desk at work only he can read. Vadim gets up and grabs his clothes.
The next day Vadim goes to Evilenko's job and finds his diary. It is no ordinary diary though. It is filled with bizarre, almost childlike drawings in pencil of all his killings. Except he enters the child in the drawing and comes out again reborn.
He returns to the station to find Novikov there waiting for him. He tells Vadim his career is over for disobeying his orders. Vadim says Evilenko has confessed though and shows him the diary. Novikov looks at and says he is insane to think it proves anything.
Vadim goes to empty his desk and Frolov tells him if he leaves, they'll all leave. Vadim tells him not to do that. Suddenly Ramenski bursts into the office and says to come quick.
Downstairs Novikov is interrogating Evilenko. He is cuffed and sitting in a chair with a tape recorder in front of him saying nothing. Inside he drinks from a glass and spits it back in. Novikov comes out furious and says Evilenko will only talk to Vadim since they are both communists. He says if Vadim can't get a confession out of him he'll try Vadim instead. Novikov walks away, clutching the diary. Vadim tells him to give it to him, he needs it and promised he'd bring it. Novikov doesn't care since it wasn't any good to him and leaves with it.
Vadim says he couldn't bring the diary and Evilenko says he knew that would happen. Vadim asks if he'll let him into his brain, Evilenko says he'd have to let him out first. Vadim gives him a list of all the victims, but it's no good. Evilenko says to get a pen and paper, they better write this down. He then goes into what seems like a trance and rattles off the date, name and place of each murder - one after the other. When he finally stops Vadim asks Ramenski how many he wrote down. He's stunned to hear it is 55, almost 20 more than they knew of.
Now it is time for the trial. Evilenko is in the back of a large truck casually eating an apple. He is surrounded by ten heavily armed men. Outside the courthouse is an angry mob. When the truck stops they attack it, pounding the sides, shaking it and jumping on top of it. None of this bothers Evilenko.
He is led out and taken into the court and put in a white metal cage. Everyone is there watching and Novikov asks him if he is Evilenko and eventually he replies that he is.
A year later Vadim is at home when he heard the news of Evilenko's execution.
Then we cut to a wooded area and Evilenko is there. He walks up close to the camera and text appears on the screen. Andrej Romanovic Evilenko was executed by order of the State on February 14th, 1994. No one knows where or how. During the Christmas season of 1993 two research institutes, one German, one American, offered the ex Soviet Union substantial sums for him to be handed over to them. Alive. The end.
Probably the most frustrating thing with doing a site like this is that I get pictures and information so far in advance. While that is great for the site, it is hard to have to wait so long for the finished product. More than a year and a half ago before the film was released I got exclusive pictures and news. Those pictures alone sold me that this was a must see film. Malcolm in character just oozed something sinister, literally giving me chills.
So I finally got to see the film a year after it was released and it was worth the wait. Malcolm is done up a bit so he doesn't look his age, but it doesn't look fake. If they dyed his hair jet black it would look bizarre, instead the light work they did on him looked just right. A little wig, glasses and a a walk that has him more on the balls of his feet is all it took. Right away Evilenko looks a bit off, we can tell there's something wrong with him as well as how the other characters regard him. There is a healthy fear of him.
One might think this is a horror film, but it isn't. There is only one scene where we see Evilenko with blood in his mouth. All the other times we just see him walking in the woods with a victim. Later we see the police examining the body, but even then we usually don't see the body. David Grieco really goes out of his way not to focus on the gory side. We know it's there, like the shark in Jaws is just below the surface, only the fin shows, not the whole animal. We don't need to see him kill to know he is killing. The only way I could describe the film is as a docu-drama.
There is a lot of good things in the film to talk about. Firstly Malcolm is awesome. This will go down as one of his greatest roles along with Alex, Mick Travis, H.G. Welles, Gangster No. 1, Assassin of the Tsar and Mr. A. Of course Malcolm is known for playing the villain, but the difference here is that this is the first time his character is based on reality. The story is fiction, but not completely as it is based on a real person who really did kill more than 50 people. It is so amazing how Malcolm can turn it on and off. I've read about so many actors who can't wrap their heads around a role or that they become the character and have to stay in character all the time. Malcolm proves this is just nonsense. He takes a sick and twisted man, just plays him and is able to go home at night without the character affecting him. Many people can't believe this as it seems like you have to according to the spoiled Hollywood elites. Malcolm is such a natural, he knows what needs to be done and just does it. This is why he is my favorite actor. He does it effortlessly because this is what he was born to do.
It's hard to believe this is David Grieco's first film as a director. Not because he is an older guy, but because he did this so well. He should've been directing for years. The whole time I was watching the film I noticed how solid the camerawork was, it was a joy to watch. He thankfully didn't follow the jumping bean camera trend. I really felt like it was influenced by Lindsay Anderson and was surprised to see at the end the film was dedicated to the great man. I knew I was right, Lindsay's presence was there thanks to two of his protégés working on the film. David handled it like an old pro and it was impressive that he could make such a great looking film on such a small budget. Trailers for big budget films cost more than this whole film.
This was also the film time I saw Marton in a film. Many see him as a younger version of Russell Crowe. Well then you need to see him in person! At the festival, you never would've recognized him. He had a bit of a beard and spiky hair, looking more like a New York punk than an Australian actor. He isn't seen much in the first part of the film. It is the last half where he has the interaction with Evilenko. It really reminded me of Timofeyev and Dr. Smirnov in Assassin of the Tsar. Not because both are Russian films, but because of the psychological mind games going on. There is a lot of one on one, man versus man, mind versus mind, crazy versus sane going on. This leads to a powerful and memorable scene were both men are locked in a room and get completely naked. Vadim does this to connect, fool and get Evilenko to open up. At first he acts like he is hypnotized, but he wakes up in the end. When Evilenko moves in close it seems like he is going to kiss him, but he bites him on the neck and he takes it. Powerful stuff. One scene that I thought was a bit cliche was when Marton comes rushing home fearing his daughter has been killed by Evilenko, first finding the doll stuck in the elevator door, then finding her bloody in bed. She just has a nosebleed!? I can't believe a mother wouldn't have plugged her nose with cotton or something, instead of letting her bleed.
The only major supporting character's are Evilenko's wife and Dr. Amitrin. Both are more than what they seem. The wife is an enabler. In her heart she knows what her husband is doing and allows it to go on, covering for him when she can. The doctor is a weird case. He admits he is a homosexual and at first is very interested in Evilenko. He does all he can to act as a partner for Vadim in the beginning, but in the end is just using him. As he gets closer and realizes that Evilenko is the killer, he blows Vadim off and tries to lead him astray. Instead he has his own agenda, but what is it? Does he want to cure him? Is he attracted to him? Does he want to have sex with him? Does he want to gain his trust to pick his brain? We'll never know since he screwed up and paid with his life.
It is a powerful film, but a disturbing one. It's not like ACO where you laugh, can watch it again and again and it's still timely even today. This film doesn't give that kind of enjoyment. This isn't a film you go to for traditional entertainment. Instead it repulses. It grabs us by the neck and forces us to acknowledge that there are sick and twisted people walking around as I write this and you read it. Maybe they are in our own neighborhood. At fist when I interviewed David, I was afraid that it would be too sympathetic, too favorable toward Evilenko. It is not. I was fascinated, but not attracted to Evilenko. He is not sympathetic because there is no good side to him.
The film goes up to his trial, but stops. Therefore we are not given any insight into his mind. Why did he do it? We are led to believe that since Evilenko was a devout communist and Russia was going to a democracy, this made him crack. But that's not enough. This doesn't justify him killing children and doesn't explain why he ate them. Why children? Why rape them? Why both sexes and even some older ones? If he simply lost his mind, he would just kill. Instead he had a way of relating to victims that was eerie. He didn't just go up to someone, grab them and kill them. He was able to get inside their heads and earn their trust and the victims listened to and followed him to their doom. This is rare amongst serial killers. This shows a cold, calculating intelligence. This also puzzles the police that there is no sign of struggle. It is also a fact that killers keep trophies of their victims. Instead of that, Evilenko kept a diary, but not a regular diary, this one was drawings only. Very fascinating.
This is a near perfect film. The only problem I have is the unanswered questions. I wanted to know more about what made him tick, why he did it. Only by being armed with knowledge of when people are evil can we learn something from them. For example we can know what to look for to prevent this from happening to loved ones. This film has no moral, no lesson to learn. It ends with Evilenko looking into the camera and text on the screen that he was executed, but no proof was given in that regard. Like the unkillable movie villain, he might still be out there festering, waiting, biding his time. I think this is what David was going for. He wants to create awareness that he believes the real Evilenko is in a cell somewhere being analyzed. But to what end? What do they hope to learn? When are they going to tell us if it's true? I think David's crusade derails this from being a complete film, it leaves us hanging. Besides explaining why he did it or why he became what he became, what happens to the wife and Vadim? Was Evilenko truly able to hypnotize victims? Why were the police in denial? Why didn't they try harder to catch him? With a few victims that got away, didn't they go to police? Couldn't they put something together and arrest him? Evilenko didn't seem to try to hard to cover his tracks, especially when he killed the kid on the train. Hell, he even takes his bloody shirt to work. No one thought to call the police on him? If Evilenko loved communism so much, why didn't he leave the country and move to China where he could be a communist to this day. Regardless, you can appreciate the performances, the work that went into it, the setting, everything, even if it is impossible to "enjoy" or get all the answers.
Rating: 9.5/10
1989 - Malcolm and David Grieco worked on Mortacci
Quotes © 2003 Interfax
This page © 2003-08 Alex D. Thrawn for www.MalcolmMcDowell.net