Super Yankadi USA presents...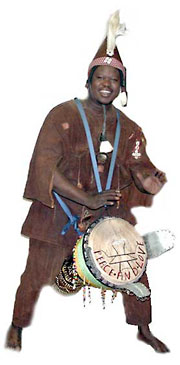 Madou Dembele
Master West African Drummer


Raised in Mali, West Africa, Madou comes from a family of 33 generations of jembe players. Madou began drumming as a young boy under the tutelage of his grandfather. His skills were so accomplished that when he was still too small to carry his own drum, a neighbor kidnapped him and took him on a performing tour of several cities.

In 1995 African singer Machange Camara brought Madou to America to perform with her. Madou soon emerged as lead soloist with the legendary Baba Olatunji and Drums of Passion. Madou's performances have thrilled audiences at the Kennedy Center and the Guggenheim. One performance for the Hunger Project in NYC so impressed the president of Mali that he asked for a private audience with Madou.

Madou has performed with Stevie Wonder and Blue Man Group, recorded with Herbie Hancock, toured with Ziggy Marley, and was a featured performer for six months at Disney World. He headlined the prestigious Des Moines Arts Festival in 2003 and performed for The World Food Prize (The "Nobel Prize" for Food) in the Iowa State Capitol Building Rotunda in 2004.

He continues to play for African baptisms, weddings, and other cultural celebrations. He also conducts drum and dance classes and workshops throughout the U.S.

Madou's personal mission rings loud and clear: "God wanted man to be happy, so he gave him the power to drum. I play my drum to spread peace and love throughout the world. This is what I have come to do."