I came by conclusion in my genealogical search that among families of Konstantinovich who live in Poland are two or three separate groups:
The eldest information about a Konstantinovich nickname or surname but not about the Fox coat of arms, go back to 07 October 1515 (according to Jan Ciechanowicz) and to the Hrodna area:
Jakub (= Jakov) Konstantinovich sued to a court his neighbour Tolloczko. His relative surely Olechno Konstantinovich in 1539 held a post in the Hrodna municipal tribunal. He sued in 1542 his neighbour Dowtortowicz. Both of named the Konstantinovichs were the landowners of their Duke. However we are lacking information that they had the Fox coat of arms proper already and I don't know if the Konstantinovich nickname was the surname by this date! Or it maybe the Konstantinovich name was only an "otchestvo" (by-name) id est a form deriving from the name Konstanty or Konstantyn with oriental ending "wicz" (= vich). Then the nest of them was in a villages Toloczki (= Tolloczki), Ejsmonty and Jurewicze in the Hrodna region (probably since c. 1500) and they were knighted in 1578 with the Pielesz diverse coat of arms.
A person with a Konstantinovich nickname in the first half of the 16th cent. didn't has to be the person with the Konstantinovich surname. The Konstantinovich ancestry with the Fox coat of arms proper lived (by c. 1600) only in the Troki district, Samaites province (since c. 1550) and in the Minsk province (since c. 1570) according to all armorials. In the Slonim area c. 1600 and in Vilna i.e. Wilno after c. 1640. One of string evidences say us for example that the record of common noble movement of 1528 doesn't point to persons with Konstantinovich surname in any districts of Lithuania according to all historical sources.
Besides I found out about duke Michal Konstantinovich in Vicebsk at the end of the 12th cent., duke Michal Konstantinovich from Vladimir in 1446, Dmitrei son of Konstantin in the 15th century, Polut Konstiantinowic' mid 15th century, Kostiantinowic' Semen mid 15th century, Chebotko Konstiantinow 1540; Iwan Konstantinovich who was an uncle of Jan Mackowicz in Kulbaczyna (
the Asmjany district ?
) of 1572 and Fedor Konstentinow son of Spits 1552.
Ancestors of the Konstantinovich family who derived from present BUKOVINA (Bukovina joined Austrian Empire in 1775 but it seems to be probable they moved house here from the Austria - Hungarys' Volhynia after the 1st Partition of POLAND 1772) at the border Ukraine on Roumania; it was the Greek church family in the 19th century perhaps and they (regarded as - in part, by authorities - Ukrainians) were displaced partially to the Mazury - East Prussia - after 1945. Most of them live today in south - easterly Poland. They had own GRECUL (i.e. GREKUL armorial bearings but own GREK arms was Lithuanian origin, according to Mieroszowski) coat of arms in time of the Austria - Hungarys' Galicia at the beginning of the 19th cent. (Bazyli and Michal Konstantinovich 1803). I take note of them (1821 - 1916 in the Russian Besarabia / Bessarabia; in 1918, Bessarabia declared its independence from Russia): Konstantynowicz Aleksandr / Aleksander son of Piotr / Pietr, Konstantynowicz Zofia daughter of Antoni, Konstantynowicz Zofia daughter of Aleksander, and also in ODESSA, Tschernowzy (= Chernovits) in 1939 - 1940 and in Kiev after the second World War.
Our top 100 in the world
The Konstantynowicz / Konstantinovich genealogical directory - society > genealogy > personal pages / surnames
Probably our ancestry with the surname of Konstantinovich derive from belorussian (Senko Czyzewicz and his son Konstanty Czyz) Czyz family which was polonised and they were professing catholicism as early as the 16th century; the Czyz house owned the coat of arms of FOX proper since
1534
id est Marcin Konstantinovich Czyz from Nieciecza
either Marcin Czyz Konstantinovich from Nieczyca
or Marcin Czyz Nieczycki (or Nietecki) who was born c. 1495.
Marcin Konstantinovich Czyz, royal courtier from Nieciecza (either Nietiacz or Nietiaz near to Dubrovny and farther Lipniszki) according to:
- Niesiecki 1839
- Czarniecki 1875
- Boniecki 1901
- Leszczyc 1908/13, page 210
- historical magazine of 1914
- historical magazine of April 1938 (number 4/17, page 49)
- Dymmel of 1995.
I can't give many more information about the question for the sake of my copyright. This is abbreviation of genealogy, "ad perpetuam rei memoriam, non ad publicandam".
---
Next, unknown of name Konstantinovich Czyz (either Konstantinowicz who was born c. 1530 or Michno Konstantinovich ?) was withdrawing in the last will and testament of his father in
1547
and was destitute of the legacy which daughter Margaret inherited; she had got some brothers.
Part of these Czyz from neighbourhood of LIDA at a later date (either Nieciecz or Nieczyca, 9 km from Lida)
c. 1550
have accepted the Konstantinovich surname (from Christian name of father according to Leszczyc of 1908/13), also retaining the armorial bearings of FOX proper and moved out to the Trakai district and thence to the MINSK province A.D.
1565 / 1575.
Earlier a famous
Michno Konstantynowicz
(id est Michal Konstantinovich - in accordance with The Record of Troki Court of 1585 / 1613, contents of "The Record of [...] Wilno", p. 122, 237 - 238)
received the big estate, an arable ground and forested land from the king Sigismund Augustus on
04 January 1554
i.e. the farmland
Merecz Michnowski
was situated in the Merkine = Merecz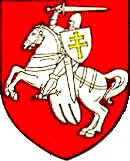 area, Merkine parish (the Troki district), beside the Niemen river (Neman or Nemunas); the above Merkine farmland was situated next to estuary of Merkys = Mereczanka river (a chief officer for life of the Merkine area (= Meretium or Merken area) was Jan Janowicz Zabrzezinski = Zaberezenski since 1536) and the same Michno possessed a landed property
Zaleskowszczyzna
49 km N-W-N of Lida in the Troki district, too (close by a south - easterly border of the former Trakai district) as early as
1552
and it seems he owned a farmland Merkine in addition id est
Merecz Michnowo
by initial course of Merkys river in the Turgeliai parish, 38 km S-E-S of Vilnius.
We submitted to the authority in Vilna on 19 May 1842 original of the privilege edited by the king on 04 January 1554 to MICHNO (= Michal) Konstantinovich who was endowed with estate in the Merecz area and submitted many of documents of the 18th cent.
This fact noted down in armorials of the Grand duchy of Lithuania:
1578 Konstantinowicz who was born c. 1530
1584 Michal Konstantynowic
1648 Konstantinowicz or Konstantinovich
A legend was about the beginning of the Konstantinovich family. Many said that our family (ancestry) has come from the BALKANS according to "Gutenberg Encyclopaedia" (volume 8); many said that the ancestry had got to descent from Serbian ancestor (janczar), who was Turkish soldier 1455 - 1463, who was afterwards in POLAND (that is since 1470 or 1471); he has written memoirs here (1490-1516 or rather 1496 - 1501) about title "(...) the Turkish chronicle (...)". One copy was in the SAPIEHA Archive. More inf. on the same Turkish soldier - Michal Konstantinovich in F. Bujak, "Studia geograf.-hist.", p. 129 - 134. The main editions of "(...) the Turkish chronicle (...)" in 1828 and 1912 misleaded many of our ancestors. The Kibalczyc family i.e. Kibalcicas have got a legend that tell us about an ancestor from Serbia - the family moved out to the Chernigov province in the Grand duchy of Lithuania in the 17th century - the legend, it's mistake, too.
1598

Petrus Konstantinovich

in France and Perugia (i.e. Piotr Konstantynowicz in the Umbrien province, Italy) according to "Lista degli scolari (...)".

1600

The Konstantinovich family used POCHOWICZ by-name (or the Pohozy, Pohosha, Pohowicz, Rokoz, Rohoza and Pokoz nicknames, information of 1937) at first in the Minsk province since A.D. 1600.

It was a certain family Rohoza in the Orsa district and Verchnjadzvinsk (i.e. Dryssa) region A.D. 1602 / 1643 but it's not our line.

c. 25 August 1601

A certain judicial document from the

district of Trakai

(i.e. Troki) tell us about a noblemen, Jan Sobolewski of Busilolisdy by Kraksznia near by Urkiszki and Stanislaw Kiszka, who litigated against a neighbour from Lachowicze due to the same taken away a little ground in 1600; the landowner called Pawel Konstantynowicz i.e.

Pavel Konstantinovich,

Matys Gozdziewski and Stefan Stankiewicz to witness at the end of August 1601; we read in the document about neighbours: a family Koklin and Jan Sowgowicz, and also about a functionary from Trakai, Jan Stanislawowicz from Bogdanowicze village; the document signed in

Urkiszki

and above village Urkiszki i.e. Ulkiszki was situated only 1 km NW of Rudziszki (i.e. Rudiskes, Lithuania now).

07 March 1643

Mikolay Pohosha Konstantinovich

was rewarded a privilege in the Minsk province handed over to him by the king Vladislav IV Vasa. Bonifacy 1st Konstantinovich derived from named Mikolay.
Just after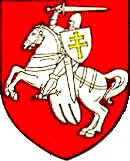 1661
they partly moved house to the EAST BELARUS in the MSCISLAU province near to:
KRYCAU = Kritschew or Kritchev (we had eight hundred peasants here; neighbourhood: Petrazycki, Nowodworski, Jerzy Malachowski, Mikolaj Shukovski and others),
MSCISLAU = Mstislavl
| | |
| --- | --- |
| a famous figures: Madalinski Karol Jakub the founder of church in Mstislavl = Mscislau in 1654, Pac Piotr the founder of church in Mstislavl in 1626, Kaminski Wlodzimierz Dadzibog the founder of church in Mstislavl in 1676, Hurko Jan the founder of church in Mstislavl in 1727, Hlebowicz Juriewicz Jan in Mscislau in 1527, Ilinicz Juriewicz Jan 1528, Zenowicz Juriewicz Jurij 1529, the Polubinski family, Solomerecki, Krsak (and not Korsak) Jozef in Mstislavl, duke Oginski Jan the senior provincial chief in 1676 | some known senior provincial clerks in the Mscislau territory: Jurij Jurjewicz Ostyk (1566 - 1578), Hieronim Jurjewicz Chodkiewicz 1593 - 1595, Pawel Mikolajewicz Pac 1578 - 1593, Stanislaw Mikolajewicz Narbut 15955, Jan Janowicz Zawisza 1596 - 1599, Dorohostajski Mikolajewicz Piotr 1600 - 1605, Sapieha Iwanowicz Jan 1605, Tyszkiewicz Eustachy Jan 1611 - 1614, duke Holowczynski Jaroslawicz Aleksander 1614, duke Gedroic Matwiejewicz Marcin 1617, Tyszkiewicz Janusz Skumin 1621 - 1626 and others |
| the Mscislau town has plunged into districal function in Russia in 1777, and here are some noble districal marshals: Hawryllowicz in 1777, Rajewski Gabryel 1782 - 1789 and in 1807, Ciechanowiecki Jan of the Dabrowa coat of arms in 1789, Holynski Michal in 1790, Holynski Ignacy 1807 - 1809, Holynski Adam 1809 - 1817, Holynski Michal 1818 - 1820, Sobanski Jan of the Junosza coat of arms in 1822, Stachowski Kazimierz of the Ogonczyk coat of arms in 1858 - 1863, Kamienski Szymon in 1864 | a famous Mscislau officers and big oligarchies in Mscislau: Hlebowicz Jan of the Leliwa arms in 1527, Ilinicz Jan of the Korczak arms in 1528, Despot Zenowicz Jerzy in their own arms in 1529; duke Polubinski Bazyli of the Jastrzebiec coat of arms in 1535, duke Solomerecki Jan of the Rawicz arms in 1566 - 1571, Despot Zenowicz Jerzy in 1539, Hlebowicz Jan 1547, duke Polubinski Jan 1551 - 1555, Pac Pawel of the Gozdawa arms in 1583 - 1607, Pac Piotr 1611, duke Drucki Sokolnicki Jan of the Druch arms in 1612, Radziminski Frackiewicz Mikolaj of the Brodzicz arms in 1615, Sapieha Krzysztof of the Fox arms in 1623 - 1625, Korsak Jozef of the Korsak coat of arms in 1635 - 1641, duke Radziwill Jarosz of the Trumpets coat of arms in 1641 - 1650, Tryzna Gedeon 1651, Ciechanowiecki Krzysztof of the Dabrowa arms in 1653, Ciechanowiecki Mikolaj Waleryan 1658 - 1671, Oginski Jan from Kozielsk in 1674 - 1680, Oginski Leon Kazimierz in 1681 - 1697, Kociell Michal Boguslaw of the Pelican arms in 1701 - 1705, Oginski Grzegorz Antoni 1706, Kociell Boguslaw 1710, Sapieha Mikolaj in 1716, Oginski Kazimierz in 1717 - 1719, Lendorff Jan Kazimierz in 1719 - 1729, Ciechanowiecki Feliks 1731 - 1733, Wollowicz Aleksander of the Bogorya arms 1734 - 1738, Ciechanowiecki Nikodem 1738 - 1747, Wollowicz Krzysztof 1749 - 1757, Sapieha Michal 1757, Lopacinnski Mikolaj Tadeusz of the Lubicz coat of arms in 1757 - 1767 - died 1778, an officer Lopacinski Jan Nikodem son of Mikolaj - last Polish functionary in the city in 1767 - 1772 |
and
in the region northwards of MSCISLAU (the villages Samava = Chamovo at the map of 1834, Kopceuka = Kopciowka, Niesterevo – the Berezetnia estate), where Swedes under Charles XII looted their estates in summer A.D.
1708 :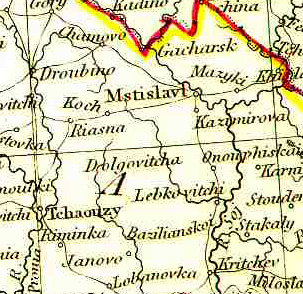 - Piotr Konstantinovich who was born c. 1610 in the Minsk province; he lived in the Mscislau province A.D. 1669
- Augustyn Konstantinovich (the municipal and territorial writer, born c. 1635, had died 1713 or before 1713)
- Adam in 1697
- Krzysztof in 1697
- Adam Franciszek Konstantinovich 1707
- Antoni Konstantinovich in 1763 (the Second Manifesto of Lithuanian Nobility)
- Dominik born ca 1805 in the Mogilev (either Mogiliow or Moghilev) Government near by Krycau. His relatives: Szumski, Soltan (b. 1756), duke Radziwill (b. ca 1765), Jozef Benislawski, Smokowski (b. 1797), Piottuch - Kublicki (Oktawia born ca 1810, Jozef b. ca 1780, Emilia ca 1812), duke Oginski (ca 1810); thereafter - in the generation of Antoni, Aleksander and Ludwik Konstantynowicz, born ca 1833 / 1852 - relations of the Szostaks, with count Eysymont (b. ca 1850) and the Salmonowicz family.
§
Some known and famous families in the Mscislau territory, the Polish and others:
Abramowicz (among others Bohdan with Burczak nickname and Abramovich surname in the Mscislau province A.D. 1525; possessed Powiatowszczyzna after 1636, too; related to Hornostaj house), Adamowicz (Leliwa arms, worked for Mikolej W. Ciechanowiecki in the province of Mscislau in 1644), Bartoszewicz (Sochon place), Bialozor, Bieganski (or Beganskis since mid 16th century), Bilewicz or Billewicz, Bohowity, von Broel Plater,
Brujewicz of the Boncza coat of arms (or Boncz - Brujewicz, possessed Bohdanowka 1st in the Mscislau district since 1870 - 10,5 km Nord of Jurkowschtschina i.e. Jurkowszczyzna - and also Poplatyno in the district since 1870; Petrulin in the region of Cerykau; Muryn - Bor or Bor near to Holynski's Michiejevitschi / Michiejewiczi, i.e. 12 km NW of Klimavicy since 1870; and Sieliszcze 18 km E-S-E of Cavusy or Czausy - since 1876), Brzostowski, Bujniewicz (Buinevicius of the Boncza coat of arms derived from the Slonim area and verified in Vilna in 1819), Bulharyn (Michal was persecuted since 1827 to 1842, they lived then in Zabloszyn in the Klimavicy district, the Mahileu government), Burdzilowski, Buywid (in Mscislau in 1664), Chlusiewicz, Chodzko (performed function of a clerk in Mscislau in 1759), Chominski, Chrapowicki, Ciechanowicz (Bogdan in the province in 1442, Ostafiej and Mikolaj - clerks in Mscislau), Ciechanowiecki of the Dabrowa coat of arms (or Cechanaveckas and Tiechanowiecki, before 1654; among other things Jan Ciechanowiecki a functionary in Mscislau 1620, some of whom in 1648, Mikolaj was officer since 1600; Mikolaj 2nd Tiechanowiecki from Tiechanowiec was a functionary in Mscislau 1669 - signed agreement in Andruszov 1667; a certain was an officer in 1770 and they possessed Dudzinki estate in the 18th and 19th cent.; relations of Nagorski), Czaplic (Adam Eufemiusz Czaplic from the Mahileu government, Polish nobleman and Russian general fought against the Polish in 1792 and 1794, and also against Napoleon in 1812, friend of prince Potiomkin), Czerski (priest of the Society of Jesus, Hieronim Czerski lived in Mscislau 1716), Daszkiewicz, Dederko of Dederkalo coat of arms (verified on 10 March 1798, lived in the Mscislau province and they possessed: Stare Siolo - 8 km NW of Mscislau, Nowe Siolo i.e. Novae Sjalo or Nowosiolki - 13 km SW of Mscislau, Hryckowo, Pisarzewszczyzna and Turowka - 14 SW of Nowoje Sselo = Nowe Siolo), dukes Drucki - Horski, Drucki - Sokolinski i.e. dukes Drucki Sokolnicki, Drzewiecki (or Dzeveckas of the Nalecz arms was landlord in this province and he has lost assets here in 1655 - inf. of 1665), Dudka,
Gorski, Hawryllowicz, Holynski (related to: Ostankiewicz, Hurko, Konstantinovich, Wojna, Karpilowicz, Suryn before 1663, Anna nee Sutocki + Norbert Holynski from Janovek, Moskiewicz, Piszczal from Brakowiec, Kurzeniecki, Aleksandrowicz and Starosielski from Holedz at the beginning of the 18th cent., Bojwid, Chodzkiewicz, Kaszyc, Mister(ow), Kirkor, Zyrkiewicz, Zukowski and Stachowski in the 18th cent., Kotly, Kolski from Chlyszczewo by 1670, Chelchowski at the beginning of the 17th cent., Issakowicz, Nagorski, Swatkowski + Tekla nee Holynski at the end of the 18th cent., Czudowski, Ciechanowiecki and Wieczor at the beginning of the 19th cent.),
The Holynski family possessed also places:
Adelin, Michejewicze in Chotowiz (i.e. Chatoviz east of Kritschew) area, Diahowicze (or Diagoviczi 3 km from Russia now), Mokre in Moszowe area, Janopol (here duke Sergiusz Meszczerski at a later date), Rudnia (or Rodnja) and Szumiacze (or Sumjaci, Szumianicze by the Ascer river) in the Klimavicy district (or Klimowitschi); Bolotnia in the Rahacou district; Jozefow (that isn't Jozefowka near by Mscislau), Brakovce and Radoml (Radomlja SW of Rasna) in the Cavusy (Czausy) district; Buda Paleviczeva, Szumianiczi (or Szumiaki, Szemienicze - map of 1859 - 4 km SE of Mstislavl at the beginning of the 19th cent.), Janovka (16 km SE of Mstislavl and near to villages Pniewo by Sozenka, Kratorowka and Babiczowka - here Charkiewicz and Kolkovski families, too - Russia now), Kazimirowo, Lupiszczyce (Lutiszcze probably for the present, near to Karol Swiacki's Nov. Belica), Monastyrscina (or Monasterszczyzna, Monastercza, Monastyrszczyna NE of Mscislau in Russia now; with farm of Hoholowka), Horodek (alongside family Suryn), Sutok, Tupiczyn, Czarnilow and Saprynowicze (at the beginning of the 19th cent.), Kopciowo (or Kopceuka which they took over into their estates from Konstantinovich family; here Feliks Holynski son of Jan) and Kadzino (i.e. Kadino 2nd - 8 km NE of Samava - area of Bochot A.D. 1708, by Horodnia river) in the Mstislavl district; Chocimsk (border of Russia now and in the 16th - 18th cent.), Hajdukowka (with farms: Zielenkowicze, Kazimierzowo, Widujce), Michalin, Kritschew, Zadobrost, Iwandar (here Catholic church since 1849; with above the Hajdukowka farm at the beginning of the 19th cent.) and Choloblin (14 km SW of Kritschew in the 19th cent.) in the Cerykau district; and Stefanowo in the Horki district
Hornostaj, duke Horski (places: Miksztyn or Miksztyno, Dudino, Liszki and Cerkowiszcze, and next here families: Ciechanowiecki, Hurko, Taran, Suchodolski), Hurko (in Jurkowszczyzna - 1330 ha. - near to Soino, Russia now; the Hurko house related to Dabrowski family of arms Abdank, branch from Siauliai and Kaunas territories), Hylzen, Illinicz (Alexander functionary in Mscislau 1740, owner of Polnykow), Jaroszewicz (Ludwik lived here in 1764), Jelski (priest Wojciech Wijuk Kojalowicz, "Armorial of the Grand duchy of Lithuania knights, so-called Compendium" had written on the Pielesz crest c. 1650, ed. in Cracow 1897: two swords at red field of shield and three feathers from ostrich above - plate, p. 212; four families with the Pielesz arms stayed in Lithuania and Belarus, among others Ielskj i.e. Jelskij - some with cross among swords, inf. of 1620 in the Mscislau province; Krzysztof Jelski officer in Mscislau 1632 and 1648 - related to Radoszynski), Jozefowicz (Sielec or Sjalec farm),
Kamienski of the Cholewa coat of arms (or Kamenskas, among others Jan Kamienski from Podlasie area performed function of an officer in the Mscislau castle; Symon in Mscislau A.D. 1564; Alexander Kamienski with the Korwin i.e. Slepowron coat of arms was a clerk in the Mscislau province 1604 - 1614; Teodor in 1648, too; Wlodzimierz Dadzbog Kamienski here in 1668 and 1676; here related to: Drucki - Sokolinski, Baka, Mezynski, Krzywkowski, Kirkor, Klimowicz; derived from Kamiengrod and verified in 1820; others: in Mscislau 1632, 1641, 1648, 1696; among other things owned Jelkowo, Moszny by c. 1667 and Kamionki in the Smolensk province still in 1672), Kaminski, Kaptelew (Russian), Karski (or Karskis of the Janina coat of arms in the province in 1666; owned Kotowszczyzna by Lobza river i.e. Labzanka or Lobsha river near by Klimavicy), Kobylinski (or Kobilinskis of the Harm coat of arms; verified in 1802; the Mscislau province in the 18th cent.), Kociell of the Pelican coat of arms, Korsak (Jozef Korsak, officer in the Mscislau province in 1611 - lived in Hlybokae, too; the others after 1667; possessed Holubicze in the Polack province and an estate in the Merkine parish - the Trakai district; in the Vicebsk government related to Lissowski house),
Korzeniewski (or Korzeniowski with the Fox arms or Kosciesza arms according to Piekosinski, derived from the Brest province; the house distinguished in the Vicebsk province, the Polack province and Livonia since the beginning of the 18th cent.; the Korzeniewski house possessed village Usa (Usza or Staraja Usha) near by Kaluzyn, and also in the Minsk government they possessed: Piorunov(y) Most together with Nieciejevski family, Krasny Brzeg and Hajdukowa Sloboda (Galdukowa Sslobodka); Korzeniewski Jerzy + Konstancja nee Jablonski from the Mscislau province were owners of the Jurkowszczyzna farm in 1766 - Polish-Lithuanian Commonwealth i.e. a federal monarchy-republic formed by the Kingdom of Poland and Grand Duchy of Lithuania then http://omniknow.com/essays/Polish-Lithuanian_Commonwealth.html , and Russia now; they verified themselves in Hrodna in 1835; related to Ulanowski family), Kisiel (neighbours of Pietrazycki family 1663), Kostrowicki (the Bajbuza coat of arms - verified in 1799; they lived in the prrovince before 1569, after Jan Kostrowicki moved house to the Lida area - verified in 1801; derived from Ivan Kostrowicki from Stechow i.e. Kostrowicze in the Mscislau duchy and they possessed here Rudodymo, Stechow and Tarapow; related to Zambrzycki family), Kowalewski (a certain was servant of Zapolski family in 1663), Kozlowski (either Kazlauskas or Ozkinas; among other things the Fox armorial bearings, too; Jan Kozlowski landowner in the provinces of Mscislau and Smolensk + wife Justyna nee Krzywonos - their estates were burned in 1654 according to information of 1665; Piotr Kozlowski son of Borys, duke from the Smolensk government, b. 1783 - d. 1840, Catholic, related to duke Kurakin, friend of Wilhelm Dorow, duke Piotr Wiaziemski, Filip Wigiel, Lizakiewicz, Talleyrand and Aleksandr Puszkin), Krukowski (or Krukauskas of the Korwin coat of arms; among others Zacharyasz Krukowski in the Mscislau province in 1648; and others here were the members of the Greek Church in 17th cent., they came from Volhynia and after lived in the Navahrudak territory and in the Smolensk province; in Mscislau: 1674, 1679, 1700, 1706), Krylow (Russian; Bohdanowka 2nd in the Klimavicy district), Kurzeniecki (relations of the Chrapowicki family), Kulakow (or Kulak from Myszkino i.e. Myszkin; Jan Kulak or Kullak i.e. Kulakas of the Axe arms various in the province in 1653), the Kurko house (Jurkowszczyzna village, close by an estates of the families: Hurko, duke Polubinski and Rajewski in the 19th cent.),
Lazowy, Lopacinski of the Lubicz coat of arms (Myszkowicze Male in the region of Cerykau), Lendorff, Luszczyk (or Luscikas of the Lukocz coat of arms, verified in Vilna 1803), Madalinski (or Madalinskas near to Radoml NE of Cavusy), Masalski, Mezynski, Moskiewicz, Mosiewicz, Myszkowski (or Miskauskas of the Jastrzebiec coat of arms), Makowski (or Makauskas in the Mscislau province), Niemirowicz, Niesiolowski, Oczkin (proprietors of Rudnia village in the Mscislau district i.e. 13 km SE of Mscislau, Russia now - since 1868, and before count Wollowicz who sold this estate, with a village Piaseczno, to Mikolaj Lopacinski in 1759), Oziemblowski, Oleszkowski, Olesza, Ostrowski, Owsiadowski, Ostaszkiewicz, Ostapkowicz, duke Oginski from Kozielsk, Ostankowicz (i.e. Ostankiewicz from Hriaziwiec and Cyganovo in the Cerykau district - here in the 19th cent.), Osmalowski (or Osmolowski; Bohdanowka 2nd in the Klimavicy district),
Pac (in Radoml A.D. 1584), Petryzycki (or Pietrazycki, Petrazycki, Petrazickis in the Orsa and Mahileu areas A.D. 1592, Mscislau 1648, a farms in Suchanowo 1654, Koscielnik and Szamowszczyzna = Samauscyna 7 km NW of Mscislau; near to Krycau 1695, village Petrazyce or Pietryki by 1813), Pietkiewicz, Pieczkowski, Piotrowski (or Pietrowski 1697), Pleskaczewski,
Polonicki (related to the Konstantinovich family; they derived from Eustafi Polonicki who stayed in Kaniow of 1663), dukes Polubinski (duke Leo Polubinski in the first half of the 16th cent.; Wasil in Mstislawl A.D. 1535, Iwan was officer in Mscislau 1569, Konstantyn Polubinski in Mscislau 1627 - 1629, Karol was clerk in Mscislau in 1700; they possessed village Leszczynsk A.D. 1510, Slowuczany and next village Jurkowszczyzna since 1858 - 7 km NE of Soino i.e. Sojna at the map of 1859; the family was kinsman to the Fedorowicz house and Wolowicz i.e. counties Wollowicz - middle 16th century), Poniatowski (1666), Puciata (or Putiatas of the Syrokomla and Przyjaciel coats of arms = "the Friend"), counties Puszkin (according to Szaposznikow, vol. 1; in Mscislau 1774, they owned Kolodzicz = Oltuchow in the province A.D. 1560, after Sielec or Sjalec farm south of Mscislau, Novae Sjalo i.e. Nowosiolki SW of Mscislau in 1774 and Monachi from Suchodolski family; relations: Sokolowski, Konstantinovich and Reutt family), duke Puzyna, Puzyrewski (or Puzirevskis of the Kita coat of arms = "the Tail"),
Rajewski (or Rajewskij, Rajauskas of the Nalecz and Radwan coats of arms in Belarus as early as 1509, here in 1528 and after 1595, 1623, owned Kislowicze and Fenowszczyzna in 1663, Perany in 1664, Stajow from Ipacewicz family and Jurkowszczyzna since 1858, Russia now - together with Polubinski; their neighbours: Komorowski from Mazyki, Ipacewicz, Strzyzewski, Zloczewski c. 1664), Romanowski,
Sapieha, Sieczkowski (i.e. Seckauskas of the Ogonczyk coat of arms, owners of Sieczkowo in the province for centuries), Sielanko (i.e. Selankas of the Syrokomla coat of arms, owners of Soczylowo and Wielkie Siolo villages; verified in Vilna A.D. 1820), Siesicki, Sobanski of the Junosza coat of arms, Sobolewski (relations of Bielecki family at the beginning of the 18th cent.), Solomerecki, Skorupa, Stachowski of the Ogonczyk coat of arms, Stankiewicz (i.e. Stankevicius among others of the Boncza coat of arms and the Mogila arms (= "Grave") in the province A.D. 1648; next in Vilkmerge in the 19th cent. and in Moscow in the beginning of the 20th cent.), Staszkiewicz (i.e. Staskevicius of the Sas coat of arms and the Leliwa arms, e.g. Rafal Staszkiewicz derived from the Smolensk province to the Mscislau province after 1625), Strumilo (i.e. Strumillo or Strumilas with the Nalecz and Dabrowa coats of arms; the Russians burned down assets of Dominika nee Strumilo in the province 1655 - 1665, according to Jan Ciechanowicz, vol. 5), Suchodolski (i.e. Suchodolskis de Suchodol here in 1648), Sutocki (i.e. Sutockas of the Dolega coat of arms, nickname Malkowicz, numerous estates in the Mscislau district in the 19th cent., next in the Trakai district, related to: Kijacki, Holynski, Krzywicki, Kozuchowski, Kondratowicz, Ostankiewicz, Zubr, Platowski - vide the work of Jan Ciechanowicz edit. in Rzeszow 2001, vol. 5), Swida (by-name Swidwo, of the Grabie diverse coat of arms, in the Mscislau district in the 19th cent., related to Dernalowicz family, verified in Minsk in 1802 and 1828), Swiecicki (Karol Swiecicki a clerk in Mscislau; they lived in Myszkino in the Mscislau district since 1600, according to K. Brodawka - Swiecicki on 24.04.1994), Szklarewicz (a farm Rudnia in the Cerykau = Tscherikoff district since 1867, 825 ha. and 12 km west of Klimavicy), Taran (before 1746), Tarnowski (descendants of Marcin Tarnowski lived in the Mscislau province, i.e. his son and Izabella nee Moskiewicz, related to Lesniewski noble family; served Russia as officers in the end of the 18th cent. and verified in Mahileu), Turkiewicz (or Turkevicius of the Suszynski coat of arms from Soszyn before mid 18th century; derived from the Mscislau province and related to: Szymanowski, Ror, Jastrzebski, Sokolnicki and Ludkiewicz; verified in Vilna 1806), Tysza - Bykowski (Wladyslaw of the Jastrzebiec coat of arms in the province and also he was owner of an estate in the Lida area), Tyszkiewicz, Tyzenhauss, Tolpyha (in Horodecznia),
Wasilewski, Wiazewicz (or Vezevicius of the Leliwa coat of arms in the district of Mscislau and related to Dybowski and Jacynicz families, according to Starzynski), Wieliczko (1646 - 1818, e.g. Samuel Wieliczko was a clerk in Mscislau A.D. 1715; Jan and his son Pawel - inf. of 1815 / 1818; verified in Mahileu 1801), Wigura (the Wigura family derived from the province of Mscislau and Jan owned Dubowica by Vihra or Wechra river in 1660 - 24 km SE of Soino - and Krutelniki near to Sieliszcze before 1654; Sieliszcze was situated 18 km E-S-E of Cavusy or Czausy), Wiskowski, Witkowski in 1743, Woroniec (or Voronecas, owned: Mglino, Hrydkowo, Noriczino; neighbours of the Pietrazycki family 1659), Wojna, Wojnicz (Woynicz, Voinicius), Wojnilowicz,
counties Wollowicz (or Volovicz since 1590 in this territory, next of kin with Szemiot family in 1700, owned A.D. 1778: Staje, Berezetnia near by Konstantinovich's Samava, Horowatka, Ray i.e. Bolshoj Raj 10 km E-S-E of Samava, Miteykow i.e. probably Miljejkowa close to above Ray, Kozuchowicze i.e. Koshuchowitschi 4,5 km NW of Brujewicz's Bogdanowka 1st, Polachowszczyzna, Jurginow and Pietrowicze i.e. Petrovici estate - 810 ha. and 10 km E of Soino - in Zahustyn area, the Klimavicy district A.D. 1784, Russia now; related to Kamienski - inf. of 1623; others in Mscislau in 1634, too; they came of Stanislav Wissygina of 1413 with Bogorya arms according to Niesiecki of 1842, vol. 9, p. 414 - 421: and his son Jerzy Wyssyginowicz who accepted Wolowicz surname in 1454, and also his grandson Jerzy Wolowicz who fought in the battle near by Viedrussa in 1499, this last Jerzy had 3 sons (Niesiecki missed out a generation, I think): Bogdan, Grzegorz and third unknown; two sons came of this third unknown: Ostafiej - inf. of 1568 and Marcyan + wife nee Pac: they had 3 sons i.e. Dominik + wife nee Savicki, Jan Kazimierz + Katarzyna nee Narushevich - inf. of 1676 and Wincenty who died in 1698; above Dominik had 3 sons: Marcyan 2nd + Antonina nee Zahorovski in the Mscislau area in 1704, Krzysztof and Wincenty from the Mscislau province; Wincenty had daughter who had gotten married to Pac, and also six sons: Marcyan 3rd, Dominik 2nd, Aleksander, Krzysztof, Jerzy and Stanislav who died in 1737 and had gotten married to Eleonora Racs; this last Stanislav had two sons living in the Mscislau province in the middle of the 18th cent.), Wysocki (with the Godziemba coat of arms, descendants of Pawel and Michal Wysocki; verified in Vilna 1820), Zabiello, Zenowicz (leased the Mstislavl castle in 1529, and others persons in A.D. 1664 and 1756 in the province), Zukowski (Shukovski), Zeligowski K. L. (in Cavusy i.e. Czausy or Tschaussy 1666)
and others families.
---
All descendants with the Fox coat of arms proper and of the Bowel coat of arms and Svarplovicz nickname in the 17th cent. and with our Konstantinovich surname came from Michno Konstantinovich:

region of Brest (Jedrzej i.e. Andrzej Konstantinovich was the mayor 1664 and Roman Konstantinovich was a priest of the Greek Church in Jelna 1667);

area of Braslaw and Mscislau;

the others of the Konstantinovich family still lived in the central MINSK province (the villages Babianowszczyzna = Buchta, Little Loszyca in the Koroliszczewice parish - a region of Siennica, Koroleszczenicze (or Koroliszczewice) and others; Mikolay Pohosha Konstantinovich as early as 1643 and Jan Konstantinovich in 1698; consecutive Jan Konstantinovich was born in the Minsk province at the beginning of the 18th cent. and possessed here the village Buchta = Baguta for the present); in the SLONIM district (Hermogen Konstantinovich wrote down in a tribunal documents with his neighbour Mizgier in 1603 and Michal Konstantinovich, he signed the Olkienicka Alliance in 1698 and had the Radwan coat of arms, called Plawski); in the province of VILNA (Jozef Konstantinovich Master of Arts, published "Decisio controversiae juris canonici (...)" in 1647 and Stefan who was a member of the municipal board of Vilna in 1665 and information about him in 1669; Symon (= Szymon) Konstantinovich was a deputy to the Warsaw general confederation in 1668; in the Vilna district was lady Maryna Konstantinovich in 1673; Franciszek Konstantinovich lived in the town Vilna in 1686 and he witnessed a riot) and PINSK (Pokoz nickname in 1674).

The Konstantinovich family with our coat of arms was also in PORAZAVA and VOLKOVYSK (a Porozov landed property = Porosow near Vaukavysk / Volkovysk or Vawkavysk in 1669; and also 03rd November 1621 - Ivan Konstantinovich / Jan Konstantynowicz conventioneer of a noble meeting in Volkovysk before the war of Riga) and in the region Paszkowszczyzna – Kuranec (Jan Konstantinovich in the OSHMIANA ex-district 1690) near to Vilejka in the 17th century.

In the Hrodna district (Adam Konstantinovich landowner near to Hrodna with his neighbour Eysymont in 1646 and Bazyli Konstantinovich who was a royal general in the Hrodna district 1664 - 1688). The Ejsmont family (= Eysymont or Eysimont) was a neighbourhood of them, for the first time information of 1539, 1585 and in the Hrodna area of 1632, they were persecuted here in 1863; near of kin with the Lobaczewski family in a place Great Eysmonty.

In the Troki district Krzysztof Konstantinovich was a clerk of the district in 1669.

Somebody (owned Fox coat of arms according to an armorial of 1914) among Cossacks near to Perejaslav (Ukraine) in 1756 and somebody pro tempore in Greater Poland at a later date in the 18th century, too.

The ancestry Konstantinovich in the 18th cent. lived in:

1. the Minsk province: Koroleszczenicze (= the parish of Koreliszczewicze) near to Minsk and the small holding Little Loszyca near to Koroleszczenicze; we were in the Buchta (= Babianowszczyzna; here Jan and his sons: Maciej, Pavel, Samuel, Bazyli, Antoni, Franciszek and Marcin) estate in the first half of the 18th century;

2. near to Braslau (or Braslaw), SE of Dyneburg; Zenon Konstantinovich was related to the family of Beynar - Bejnarowicz of the Novina - Zlotogolenczyk arms;

3. near to Mscislau;

4. close to Brzesc (or Brest = Brest - Litovsk);

5. at Volhynia (1729 with the title "palatinus Kijoviensis" to Bazyli Konstantinovich);

6. the families Konstantinovich survived in the Hrodna area in the 18th cent. accordingly to S. Koscialovski ("Antoni Tyzenhaus", volume 1, p. 646); in the Grodno (= Hrodna) province was an information on 19 April 1764 about Jozef Konstantinovich and the same Jozef at a later date in 1765 (The Record of Province of Vilnius 1764 - here are "Instructions from the nobility of the Wilno Province for deputies to the Warsaw parliament"); besides in 1765: Antoni, Jan, Dominik, Benedykt and Leon served their country;

7. Jan Konstantinovich and Michal in the Vilna (Wilno) area in 1779 (they lived in the Hrodna district, too). It hasn't a signatures of persons with the surname Konstantinovich from the Grand duchy of Lithuania (without the Polish Ukraine: Podolia and Volhynia) in a documents of the Sluck Protestant Confederation of 1767.

On active service during the war against Russia 1654 - 1667 :

- mister Konstantinovich with the Fox arms commanded a Cossack troops that occupied quarters in a villages Krasiejewie and Iwaniki (probably the Pinsk district in Polesia / Polessia); on their stay rifled these places on 15 January 1665; the above Konstantinovich commanded the Tartar troops in 1666 and mister Fastowicz and Gasiewski prosecuted the named in the Mscislau court (the Mscislau province) according to Jan Ciechanowicz;

- Augustyn Konstantinovich (died 1713) was a clerk of the Lithuanian military confederation from 1661 to 1667 according to Jan Vladyslav Poczobutt - Odlanicki (b. 1640, d. 1703, memorials 1640 - 1684, supporter of the Pac family).
---
The Konstantinovich family from eastern BELARUS (Antoni Konstantinovich was born c. 1833 - Krycau, Mscislau, Samava) is my ancestors.
1772
this territory was already in Russia, as the Government of Mahileu after the 1st Partition of POLAND, I am afraid.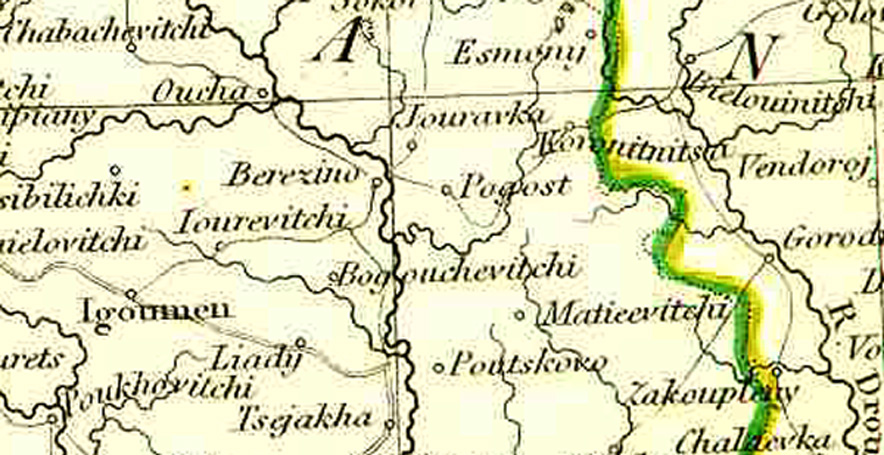 They partly have moved out to the easternmost parts of the MINSK government to the Berezina parish after circa
1840 (or 1842)
id est in the villages BOROVINA and MIEZONKA (the village is situated 28 kilometres south - east of Berazino = Beresino either Byerazino or Berezina).
Named Meshonka: here lived Antoni and his son Stanislav; the same Stanislav Konstantinovich from Miezonka and Anna nee Malkiewicz are parents of my grandfather; my great – grandmother Anna nee Malkiewicz (Malkevicius of the Tarnawa coat of arms and others, mainly in the districts of Panevezys and Siauliai) came from the Dryssa ujezd (= the Werchnedwinsk district; the place Asveja) in the Government of Vicebsk; she was near related to the families Brzezinski and Werakso, Ostrowski (from Piotr Ostrowski de Kaki in 1697; 1760 by the Czerowacz lake in Livonia) and Filipowicz (Pilipavicius or Pilipaitis with the Pobog and Prawdzic coats of arms and verified the armorial bearings in Vilna 1821: Jozef, Mateusz, Michal, Antoni, Szymon, Izydor, Benedykt and Joachim); family of my grandfather had next of kin Georgians. See www.surnameweb.org/registry/m/a/l/malkiewicz.shtml
§
below the German maps of 1943 (out-of-copyright?)
NE of Miezonka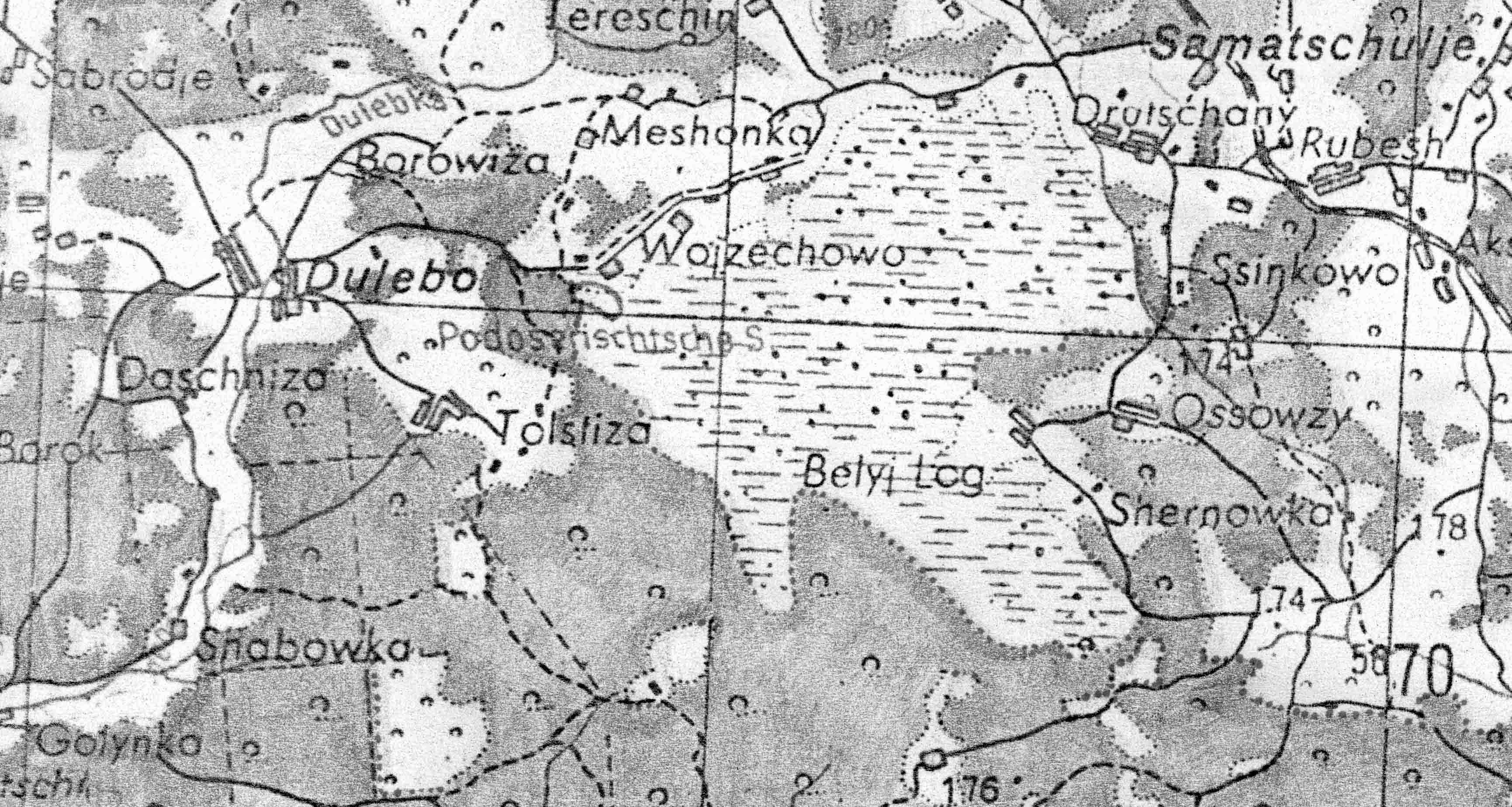 SE of Miezonka
The poor nobility in the East Belarus in the first half of the 19th cent. lived in two clumps, west and east group.
The west one, by the Druc' river (near by Sjanno, through Careja and Bobr, to Talacyn and southwards Bjalynicy and next Druc village) and the east one by the Soz river (from Mscislau, through Krycau and to Cacersk, here thickest). In the east group were a big localities, 40 - 850 persons. A fortunes of Poles in this furthest easterly territories of the former Both Nations Republic turned out differently than by Vistula, because not a few Poles had got to choose military service in the Russian Army since the end of the 18th cent. or they worked as engineers in different corners of former Russia since second half of the 19th century. We offer an example of the Czaplic family: Adam Eufemiusz Czaplic from the Mahileu government, nobleman, friend of prince Potiomkin and Russian general fought against the Polish in 1792 and 1794, and also against Napoleon in 1812.
Nonetheless this country, the East Border, signaled to us of attachment for Polish tradition during the January Insurrection in 1863, according to Edward Maliszewski (Edvard Malishevski), ed. in Warsaw in 1920. So in the Mahileu government was plan of the uprising on May 05th, 1863. There were 3.300 insurgents; in the district of Sjanno, at a farm of Slepce - here was a group of Tadeusz Chmurowicz (Tadeush Chmurovich) and W. Szlagier (V. Shlagier), 100 strong. Horki town was conquest by night 05/06 May 1863 (19 km from the present border of Russia and 22 km from Kopceuka). The Orsa group under command of Ignacy Budzilowicz (Budzilovich) fought on May 07th, 1863. In the Mahileu district commanded W. Korsak (or Korsach) and Mancewicz brothers (Mancevich); they got defeated at once in Czarnorucz (Tsharnoruch). Consecutive battle between Russians and Polish rebels took place by Leciachy near to Rahacou by Dnjapro on May 11th, 1863, but already on May 12th and 13th, 1863 all Mahileu insurgents surrendered to Russians near by Zurawicze (Shuravicy, 38 km NE of Rahacou on May, 12th) and in Propojsk (that is Slauhard by Soz = Sosh river now, 75 km E - N - E of Rahacou in the Bychau district) on May 13th, 1863. Besides we know about a battle near by Szczawry (Scadry ?) close to the border of the Minsk government on the Mahileu one. It was similarly in the Minsk government: as early as November 1862 a Convention of the Nobility in Minsk made a statement - summons for uprising. For the first time a fighting was close by Piotrowszczyzna village (Piotrowinka ?, 18 km West of Cerven in the Ihumen district). The group of rebels retreated towards the Mahileu government, through Kolbcza (i.e. Koubca 19 km SW of Miezonka). At the same time, on May 07th, 1863, a group 400 strong fought close by Podberezje (Podbereshje 26 km SW of Cerven) in the Ihumen district, too. Consecutive battle between Russians and Polish rebels near by Loczyn on June 14th, 1863 in the Ihumen district, too (Lucznoje now, 8 km southwards of Cerven). The estate of Gorki had confiscated from Kornel Peliksza in 1863 (21 km of Minsk) after suppressing of the rebellion; Kornel Peliksza acted as chief of the Minsk province during the January Insurrection. Pawel Dybowski (Pavel Dybovski) was a chief in the Minsk district with centre in Stankow (Stankava now, 36 km SW of Minsk); it was property of general and count Emeryk Czapski. In the middle of May 1863, a group from the Ihumen district which came from east side of the Berazino parish (Berezino) under command of Piotr Jesman, after skirmish close to Boguschewitschi, was smashed completely close by Marcjanowka village (Martjanovka north of Boguschewitschi). Melchior Wankowicz older was also the insurgent in 1863.
Notwithstanding the Polish nobility lived on and on in the Mahileu government, for instance in 1865: the west group by Druc' river - 12.188 adullt persons in 521 villages and places, among others 10.447 Roman Catholic; the east group by Soz river - 25.318 persons inn 248 places but only 5.927 Roman Catholic.
Only 3.700 Poles lived in the Mahileu province in 1989, after displacements in 1918 - 21, 1928 - 37, 1941 - 44 and 1952. You can to see also according to Barancewicz : Wyzlacinscy-Bujewicz (rus, pol) Giecewicz (eng,pol,rus) Konstantinovich (eng) Leszkiewicz (bel,rus) Matusiewicz (eng,pol,rus) Tumilowicz (eng)
We were also in the real Lithuania

:
| | |
| --- | --- |
| we possessed in part a landed property Pileszyszki | in the Kaunas district in the 18th cent. (bequeathed by lady Junowicz since 1766), here lived Maciej Konstantinovich; the same Maciej had brothers: Pavel, Samuel, Bazyli, Antoni, Franciszek and Marcin. The brothers received after their parents (father Jan Konstantinovich was born at the beginning of the 18th cent.) the Babianowszczyzna = Buchta estate in the Minsk province (government then) A.D. 1798; that family verified the nobleness in Vilna A.D. 1842 |
| we lived in a district of RASEINIAI | i.e. Rosienie = Rossienie, parish of Sartyniki (or Sartininkai) in the place Komcie A.D. 1799: Jan and his son Waclaw Konstantinovich with the Bowel coat of arms and Svarplovicz nickname were here c. 1650 |
| Marijampole | i.e. Mariampole in the Augustov government in the forties of the 19th century; two of them were the members of the Democratic Polish Society |
| in Kaunas | PIOTR AND HIS SON VLADYSLAV |
| also in the Trakai area | a certain Konstantinovich signed a manifesto of the Polish nobility on 26 July 1812, according to Czeslaw Malewski - because of Napoleon conquered Kaunas on 24/25 June and Vilna on 28 June |
| the locality Chwiedziejowszczyzna | or Chwedziejowszczyzna in the Trakai district, the ex-parish Vysoki Dvor i.e. Aukstadvaris and after other parish (Uzuguostis probably) in the 19th cent.; near to Vladipolis, Alesiskes, Beizionys, Mergiskes and Mackantiskes - 7 km east of Aukstadvaris; neighbouring families: Mackiewicz (they owned in the Kaunas district or more truly in the Trakai district a Klidzie farm - from noble Tolloczko family and also froom Jan Szteyn who came from the Butrimonys parish - by 1817, and possessed also Zailgi i.e. Stecki in the Trakai district c. 1690 - here families at a later date: Krzywicki, Romansewicz, Poplawski A.D. 1757), Klidzianka and Jeleniewski |
| in Butrimonys | a certain Lucius Konstantinovich was a teacher at high school in Butrimonys (more probable that is Butrimonys 18 km SW of Aukstadvaris in the independent Lithuania after 1918 and unlikely Butrymance i.e. Butrimonys 14 km NE of Eisiskes in the Butrimonys parish near by Jargance, Jundeiliszki, Kuze, Strzelce) in the thirties and forties of the 20th cent. |
| we possessed the Ustron estate | in the Kaunas district (= region of Kovno) in the 19th cent. and at the beginning of the 20th century. |
The Konstantinovich family moved house also in the 19th century period:
- to St Petersburg in the middle of the 19th century (Michal or Michail son of Fiodor Konstantinovich the 2nd)
- to Minsk in the eighties of the 19th century (old Bonifacy Konstantinovich the 2nd)
- to Bialystok in 1810; a certain Konstantinovich was a post office officer (under command of colonel Turski for the Russian counter-intelligence and after in St. Petersburg)
- the Konstantinovich family with the Fox coat of arms in the noble locality Nosewicze or Nosowicze near to LIDA in the 19th century; the village Nosewicze is situated 6 kilometres S-E-S from Radun' or Radunsk, in the parish of Radun'; the Vilna government, former district of LIDA; those neighbours: the Hryhorowicz or Hrehorowicz family, Laskowski, Laskowicz or Leskowicz, Nossewicz or Nosewicz, Rouba, Stecewicz, Stecki, Wincza, Zapasnik and Zemojtel or Zomojtel. The Konstantinovichs got through to 19th century at Lida region: T. Konstantinovich in LIDA in 1809 / 1810 - orator, a lecturer of French and teacher at the district school.
- we were near to HRODNA in the thirties of the 19th century (area of Skidal: the places Jurevicze, Zytomlja = Jitomlia at the map of 1834, Tolloczki = Toloczki: Jozef Konstantinovich born c. 1842 and Adam born c. 1840/45; Ejsmonty: here lived Kazimierz Konstantinovich who was born c. 1850 near to Tolloczki; at Vanki 1862 - a parish of Pojeziersk; Podyvice - a parish of Lavkov(o); Orechovicze: Walenty Konstantinovich was born here A.D. 1870 and his brother Stefan)
- to Hrodna in the early eighties of the 19th century (Adam Konstantinovich the 2nd)
- near to Kazlouscyna (the village Butlerowszczyzna; Napoleon Konstantinovich lived here, born c. 1825, colonel of the January Insurrection 1863) after the November Insurrection, then in the thirties of the 19th century
- also near to Svencionys = Svencionus: the places Paragiszki = Paringis, Podciejkinie, Saule = Savuliai in the Zablociszki region = "volost" (near to Ceikiniai); that is the Zacisze estate by the small river Ejsiata in the Daugeliskis parish by circa 1865 and next property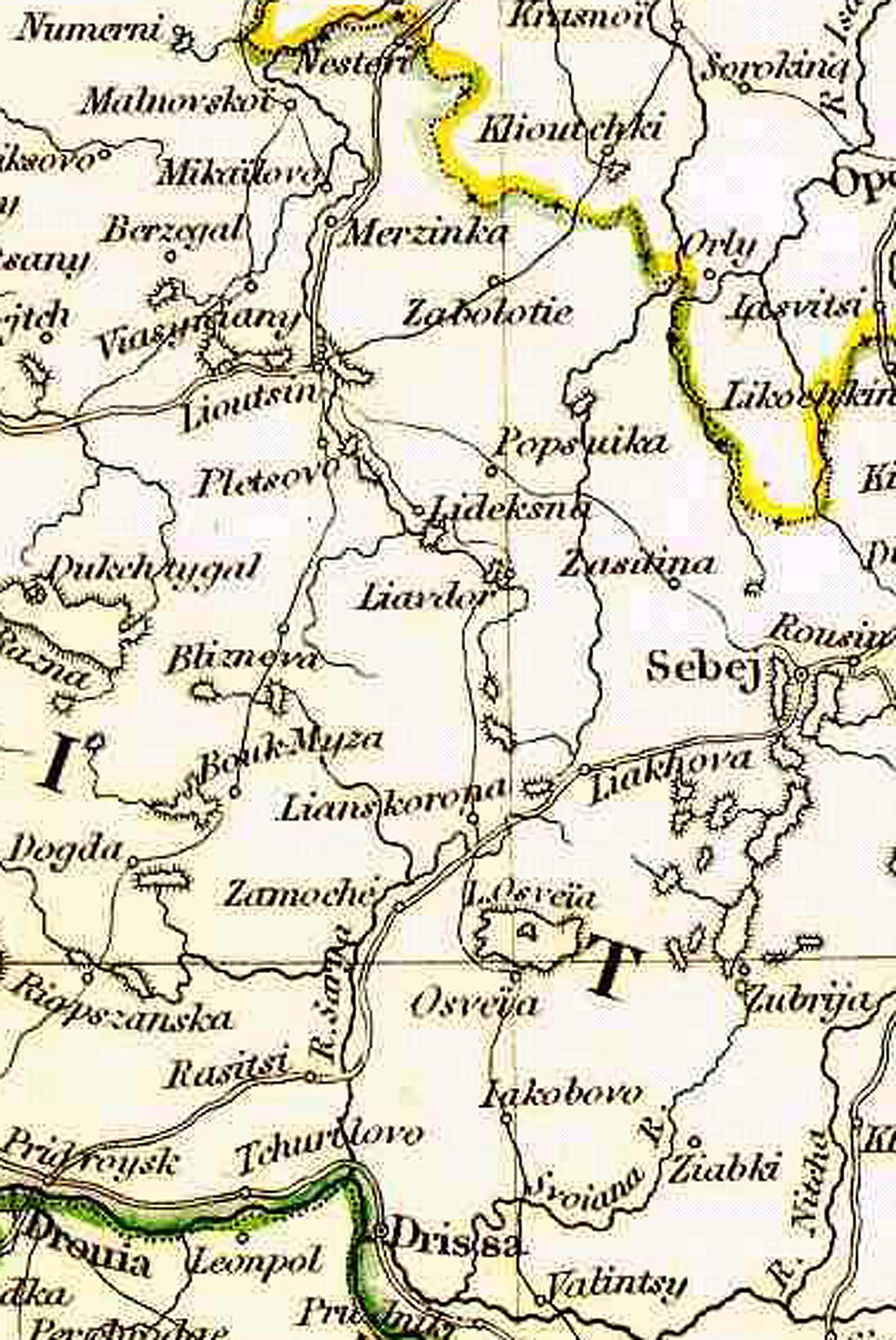 of Sviatecki family - information of 1886
- and to the Dryssa ujezd (the district of Verchnjadzvinsk = Werchnedwinsk):
the villages Old Svolna and Svolna - about here count Jozef Zarako Zarakowski
all these maps of 1834 published Charles Knight & Co. in London in 1845 and come from © the collections of the Generations Press Books & Maps - under copyright
- the Konstantinovich family also moved out to the "Polish Livland" (LATVIA today): the parish of MALNOV (the place Malnovskoi in the district of Ludza = Ludsen) near to Karsava, village Kovalki; many persons, a Roman Catholics, laid off from bureaus in the Vicebsk government after 1863:
Jan Konstantinovich an accountant,
Kosma Konstantinovich a hospital clerk,
Viktor Konstantinovich writer
- the Zapole farm (in the POLACK ujezd, either the Polotsk or Polozk district) in the government of Vicebsk; their neighbours: Kuzarevski, Nevelski, Reutt and Veryho
- they lived in BUDSLAU in the sixties of the 19th century (Jakov born c. 1810/1820 and his children Wikentij and Malvina Mancevicz and probably Semen), district of Vilejka
- Adam Konstantinovich was born in Vladimir c. 1805, officer of the November Insurrection 1831, emigrated - that is an other Volhynia branch.
---
The Konstantinovich family verified noble descent in the nineteenth century:
- a documentation of the noble Konstantinovich family with the Fox proper coat of arms was being shown in Minsk (according to: a demand of identifiable proofs by law of 1800 but as early as the end of the 18th cent. disappeared noble small-holders = "field poor nobility", domestic nobility = nobles performing an administrative duties, a rental poor nobility = rent-paying nobles and also street nobility i.e. "cobblestone" = "paving stones" one) on 15 December 1802 when Stanislaw Wankowicz was the government noble marshal; they derived from Mikolay Pohosha Konstantinovich of the Minsk province; he had 3 sons: Stefan, Hrehory Dmitr and Jozef; they owned some farmlands in the province of Minsk and carried out a positions in the first half of the seventeenth century; above Mikolay Pohosha Konstantinovich has got a privilege of 07 March 1643 handed over to him by the king Vladislav IV Vasa; from named Mikolay derived Bonifacy 1st Konstantinovich who lived in the Minsk government in 1802, according to the Minsk State Archives;
- we submitted to the authority in Vilna on 19 May 1842 an original of privilege edited by the king Sigismund Augustus on 04 January 1554 to Michno Konstantinovich who was endowed with estate in the Merecz area and submitted many of documents of the 18th cent. (according to: 1. Act of May 24th, 1818 which eliminated a slight i.e. bare nobility from genealogical books = landless nobles or "rabble" in Belarus; 2. Act of October 19th, 1831 which accomplished of division into: "dvorianie" - landowners i.e. possessors = nobles with means, "odnodvorcy" - "cabin" i.e. rural nobility and also "grashdanie" - municipal nobility, the remaining noblemen in Belarus ranked as peasants; 3. Act of November 11th, 1832 - the landowners were divided into parts: proprietors and the persons without estates; 4. Act of 1863 - the rural nobility and municipal one were liquidated); at that time verified themselves a persons derived from the Minsk government i.e. from Babianowszczyzna = Buchta holding (Baguta 15 km west of Smaljavicy); they were in Pileszyszki in the Kovno region after 1766, too:
Jan Konstantinovich and his sons Maciej, Pavel, Samuel, Bazyli, Antoni, Franciszek, Marcin and sons of the above Maciej: Jan II and Michal (childless); from Jan II his sons Adam (childless) and Michal (his sons Walenty Stanislaw, Konstanty, Jan Stanislaw, Jozef Andrzej and Alfons Onufry - they were born by 1840);
- A.D. 1853 in the Minsk government (the Fox coat of arms);
- 1859 in the Vicebsk government (the Fox coat of arms);
- Antoni (son of Dominik derived from area of Krycau) in the Hrodna government 1861 (the Fox coat of arms);
The Fox crest mean strategy, guile, ruse defensive and intelligence - argued in 1997 Mr. Pavel Dudzinski in "Heraldic Alphabet" (p. 118 and plate 314).
The Fox crest is in eleven varieties according to Juliusz count Ostrovski in "Armorial Book of Polish ancestries" of 1897 ed. in Warsaw: 1st - shield and above fox, in shield: arrow upwards with two beams; 2nd - shield and above fox, in shield: golden arrow with two beams; 3rd - shield and above fox, arrow with two and half beams; 4th - three feathers instead of fox above of sshield, with arrow and one beam in shield; 5th - arrow with three transversal beams upon the shield, and also three feathers above the shield; 6th - arrow with two beams on the shield, and also a duke cap with cross at the top; 7th - on the shield: horseshoe and above arrow with two beams, above of shield: crown with swan at the top; 8th - only in Poland in the thirteenth century: arrow with one beam on the shield without objects above of arms, and the arrow upwards; 9th - only shield, arrow downwards with one beam; 10th variety - of the 15th cent., shield with above helmet, and arrow diagonally downwards with two beams; 11th - variety of the 15th cent.: only shield with arrow upwards, and also two beams.
According to Tadeusz Gajl, "Noble crests of the Both Nations Republic", p. 127 and 128: seven kinds of the Fox coat of arms here and the Fox diverse arms of Liskowski family; 1. Fox (Mzura) - one arrow with two transversal rafters; 2. one golden arrow with two beams; 3. lack of image; 4. arrow with one transversal rafter and above three feathers; 5. three rafters on the arrow and three feathers; 6. a cap with cross above of shield, arrow with two beams; 7. shield and above crown with swan, in the shield: arrow with two beams and horseshoe below the arrow. The author write about the Konstantynowicz family of Intestines, Radwan and Fox arms only.
According to Alfred Znamierowski, "Polish regalia, symbols and arms", ed. in Warsaw 2003: discussion on sword - p. 9; about Fox crest - p. 26 and 39: mainly double crossed "rogacina" i.e. arrow; Konstiantin or Kostiantin = Konstantin that is "steadfast, constant"
- 1913 district of Dorohobuz (the Fox coat of arms in Dorogobush)
- 1799 in the Kaunas territory (other coat of arms thereabouts).
A Konstantinovich ancestry with the Bowel coat of arms had Poszeszow estate in the Raseiniai ex-district in the middle of the 16th century. The coat of arms of them authorized in Vilna (1841), and also nine generations and 57 male persons: Jan Konstantinovich and his son Waclaw with the nickname Szwarplowicz c. 1650 and grandsons Jan and Michal - them sons: Krzysztof and Stanislaw; Krzysztof had a sons: Andrzej, Jan and Jerzy; the named Michal had a son Stanislaw and grandson Jerzy; at the end of 18th cent. were 13 persons and 25 persons c. 1830: Nikodem, Jakub, Wincenty, Michal, Kasper, Teodor, Ludwik, Antoni, Kajetan and Teofil. To this Konstantinovich lineage were related the Konstantinovichs with Fox arms proper from Pileszyszki in the Kaunas (here in 1766) district; they derived from famous Michno Konstantinovich who received the big estate: an arable ground and forested land from the king Zygmunt August on 04 January 1554; the farmland was in the Merkine = Merecz area, beside the Niemen river (Neman or Nemunas) by the Merkys = Mereczanka river
- 1817 in the Hrodna district and at a later date they verified privilege of 1578 handed over by the king Stephen Bathory but with another coat of arms i.e. "two swords (some documents from Sankt Petersburg Archive - disclosure to Pavel Konstantinovich in the beginning of August 2004; "the two swords might represent the military service of two brothers, and the star above might signify a successful military engagement", as somebody wrote in successive phase of public discussion about the noble Konstantinovich family, that commenced in the middle of August 2004 in the web net, but the discussion is led by strange persons, not from our roots) which constitute a cross, and a star above them, and feathers of ostrich below (above, I think) the helmet".
I explain the problem to you (on September 10th, 2004): two naked crossing swords without golden hilts, this is fundamental Pielesz arms (priest Wojciech Wijuk Kojalowicz, "Armorial of the Grand duchy of Lithuania knights, so-called Compendium" had written on the Pielesz crest c. 1650, ed. in Cracow 1897: two swords at red field of shield and three feathers from ostrich above - plate, p. 212; it were four families with the Pielesz arms: 1. Ielskj i.e. Jelskij - some with cross among swords, inf. of 1620, 1632 in the Mscislau province and of 1648, 2. Kwasnickj Golden i.e. Kvasnickij or Kwasnicki Golden derived from Moscow, 3. Pieleszyc house in the Vicebsk province, 4. and also Wloszek family from Podlasie - inf. 1584; besides the Golocki family of the Golocki arms according to Kasper Niesiecki, vol. 4 ed. in Lipsk 1839, p. 174 - here effigy of the Golocki coat of arms: two swords on the shield, diagonally crossing with hilts upwards and a cap at the helmet - the shield is the same what the Pielesz one; the family came from Chelmno area in Poland; estates: Goloty, Sarnov near by Grudziadz, Melno, inf. of 1651; moreover Golocki family also with the Pielesz diverse arms according to T. Gajl, p. 67: a cap and two feathers above crown, and beneath two swords with golden hilts upwards in the shield; according to Seweryn Uruski, "Family. The Armorial of Polish nobility", vol. 13, 1916, p. 330: Pielesh i.e. Pielesz family of the Pielesz arms in Lithuania, the district of Panevezys, near by Upita in 1580, also as Pieleszyc; Pieleszyc family with the Pielesz diverse arms - sabres instead of swords in the shield; is said that is the same family what Pielesz; according to J. Ostrowski, p. 437, here plate of the Pielesz arms: two swords with hilts downwards in the shield and three feathers above crown); the Wloszek arms (Vloshek family, according to Gajl, p. 246, with the Pielesz diverse coat of arms, by turns from top to toe: bird above two hunting hornes, crown, shield - two swords with golden hilts and ffour roses between blades; Vloshek / Wloszek family with own Wloszek arms: coat of arms without helmet, and in the shield two crossing swords with golden hilts in palms and three roses between blades; the Wloszek arms come from the Pielesz crest; Niesiecki, vol. 9, 1842, had written about Wloszek family of the Pielesz diverse arms - they added four white roses in red field; Bielski, Paprocki and Okolovich wrote, too) resulted from link between the Pielesz arms and the Roses coat of arms (i.e. Poraj); the Pielesz coat of arms belong to a Sword group (the Kownia arms, Herburt crest, three swords and Pielesz come from the sword group); swords are in 19 arms and variants joined with another objects.
Adding of one star extra to the Pielesz armorial bearings resulted in unknown arms for Mieroszowski (plate 10, pieces 1 - 15, ed. of 1887). It's a Pielesz diverse coat of arms according to me !
This was formerly the Grand duchy of Lithuania from which they came (1795 dissolution of the state). All the direct descendants are from there (Belarus /Belorussia /White Russia/ Byelorussia) thereafter.
The following names of lines are according to my research work:
| | |
| --- | --- |
| THE BUDSLAU BRANCH | FROM MALVINA AND WIKENTIJ |
| THE HRODNA BRANCHES | FROM KAZIMIERZ BORN C. 1850/1851, JOZEF BORN C. 1842, ADAM BORN C. 1840/45 AND WALENTY FROM ORECHOVICZE OR ORECHVICZE |
| THE BRANCH FROM IRKUTSK | FROM PATRYCJUSZ |
| BRANCHES FROM THE MINSK GOVERNMENT | earliest branch from Jan Konstantinovich 1698; earlier branches from Bonifacy I, Gawryla, Jakow, Daniil (Daniel), Fiodor, Martin (Marcin) and from Leon; later branches from Bonifacy Konstantinovich the 2nd - and his sons: Jakov born 1841, Semen born 1843, Vincenty / Vikentij born 1847 and lived at Minsk in 1858; Antoni, Wilhelm, Pavel and from Jerzy II |
| THE MSCISLAU BRANCH | (FROM DOMINIK and his brothers) my family from the Mscislau area derived from - according to the oral tale - a region by Mereczanka river (= Merkys river), thus from Michno Konstantinovich with the Fox coat of arms proper, where the same possessed forest (1554) and the property of Zaleskowszczyzna (1552) but we weren't told that the Konstantinovich family derived from Toloczki; the same Michno was put down in a judicial documents of the Troki district in 1552 (according to Jan Ciechanowicz, vol. 3). Searching for an evidences last at present. All proofs show the Troki district by the Mereczanka river as the nest of our beginning and never point to the Hrodna district. All descendants with the Fox coat of arms proper and with our surname Konstantinovich come from the above Michno Konstantinovich; see the Mscislau website: |
| THE KAUNAS BRANCHES | PIOTR AND HIS SON VLADYSLAV BORN 1891 and others families |
| THE KAZLOUSCYNA BRANCH | FROM NAPOLEON Konstantinovich |
| the VOLHYNIA BRANCH | from Bazyli A.D. 1729 and what coat of arms? In accordance with "The General Webnet Inventory of Marriages": Konstantinovich Helena wife of Swatek Jan in Hrubieszow of 1859 and also Karolina Konstantinovich - Kusz in Hrubieszow in 1862; they are probably from the VOLHYNIA BRANCH |
| and UNKNOWN OTHERS BRANCHES or lineages | Konstantinovich families sealed themselves six armorial bearings: Fox proper, Bowel(s), Three Crosses, the Pielesz diverse, Radwan and Ours of the Konstantinovich ancestry - Grekul |
| UNKNOWN BRANCH | Konstantinovich families lived in the Congress Poland according to Dr. Minakowski / Minakovski of "Publikacje Elektroniczne" 2005 at http://www.przodkowie.com. Where did they come from? On this website are data about the Konstantynowiczs in Warsaw of 1854 from "The Inventory of Warsaw city residents": Konstantinovich Boleslav / Konstantynowicz Boleslaw - a functionary who lived in count Andrzej Zamojski palace; and Konstantinovich Michal - clerk. We also know about KONSTANTINOVICH Michal Jozef who had written "Przewodnik opisowo - porownawczy do wyuczenia czytania i pisania po polsku wszystkich doroslych i dzieci w krotkim czasie z illustracjami" ed. Warsaw 1879. |
We lived in the central and eastern Minsk government continuously in the middle of the 19th cent.:
1. Iwan Konstantinovich
2. Zenon Konstantinovich
3. Marcin Konstantinovich (dworianin = nobleman verified)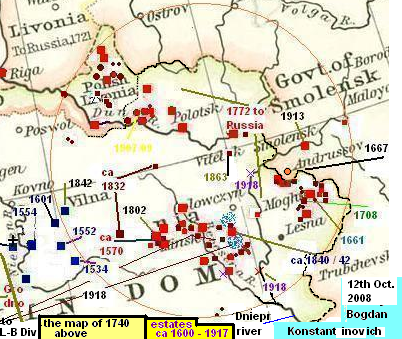 4. Iwan Konstantinovich (dworianin = nobleman verified)
5. Patrycy Gawrylow Konstantinovich
6. Wikentij Jakowlew Konstantinovich
7. Semen Jakowlew Konstantinovich
8. Kazimierz Daniilow Konstantinovich
9. Iwan Fiodorow Konstantinovich
10. Iwan Daniilow Konstantinovich
11. Mikolaj Martinow Konstantinovich
12. Iwan Leonow Konstantinovich
The above map of 1740 from www.clas.ufl.edu/.../history_shepherd_1911.html i.e.
"Historical Atlas by William R. Shepherd" (shepherd-c-130-131.jpg)
and it show to us where the Mscislau branch and relatives lived c. 1600 - 1917 in the Both Nations Republic - formerly the Grand duchy of Lithuania / Grand Principality of Lithuania, 1795 dissolution of the state but all the direct descendants are from there: Belarus /Belorussia /White Russia / Byelorussia thereafter.

- Zamostocze in the Minsk district (= uyezd), the region of Siennica, the parish of Koreliszczewicze; residents in this Polish noble locality at the end of the 19th cent.: Platovski, Narejko, Janczevski, Suchocki, Rzeczycki, Pavlovicz, Mazurkievicz, Ancielevski and our family;

- Luzki = Lushki (7 km west of Smolevicze = Smaljavicy) in the Minsk government at the beginning of the 19th cent.; here was a teacher and priest Tadeusz Konstantinovich in 1812;

- Ozeryszcze = Ozdryszcze in the Ihumen (= Igumen either Tscherwen or Cerven) district

- Mar'ina Horka = Marina Gorka; Anton / Antoni Konstantinovich son of Ivan / Jan was the prime rector of a school in the little city (the Piareshyr street) in 1866

- Little Loszyca in the Minsk district (the Koroliszczewice parish; neighbourhood of them: Pawlowski, Kostrowicki and Narcyz Torczynski; the village was situated in the Siennica = Sienica region that is "volost") and Barysau, here Stefan Konstantinovich in the early 20th century

- Konstantynov (the noble small village near to the river Usza = Usa, 5 kilometres from Borovina north; close to border of the Ihumen district) in the Barysau district

- BOROVINA in the Ihumen district, here Ludvik Konstantinovich and his son Jan born 1888, who has gone into the army of Balachovich 1920

- MIEZONKA in the Ihumen district (in the GOVERNMENT OF MINSK, the parish Berazino - Mother of God of Mercy - or BERESINO, the POHOST or Pogost region = Pogostskaya "volost" that is similar to county; PRECINCT BERAZINO = Uchastok No 2: Uyrevichskaya, Pogostskaya and the Belichanskaya volost; near to villages DULEBO and DRUCZANY; here Stanislav Konstantinovich born c. 1855 + Anna Malkiewicz daughter of Konstancja Brzezinski from the "Polish Livland" = Livonia).

I search for all information about the village MIEZONKA where my grandfather was born on 23 April 1898 either 1897 or 23 April 1900; at present Belarus', the Bjalynicy (= Belynichi) region in the Mahileu (= the Mogilev province) "oblast"; the village is situated among grand forest and southwards was big marsh - Miezonka was at a territory of the Radzivill enormous estates before A.D. 1840; this search means a lot to me.

The Combat Organization of the Polish Socialist Party conducted a contraband of weapon from Russia to Austria - Hungary at the beginning of the 20th century keeping in touch with Josef Pilsudski (b. 1867) and that track went out from Petersburg among other things across Miezonka and Lodz (the Tuvim street) in the direction to Galicia; a certain family from Lodz involved with this activity occupied quarters in Miezonka (among other things) all over the first World War and thus they became a technolators of aviation and the basis of the amateurish movement of an aviation sports in Lodz after 1920;

the Polish school of Berazino precinct was here in 1918; farm - houses in Borovina and Miezonka estates were burned down and sequestered by the Soviets in November 1918 and many perished; displacement at Ural and Siberia (the governments of Perm and Omsk) from thence in winter 1928/29; the Roman Catholic chapel was here on the German map of 1941. The Konstantynowiczs survived and got through to date at Белыничи (= Bia³ynicze, Bielynicze, Belinichi, Belynitchi, Belynichi, Bialyniczy) region, for example LARYS Konstantynowicz, a pupil at the Starosjelo / Starossalje primary school in 2007 and similarly at the Asipovicy region: a pupil at the Tatarkov primary school, ALJAKS Konstantynowicz. Starosjelo / Starossalje close to Klewka and Karytniza / Korytnica village; NE of Miezonka and near by Olschanez: welcome to my maps of the Berezino region.
---
There was a certain Konstantinovich branch from Russia in the Congress Poland after exile to Siberia (the exile to Irkutsk in 1864). Next they lived near by Makov and thereafter Ciechanov at the end of the 19th cent. and derived from Patrycjusz Konstantinovich + Anastazja nee Mierzejevski. Gavryla Konstantinovich born c. 1810 was father of Patrycjusz and Zenon, I think. The document relating to the grant of a certain estate upon this Konstantinovich branch (territory of them was situated at the border on Russia) was in Mikashovka vicarage till 1945.
Comment about the Polish emigration to Russia
Polish emigration to Russia go back to very remote epoches id est in the Tver province in the 15th cent. during duke Michal Borysovich and king Casimir IV Jagiellonian, and also in the Kursk and Orel governments and in neighbourhood of Kharkov, in basin of Kharkov river and Lopania - Doniec tributary. During the power struggles over the succession, the "False Demetrius" (1605 - 1608), a polit. adventurer posing as the son of the Tsar, arrived with Pol. assistance on the scene following famine and unrest; 1605 Pol. troops occupied Moscow and again 1610 - 1612, and also in the "Time of Troubles" (1605 - 1613) entire stream of Polish and Lithuanian rovers and Cossackes of Zarucki spilt to Astrakhan, Jaik, Tula and Archangel. A lots of noble ancestries in Russia carried Polish surnames, as Butkievich, Cholevinski, Tomashevski, Jakimovich, Dobrovolski, Teodorovski, Telakovski, Sviecicki and admitted Polish origin. A Siberian chronicles from the 17th cent. included mentions about the Polish, e.g.: Czernikowski (i.e. Chernicovski) - clerk in Ust'huta (i.e. Ust Kut) by Lena river, and next he was head of Albazin area (basin of Amur) i.e. Daurien region; functionary Jerzy Krzyzanowski (Krzyshanovski) in Okhotsk. Jan (Ivan) Bialobocki, Polish nobleman from a Przemysl region, son of Polish colonel, arrived in Moscow A.D. 1681 and next he worked in Russian diplomacy e.g. in China. Prof. V. Kluchevskij wrote on Polish, Ukrainian and Lithuanian teachers in tsar court in the 17th cent. (e.g. Szymon Polocki). We know about a court painters: Stanislaw Lopucki, Jan Mirowski et ceteri, about Polish musicians in Russian court: Jerzy Proskurowski, Jan Kolendo, Mikolaj Dylecki from Vilna, Bogdan Zawalski, Kazimierz Wasilewski, Szymon Gutowski in 1667 at alii according to Prof. Janusz Tazbir. Polish customs prevailed over Russian one at the tsarist court under Fiodor III Aleksandrovich (1676 - 1682) and his wife Agafia Gruszecki, Polish noblewoman from the Smolensk government. The Kiev Orthodox Academy was determined as Polish - Latinized until 1742. Polish - Ukrainian architect Ivan Zarudny acted in Moscow, and Lazarz Baranowicz from Chernigov who had published a lot of Polish books in Novgorod Seversky.

Just after the Partitions of Poland (1772 - 1795), the Polish abundantly poured into Russia, and a description had given Karol Lubicz Chojecki, insurgent of Counter - Confederation of Bar (1768 - 1772); he met the Polish in exile in Kazan, Tara and Tobolsk - about here since 1733 / 1735, id est during the Pol. War of Succession, when Rus. troops forced the election of August III of Saxony, the Austro - Rus. candidate to the throne, over Stanislas Lesczinski, the Fr. candidate. The same Chojecki met Polish exiles in Orel and Kaluga. He also met count Beniowski in Kazan (Maurycy August Beniowski 1746 - 1786, exiled to Kamchatka in 1770, an escape to Macao in 1771). The Bar insurgents stayed in different corners of Russia and Siberia 10.000 strong, according to S. W. Maksimow in "Siberia and exile" (among other things in Orenburg, Omsk and Tobolsk, where 600 insurgents got to mutiny after 1783).

Russian historian Ogloblin described mutiny in Krasnoyarsk, where stayed the Polish, too. German historian Pallas wrote about Polish exiles in Siberia in the 17th and 18th cent., by Lena (here numerous places: Polskaja Polana, Polskaja Pasznia, Polskaja Doroga) and Yenisei (near by Yeniseisk). The exiles of 1794, as Judycki, Tarnowski, Domaszewski et ceteri soon adopted Russian. The Napoleon soldiers came back from Siberia to the Congress Poland in 1815.

A Polish colonies in Moscow, Kherson (since 1784), St Petersburg, Kharkov (Andrzej Dudrewicz) and Odessa (Czacki, Stanislaw Soltyk, Jozef Drzewiecki and Michal Walicki since 1802 and next Sobanski family, Zofia Potocki, Elzbieta Branicki; Polish villages near by Odessa: Kochanowka, Marianowka, Mazurowka, Jablonskie, Zofiowka, Wandalinka, Stanislawka, Poniatowka, Potockie, Wielkie Potockie and Sewerynowka) appeared under of the Tsar Alexander I. At the same time Russian educational system was overhauled by duke Adam Jerzy Czartoryski (in 1802), priest Hieronim Stroynowski from Vilna (in 1803) and count Seweryn Potocki. Even Jozef Wybicki (1747 - 1822, leader of the Insurrection in 1794, 1795 - 1807 emigration in France) had became a supporter of the Tsar since 1813 to his death in 1822. Not a few Poles from Belarus and Lithuania had got to choose a military service in the Russian Army since the end of the 18th cent.: about 12.000 Polish soldiers performed a military service in Russian Army in 1794, but only 3.000 in 1795. Two regiments, Polish and Tartar - Lithuanian (with colonel Jakub Mustafa Baranowski, general in 1812), had organized just in 1797, and five regiments in 1807: the Volhynia regiment, Lubnie one, Tartaran, Lithuanian and Polish. We can to estimate total of the Polish in Russian Army in 1812 - about 4500 Polish volunteers in all army (generally about 500 Polish officers: in the 1st West Army and 2nd Russian West Army served 244 officers from Byelorussian governments and from Ukraine, e.g. Wladyslaw Branicki son of Ksawery, colonel in 1812; colonels: Karol Kunicki, Ulan - Polanski from Lithuania and Leon Skorulski from Lithuania, too; major Jan Chlewinski from Ukraine) according to Jaroslaw Czubaty.

New waves of Polish exiles were getting to pour into Russia and Siberia after plots of Walerian Lukasinski (1819 - 1823) and the Filaret Society (1817 - 1823): Adam Mickiewicz, Zan, Jan Czeczot (born 1796 or 1797 - died 1847, exiled to Russian inland, discharged in 1841), Jezewski and Prof. Jozef Kowalewski - orientalist in Mongolia and China; Alexander Chodzko - next in Persia; Jan Witkiewicz in Turkestan.

At the same time with shutdown of the Vilna University (in 1831) and College of Krzemieniec, opened up, activated Polish law and theological faculties in Moscow and St Petersburg, and next started off influx of Poles. At University of Kharkov lectured: Dudrewicz vice-chancellor, Jan Krynski - zoologist, A. Walicki

- Hellenic scholarship, Grzegorz Hreczyn - mathematician, Alexander Mickiewicz - brother of Adam, poet - author of "Law Encyclopedia"; the Kharkov College: Jozef Korzeniowski - director and novelist. In the Odessa Richelieu College: Wladyslaw Jurgiewicz - historian. Prof. Wladyslaw Dybowski (1838 - 1910, brother of Benedykt) lectured at University of Dorpat (Tartu) till 1878. The Universities of Moscow, Kharkov and Kazan were created on Polish educational models.
Large exile after the November Insurrection 1830 - 1831: Siberia (in Omsk stayed priest Sierocinski and doctor Szokalski organized a Siberian plot with Dzurdzylowski i.e. Dshurdshylovski, Jablonowski at 60, Zagorski), Russia and Caucasus. At the same time, poor and slight nobility from Belarus and Lithuania was exiled 54000 strong (without recruits) only in 1832 - 1849, and again after 1863. Just then Piotr Wysocki organized a plot in Aleksandrovsk near by Irkutsk (Piotr Wysocki 1797 - 1874, leader of the November Insurrection 1830 - 1831, exiled into Siberia 1832 - 1857, discharged in 1857); a plot of Rufin Piotrowski and his escape from Irbyt, through Archangel, Petersburg, Riga to Konigsberg and Paris (he left a diary). Besides Polish scientists - exiles in Siberia: colonel Aszewski in Altay mount in 1790, he researched the bees; Sawiczewski behind the Lake Baikal in the Middle Siberia; Morawski in the West Siberia - produced cedar oil; the others introduced prime wheat in East Siberia; Budeskul or Buldeshul owned big farm here; W. Godlewski; Bronislaw Pilsudski (b. 1866 - d. 1918, brother of Jozef, exiled to Sakhalin in 1887, he worked in Vladivostok museum since 1899 till 1906, discharged 1906); Benedykt Dybowski (1833 - 1930, leader of conspiracy in Warsaw 18662 - 1864, convicted in 1864 and exiled into the East Siberia by the Lake Baikal 1865 - 1879, Kamchatka 1879 - 1883, exempted from Siberia in 1884); Alexander Piotr Czekanowski (b. 1833 - d. 1876, exiled into Siberia after 1863, expedition by Amur river 1871 - 1875); Jan Czerski (1845 - 1892, exiled into Siberia 1864 - 1871 and next expedition into the East Siberia 1871 - 1883, Petersburg 1886 - 1890, again in Siberia 1891 - 1892 where died); M. Witkowski (exiled into Siberia); Waclaw Sieroszewski (1858 - d. 1945, exiled into Siberia in 1879, he lived in the Yakutsk region for 12 years, travelled a lot of after 1900).
Enormous wave after uprising in 1863 - 1864 was largest of everything.
Many of them in Siberia ("The overall number of persons exiled from the Kingdom of Poland, Lithuania, Belarus and Ukraine for participation in the uprising of 1863-64 reached 36.459. Between 1863 and 1868 these exiles were assigned to locations throughout the empire, with between 18.000 and 24.000 going to Siberia" according to Andrew Gentes; 18.623 persons exiled into Siberia according to W. Sieroszewski; it were exiled - regular exile mainly to Tomsk, Tobolsk and Irkutsk governments, life hard labour and penal military service - in all to Siberia about 30.000 or 38.000 persons according to anothers sources; other search: after the January Insurrection 1863 / 5 all in all exiled - since spring of 1863 by middle of 1866 - 33.958 Poles; according to Russian Home Office exiled 36.958 (among others about 10.000 to European governments) persons: 5.010 to penal military service, over 22.000 Polish exiles had gone on over Ural mount but only 6.515 - 10.000 throughout Tobolsk into Middle and East Siberia since May 1863 by 01 April 1866; throughout Krasnoyarsk proceeded on into the East Siberia only about 6.000 persons; in the West Siberia at that time 10.898 Poles settled themselves by July 1867; a Siberian archives demonstrated over 21.000 settlers i.e. life hard labour, military service under arrest and regular exiles, and together with a members of families - nearly 30.000, according to Polish governor of Tobolsk, A. I. Despot - Zenowicz = Zenovich; according to Semen Kowal from Irkutsk of 1966: 22.000 Poles - settlers in Siberia 1863 / 1869, among others 524 exiles in 1863 and 10.649 in 1864),
others in European Russia. It had gone on 35 battles against Russians in White Russia during the January Insurrection, and otherwise 237 battles in Lithuania A.D. 1863 - 1864. In the area of former Kingdom of Poland and ex-Grand duchy of Lithuania on the whole about 400 persons were punished to death (e.g. Konstanty Kalinowski 1838 - 1864, had organized a plot in the Hrodnaa region 1861 and a conspiracy in Vilna 1862, leader of uprising in Belarus and Lithuania 1863, shot in 1864; Alexander Waszkowski 1841 - 1865, leader of the January Insurrrection, arrested in December 1864, had died 1865) and also 4000 to life hard labour in Siberia (Bronislaw Szwarce 1834 - 1904, leader of conspiracy, arrested in December of 1862 and gaoled in Shlisselburg, next exiled into Siberia till 1891), 700 (or 5.010 according to other source) to penal military service; there were confiscated 1800 noble estates only in White Russia and Lithuania; Polish language expeled from offices in Belarus in 1863. It were compulsive displaced about 250.000 in the Congress Poland, Lithuania and White Russia. About 30.000 persons in all died in the area of former Poland and Grand duchy of Lithuania during the January Insurrection. Besides about 10.000 emigrated to West.
The exiles set off an incompetent Baikal rebellion near by Irkutsk in 1866.
At first D. Bociarski, Wieliczko, Wojszwillo and Czerniewski made up a plot in Tobolsk in May 1863, and W. Lewandowski, G. Waszkiewicz, G. Samborski, B. Dybowski, Pawel Landowski, Antoni Grabowski, Z. Minejko, W. Hryncewicz - Hryniewicz, I. Jamont, I. Gajbulin and L. Zychlinski (Shychlinski) attached in 1864. M. Shaba (Zaba), K. Sosulicz, Mieduniecki, Dubowik and clerk Karpinski acted in Tobolsk, Kurghan, Ishym, Tiumen, Irkutsk and Narym. Halicki, Dmuchowski, Downar, Orlowski, Tombowski and Haraburda in Jalutorowsk; they were in touch with Mokrzycki from Vilna, Rodziewicz in Riazan and W. Gromadzki in Omsk. The organization moved to Tomsk and Z. Minejko - Strumillo, A. Bonasewicz, Arcimowicz, Waszkiewicz and Zarembski here acted; there were 6.000 exiles in 1865 and 3.000 settlers in the Tomsk government. Besides they moved to Omsk at the beginning of 1865 and to Irkutsk (Rutkowski and priest Pukien). The Baikal Organization in Irkutsk created in July 1865: E. Andreoli, J. Dworzaczek, madam Bninski; in Nerchinsk mine: Mejsztowicz and Studzinski ("many worked as clerks for the Nerchinsk administration, for example; there is a roster of the exactly 100 Poles assigned to the Irkutsk Saltworks in August 1864 which shows that half were working as common laborers, while the other half were employed as foremen, cooks and carpenters", according to Andrew Gentes); in Czeremcha: Janusz Tur, Ignacy Wieczernicki and Ignacy Warnachowski; in Krasnoyarsk and Rybinsk since September 1865 acted: Szlenkier, Landowski, Ratynski, Mikolaj Serno - Solowiewicz; besides P. Landowski, doctor Zaleski, M. Serno - Solowiewicz (after), Karol Nowakowski, K. Arcimowicz, N. Celinski and A. Glowacki stayed in Kansk - 1.400 Poles were here. At the same time Z. Minejko, G. Waszkiewicz and A. Okinczyc escaped from Tomsk. W. Lewandowski (next under arrest) was appointed the chief of the Baikal organization with his staff: Serno - Solowiewicz (or Solovjevich, died 14 February 1866), P. Landowski (next under arrest), Sielski, I. Sulinski (Russian spy), J. Szlenkier (under arrest in January 1866) and K. Michalowski - Malicki (weak in conspiracy in Irkutsk).
They played a large part in conspiracy in Irkutsk in 1866: K. Michalowski - Malicki, Kostrzewski, Z. Odrzywolski, G. Szaramowicz, Dzierzanowski, W. Pankowski, N. Celinski, K. Arcimowicz, I. Reinar, L. Eljaszewicz, E. Wronski, K. Nowakowski and J. Dworzakowski (Dworzaczek, I think). At the time 2.367 Polish exiles stayed in Irkutsk, among others 2.040 on life hard labour at the end of 1865. A lot of life exiles arrived at the beginning of 1866 (3.000 in all in April 1866). A branches of the Baikal plots: 1. the Akatujsk mine: M. Rytter, W. Tworowski, M. Czechowicz, M. Cwiklinski in 1865; 2. the Nerchinsk = Nertschinsk mine and near by Tschita = Chita: F. Sokolowski, E. Ostrowski, K. Lichtanski, M. Ososko, M. Szlezenger; 3. the Alexandrovsk factory: J. Ohryzko, Dworzaczek, S. Pszybylko (Przybylko ?) and K. Michalowski; 4. Usolsk factory and Ust - Kut plant: Kazimierz Arcimowicz (next in Irkutsk), G. Szaramowicz; 5. Listwjeniczna village by the Lake Baikal (L. Eljaszewicz) and Kultuk village near by Baikal (Arcimowicz with pseud. Kwiatkowski and also Zarembski). The Tsar had made the Amnesty Act on April 16th, 1866 but however the Baikal Insurrection had broken out on June 24th, 1866/July 07th, 1866 in Kultuk village near by the Lake Baikal; commanded: Gustaw Szaramowicz chief in Murino and Mishicha (besides N. Celinski, J. Reinar, Eljaszewicz, Wronski, Kotkowski i.e. W. Kostkowski, Dzierzanowski, Moszynski, Zaleski and Kostrzewski) villages and Arcimowicz in Kultuk, 721 exiles in all.
The uprising had fallen down c. August 07th, 1866/August 20th, 1866 after 44 days; it were convicted 680 exiles, and G. Szaramowicz, N. Celinski, W. Kostkowski (Kotkowski ?) and J. Rajnert (i.e. Reinar) were shot down in Irkutsk on November 14th, 1866. It was last in the long succession of Polish noble insurrections in the Age of Enlightenment and the epoch of romanticism and it ended up with defeat and disaster like of previous rebellions, i.e. in 1768/72, 1794, 1830/31, 1846, 1848, 1863/65, without victorious uprising of 1806 in the Poznan province. Successive insurrection of 1918 also in the Poznan region ended in full victory. A second amnesty in 1868 allowed the majority of insurgents to return home or at least transfer from Siberia to locations in European Russia. When in 1881 Alexander III announced a third amnesty, Western Siberia had a population of only 1.100 insurgents, while only a couple dozen were still living in Eastern Siberia (see also Andrew Gentes).
---
We stayed in
St Petersburg
- "Duflon, Konstantynowicz & Co."
abbreviated as DEKA.
The joint stock company from St Petersburg was co-property of the Mscislau branch.
1904

The beginning of a Duflon Company in Switzerland in 1904, and within a few months in Russia. The "Credit Lyonnais" Bank has got records, assessments and accounts for the Swiss country with reference number DEEF 30136 relating to "Duflon, Konstantinovich & Company", that is "Company of the Electromechanical Factories of Constructions" called DEKA of 1904 - 1916; researched in 1921.

1905

A Swiss share (

1904

) of DEKA Joint Stock Society with brand name "Duflon" in

St Petersburg

manufactured electric accessory for naval fleet of Russian army, but also for other defensive enterprises (

see about general Jan Jacyna who served in a "Main technical committee" of Navy Ministry in St Petersburg since 1891

). The Russian - Japanese war in

1904 - 05

and the First world war were with the best years, according to

http://konkretno.ru/

and shareholders had taken up the advantage of this prosperity. Total employees rose over 3 times only in "Duflon" proper in heyday

1914 - 1916

, and the production - 6 times. The factory manufactured radio sets and broadcasting stations (see about the Boncz Brujewicz family), engines for automobiles (

see about the Andrzejak family

) and for planes. The "Duflon" had opened a branch in Aleksandrovsk

/

Zaporozhye

that later on manufactured the "

Zaporozhets

" cars in "Zaporozhskiy Avtomobilnyi Zavod" (Auto Works of Zaporozhye

in

Ukraine).

1907

I can to accept 1907 as the beginning of the DEKA Joint Stock Society (Duflon, Konstantinovich & Company JSC). In this year a business started to operate. The DEKA Company produced agricultural machineries and tools, various machines, a cast iron; the factory in 1907 - 1911 (iron foundry) cast copper pieces and iron equipment.

1908

Bedrich Urban (born 1880, d. 1940?) signed on with the Konstantinovichs in this year 1908 and he worked for "Duflon & Konstantinovich" 1908 - 1911 (in St Petersburg). Urban has got experience from "Tallinn Volta" 1904 - 1908. Bedrich Urban was engineer constructor and after 1911 - 1918 worked for Siemens - Schuckert factory in St Petersburg as director manager according to Rain Vaikla.

1912

Only five of airships had been built in Russia before 1914 and we exactly constructed (the fifth in order) to Russian Army in the plant of DEKA an airship named "Kobchik" type "Blimp" as early as 1912 (with two engines 45 hp, and length 48 m; speed 50 km/h according to "Taschenbuch der Luftflotten", 1st Issue 1914, Vol. 1 "Airships" by F. Rasch and W. Hormel, published in Germany, worked out by Thomas Heinz http://www.internetelite.ru/aircrafts/airships.html; see also: http://www.aeragon.com/index.html). Airship i.e. an "aircraft that consists of a cigar-shaped gas bag, or envelope, filled with a lighter-than-air gas to provide lift, a propulsion system, a steering mechanism, and a gondola accommodating passengers, crew, and cargo. (...) NON-RIGID airships, now commonly known as blimps, are the most common type in use. The non-rigid airship has no frame and the envelope holds its shape due to the pressurized lifting gas inside." See: "A Brief History of Flight, from Balloons (...)", T. A. Heppenheimer, ed. John Wiley & Sons, New York 2001, p. 136. The DEKA company owned an infrastructure for airships i.e. a hangar, workshops and warehouses in St Petersburg before the First world war. War, revolution and civil war interrupted further development until 1920, when the Soviets built their first small blimp. Early in 1912, under the presidency of the Grand Duke Alexander, the special school of the Volunteer Aerial Association (All Russian Aero Club) was finally formed at Sevastopol (Sebastopol) for the winter and in Gatchina for the summer (Grand Duke Alexander - Sandro was a key figure in the development of the Russian air force; in 1909 he was in France and next established above Club i.e. Association and set up the first military aviation school in Sebastopol in 1909 or 1910; the Duke, Vice-Admiral was appointed Commander-in-Chief of the Russian Military Air Fleet in 1915 and he bacame Inspector of Aviation; aide-de-camp to Nicholas II, an old friend of the Tsar and married to his sister Xenia). June, 1912: Vote of 150 aeroplanes (140 to be built at home); November, 1912: Military trials results: 1. Sikorsky in a "Sikorsky"; 2. HABER in a "M. Farman"; 3. Boutmy (BUTMI) in a "Nieuport". December, 1912: Aeronautical school re-organised; 15 pupils per school at a time - course made seven months. A one month course in aeroplanes, aerial motors, etc. Of the pupils, 10 to be selected for aeroplanes. New flying school established at Tashkend in TURKESTAN. Only in Army Aviation in March, 1913: New schools established at Moscow, Odessa and OMSK. At the end of 1913: the number of actual military pilots was 72. There was a special volunteer corps of about 36 private aviators; total to 108 in Russia according to Bill Gunston, ed. 2001, p. 116. In Navy Aviation: July, 1912 - Lieut. ANDREADI, did a flight from Sevastopol to Petersburg.

1914

We manufactured here an electrical accessory and magnetos for aeroengines (aero engines) in the beginning of the First world war. I will take pains to collect information on all. Georges A. de BOTHEZAT - chief of aerial division in the DEKA Company in St Petersburg since 1914 until 1917.

1915

DEKA JSC in December 1915 bought buildings and equipment in order to changeover of activity.

1916

DEKA built up the military manufactory of aeroengines in a town Aleksandrovsk (i.e. in Zaporozh'e or Zaporizhzhya = Zaporozhye) in 1916. The Stavka (Supreme High Command of the Russian Military) and Russian military technology intelligence was interested in such experimental production with advanced technology in actuality and this headquarters laid down actual line of research into the Deka mechanical powers for aircraft, e.g. general P. W. Pniewski ordered to enforce norms of special steel for aeroengines in Petrograd at the end of 1916. The "Main war - technical board" under W. A. Semkowski concluded a big contract with joint stock company of electrical firms (i.e. particular, separate businesses from Duflon, Konstantinovich and Co. abbreviated as DEKA) from Petrograd on 01 February 1916 in order to construct in the plant of DEKA two experimental aircrafts of professor Gheorghe Botezat by 01 October 1917 (with aeroengine "Renault" and with a gyroscope - wheel which, when spinning fast, keeps steady the object in which it is fixed (T. A. Heppenheimer, s. 142 - 143) - the first automatic pilot) but the professor has been gone abroad earlier. The stock society DEKA received twice considerable government subsidies on research & development in 1916 but the magnetos to aero engines produced here continuously in co-operation with the Petrograd Polytechnic Institute (magneto i.e. electric apparatus for producing sparks in the ignition system of an internal combustion engine); and it was soon built the section of aeroengines in Zaporozhye = Zaporizhzhya under the general chief N. R. Brilling; the Mersedes (i.e. Mercedes) aero engines manufactured here in the second half of 1916 and expected 10 - 15 engines monthly (e.g. the Mercedes - type 100 hp from DEKA factory and "Deka M-100" in Zaporozh'e as early as 28 September 1916, at a later date DEKA 166/168/170 hp and it were produced here ten aero engines DEKA 129 hp with six cylinders monthly in the end of 1916, and DEKA M-170 hp in 1917; extra the "Benz" and "Mercedes" aero engines manufactured here in 1917; the DEKA Company learned production of piston engines since September 1916: M-6, M-11, M-22, M-85, M-86, M-87, M-88, Ash-87FN, Ash-62JR, often superior and better than foreign engines); the Major General Pniewski said in parliament about the DEKA company in November 1916: "This is the first aeroengine as a whole from Russian materials of experimental line of 5 pieces by 100 hp". The day of complete success - DEKA M-100, the first Russian six-cylinder water cooled engine constructed 28 September 1916. So incompetent paralleled researches into the Mercedes engines conducted in Germany Anthony Fokker who was from Holland and Heinrich Focke b. 1890. About details and photos of the MERCEDES aviation engines or on the Mercedes-Daimler Motorengesellschaft from Stuttgart-Unterturkheim, see: "Jane's fighting Aircraft of World War I", by John W. R. Taylor, England 1919 and London 1990 ("Studio Editions").
"The area covered by brick-made production buildings of this factory exceeded any of then available engine works in the tsarist Russia and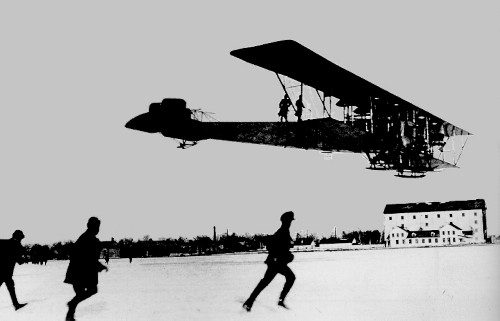 it was equipped as one of the best; the Mercedes-type 100 hp single-row water-cooled six-cylinder engine assembled here in September 1916 and designated Deka M-100 became the firstling of the company; the date of its manufacture was accepted as the birthday of the Company (i.e. in Zaporozh'e = Aleksandrovsk or Zaporozhye / Zaporizhzhya); later on the engine power has been increased to 129 hp and then to 168 hp due to efforts of Deka experts who managed to do this" (quotation from Vyacheslav Boguslayev, Chairman of Board and Director General Motor Sich JSC of 2001; this quotation without the Author's written permission, then see: http://www.globalsecurity.org/military/world/ukraine/motor-sich.htm); the engine was installed to power several modifications of four-engine "Ilya Muromets" aircraft (with the Argus engine too; for the first time attempted to produce "Benz" and "Argus" engines in the Russian Baltic Railroad Car Works that evacuated from Riga to Petersburg in 1915 but 10 months waited for steel in 1915/16; more than 70 military versions of the "Ilia Mourometz" were built for use as bombers within 1913 - 1917; in all, 75 bombers were delivered, and roughly half of them saw combat; twenty similar airplanes had been produced in 1916 and five built in September 1916 were not noticed by military command - were probably with engines of experimental line of 5 pieces Deka M-100; 15 March 1916 the 1st Aero Squadron begins operations) developed by the famous aircraft designer Igor I. Sikorsky and his collaborator eng. Witold Jarkowski; outliving the fires of Civil War - sequestration by the Bolshevik authorities in January 1918 - "the factory has commenced to repair and then to manufacture the parts for Renault aircraft engines". Photo "Ilya Muromets" in flight in 1914 according to: "Aviation Year by Year", ed London 2001 by Bill Gunston, p. 114. According to Gunston: "The Ilya Muromets had a modern fuselage, and its four engines were mounted tractor - style along the leading edge and not in push/pull pairs as on the 'Grand'. The RBVZ works built 80, with six different makes of engine."
1917

Comment on Zaporozhye / Zaporizhzhya:

Announcement on autonomy of Ukraine in April 1917 and the first Declaration of independence by Ukraine on 20 November 1917 involved Zaporozhye but shortly assumption of power by the Soviets in January 1918. "The Peace of Bread" concluded by Germany, Austria - Hungary and Turkey with the Ukraine: acceptance of the Ukr. state on 09 February 1918, and Treaty of Brest-Litovsk on 03 Mar. 1918 recognized the Ukraine as ind. state and thus the Austria - Hungarys Army occupied Zaporozhye since April by November 1918, next Skoropadsky and the Ukrainian Directorate since November 1918 by March 1919, general Denikin since May 1919 by December 1919; general Vrangel by October 1920 and conquered by the Red Army then.

Comment on Gheorghe Botezat:

Gheorghe Botezat either doctor George, Geogrij, Georges A. de Bothezat or Georg A. Botezat, Botezatu, was born in Iasi i.e. Jassy in Romania 1883 or 1882 - died in Dayton, Ohio in USA 1940 (see also http://www.hill.af.mil/museum ). Botezat learnt in Sereth, next in Sorbona and was a doctor in field of aviation; a Russian aeronautical engineer and mathematician; professor of the Petrograd Polytechnic Institute in the beginning of the First world war; worked for DEKA in Petrograd 1914 - 1917 and next he stayed in Iasi at the turn of 1918; wrote (1918) letter and report "General Theory of the Screw" (air-screw i.e. propeller of an aircraft); at a later date he wrote off to Subcommittee on Buildings, Laboratories and Equipments in Feb. 1919 and ( by http://avia.russian.ee/vertigo/bothezat-r.html ) the US Army Air Corps awarded a contract in January 1921 to Dr. George(s) de Bothezat and Ivan Jerome (i.e. Eremeeff, Jeromiejew or Jerome - a millionaire inventor from Long Island and owner of the Massapequa Farmers Market, the 59-year old Jerome was arrested in 1955, freed on $100,000 bond, he jumped bail and disappeared; there were reports he had been seen everywhere from Russia to South America, but he was never found; by http://www.newsday.com/extras/lihistory) to develop a vertical flight machine; this helicopter, designated the Engineering Division H-1 and designed by (Georges) George De Bothezat and Ivan (Eremeeff) Jerome, made its first public flight on December 18, 1922; George de Bothezat's Army Helicopter Number 1, nicknamed "The Flying Octopus", possessed 1 x the 180 hp Le Rhone radial engine (Rhone 134 kW).
Comment on airplanes factories:
Igor I. Sikorsky (or Sikorski) born 1889, he spent three years at the Naval College in St. Petersburg 1903 - 1906; Sikorsky's success helped win him a job as head of the airplane division of the Russian Baltic Railroad Car Works in Petersburg 1912 - 1917, that is where he developed his first major new airplane design; the R-BVZ manufactured trains, airplanes, engines and automobiles, and it was run by M. W. Szydlowski, who had insight into the importance of aviation's future; the engineering and technical staff at the R-BVZ was expanded by Sikorsky who brought many of them along with him from Kiev; the first airplane built by Sikorsky and his staff at the R-BVZ was the S-6B which was a modified version of the S-6A (by Carl Bobrow; this quotation without the Author's written permission).
Around that time many others the Polish in Russia were involved in studying flights:
1. eng. Kalepa or Kalepas in "Motor" works which evacuated from Riga to Moscow in 1915 (by http://latvianaviation.com/Pioneers.html here constructed the first Soviet aeroengine in 1919), 2. Nikolay Yegorovich Zhukovski i.e. Zukowski (1847 - d. 17 March 1921) called "the father of Russian aviation" wrote about stability of motion and hydraulic shock in water pipe, one of the world first wind tunnel was built in 1902 at Moscow University under his supervision and First Europe Aerodynamics Inst. was established in Kuchino in 1904, 3. Stefan Drzewiecki (1844 - 1938) son of Karol, worked in Paris (here edited a handbook in 1916 and died in 1938) and Petersburg, 4. L. Z. Markowicz who edited handbook in St Petersburg in 1911 / 1913,
5. major general P. W. Pniewski, chief of the Russian air force who kept in touch with the Supreme High Command of the Russian Military and chief officer of the "board of directors of aerial - war fleet" in 1916; see also: "Aviation Year by Year", London 2001, by Dorling Kindersley Limited, Editor-in-Chief Bill Gunston, p. 144: "1917. Russia November 10, The Bolshevik regime creates the Bureau of Commissars of Aviation and Aeronautics" and p. 154: just in "May 24 [1918] the Chief Directorate of the Workers' and Peasants' Military Air Fleet is established, replacing the all-Russian Air Board" (the Pniewski family of Rola arms verified themselves in Kaunas A.D. 1799: Maciej son of Stanislaw, and also in 1861: sons of brothers Augustyn and Stanislaw; Ignacy Pniewski son of Szymon possessed Tarucie estate in the Kaunas government in 1889);
6. W. F. Adamienko, owner of a air factory in Moscow, 7. O. W. Olechnowicz, M. Adam Haber - Wlynski (i.e. Gaber - Vlynskij, b. 1883 - died 1921 in Lublin, he studied in France by the end of 1910 and worked in "Dux" factory near by Alexander station in Moscow; he flown the most common modification of Russian Farman - IV and had set several ceiling records e.g. April 13th, 1913; next fought in the Poznan province 1919), Nagorski (i.e. pilot J. I. Nagurskij did the world first flight in Nesterov's flying boat on September 17th, 1916 twice with a passenger; the international record was registered by the Airclub counsel on November 16th, 1916), Stanislaw Dorozynski (the first flight of Russian Naval Aviation at Kulikovo Pole airfield near Sebastopol with pilot S.F.Dorozhinski on 16 September 1910), Dybowski, Sredinski, Heyne, Makowiecki, Malynski, Bronislaw Matyjewicz - Maciejewicz (he studied in France in 1910, died 01.05.1911 near Sebastopol), Grzegorz Piotrowski (or Petrovski, he studied in France in 1910), Michal Scipio del Campo (or Campo - Scipio, b. at Polesie area in 1883, did a degree in Polytechnic of Lille, his first flight was here in 1905, he studied in France still in 1910, Scipio flew on a plane constructed by Czeslaw Zbieranski & Cywinski in summer 1911; according to "Aviation Year by Year", editor-in-Chief Bill Gunston, London 2001, p. 86: "September 25 [1911]. The Cywinski and Zbieranski biplane is piloted by a Polish aviator, Michal Scipio del Campo, on a flight of about 12 and a half miles"), Otto Segno (or Henryk Segno, he studied in France by the end of 1910), and at a later date B. J. Rossinski, M. G. Lerch, A. J. Rajewski and G. W. Jankowski - experimental pilots (the Polish were 33 % of Russian pilots in 1911, and besides Lew Maciewicz died in 1910; the others Polish pilots in Russia who served under general Dowbor Musnicki 1917/1918: Norvid Kudlo in Babrujsk 1918, captain Zygmunt Studzinski in Minsk 1917 - 1918; besides Stanislaw Jakubowski in Odessa 1917 - 1918 and lieutenant Waldemar Narkiewicz in Odessa 1918 - 1919);
8. W. Hurko - chief of the Committee for the questions of Air Force since 1915 and the member of the imperial State's Cabinet,
9. eng. Butmi, Giedrojc and eng. W. W. Bartoszewicz (i.e. V. V. Bartoshevich, chief of the assembly of aeroplanes; Farman-IV aircraft was built in series under supervision of engineer Bartoshevich) in "Dux" factory in Moscow, 10. eng. Pozezinski elaborated project of aeroengine in September 1915,
11. Nikolaj Romanowicz Brilling elaborated aeroengine with two opposite pistons when acted as chief in DEKA factory (Duflon either Duflou or Dufflon & Konstantinovich) in Zaporozhye 1916 - 1918 (Brilling i.e. Briling; Russian, b. 1876, Russian and Soviet expert of aeroengines after completion of the Moscow Polytechnic, twice under arrest due to distribution of Lenin's "Iskra", 1907 doctor in field of engines, 1908 - 1915 professor of the Moscow Polytechhnic and chief of a special engine lab here, 1911 wrote thesis about internal combustion engines; "the Soviet Council of Labor and Defense issued instructions for the creation of a Commission for Organization of the Design of the Aerosled = KOMPAS in 1919, and the membership of the commission included such leading designers as N. E. Zhukovskiy - its scientific director and N. R. Briling, who was selected (according to Valeriy Potapov; this quotation without the Author's written permission) as director of KOMPAS - it was Briling himself who had laid the foundation for aerosled design shortly before World War I in 1912 - mass production of transport aerosleds was begun in the Russo-Balt i.e. Russian-Baltic Plant in Tsarist Russia"),
12. Wladymir Jakowlewicz Klimow after completion of the Moscow Polytechnic in 1917 worked as trainee in DEKA factory in Zaporozhye, he designed a certain aero engine of his own here in 1917 and received an award at professor N. R. Brilling's hands (Klimow i.e. Klimov; Russian, b. 1892, main constructor of the Soviet aeroengines since 1935); 13. Raczynski - in his big estate in the Smolensk government constructed an airplane factory in 1917, 14. a patents for aeroengines received during the First world war: D. Wiszniewiecki, captain Jablonski, colonel P. A. Gelwach, lieutenant Fajwiszewicz;
15. W. A. Semkowski was in command (1916) of the "Main war - technical board of directors" where was an air section; the section was the base of the "board of directors of aerial - war fleet" under major general P. W. Pniewski (war supply and orders) in 1916, 16. major general Michal Szydlowski (Sydney Gibbes - who was after appointed English tutor to the Tsar's children in 1908 - spent the summer of 1901 with a family called SHIDLOVSKY = Szydlowski; he was taken on as tutor to two boys and lived in St Petersburg and in their country "dacha" according to "The Romanovs & Mr Gibbes (...)" by Frances Welch, ed. London 2002; see also below) an ex-navy man with connections to the Russian military and who was near connected with W. Hurko in 1916, died 1918; 17. Feliks J. Biske or Biskie was born in Plonsk 13.11.1874 and next lived in Warsaw 1912, in Rostov by Don 1916, Izum in Ukraine 1924, physicist and air expert in 1915, 18. Stanislaw Ziembinski manager of aerodynamics lab near by Kiev and director of "Gnome" aeroengines factory in Moscow by June 1915; here captain Wojtkiewicz, lieutenant Radawski and captain Golubicki also worked in May 1916, 19. W. J. Sredniewski, expert of aerial photograph, 20. eng. Wladyslaw Zalewski (chief of the Central air constructional office in Warsaw since 1925) and Franciszek Kaczynski carried out designes of planes in 1915, 21. Jerzy Jankowski and S. Czerwinski acted as air experts, 22. Hipolit Lossowski after completion of the Aerial Navigation School (since 1907 in France) commanded the School of Pilots in Moscow since 1916 and the 7th Air Park in 1917, served under general Dowbor Musnicki 1917/1918, 23. Gustaw Macewicz after completion of the first Course of pilotage in 1911 commanded the 7th Air Squadro since 1914, served under general Dowbor Musnicki 1917/1918, the Polish general 1919
(The White Corps of General Dowbor Musnicki (Dovbor - Mus'nicki) was composite of the Polish from Russian Army. Polish society had known in 1918 only about nine tsarist Generals, Poles - according to Baginski: Gen. Michaelis, Dowbor Musnicki, Bylewski, Symon, Latour, Jacyna, Lesniewski, Olszewski and Osinski. According to Olechowski, during the First world war in the tsarist Army served 800.000 Poles (20.000 officers and 102 Generals in November 1917) but only a couple of a dozen or so had gone through to Polish Corps (the 1st, 2nd and 3rd) in 1917 - 1918. According to Szczesny in Lithuanian Army (in 1919) as many 60 % officers came from the 1st Polish Corps, e.g. commands and orders in the Birzai regiment made in Polish (spring 1919). According to Gen. Bylewski (data of April 01st, 1917) 119 Generals - Catholics - mainly the Polish, 20.000 offficers and 480.000 - 700.000 private soldiers served in Russian Army and besides 100.000 prisoners of war - Poles. According to Alexander Lednicki in June 1917 in Russian Army served only 314.000 Poles, and according to Gen. Dowbor Musnicki were 300.000 the Polish),
24. eng. Wsiewolod Jan Jakimiuk next acted in Poland, 25. Jerzy Rudlicki carried out designes of plane in Odessa in 1910 and Tadeusz Heyne in Kiev 1910, too, 26. colonel Aleksander Wankowicz was expert in balloons in Russia;
27. the eldest Pole among above military figures was general Jan Jacyna who served in a "Main technical committee" of Navy Ministry in St Petersburg since 1891; at a later date he acted (1901 - 1917) as member in "the board of directors of government armouries" of the Navy Ministry (after War and Navy Ministry) in Petersburg; since then he was near to problems of war industry in Russia, especially during (1914 - 1917) the First world war; then (since 1915) he co-operated with "Military - industrial committee" composite of war industry's representatives and he ran up against suggestions of aeroplanes deliveries and aerial inventions (confer Jan Jacyna memory, vol. 1, p. 71); he was the most known general in all Polish environments of St Petersburg at the beginning of the 20th cent., amidst military and industrial activists (e.g. Michal Szydlowski and Karol Jaroszynski = Karol Yaroshinsky, who managed a big loans especially during the First world war; about Jaroszynski see Shay McNeal, "The Plots to Rescue the Tsar", ed. London 2001 [Karol Yaroshinsky, "(...) died in near poverty in 1928. His last years were spent in pain as a result of a poison needle having been jabbed into him at the opera in Paris at almost the same time as Sidney Reilly disappeared in the Soviet Union (in the 1920s). (...) Before the Revolution, he had fallen in love with one of the Tsar's daughters (...). Near to Krivoshein - the man who brought Yaroshinsky into the Allied banking scheme. (...) Yaroshinsky was the financial benefactor to the Romanov family during the last days of their captivity in Tobolsk and Ekaterinburg in 1918. The man was involved with Henry Armitstead and Jonas Lied, who had been paid through the British Secret Service for activities in Northern Russia (1918)."]), social workers after the Bolshevik revolution, and also among the Polish active politicians in Russian parliament since 1905/06; he was near to the imperial Russian court; general Jan Jacyna evaluated figure of Wladymir Boncz Brujewicz wholly negative when paid a call on Lenin at the end of January 1918;
28. Eng. professor Witold Jarkowski born 1875 - died 1918, took a degree in Paris, he next worked in the St Petersburg Technological Institute; and Jan Jarkowski i.e. engineer Jan T. J. Jarkowski son of Jozef who verified himself with his sons: Aleksander, Witold, Jan and Wladyslaw M. Jarkowski in MINSK in November 1894 (they owned village Rusaki - near by Hlybokae in the Dzisna district - since 1840 and they were related to the Szendzikowski family); 29. naval general Aleksander Fedorowicz Mozajski (Russian, 1825 - 1890; probably from Polish-speaking Ukrainian nobility, who were Roman Catholics; "the Russian nobles, named Mozhaysky (and alike), have originated from the ancient Volhynian Mozhayski-Mozarowski family" according to Mozajski ) began to design an aircraft in 1880 and he constructed it in 1883 but T. A. Heppenheimer in "A Brief History of Flight from Balloons (...)" (New York 2001, p. 35) write: "Aleksander Mozhaiski, a captain in the Russian navy. He built a steam-powered monoplane with an engine crafted from an English design and flew it near St. Petersburg in 1884"; 30. Captain Zabski i.e. Shabskij constructed in 1908 the blimp called "Uchebnyj" (1500 m cub.) belonged to the Russian Army.
| | |
| --- | --- |
| 1918 | "The Russo-Baltic Wagon Company had a director Michal Szydlowski who was an ex-navy man with connections to the Russian military and he managed to convince the Imperial Russian Air Force (IRAF) to utilize the "Murometz" for reconnaissance and bombing purposes; in December 1914 Szydlowski himself, with the rank of Major General, took over command of the "Squadron of Flying Ships" known as the EVK (Aleksander Serednicki / maybe Sredinski, captain Jozef Baszko died in Riga 1946 - son of Stanislaw from the Vicebsk government, captain Robert Nizewski b. 02.05.1885, Catholic and captain Kazimierz Zagorski were the pilots here, according to my research work); Szydlowski (...) brought Sikorsky to his base and together they managed to overcome the teething problems; (...) the pre-war Murometz was designed to use German-built engines, which obviously were not available and Sikorsky experimented with a range of Russian (DEKA aeroengines according to me) and British engines, but never achieved the desired level of performance; these problems, together with the low level of Russian manufacturing, meant that only 75 (or 70 - 80) of this outstanding aircraft were produced during the war; Szydlowski decided, after the revolution, that he had no future in Russia, and he convinced Sikorsky to leave also; Szydlowski together with his son, was captured trying to cross the border into Finland and they were shot, Sikorsky was luckier and from Murmansk he managed to escape by ship to London" (quotation from ARI UNIKOWSKI; this quotation without the Author's written permission). Russia also had the first aviation research center in the world, the Kouczynski (i.e. Kuczynski) Institute and B. C. Steczkin was the author of the theory of the jet-engine. |
Curiosity: the first plant which the Germans built in the Soviet Russia was "Junkers - Werke" in File near by Moscow in 1922; operated till 1925. The Junkers company activated its branches in Rostov by Don and Turkestan in 1925 and also airline "Deruluft". The Soviets increased import of the BMW aeroengines from Munich in Germany after 1925, and in 1928 bought a licence on production of the BMW aeroengines, which the German engineers - from Technische Hochschule in Berlin - aassembled in Russia after 1931 (according to professor Andrzej Peplonski of 1996).
---
We lived in Vilna (the early 20th century Piotr Konstantinovich the 2nd son of Gustav - Piotr was married to Maria W.);
in Pinsk (Konstantinovich Konstantyn) and Grodno (Hrodna) and near to Dzjatlava = Zdzieciol (the village Gronsk) and west of LIDA (the places Maluki, Zabalac = Zabalac' either Zabolot or Zablot', Przevoza, Volejsze, Kascjaneva) at the beginning of the 20th cent.;
in Minsk (Konstantinovich Andrzej; brothers Jakov and Semen; Semen the 2nd (or Szymon) son of Jerzy the 2nd; Konstantinovich Antoni; Adolf son of Wilhelm; Mikolaj son of Pavel) at the beginning of the 20th cent. and Daugavpils (or Dunaburg = Dvinsk);
in the government of Smolensk (district = ujezd of Dorohobuz 1913) and Vicebsk = Vitebsk (Jozef Konstantinovich in September 1918) by their own account, too.
Jan Konstantinovich (I check on the problem now) had died in the Karpaty mount as senior officer being in the Russian army in winter 1914/1915.
The Konstantinovich family lived in Vilnius (Wilno), Vaukavysk, Ivacevicy, Riga and Lida in the thirties and the forties of the 20th cent. by all accounts.
Henryk and Franciszek Konstantinovich fought near to Krzywda and Helenovek (battle of Kock) in October 1939.
They had died by firing squad :
1. Pavel Konstantinovich born 1896, son of Karol Konstantinovich; court - martialled in Baranavicy; 2. Vjera Konstantinovich, daughter of Jan, born 1916; affair in Czernowitz in May 1941, died at Soviet hand; 3. Anna daughter of Filipp Konstantinov(ich), born 1906, died in Leningrad 1941; 4. Jekatierina daughter of Kuzmin Konstantinov(ich), born 1893, died c. 1939; 5. Czeslav son of Jozef Konstantinovich, b. 1902, affair in 1940, amnesty in September 1941; 6. Jan son of Konstanty Konstantinovich, b. 1914; he stayed in Likov = Lil camp near by Irkutsk in 1940 and he maybe saved himself; 7. Anna, daughter of Gawryla Konstantinov(ich), b. 1902, d. in January 1942 in the Minsk province, at Soviet hand; the affair connected with Omsk and Alma Ata; 8. Ljuba, daughter of Sjemion Konstantinov(ich), b. ?, died in Lefortovo.
9.
Zygmunt / Sigizmund
, son of
Vjacheslav
Konstantinovich; b.

1917

in Talkachevshchina near by

Kojdanov

- SW of Minsk, under arrest since 12.01.1938 in Wjels, Cherdynskij region in the province of

Perm

, exempt from gaol 05. 02. 1939.
10.
Walery / Valerij
, son of
Alexandr / Aleksander
Konstantinovich; b.

1913

in

Perm

, under arrest since 23.02.1938 in Perm.
11.
Wiaczeslaw / Viacheslav /
Vjacheslav
, son of
Marian
Konstantinovich; b.

1887

in village of Talkachevshchina - near by Kojdanov SW of Minsk in the Minsk government, arrested 05.01.1938 in Krasnovishersk near by Cherdynsk, area of

Perm

. Inf. according to Webnet.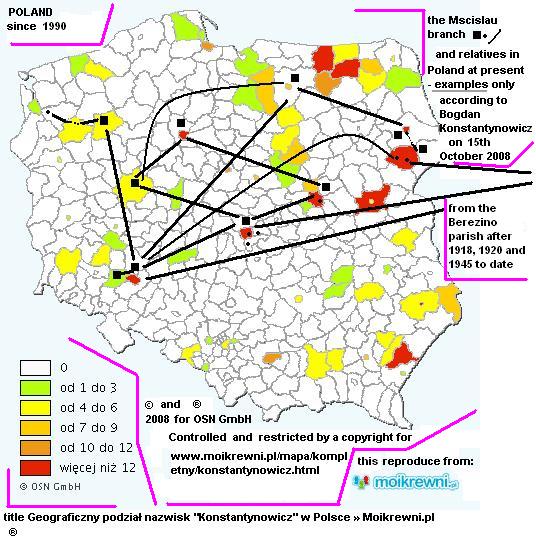 The Konstantinovich family moved on to the new Polish west territory after 1944 / 1947. The confirmation according to © "Moikrewni.pl":
SEARCH
http://de.yahoo.com
---
I am looking for all persons with KONSTANTINOVICH surname whose ancestors (as a whole 19th century and at the beginning of the 20th cent.) are from:
1. BELARUS': Governments of Minsk, Vicebsk (Vitebsk) and Mahileu (Mogilev by the river Dniepr = Dnjapro)
2. RUSSIA: Government of Smolensk
3. LATVIA (Livland): Governments of Livland and Vicebsk.
This is "who is who?" among the family of Konstantinovich in short; that is brief genealogy but isn't a family tree. I can't give many more information about the question for the sake of my copyright. Many people have helped me with this paper. The author is greatly indebted to all those who kindly supplied information. Especially acknowledgement for a military archives in Poland and England and a civil archives in Argentina. I inform all readers about statistic at my main website http://us.geocities.com/bog4konsta/index.html 16675 times on October 05th, 2008 and this page was made on March 9th, 2003; my four "geocities" 36845 times (only single openings index.html), and were made in March 2003. Thank you and I invite you again. It will be translation into Polish in 2009.
This is independent website thanks to
We should like that you write back (English, Russian, Polish) to me at the E-mail (remove SPAMNO) address, please:
or phone 07955167864 - O2 UK net. The respectable readers know all my seven addresses in Internet and here I do nothing.
© Author Bogdan Konstantinovich from Lodz, 07th October 2008
---
---
Many of them stayed in BELARUS

Belorussian peacekeeping veteran Konstantine Konstantynowicz / Константинович inf. 11 April, 2003; Andrzej Konstantynowicz in Mahileu by the river Dnjapro according to Sergiusz Marszalkowski of 2004; in villages Toloczki and Zabalac; and a first deputy chairman (the vice-president in 2003) of the Belarusian Union of Architects / "Belorussian Association of Architects", Anatoliy (i.e. Anatol Konstantynowicz at Minsk in 2005); M. Konstantynowicz in Minsk; A. A. Konstantynowicz acted in Acad. Agric. Sci. of Belarus in 1992; Sh. V. Konstantynowicz from Belarus at SECOND INTERNATIONAL SCIENTIFIC - TECHNICAL CONGRESS "MECHANICAL ENGINEERING TECHNOLOGIES ".

In the Hrodna Province, district of Karelisk / Karelice, little village Wielikaja Slabada - inf. of 2005 about S. Konstantinovich. Stanislav Konstantinovich - the Belarus Science Academy in Minsk and the mayor of the "Belorussian Society of Conservation", inf. of 2005 about his address: resident in Minsk, Bagdanowicz Str. 9A. CEE MEDIA Co. - Andrei Kanstantinovich / Andrzej Konstantynowicz from Belarus. SOKRAT Konstantinovich - journalist to economic problems of "Nasza Swaboda" and "Nawiny" since 1998.

Now in Lida: G. F. Konstantynowicz tel. 53109 Tuchachevski Str. and now in Minsk: Who tel. Str. No Apt. Konstantynowicz A. A. 2267105 Tanka Str. 30/2 Apt. 53, Konstantynowicz A. M. 2344451 Chorushej Str. 19 134, Konstantynowicz A. M. 2625139 Kolcova Str. 23 66, Konstantynowicz A. N. 2302864 Vaniejeva Str. 8 72, Konstantynowicz G. A. 2733456 Altajskaja Str. 64/5 68, Konstantynowicz G. V. 2445007 Shabany Str. 13 56, Konstantynowicz E. T. 2432695 Gierasimienko Str. 29 74, Konstantynowicz Sh. D. 2955986 Zilunovicha Str. 27 23, Konstantynowicz I. E. 2429894 Niesterova Str. 4 153, Konstantynowicz I. M. 2165503 Jesenina Str., No 19 Apt. 166, Konstantynowicz K. F. 2382929 Ilimskaja Str., 29 226, Konstantynowicz L. G. 2810745 P/O Stiepianka Korwata Str. 34 Apt. 33, Konstantynowicz L. K. 2356986 2 Bagrationa Court (Pier.) No 19 Apt. 789, Konstantynowicz M. A. 2738872 Angarskaja Str. 20/2 44, Konstantynowicz M. S. 2495360 Pliechanowa 56/3 166, Konstantynowicz N. I. 2475314 Jakubova 30 5, Konstantynowicz N. N. 2499679 Pliechanova 52/1 9, Konstantynowicz N. P. 2502878 Orlovskaja 86/3 14, Konstantynowicz O. V. 2268756 Tanka Str., 30/2 Apt. 71, Konstantynowicz O. F. 2997217 Shossejnaja 9 17, Konstantynowicz T. I. 2968379 Bajkalskaja 45 28, Konstantynowicz T. I. 2998379 Bajkalskaja Str. No 45 Apt. 28, Konstantynowicz F. I. 2431028 Angarskaja 13/2 Apt. 6, according to: http://www.nomer.org/minsk/

settled themselves in Russia

Krasnojarsk in the sixties of the 20th cent. and the Krasnojarsk area after 2nd world war, Archangelsk = Arkhangelsk: Yury Константинович / Konstantynowicz now; Moscow: Aleksandr Konstantynowicz and Oleg Konstantynowicz now; Dmitrij Konstantynowicz in Togliatti near to Samara; in 1918 Abram Ioffe [b. 1880, son of Fedor; completion of the St. Petersburg Technological Institute in 1902] became a head of Physics and Technology division in State Institute of Roentgenology and Radiologythe i.e. Physico - Technical Institute where a group of young physicists worked: B. P. Konstantynowicz / Константинович, I. V. Kurczatow = Kurchatov, Lev Landau [son of David, born 1908 in Baku; his father was an engineer who worked in the Baku oil industry; since 1927 he continued research at the Leningrad Physico - Technical Institute], P. L. Kapitsa [Piotr = Pyotr Kapica was born July 08/June 26, 1894 in Kronstadt; he was son of Leon or Leonid Kapica - a military engineer, lieutenant general in the Russian engineers corps, Pole with the Kapica i.e. Jastrzebiec diverse coat of arms, see: http://http://www.jurzak.pl/gendyna.pl?kd=1&hb=0504 - and Olga Stebnicki whoo was daughter of Hieronim Stebnicki, Pole with the Przestrzal coat of arms, see: http://www.przodkowie.com/niesiecki/s/stebnicki/5915.php?lit=s; grandson of Piotr Kapica senior; received his preparatory education in Kronstadt and next educated at the Petrograd Polytechnical Institute, "he graduated in 1918 with a degree in electrical engineering" (or 1919) on Electromechanics Department; he remained there as a lecturer until 1921; he went to England and there he worked with Ernest Rutherford; in 1934, Kapica went to Soviet Union] and others [quantum electronics, electromagnetic waves] - see http://depts.washington.edu/hssexec/newsletter/1997/graham.html; Anatoly Kanstantinovich / Anatol Konstantinovich - Russian piano musician; in Moscow - Konstantinovich Nikolaj son of Konstantin (Zjabon nickname, inf. of 2004) and my family in Omsk after 1929: Viktoria born 1870/71 - daughter of Antoni Konstantinovich, and Konstantinovich Walery (i.e. Valerij) son of Zygmunt (i.e. Sigizmund) and also Evgenij / Jewgenij Konstantinovich in Omsk, born 06. 12. 1982; Orenburg: Vasilij Konstantinovich - Deputy Head on Agricultural Administration in Orenburg; and also somebody exiled at Solowezki Islands in the White Sea after 1923 but we lost touch with them. In St Petersburg now Pavel Konstantinovich, tel. 8-911-295-70-06. Wsiewolod / Vsievolod Konstantinovich at the 10th Conference of Young Scientists (study "Moskovskij Institut Elektronnoj Techniki"). Konstantin Konstantinovich - musician and composer ("Zvuki Mu"). Elena Konstantinovich daughter of Vladimir - the Club of "Viedomosti" Reaaders. In Moscov now: Konstantinovich Boris son of Ivan, tel. 9080498 Altufievskoje shosse No 100 Apt. 312, born 23. 02. 1942; Konstantinovich Galina daughter of Michail, 9300585, Leninskij prospekt 72, 473 - born 29. 10. 1933; Konstantinovich Elena - 4324419 Novatorov Str. No 14 / 2, Apt. 191 - born 21. 05. 1939; Konstantinovich Jekaterina 1841744 Anadyrskij Prospekt 3, 48 - born 02. 04. 1965; Konstantinovich Pietr, son of Gavril, tel. 3260037, Birjulevskaja 12 / 2, 198 - born 16. 06. 1935; Konstantinovich Lidija - tel. 4745859, Tajninskaja Rd. No 16 / 2, Apt. 131 - born 11. 03. 1920; Konstantinovich Jurij son of Pietr, tel. 3260037, Birjulevskaja Str. 12 / 2, Apt. 198 - born 06. 01. 1968; Konstantinovich Olga daughter of Siergiej, tel. 3260037, Birjulevskaja 12 / 2, 198 - born 14. 06. 1968; Konstantinovich G. V. tel. 3227945 Proletarskij Prospekt No 35 apt. 21; Konstantinovich L. L. tel. 3260306 Birjulevskaja Str. 12 / 2, 177; Konstantinovich K. M. tel. 9300585 Leninskij Prospekt 72, 473; Konstantinovich Aleksander 1241454 born 09. 09. 1948; Konstantinovich Andrei son of Stanislav tel. 1115257 Starokashirskoje shosse No 4 / 2 Apt. 120; Konstantinovich Elena daughter of Michail, 4324419, Novatorov Str. 14 / 2 Apt. 191; Konstantinovich Vladimir son of Aleksandr tel. 5233572, Valashiha G. Kalinina Rd. No 2, Apt. 106 - born 13. 10. 1949; according to: http://www.nomer.org/minsk/

Ukraine

A. V. Konstantinovich and I. A. Konstantinovich - experts of ionization energies in Ukraine, unknown ancestry. Sergiej / Sergej Konstantinovich - born 1984, stay in Kijev where he studied "Kijevskij Politechnitscheskij Institut" to 2004.

Uzbekistan

Pavel / Pawiel Konstantinovich in Taskient, area of Tschilonzar C-17-51 unknown ancestry; was born in 18. 09. 1986

settled themselves in CANADA

Vancouver - Karen Konstantynowicz / Carina Konstantinovich; College of Medicine in Regina - B. Konstantinovich

in Denmark

at the beginning of the 20th cent.; Maria H. and T. Konstantynowicz / Konstantinovich now and also Martin, Stefan and Robert Konstantinovich.

USA

OHIO and Ellis Island in the beginning of the 20th cent.: Peter (or Piotr the 2nd probably) Konstantinovich who was married to Mary G.; new data at http://www.ancestry.com/

about Philadelphia, Pennsylvania - Anthony Konstantinovich born 1877, Helena Konstantinovich 1885, Anthony Konstantinovich 1910, John Konstantinovich 1913, Theodora Konstantinovich b. 1914 and Charles Konstantinovich;

Olga I. Konstantinovich who was born 1860 in Kiev - after 1880 in Paris - daughter of Alexander Konstantinovich; Bronislaw Konstantinovich in Philadelphia, PA (1915 - 1918) and his wife Stella nee Marcinkiewicz; Mary (i.e. Maria born 1863) Konstantinovich died in Princeton, NJ on July 26th, 1916;

in the thirties of the 20th cent.: Konstantinovich Michael (= Michal), Konstantinovich Jacob (Jakov = Jakub) and Casmir (Kazimierz), Konstantinovich Boleslauf and Eugene (Eugeniusz in the Detroit area - WJLB radio) H. Konstantinovich and also Anthony;

now in USA: KONSTANTINOVICH MATTHEUS from RUSSIA according to US District Court in BOSTON, MA; MARY P. born c. 1934, Brandon Konstantinovich, REGINA born c. 1925, EDWARD born c. 1924, Steven Konstantinovich; DIANE S. born c. 1942 http://www.pmi-chicagoland.org/membership/; WALTER born c. 1968 (inf. 01 APR 2001 - 15 FEB 2004 from FORT BRAGG); K. Konstantinovich born c. 1955; Konstantinovich Aleksei - an unknown line - in "Military Review" and "Current Digest of the Post-Soviet Press"; MARGARET; ROBERT and Leon Konstantinovich who was born in Baldwinville on April 28th, 1911 and resided in Baldwinville, MA; Andrew Konstantinovich located in St. Petersburg - Florida; Maksymilian Konstantinovich - Ropiewski in Colorado; Casey Konstantinovich in the Franklin Park School; JOHN W.; TED P. Konstantinovich born c. 1921; Chief Operations Officer in Philadelphia or Newton's Vice President of Finance and Operations (Newton Resource Group, a digital media company based in Pennington, NJ) Tom Konstantinovich; T. Konstantinovich in Columbia, Aliso Viejo, CA; FRANK; BECKY; Josephine Konstantinovich of Youngstown; EDWARD M.; EDYTHE M.; D. Konstantinovich and WENDY born c. 1969; Lee Michaels (Konstantinovich) born Nov. 2nd, 1942, in Chicago, and died on March 2nd, 2003 in Maywood, son of Margaret and Vincent Konstantinovich, lived in Palatine (his sisters, Bernice Harker and Mary Lund; brother, Edward Konstantinovich); Chris Konstantinovich acted as CFO; according to "Social Security Death Index Search Results" RUTH KONSTANTOWIC or probably Konstantinovich / Konstantynowicz b. Jun. 1919 and d. 1994 in New Castle, Pennsylvania and JOHN KONSTANTOWIC b. Oct. 1923, d. 1988; you see more details:
http://www.ancestry.com/

England

Alice Konstantinovich, chiropractor; Maciej Konstantinovich - Consulting Systems Engineer in Computer Networking and Justine Konstantinovich in Burscough 2005.

Australia

Konstantinovich Michal, departure port: Genoa, Italy on 27 Apr. 1949 - arrival port: Sydney - Australia on 27 May 1949, details are lacking. According to "Database = Australian Records" KONSTANTINOVICH Martha Emma d. Jan. 02nd, 1992 in Minto

ARGENTINA

Argentine Republic

Norway

Marek Konstantinovich - "The Source and Different Cikadas", viola

The others in the world at present:

I had been told about (details are lacking) Pyotr and Helena Konstantinovich - unknown ancestry and also KONSTANTINOVICH Cyryl who wrote "W obronie slowa"; dr. Feliks (Felix) Konstantinovich - Soviet expert of Chernobyl explosion; in Barnaul (that is near to Nowosibirsk = Novonikolajevsk in the middle of the 20th cent.) where Basil Konstantinovich - rather ancestry of the Konstantinoviches who derived from present BUKOVINA or from Volhynia - and his wife Olga.
---
Appendix B:
The FOX
coat of arms
in the Grand duchy of Lithuania
A families with the Fox coat of arms proper and diverse (Mzura either Orzy or Strzempacz) were in the Grand duchy of Lithuania as early as XV cent. (Fox arms in Poland, 1058):
1. Korzeniewski 1410; they derived from family of Korzeniowski
2. Suwigajlo 1410
3. nobilis Sungail (= Sangaylo or Sanigaylo, Songajlo, Songaila and Sungaylo) 1413; Jan Sunigajla i.e. Songajlo in Kaunas A.D. 1398 - 1415 and in Trakai 1413 - 1432 received Fox arms in Horodlo A.D. 1413; he lived still in 1432 according to Danilowicz; inf. about Sungail noble family in 1434; e.g. Stanislaw Songajlo and his wife Teodora Kuncewicz in the Asmjany district in 1662 and Krzysztoph = Krzysztof Sagaylo in 1663 according to Jan Ciechanowicz
4. dukes Swirski (i.e. Swierski 1283 at Lithuania - close to Siesiski family) i.e. Svirskas or Siewierski with among others Fox coat of arms; Roman Swirski 1431 the Fox coat of arms and 1433, too; next Kryk or Eryk Swirski 1434; the noble family derived from ancestry Sunigajla or from Juchno duke Swirski and next e.g. information of 1511, 1528, 1529, 1571, 1592 and so on; verified in Vilna 1804, 1819, 1835, 1837
5. Iwan Siemionowicz 1431
6. Semen Sopiha lived in 1440 but the Fox coat of arms for the family Sapieha A.D. 1512 (province of Smolensk - here Bohdan Sapieha A.D. 1506/1511); the Sapieha ancestry in Lithuania since 1300, they came from Narymund duke of Pinsk and Mazyr, at a later date Punigajlo Sophia and Siemion Sunigajlo son of Bunigajlo Narymundowicz in Trakai; close to Giedymin and Rozynski families; Kszczonowski is name of one branch and other Rozynski; count title since 1575 and duke title in 1775; among other things the Sapieha family owned an estate of Druja in 1798
7. following families derived from noble Swirski ancestry: Szokolowicz, Butwidowicz, Talmontowicz
8. Zawadzki 1420 (derived from Swiatopelk); related to Bolestraszycki
9. Swiatopelk
10. Wereszczak 1465
11. Wankowicz 1499 (from Wanka close to Kiejstut; Gasper Wankowicz verified in Orsa on 21 October 1773: he derived from Hrehory Wankowicz and Anna nee Turski, next Piotr Wankowicz in 1643, and also Stefan Wankowicz in 1640 and a sons of Piotr Wankowicz A.D. 1671; Mateusz Wankowicz in 1765)
12. Naczowicz or Nacowicz (Nacovicius) in the Wilkmerge district 1500
13. Roszczyc 1500 (or Ruszczyc, Roscicas in the Kobryn area and Upita; Michno Roszczyc owned Mokrany estate in Palesse A.D. 1564 and information of 1578; in a region of Slonim after 1651)
14. Korsak 1500 call Sowa or Sowicz
15. Jerzy Koscienowicz 1501
16. Letecki or Latecki from Letce or Ledczany village in the Vicebsk province since 1508; they verified in Vicebsk at the end of the 18th cent. and came from Teodor Iwanowicz Szwogier and his son Bohdan who received Ledczany and Budowiescie; in Vicebsk A.D. 1539, Chelm in 1573, relative with Olechnowicz family 1627 and Kisiel 1641
17. Ilinski 1528
18. Marcin Konstantynowicz Czyz from Nieciecza 1534 (Boniecki 1901; Niesiecki 1839) or Czyz of the Fox coat of arms from Nieczyca
19. Andrzej Wolan 1550 or 1566 / 1572; Wolan family or Volanas was in Vilna region, district of Minsk and Asmjany
20. Nieczycki either Nieczyski or Nietecki, close to Czyz family
21. Konstantinovich either Konstantinowicz or Konstantynowic and Pohozy - Konstantynowicz, too; for the first time information of 1552, 1554 and 1578
22. Piaseczynski 1550
23. Michalowicz or Makalovicius 1580; call Zdan; near to Hrodna and Vilna
24. Roscisz (Rosciszow ?) 1584 or Ruszczyc (1500)
25. Radziminski (Radiminskas or Radziminskij in the Vilna and Hrodna areas before 1648)
26. Michniewicz or Miknevicius before 1648 in the province of Vilna and others; they were named Lisowczyk Michniewicz
27. Bucela or Buccella 1589;
28. Getardowicz;
29. Saulukowicz 1596;
30. Kosicki 1597, call Niestojkowicz or Katski, Kasicki and Kacki;
31. Zabielo (or Zabiello and Zabiela according to Dunin Borkowski 1909, they came from Podlasie to Samaites territory; in the Minsk government owned places: Olsa, Jozefin and Ignacewka in the 19th cent., count title)
32. Narbut or Narbutas 1650, close to Jodko
33. Postrumienski 1700
34. Ruszczyc 1650 (or Ruzczycz A.D. 1659, Ruscicas, they owned Perkowszczyzna and Bogdanowo estates in the Asmjany area and Jodziszki in the Vilna area A.D. 1847; also Trakai region); and Zbirogowski - Ruszczyc family (or Zbiragauskas - Ruscicas in the Asmjany, Vilna and Kobryn areas) The Exhibition "Ferdinandas Ruscicas (1870-1936). Life and Works" ...
35. Kolesinski (near by Lida in 1669 - according to my correspondent of 2004 - i.e. Konstanty Dymitrowicz from Kolesiszcze and Konstanty Pawlowicz from Ostrowla and next 1674)
36. Jodko or Jotko 1700 and 1733; related to the Narbut house
37. Komunski before 1648
38. Wilkanowski c. 1630
39. Rozlowowicz (or Rozlovavicius in the Kaunas area)
40. Rupejko (or Rupeikys, Rupeika in the Vilna area)
41. Russel (or Ruselys in the "Polish Livland")
42. Rymgajlo (or Rimgailas in the Raseiniai district)
43. Sikorski (among other things Fox arms with Dumicz nickname but mainly in Galicia; they were related to the Hurko noble family in Livonia - the Rezekne district; the Sikorski noble family possessed Laskowka, Kniahinicze, Olesin and Mikulitschi estates in the Minsk government in 1899; Mikulicze estate i.e. Mikulitschi was situated 14 km West of Beresino = Berezyna; an orthodox families verified themselves in Minsk A.D. 1820 and 1837)
44. Spirydonowicz (i.e. Spiridanavicius only with Fox arms in Lithuania since the 17th cent.)
45. Stanislawowicz (i.e. Stanislavovicius or Stanislavaitys owned Fox arms and derived from the Asmjany district, here possessed some little villages in the 19th cent.)
46. Starzenski (Fox arms according to a research from Buenos Aires of 1974 and related to Siemaszko family of Swan arms)
47. Uszacki (or Usackas verified Fox coat of arms in Vilna (Wilno) A.D. 1905; possessed Malkowo and at a later date Zarojscie in the Vilna province)
48. Mackiewicz (about Mackevicius family hear as early as 1541 and 1572)
49. Czarnocki (at territory of Bielsk in the 16th cent.)
50. Lipicki (about Lipicki or Lipickas family hear in Lithuania as early as 1572)
51. Lukaszewic (or Lukasevicius known since 1528, in the Orsa area 1567, Trakai region 1577, Mahileu 1578)
52. Nacewicz (or Nacevicius in the Hrodna region - close to the Onacewicz family and also they were related to Giedroyc noble family in the Kaunas district, village Pole Swolkieniowskie A.D. 1600) Nacewicz Family Tree and Genealogy Search at Surname Finder
53. Ossendowski (= Osendowski family or Osendovskis verified arms in Vicebsk 1844 - writer Ferdynand A. Ossendowski was born in Vicebsk 1878, he stayed in Omsk 1918 and in Urga in May 1921, died in Warsaw 1945 - the Osendowski family lived in Livonia since 1774)
54. Wolosewicz (or Wolosowicz, Valasevicius in the Pinsk region A.D. 1524 - they verified Fox arms in Vilna 1819 and 1832, owned Rekoszajcie or Rakotajcie in the Samaites territory in the 17th - 19th century)
55. Wolotkowicz or Valatkevicius (the surname since 15th cent.) et al.
56. the others families with the Fox arms in Lithuania, see more: http://www.geocities.com/konstanbogdan
1. Rymwid 1504 (or Rimvidas at the Samaites territory, the Vilna area, region of Hrodna, Minsk and Lida A.D. 1669); Mickiewicz that is surname of one branch (1550); the Mickiewicz family named Rymwid or Rynwid, Rymwid - Mickiewicz and Rimvidas - Mickevicius with Fox arms lived in the Asmjany, Lida and Minsk areas;
2. Makarowicz 1400 (they came from Wasienczowicz family or from Doroszkiewicz - Bouffall); at a later date as Makara - Makarowicz or Makarewicz in 1514 = Makarevicius in the Barysau region and area of Vilna since 1560 (Ponary in the 18th cent.); lived in the Minsk province in 1620 and in the Hrodna district in 1765, possessed the Jatoltowicze estate in the district of Asmjany, at a later date in the Lida district c. 1723 and 1761 (here the Niewisza and Romanowicze estates), they verified the arms in Vilna A.D. 1819 and lived in Vilna 1820, too;
3. Wasiencowicz 1509 (according to Tomasz Swiecki) either also Iwasiencowicz or Vasencavicius A.D. 1590 (according to Starzynski), next as Makarowicz; derived from Makar Makarowicz Waszencowicz; Wasiencowicz stayed in the Minsk province and Kiev area (Mikolaj Wasiencowicz according to Niesiecki); as also Wasienczowicz (according to Stupnicki); as Wasniecow in Russia;
4. Doroszkiewicz called Bouffall 1481; 1585 at the Minsk province; the Fox coat of arms since 1540 alongside Rymwid family;
5. Talatowicz before 1540 (related to Bouffall);
6. Sipowicz (related to Bouffall; they lived in Vilna region - here Szlagieryszki estate, Braslau area and Samaites; verified themselves in Wilno = Vilna in 1820; e.g. Gabryel Sipowicz of Fox arms in Samaites) 1640;
7. Tyminski i.e. Timinskas among others Fox coat of arms diverse; at Wilno territory, parish of Korwien in 1700 according to Niesiecki, vol. 9, verified here in 1852
8. Kozmowski 1648 or early
9. Woronowicz (or Woronowicki, Varanavicius) A.D. 1650 or 1648 according to Niesiecki; owned Brzostowica (Berastavica now) in the 18th cent., lived in the Vilna province (Porokiecie village) in 1542, Leluny in Dzisna area in the 18th cent.; verified 1819
10. Sapucho - Samsonowicz before 1648; also as Samsonowicz
11. Kesztort 1580 or Kiesztort (Kiejsztort)
12. Proszczewicz or Proszczowicz 1550; Medeksza derived from them
13. Medeksza 1560 (came from Proszcze family or Proszczewicze)
14. Bouffall since 1540 (or that is the Kosciesza arms; close to Mickiewicz family; for instance Zygmunt Bouffal in Brzesc i.e. Brest A.D. 1713)
15. Makowski (or Makauskas in the Mscislau province).
All rights reserved. No part of all this work covered by copyright hereon may be (except Google search engine) translated and / or reproduced in any form or by any means - graphic, electronic, or mechanical - including photocopying, recording, taping, or storage in an information retrieval system, without the prior written permission of the copyright owner - Bogdan Konstantynowicz from Lodz.
COPYRIGHT BY BOGDAN KONSTANTINOVICH (Konstantynowicz) at Lodz, October 14th, 2008.
This paper is sold subject to the condition that it shall not, by way of trade or otherwise, be lent, re-sold, hired out, or otherwise circulated without the publisher's prior consent in any form of binding or cover other than that in which it is published and without a similar condition including this condition being imposed on the subsequent purchaser.
All rights reserved. No part of all this work covered by copyright hereon may be translated and / or reproduced in any form or by any means - graphic, electronic, or mechanical - including photocopying, recording, taping, or storage in an information retrieval system, without the prior written permission of the copyright owner - Bogdan Konstantinovich (Konstantynowicz) from Lodz.
---