---

Welcome to Irish Ancestral Pages.  My name is Philip and I live in the Mid-West of Ireland . There I work as a semi-voluntary counsellor and personal development coach.

I dedicate this site to the promotion and encouragement of  Irish genealogy (a subject dear to my heart) and in my own way try and help those researching their Irish Ancestral Past.

Above all, I dedicate this work to my own parents who have gone to prepare a place for me in our ancestral halls

Bookmark this page, for it is an on-going project and many more items will be added as time and finances allow.  I look forward to  having you all back time after time.

Many thanks for visiting.
---
Useful Links
The Irish Ancestral Research Association
Ireland Message Board
Ireland Top Databases

---

TODAY'S DATE IS: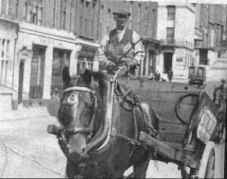 My maternal Grandfather, Daniel Banfield, who for many years  worked as a carman for Suttons Coal in Cork City
---
---
Awards Page
To view our Awards Page
---
Links of Irish Interest
With Irish photographs
---
My Irish Journey

My own personal look at Cork and Limerick, to start with.  Lots of pictures and stories.
---
---
This site was launched
Friday Aug 4, 2000
---
view previous entries
Page 1   Page 2   Page 3   Page 4   Page 5 
---

As a complement to this site, I am now delighted to announce that  Irish Ancestral Pages, has an Irish interest community, currently nearly 5,000 members.  Join here, free, and avail of message board; share photos, documents and items of Irish interest.   And chat with other members in Irish Ancestral Pages' Chat Room.
---
A drive down and Irish country road


I hope you enjoy it. Best wishes, Philip
---
You can now Search Irish Ancestral Pages
To find the text you are seeking on the page found use your browser's "Edit/Find" ( Ctrl+f ) facility

Please note: Listowel Griffiths and Limerick Directory are images and must be viewed manually
---
This site has been designed and is maintained by
Philip O'Rourke
Ballyneety,  Co. Limerick,  Ireland.
[email protected]
Improtant note:  All items on this page including Contact information is under copyright and fees apply when it is  used for unsolicited commercial email or mail
---
. . . . . . . . . . . . . . . . . . . . . . . . .
Home | Site Map | Onsite Databases | Awards | Links of Irish Interest | My Irish Journey | Community