By Hüsnü Köktürk TB6BHK
one transistor blinking xtal oscillator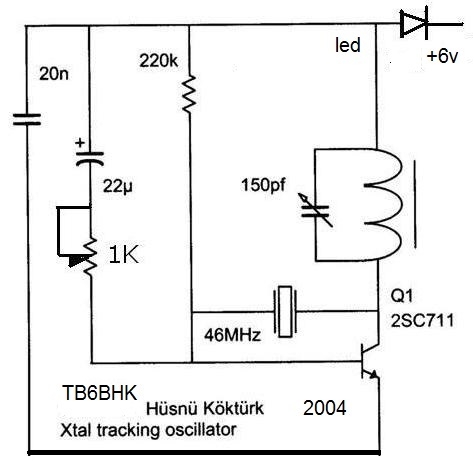 https://www.geocities.ws/husnu66tr/Kokturk-xtal-bip-bip-osc2.htm
The new circuit. There is no scheme -blinking xtal oscillator- that contains
only one transistor, blinking xtal signal generator.
The first scheme in the internet. This device looks like tracking transmitter but has no
audio parts. It works like push buttons.
This device can be powered from 3v6-6v
direct current battery and designed for baby alarm device and test tools for radio
homebrewer. I used 25-50 MHz xtal. L1=8 turns, 20mm Long, 3.5mm diameter.
Bu araç cihazı taşıyan cismin aranıp bulunmasında va alıcı kalibrasyon işiyle
uğraşan kimselere çok yardıncı olacaktır. Bir transistörlü yanar söner
kristalli test osilatörü. internette ilk

MAIN PAGE ANA SAYFA

Copyright © Hüsnü Köktürk TB6BHK husnu66tr Türkiye/Yozgat yanar söner blinking xtal-osilatör