The first Casualty was Sudhamani's own brother Subhagan, who was found hanging from the house. A proper post mortem was never carried out. Police reports about the incident was sketchy.

Since then several devotess disappeared or found dead in mysterious circumstances.

Here is short list:

1. Narayanan Kutty, Kodungallor Madathiparambil (37)

Found badly beaten up at Matha Ashramam, Vallikkavu, on 4th April 1990 and admitted to Medical College Hospital Trivandrum. Relatives in Trichur came t o know about his death only on 10th April. An employee of Bureau of Economics and Statistics, Trichur. A relative of former Chief Minister C Achyutha Menon.

The newspapers first did not name the Ashram in their report! Only on 22nd April two newspapers named it as Matha Amrithananda Mayi Headquarters at Vallikavu!

2. Bhaskaradas

Died at Ashramam in 1982. He used to recite Bhagavatham at the Ashram. He had taken a glass of milk at the Ashram and then went home. Within no time he died. Again there was no investigation!

3. Pradeep Kumar - Arrested by Police for no reason and died in custody on 16th August 1994.

Kumar was a relative of Matha Mayi. He and Mayi's father Sugunanandan had some argument about gold. Later he went in saearch of job to Cochin. But he didn't reach there. Instead he reached Peruva in Kottayam! Note that there was a Mayi branch in Velloor near Peruva.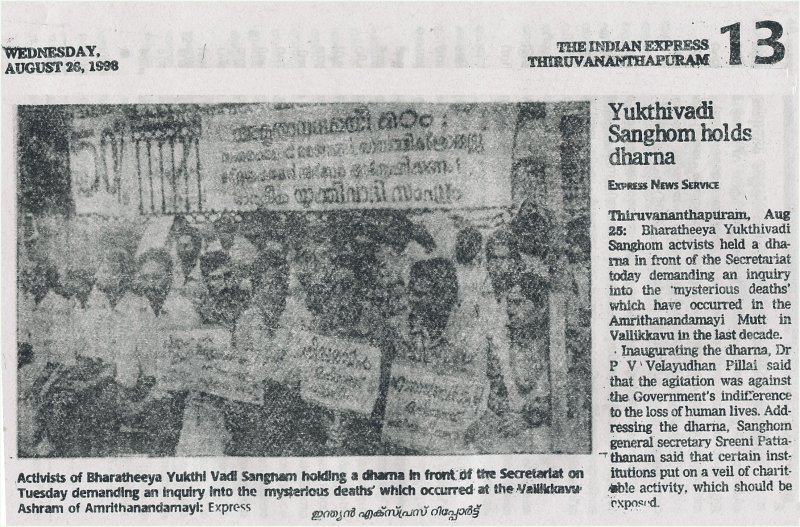 The report abobe from Indian Express, Trivandrum dated Aug 26, 1998
4. Dhuram Dhar
Died in Ashram in 1997. Educated Dhuram Dhar belongs to the Kolathiri Royal Family of Kannur. The dead body was cremated at the Ashram without inforimg the relatives. Suspicious death was never investigated.
5. Unknown Dead Bodies near Ashram
On 29.11.1996 a dead body was recovered from the sea on the western side of the Ashramam.
On 10.4.1997 a dead body was found in the sea on the Southern side of the Ashramam.
Local people say the number of dead bodies appearing on the sea shore has dramatically gone up since the Ashramam was on operation. Obviously police which did not bother to investigate a publicised case like that of Narayanan Kutty, never bothered to do anything in these unknown cases. Police has been effectively deactivated!