'We won't be victims any more'
(Filed: 25/07/2001)

An influential group of post feminist, Republican women has a powerful voice in the Bush adminsitration. Toby Harnden meets them

THE new dawn of post-feminist America is being marked by four women sitting on a veranda in the comfortable Washington suburb of Foxhall. On the wicker table sits a large jug of G&T. A clunking fan provides some relief from the heat, wafting the cigarette smoke away towards the lawn.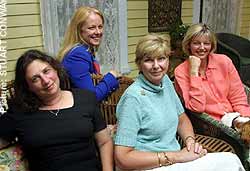 Bush's women: 'The younger generation sees what the women of our generation lost,' says Danielle Crittenden [right], with Barbara Lideen, Barbara Olson, and Kate O'Beirne
It is an occasion to be marked, mind you, rather than celebrated, because these women feel that feminism's destructive legacy lingers on and that there is much work still to be done. But with George W. and Laura ensconced in the White House after eight years of Bill and Hillary, the times augur well for them in the American capital.
The host is Danielle Crittenden, author, social critic and half of one of Washington's new power couples. Her husband, David Frum, is a speechwriter for President Bush: as we talk, Frum returns home from the White House and plays enthusiastically in the garden with their children Miranda, 10, and Nathaniel, seven. A small bump on his wife's slender frame scarcely betrays that she is four months pregnant with her third child.
Among Crittenden's guests is Barbara Olson, former prosecutor and no-holds-barred biographer of Hillary Clinton. A blonde who still turns heads at 45, she is dressed in a royal blue power suit with a skirt that errs just on the right side of decency. She is married to Ted Olson, newly appointed Solicitor General and the man who represented Mr Bush against Al Gore in the Supreme Court when the Florida recount battle reached its dramatic climax last December.
Barbara Ledeen, an Italian-born brunette, arrives straight from Capitol Hill, where she is a director of coalitions for the Republican staff in the Senate. As she walks in, Kate O'Beirne, the Washington editor of the conservative magazine National Review, is showing the assembled company a large map of the United States that is awash with blue.
O'Beirne, tall and elegant, is explaining that the map shows how Bush would have won with a landslide if men were the only voters. If it hadn't been for their weak sisters, she says, there would have been no showdown in Florida and no argument about the new president's legitimacy.
"Take back the vote - we've used it unwisely. We'd like to give it back to our husbands," laughs O'Beirne, who is married to a US army officer.
Olson, in turn, proposes a Republican conspiracy to keep American women at home during the next election: simply run a 24-hour television retrospective of the lives of Diana, Princess of Wales and John F. Kennedy Jnr.
All four friends are veterans of the Independent Women's Forum, a conservative group founded in 1992 that challenged the central tenets of feminism and refused to accept that women always had to be the victims.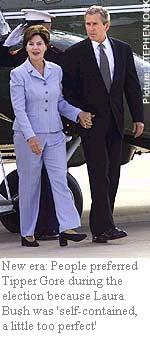 Today, the IWF is less influential than it was but its former members are spread throughout the new Bush establishment in Washington. Lynne Cheney, the vice-president's wife, is using her role to highlight education issues; Elaine Chao is Labour Secretary; Paula Dobriansky is the State Department official who has to explain to Europe why America thinks the Kyoto protocol on global warming will not work.
Crittenden, 38, is currently writing an online novel called [email protected] home, a pointed social and political satire which is being published a chapter a week by the Wall Street Journal and the National Post in Canada. Amanda, a hapless, harassed and insecure Washington mother, is experiencing the downside of the philosophy that suggests a woman has to "have it all".
Her character, says Crittenden - who uses her maiden name professionally and her husband's in everyday life - is a kind of post-modern trophy wife. "It is a status thing now to have a wife who gave up a great job because you don't need the money. It's like retiring a thoroughbred from the track: 'She could be earning $200,000, I could be racing her but she takes care of me and my children'."
Crittenden's first book, What Our Mothers Didn't Tell Us, published two years ago, was described by one critic as "a grenade in the face of the women's movement". Tackling the inter-linked intricacies of motherhood, marriage, work, sex and politics, Crittenden argued that her generation of women had been misled by being taught to blame men and embark on a quest for independence at all costs. Erica Jong hated it.
When Barbara Ledeen arrived in Washington, she says, she was made to feel ashamed of being an at-home mother. "I had a little girl who was three and I was the only one who was not working. I remember at one cocktail party speaking to someone with a job like David's, a speechwriter in the White House or something.
"I said I was the mother of a three-year-old and he went right over my shoulder to try to look for someone interesting to talk to. It was really painful. But it's no longer like that any more."
Now, Ledeen says, women are more conservative, partly because liberal groups, such as the National Organisation for Women, damaged themselves so badly by defending Bill Clinton's philandering and lying.
Crittenden has also noticed big changes. "It is really not embarrassing any more for a woman not to work. It's OK to be a housewife. Here we are in the shark tank of Washington and you can go to a party and say, 'Well, I did work in transport under Reagan and now I am at home with my kids'.
"This younger generation sees what the women of our generation lost. They have no romance with the 50-hour working week. It was so glamorous in the Seventies, feeling you could get a job, your own apartment. That is so not glamorous now," says Crittenden. "The idea that you could meet a man, he would stay with you and you could have children and not work - that is glamorous."
But she worries that what she sees as some of the most negative effects of feminism will survive. "Feminist ideas have been absorbed generally by women and by Washington. So you have highly conservatives bodies, like the army or the navy, who are as radically feminist as you can probably be."
One irony, these friends point out, is that although the Bush presidency is perceived as being dominated by male Wasps - white, Anglo-Saxon Protestants - women and minorities are perhaps better represented than in any previous administration. "When the door is closed in the Bush administration, women are in the right side," says O'Beirne.
"You have people like Condoleezza Rice [National Security Adviser] and Karen Hughes [probably the adviser Mr Bush trusts most]. With Bill Clinton, when they closed the door, there wasn't a woman in the room who had any influence."
Olson thinks that the example of Barbara Bush, President Bush's mother and a former First Lady, might be at least partly responsible for this. "Look at Bill Clinton's mother, as opposed to George W's mother. Is your mother a barfly who gets used by men? Or is your mother a strong woman who demanded respect for her ideas and always received it?"
Ledeen is perhaps the most optimistic of the four about the immediate future for women in America. "For the past eight years, it has been the Clinton deal with women," she says. "It's not going to be that way any more."
So why are feminists now so discredited in the eyes of some women? "Their children are a mess," says Ledeen. "They're taking guns to schools and shooting each other. It is hard to say that it is not because of the parents."
Rather than empowering women, she says, feminism taught them to be helpless. "I'll tell you when it started. It started with the whole concept of rape - in 1968, I was there. You had to be back within certain hours. Then, there was no illicit sex in the dormitory, because they would not allow it.
"Part of the whole impetus of the Sixties was: you cannot tell us who to sleep with and where and when. Now fast forward to the Eighties and Nineties - you can drink too much and go to his room, and it is his fault, not yours, if you have sex. You didn't say no, you didn't get up, you didn't leave the room, but it is his fault. Therefore, you are the victim."
Crittenden, who describes herself as a "New Traditionalist" and has been dubbed "Retrochick" by others, believes women's issues are slowly becoming de-politicised. "These issues were never political, although the feminists got a good 15 years out of the personal versus political. This generation is truly post-feminist: they don't politicise their marriages and when you look at the issues women are consumed with day to day, they're very much removed from the political realm."
But all four friends agree that the role of woman as victim is difficult to shake off. During the election campaign, O'Beirne notes, women preferred Tipper Gore to Laura Bush. "It was because Tipper doesn't have her act together. Tipper's a little heavy, she's had problems - Tipper has shown weakness. Laura is self-contained, a little too perfect."
And now, of course, the previous First Lady, Hillary Clinton, is in the Senate and building up her credentials to run for the White House one day. "She's the last vestige of victimhood but she clearly is a huge symbol of victimhood that survives," says Olson, whose book about the scandals at the end of the Clinton administration, The Final Days, is to be published in the autumn.
"She represents what we are all hoping is the past - but it's obviously not as much in the past as we'd like."
If nothing else, the presence of Hillary Clinton is a guarantee that Crittenden and her allies will continue their fight. Now, at last, they have their hands on many of the levers of power and influence in Washington - and they are not going to let go soon.



© Copyright of Telegraph Group Limited 2001.

August 2001 For original article click here.