Last Updated:
5 January 2008
Shortcuts
Click on the names below to visit featured family members' pages:
Maximo Fernan
Simon Fernan
Emerenciana Fernan-Senining
Amboy Fernan
Milton Fernan
Demetrio Fernan
Monica Fernan-Igcasenza
Marcelo Fernan
Toribio Fernan
Bernabela Fernan

The site contains information on family history, the family tree (from Maximo and Trinidad Fernan), recipes, photos of family gatherings, contact addresses, and links to other Fernan family-related web sites.
From time to time, we may publish news about family affairs and undertakings of family members. Send us news for posting here.
---
New web site up and running
The new Fernan Clan Web Site is now up and running at www.fernan.info. You will be redirected there in a few seconds, or click here to go there now.
---
Upgrade delay
Apologies for the delay in upgrading this website. Plans for upgrding have not been abandoned; a significant amount of time will however need to be allocated for the job. Thanks for your patience and the site will, hopefully, be revamped in 2004.
---
Plans to upgrade
We are planning to upgrade this site to allow interactive submission of news and other items. Family members will be able to subscribe to the site and can submit articles directly, with little or no moderation from the site administrators. We hope to upgrade the site in the next quarter.
Please let us know what you want to see on this site, including changes to the look and feel, site navigation, other facilities, etc. and we will try to integrate all suggestions in the upgrade of the site.
We may also move to a new web address, hopefully www.fernan.com, depending on availability of the name.
We also wish to thank those who have been posting messages to the Fernan email list, [email protected]. Please continue to use the list, and for those who are not on the list yet, please subscribe by sending email to [email protected] or by visiting http://groups.yahoo.com/group/fernan/
---
Family News
The site now features a Family News section, where family events (births, weddings, deaths, etc.) can be posted. Please send information for this section to Diday Fernan-Ramilo or post a message to [email protected].
Some Items

Congratulations: Michael " Mikey " Taasan
Michael " Mikey " Taasan is state-ranked junior tennis player.
Anniversary: Don Simon Lepiten Fernan
October 28 is the birthday of the late Don Simon Lepiten Fernan. He was an outstanding boy scout and a great teacher and leader.
Sad News: Miami Fernan Senining

Miami Fernan Seneneng died Thursday, September 20, 2001.
Welcome: Andres Fernan Ramilo II
Diday and Bong Ramilo's son, Andres, was born on August 2, 2001, in Darwin. See photo here.
Sad News: Katrina Senining
Katrina Senining passed away on July 14, 2001.
Welcome: Matthew Angelo Camus
Mayette and Raffy Camus's baby boy, Matthew Angelo, was born July 7, 2001, in Manila.
Winner: Jamie Fernan
Jamie Fernan won first place in the Tulsa Area Gymnastics' State Meet held last May 19, 2001 in Bartlesville, Oklahoma. See her photos here.
Sad news: Dr. Maximo C. Fernan

After a prolonged illness, Dr. Maximo C. Fernan passed away on March 1, 2001 in Cebu City.

Sad News: Paz Manubag-Fernan
Tia Paz passed away at 1:00 a.m., Wednesday, Jan. 10, 2001(Cebu time).

Bridge in Cebu named after Noy Celing
This bridge linking Mandaue City and Lapu-lapu City in Cebu, Philippines, was recently named Marcelo B. Fernan Bridge in honour of Noy Celing Fernan, former Chief Justice and Senate President of the Philippines.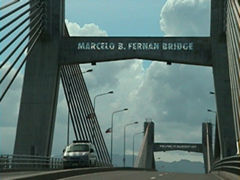 Photo courtesy of Marcelo Fernan, Jr.
---
The Fernan Family Site
Over the years, Fernans have migrated continously to all parts of the Philippines and the World. This site was created to keep up with relatives wherever they are and to assist in tracing our family heritage. This is an evolving site, by no means complete. It is dependent on the contribution of Fernan family members everywhere. If information on your branch of the family is lacking or missing, please send stories, images, and any other bits that you want included here. Suggestions for improving the site are also most welcome. To include your stories and other information in this site, Email Diday Fernan-Ramilo.
---
We now have a shortcut to this web site: http://on.to/fernan. This shortcut, or alternative web address, can be used instead of http://www.geocities.com/Heartland/Cottage/3726. The old address will still work, however.
---
The Family Hall of Fame
The website has an area called The Fernan Hall of Fame. Family members who have distinguised themselves and brought honor to the family will be featured here.
Dr. Max Fernan is now in the Hall of Fame along with Lapu-Lapu and Senator Marcelo Fernan.
---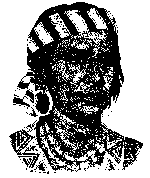 Lapu-Lapu: our ancestor?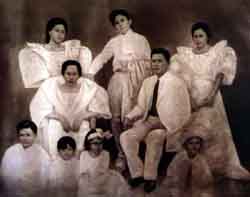 Simon & Alejandra Fernan, with their children


The Brothers Fernan:
Milton, Bences, Amboy
Guestbook
Please sign our Guestbook. Your comments encourage us to keep maintaining and improving this site. Also, if you have queries about relatives who you haven't seen for a while, or wish to contact, please post questions to the Guestbook. Post responses to queries on the Guestbook as well.
---
The Fernan Clan eGroup
We've set up an egroup which can help us keep in touch with each other. An egroup includes facilities such as an email list where you need only to send a message to the one address (which is [email protected]) and everyone on the list will get that message. Other facilities are: online chat, group calendar, storage for documents and images. Subscribe now, or email Bong Ramilo for inquiries.
---
Thank you

Thanks to Senn MacHare, Ann Cohen, Baby Paz Shepherd, January Monera, Bysshe Fernan, Esmael and Jojo Candari, Dennis Fernan, Mary Jennifer Borja, Wennie Abelardo, Arnold Sancover, Roy Uy, Memel Borromeo, Marissa Taasan, Eileen Aleonar, Marcel Fernan, Jojo Fernan, and Dandy Fernan for providing information and materials for the site.