---
Angela Oligo
Angela Oligo was born in Iligan City in November 15, 1922. She was the second of five children of Fernando Oligo, an Ilocano migrant to Mindanao, and Maria Mabaylan. Fernando was a Staff Sergeant in the Philippine Constabulary. They stayed in housing for military personnel in Barrio Green, Camp Keithley, Dansalan, Lanao del Norte. Maria was a housewife and was known among military wives as a keen grower of dahlia flowers in the camp.
Angela went to Camp Keithley Elementary School and graduated high school in Dansalan (now Marawi) High School. All Angela could remember while growing up was helping her mother taking care of her younger siblings and doing household work. Right after graduating High School in 1940, Angela was hired to teach grade one in Pagalungan Elementrary School, Ramain, Lanao del Norte.
The onset of the Second World War had not affected Lanao del Norte as much as it affected key cities in the Philippines. Provincial life went on and it was only in the late 1941 that the war impacted on the community. The Japanese were keeping an eye out for families of military personnel. Fernando threw together his family and personal belongings in a small bangka. The space was so minimal that in the middle of the journey, Angela reminisced having to throw the sewing machine, dogs, and heavy things overboard to accommodate the family and to carry them through to their destination.
They were taken to Napo Jimenez, Misamis Occidental . Between 1942 and 1943 Maria died. The children were taken to the mountain top by Fernando and were hidden among the suban-on, indigenous Mindanao folk. Fresh shrimps from mountain lakes were offered to the family. The forest then was full of chaterring monkeys, native vegetables and fruits. The Oligo family stayed in the area for four years. The military set up an outpost in the town proper so Fernando had opportunities to visit the children from time to time. Angela at a young age was a mother and sister to her younger siblings.
After the war, they went down and looked for elder brother, Paulino, who also joined the Army and was settling down in Lanipao.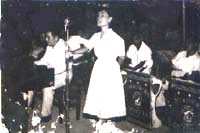 When Mr Pedro Aquino, Baroy Elementary School Supervisor, learned that Angela had teaching experience, she was called upon to teach. While waiting for their teaching assignment, the teachers were making alparagatos ( sandals for Filipino and American soldiers ) for the time being. The teachers then got invited to American functions, where Angela was always asked to sing, sometimes backed by bands and an orchestra.
Angela met Milton through Paulino Oligo. They were married on November 2, 1946. They mortgaged one hectare of their 8-hectare farm so she could finished her E.T.C. (Elementary Teaching Certificate) in Iligan City.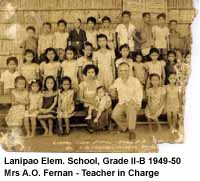 In Cebu, Angela was given remote teaching assignments (Camotes Island, Kalambua San Remegio) because she was still holding an Elementary Teaching Certificate. Angela continued her education during summer classes. She studied for Bachelor of Science in Education degree at Cebu Normal. She was already in her third year when she transferred to the University of the Visayas and enrolled in the Bachelor of Science in Elementary Education degree program (BSEEd wasn't offered in Cebu Normal at that time and she preferred teaching Grade School to High School). In between juggling teaching in remote areas and islands in Cebu and being a wife and mother, Angela finished her Bachelor of Science in Elementary Education.
In 1965, she was only able to finish 19 units for a Masters degree due to family constraints.
Back to
Simon Fernan